Design -

9/10

Software -

8/10

Ease of Use -

8/10

Sound -

9.5/10

Value -

9.5/10
Eventide has a history of great effects processing. Walk into any major studio, and you're likely to be greeted by classics like the Eventide H3000 effects processor or any of Eventide's range of plugins. But the company isn't limited to products for the large-format studio. It's also making some pretty awesome stuff for the rest of us — like, for example, the Eventide H9 effects processor.
The H9 is an inexpensive stomp box that's aimed at bringing the company's classic sound to a wider audience, and as such it's a lot cheaper than many of the other Eventide hardware units you'll find. Eventide actually offers a few units in the H9 range, including the H9 Max, H9 Core, and standard H9. The difference, however, has little to do with the actual hardware, and more to do with the included presets and effect algorithms. We're reviewing the Eventide H9 Max. But does the device deliver on its promise of high-quality effects in an affordable package? We put the Eventide H9 Max Harmonizer to the test to find out.
Design and setup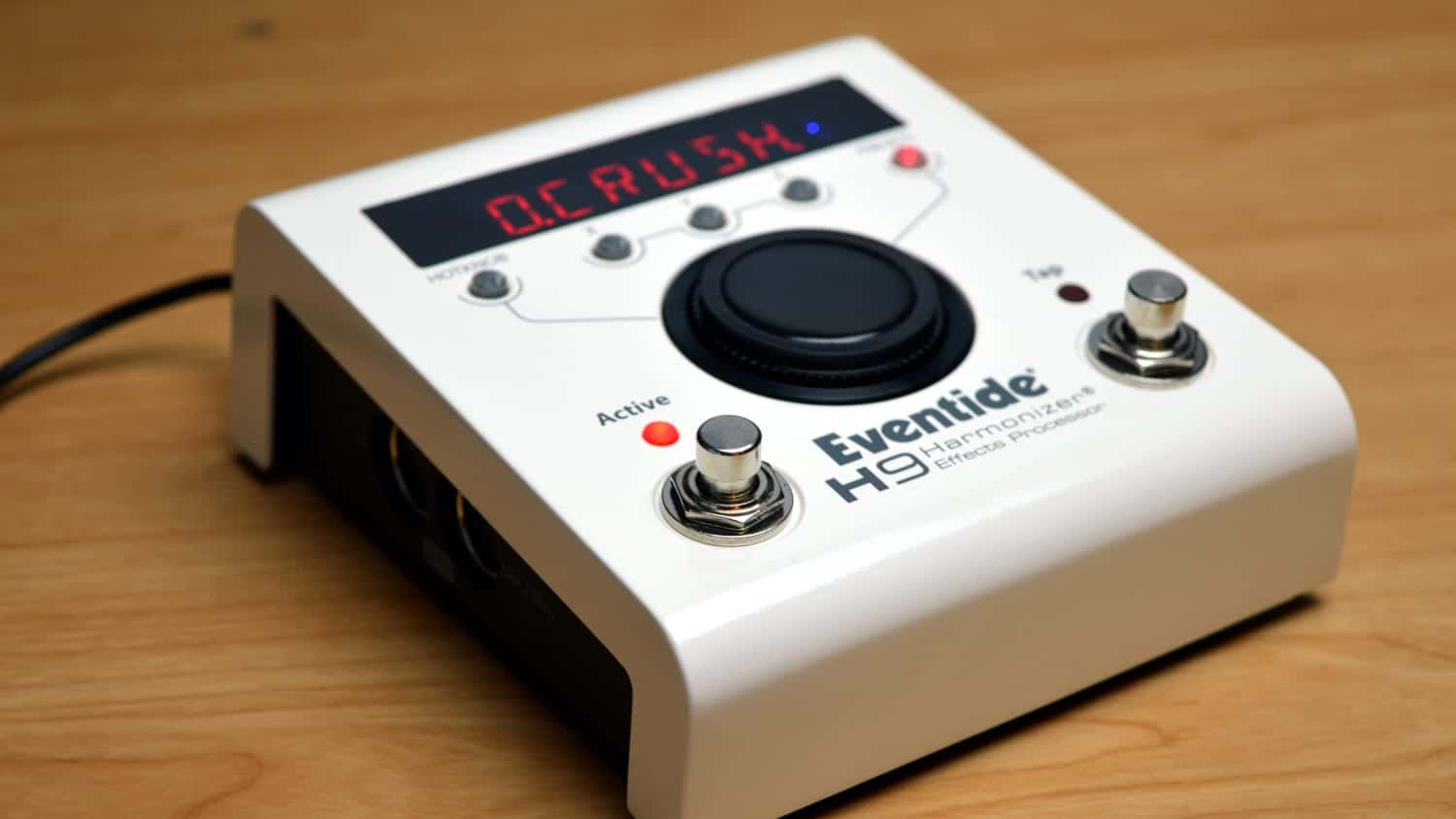 The actual Eventide H9 hardware is pretty nice, and clearly well-built. On the face of the device, you'll immediately notice the big knob, which is how you'll select different presets and make selections. You'll also find a switch to activate or deactivate the pedal, a switch to tap in your tempo, and a few buttons right under the display to edit presets and parameters. It's a simple setup, which is good news — it means even during a gig you should be able to quickly and easily make changes to your sound.
On the back of the device, you'll get all the connectivity ports, There are two inputs and two outputs, along with a jack for an expression pedal, a power input, and a Mini-USB port. We're hoping manufacturers start to adopt USB-C in the near future, but the Mini-USB port will do perfectly fine for now. On the left of the device there's a MIDI input and output.
The build-quality of the Eventide H9 is really quite good. It's largely made from metal and plastic, and felt nice and strong — like it wouldn't break easily. It comes with a nice carry bag too — and while that bag won't necessarily prevent the device from getting damaged from harder hits, it should save it from most scratches. Unfortunately, the device does not come with a Mini-USB cable — so if you can't connect to the device through Bluetooth you'll need to find a cable of your own.
Setting up the device is very easy to do — and you don't even really have to set it up if you don't want to. You could just plug it in, connect your inputs and outputs, and use the presets. We recommend, however, using the device with the Eventide H9 Control software, which is available for macOS, Windows, Android, and iOS. To use it, you'll connect your device to your computer or phone through Bluetooth or the Mini-USB port, then register an account. After that, you should be good to go. It's a pretty easy process, and we found that we were able to get up and running in a matter of a few minutes.
In Use
Actually using the Eventide H9 hardware is very easy to do. Once it's on and your inputs and outputs are properly connected, you can assign a different function to the knob in the middle, using the row of buttons under the display. For example, to go through the different presets, simply hit the preset button and start scrolling. You can then edit the parameters of the preset using the X, Y, and Z buttons, or create patches using the "Hotknob" button. These controls are really made for ease-of-use — they offer a basic way to quickly edit the most important parameters of a preset. To more surgically edit a preset, you'll need to use the software. As you might expect, you can activate the pedal with the left switch, and tap your tempo with the right switch.
The Eventide H9 Max comes with a pretty massive range of presets. Out of the box, there are 99 presets to choose from, with each being a little weirder than the last. On top of that, there are a whopping 50 different effect algorithms, ranging from delays, to verbs, to modulators, and so on. Safe to say, no matter what you're looking for from your time-based effects, the H9 Max should have you covered. Even the cheaper H9 Harmonizer has a cool nine effects algorithms, which isn't bad at all given the price. You can find a list of the different effects and presets in the different models here. Algorithms on offer include the much-loved UltraTap Delay, CrushStation, DynaVerb, MicroPitch, Vintage Delay, and more — all accessible within this one unit.
Software
Once you've connected the Eventide H9 to the software, using the software is pretty easy to do. To navigate around the software, you'll use the menu bar at the bottom of the interface, which includes buttons for "Algorithms," "Presets," "Presets Lists," and more. There are also options to change the settings of the pedal and even buy new algorithms.
The first few menu items are probably the ones you'll use most. From the Algorithms tab, you can see a list of all the different algorithms that come with the device. Clicking on one allows you to quickly and easily change its presets, and you'll get a lot of control over the sound. Once you've tweaked a sound to your liking, you can save it as a preset, which will allow you o access it later.
Using the mobile app is pretty much the same experience as the desktop app. Tapping on algorithms allows you to edit them, then save them to the device itself. You can also set up your own presets, and while figuring out where to save them might be a little confusing at times, once you've done it a couple times you'll get used to how it's done.
Perhaps the only real issue with the apps is that they look a little dated. That's not too big of a deal — what matters here is sound. The fact is, however, that a modern design is less intimidating — and may even make it more likely for customers to buy algorithms through the effects section.
Sound
Ultimately, all that really matters is how the Eventide H9 sounds — and it sounds awesome. You would expect delays and reverbs to sound great on an Eventide unit, but the device is even more versatile than that — it also has tools like the CrushStation algorithm, which gives you control over drive, EQ, and compression too. CrushStation can be a little heavy, but we found it easy to cool things down a little to sound a little more natural when needed.
Perhaps the best thing about the Eventide H9 Max is the sheer scope of what's included. You could have a pedalboard with dozens of different pedals, but we guarantee you'll get sounds out of the H9 that you can't on any of your other pedals. Not only that, but it's all in one shiny box too — making for less stuff to carry around, and less money to spend.
It would be impossible for us to go over every aspect of the Eventide H9's sound in one review. If you're looking for opinions on sound, we recommend starting by looking into Eventide's single-effect pedals.
The H9 lends itself well to guitar use considering the stomp box form-factor, but in reality the device can be used on a range of instruments. In a mixing session, we tried it out on guitars, vocals, drums, and even a piano — and found that we loved the results in every situation.
Generally, we found that the Eventide H9 was great for live use — but considering Eventide's long history of developing tools for the studio we think it's even better suited there. That's not to say you can't use it on the road.
Conclusions
The Eventide H9 represents a new era in Eventide effects processing. While some may prefer rack-mount units (and we'd love to see a rack-mounted version of this too), the H9 Max offers a massive library of sounds in an easy-to-use device. We recommend the Eventide H9, and specifically the Eventide H9 Max, to anyone who wants to expand their effects processing library — but especially those who like the idea of a single unit they can use to process effects.
At $699, the Eventide H9 Max isn't necessarily cheap — but if you're not quite sure whether you want to spend the cash, you can always buy the cheaper H9 or H9 Core and then add extra algorithms as you need them. If you don't mind spending the cash, however, we absolutely recommend the H9 Max to any musician that wants to expand their palette.
You can get the Eventide H9 Max using the links below.