Design -

9/10

Ease of Use -

8/10

Value -

9/10
PreSonus has long been an established and respected player in the home and small studio space, and it seems like every time we get treated to a new product from the company it gets a great review. This time around, we're taking a look at the new PreSonus FaderPort — a device that could make controlling your DAW a whole lot easier than it already is with a mouse and keyboard, especially when it comes to things like automation.
This isn't PreSonus' first FaderPort release — but it does bring the device in-line with PreSonus more modern design sensibility, while adding a few features along the way, kind of how the PreSonus Monitor Station V2 did for the original Monitor Station.
Of course, using a mouse and keyboard is a tried-and-true method of controlling a DAW, and most in the market for a FaderPort will be considering the device as their first dedicated DAW controller. PreSonus isn't actually marketing the device as a replacement to the mouse and keyboard either — instead arguing that it's a great way to complement the controls already at your disposal. Does the PreSonus FaderPort make DAW control easier enough to warrant the $200 price tag? We put it to the test to find out.
Design
As with any new product, the first thing you'll notice about the PreSonus FaderPort is its design, it's a solid-looking device. It features a sleek black-and-gray color scheme with a big fader on the left hand side, and a series of controls along the right two-thirds of the device.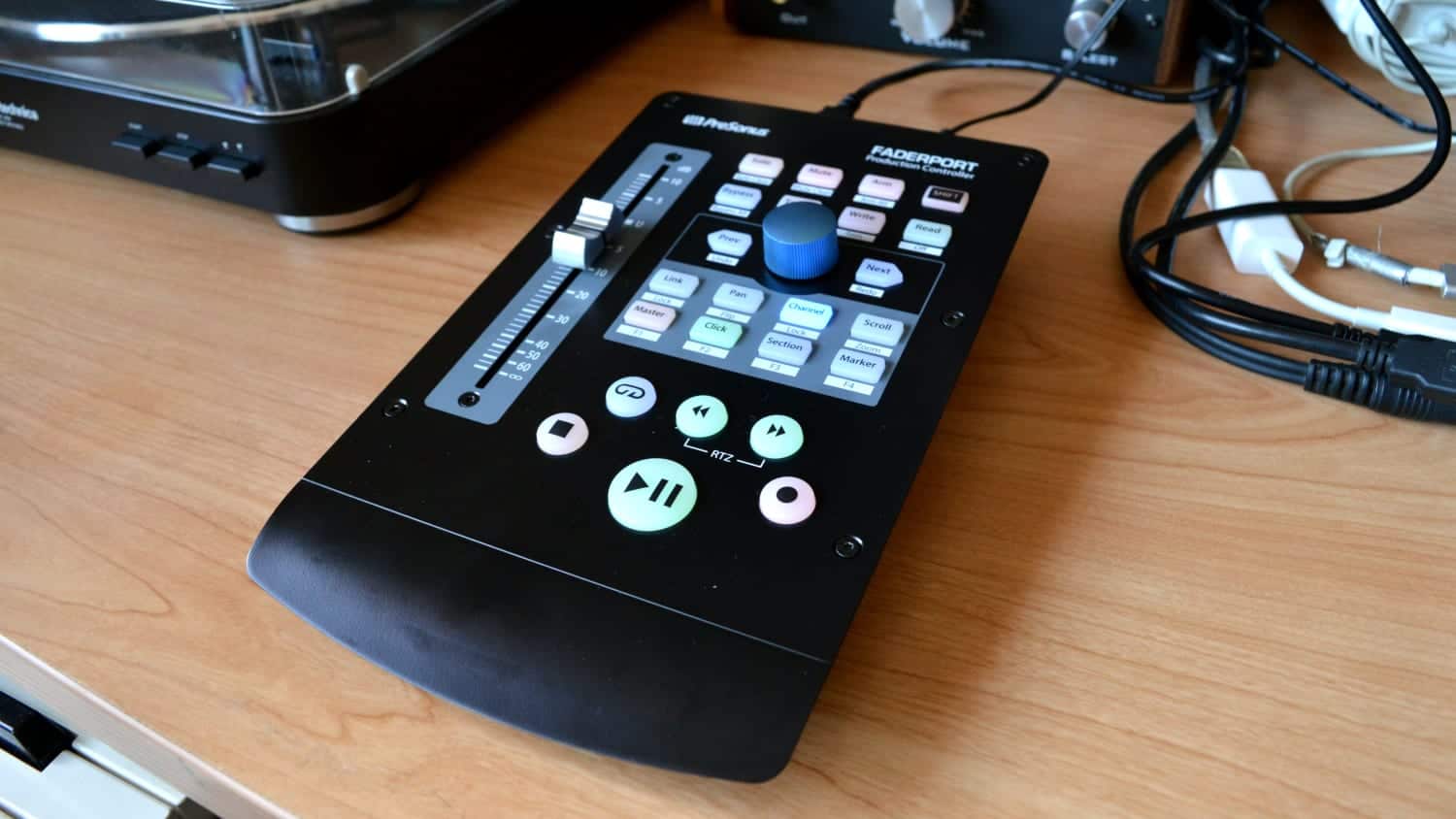 The controls include the ability to solo, mute, and arm a track, control automation and automation modes, pan, switch tracks, and so on. There's also a shift button — essentially giving each button a second function. In other words, you've got a ton of control in a relatively small device, which is nice to see.
On the back of the FaderPort, you'll find a power input and switch, foot switch, and USB port. You do need to use the included power supply to use the FaderPort — you can't power it through USB, which is a little frustrating.
The interface as a whole is 9-inches long by 5.5-inches deep, and around 1.8-inches thick. It's a nice size, and should fit on any home studio desk nicely.
In use
In general, we found actually using the PreSonus FaderPort very easy to do — but depending on your DAW you'll need to get acquainted with a few shortcuts to set the controller up. By default, the FaderPort is set up to be used with Presonus' own Studio One, and as you might expect it works perfectly well with Studio One. We did the majority of our testing, however, with Pro Tools — and to set the controller up to be used with Pro Tools, you have to hold down the "Next" button while powering on the device, then tap "Touch." When we first tested the unit, you had to set it up for Pro Tools each time you switched it on — but a quick firmware update seems to have fixed the issue, so it's worth double-checking that you have the latest firmware if you're having the same problem.
Beyond that, using the FaderPort is very easy. The device is easy to use for basic DAW controls, and we were able to even complete a basic level-and-pan mix without touching the mouse at all — though once you dive into plugins, you'll need to get back to using the mouse. The fader is motorized, meaning that whenever you switch tracks the device will snap to the current track's settings — and during automation it'll follow along.
The FaderPort should be able to scroll through a project based on markers, but the way Avid has designed HUI limits it a little. In Pro Tools, the FaderPort can only scroll through markers 1-9 — so if you have more markers than that in a project you won't be able to jump to those extra markers using FaderPort. It's a slightly annoying issue, but one that only exists in Pro Tools — you should be fine with other DAWs.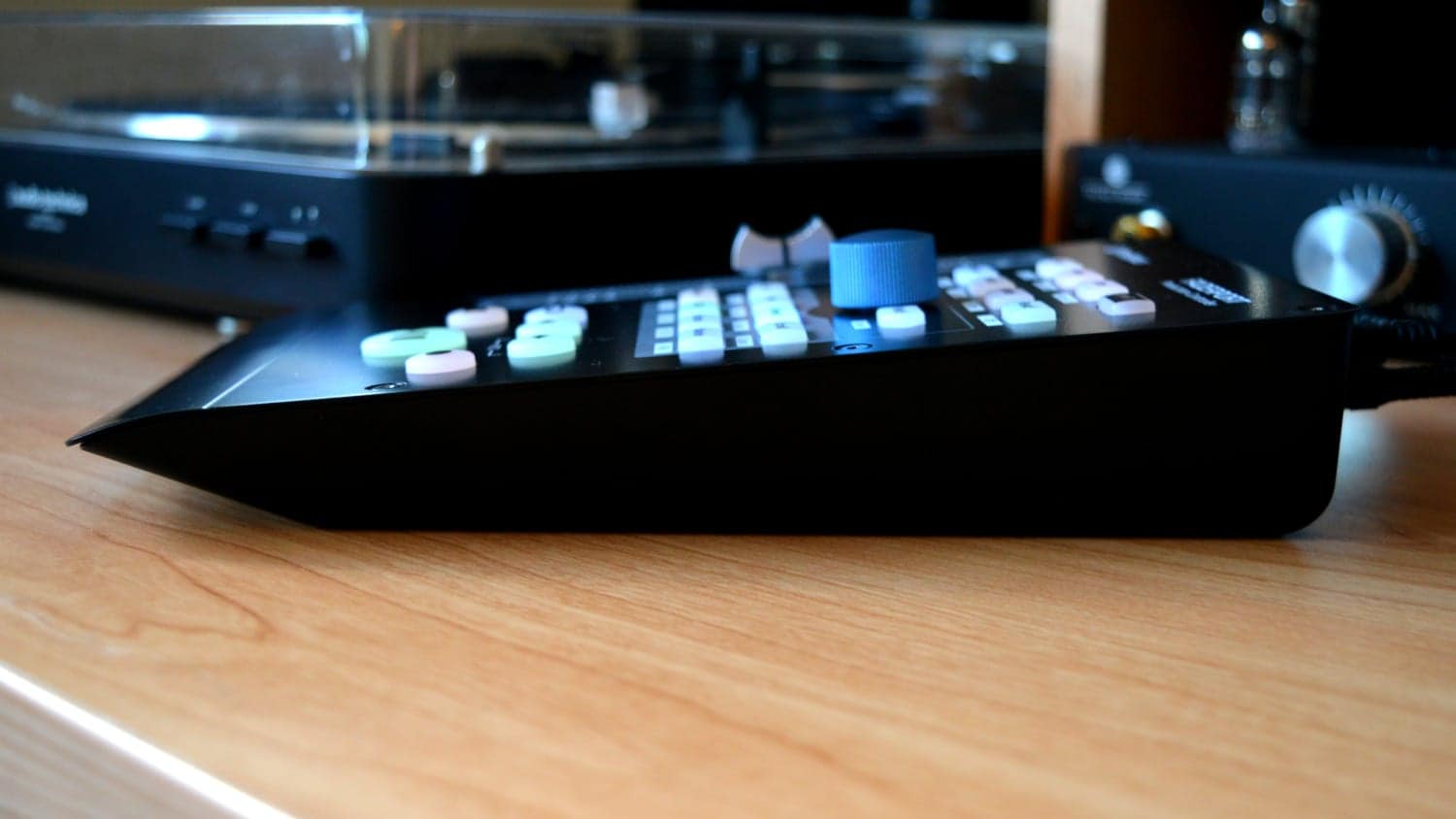 A feature that didn't make it to the new version of the FaderPort is the ability to switch the the next fader bank — but with the "channel" button, you can quickly scroll through tracks, largely negating the need to scroll through eight banks at a time anyway.
A few small issues aside, the FaderPort is a smart device. Once you get used to using it, you'll use it quicker and quicker — and controlling your DAW will get easier and easier. We found it was easy to complete a basic mix with FaderPort, and while you won't be able to completely leave your keyboard and mouse behind, you'll still get a much more tactile mixing experience, which we quite like.
Conclusions
So is the PreSonus FaderPort worth buying? Absolutely. The device is easy to recommend. PreSonus is known for building user-friendly, powerful devices — and like many devices before it, the PreSonus FaderPort delivers on that. It's not perfect, and there are some issues with different DAWs — though we found it pretty easy to look past them. Not only that, but it's certainly possible that PreSonus could fix those bugs through a firmware update down the road.
There's also not a whole lot of competition, especially in this price range. There is the Behringer X-Touch, though it's not quite as full featured, note to mention the fact that it's not as well designed.
The FaderPort comes in a few different variations too — though obviously we're reviewing the single-fader version. There's also the FaderPort 8, which boasts eight faders instead of one, and the FaderPort 16 — with 16 faders.
If you're interested in buying the PreSonus FaderPort for yourself, check it out at the links below.