Design -

9/10

Ease of Use -

8.5/10

Features -

9.5/10

Value -

8/10
The DAW market is heating up. While the likes of Pro Tools has long been considered the top choice for audio engineers, and DAWs like Logic and Reason top choices for others, PreSonus has been building a name itself as a competitor to take seriously. Studio One 3 found a home on plenty of computers around the world as the DAW of choice for many users. Now, PreSonus is here with a follow-up: PreSonus Studio One 4.
Studio One 4 is billed as mixing old with new — appealing to both those that record, edit, and mix audio, and those that prefer to make beats. We've been using Studio One 4 for a while now, and it's a solid choice. It's got a range of great new features, but it's still feels generally familiar, which is a good thing. Is it worth buying? We put it to the test to find out.
For this review, we're going to mainly focus on the new features in PreSonus Studio One.
Edit window
It's clear that Studio One 4 is a follow up to its predecessor when you open it up, but it has also been given a fresh coat of paint. Changes to overall design generally help make it a little easier to navigate and take in. Off the bat, we found that getting started with Studio One 4 is very intuitive, especially if you've used Studio One 3 — but also if you've used the likes of Pro Tools and Logic before.
From the edit screen, you'll be able to get a view of all your tracks, as well as a list of instruments, plugins, files, and so on, in a "Browse" pane on the right. You can, of course, close that pane for a larger view of your tracks, if you so choose. On the top, you'll get your edit controls — though you'll probably want to get acquainted with the keyboard shortcuts for those controls. On the bottom is where you'll find your transport, and tempo controls.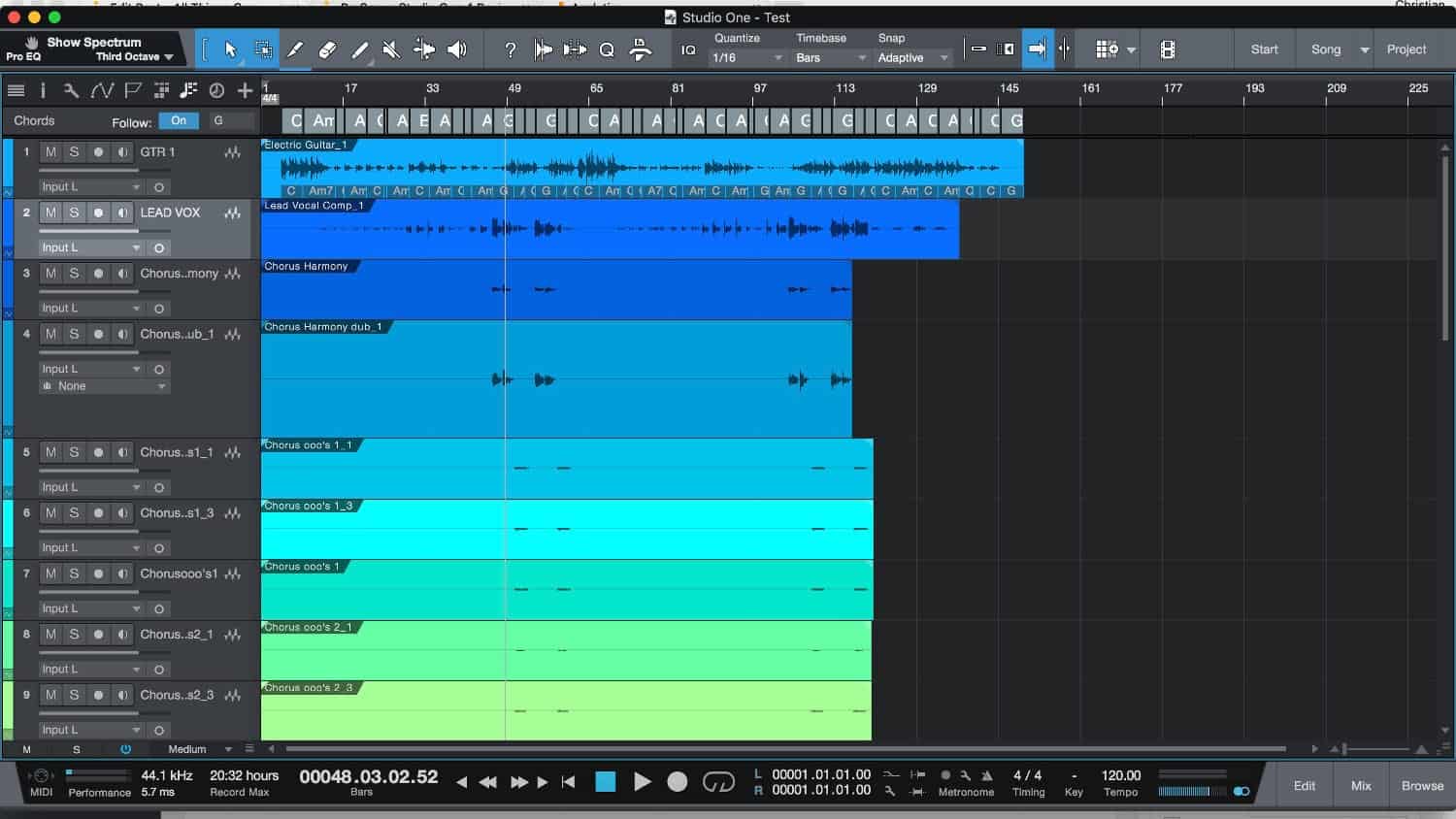 One of the things we most loved about Studio One 4 is that the basic edit window is easy to use, but it allows you to really dive deep into different aspects of the DAW if you so choose. On the top left, for example, you can hit the "i" button to get more information about a track, and that's where you can do things like set timestretch settings, group tracks, and more. On the bottom right, you can also hit the "Edit" button to get an expanded view of a track, allowing you to more closely edit it. It's a super intuitive system, and we found ourselves finding new features in the DAW every time we opened it up. But it's not overly complicated either — you don't necessarily need to use a lot of these features if you don't want to.
PreSonus has added some very helpful features to the DAW to keep it nice and organized. Similar to Logic, you can organize your tracks in folders, easily expanding or collapsing those folders as you need. We love this feature. It's a feature that the likes of Pro Tools needs — while you can collapse Pro Tools tracks to an extent, you can't quickly and easily organize them in folders.
Recording and manipulating both audio and MIDI in Studio One 4 is also very easy. After you've recorded a MIDI track, you can easily edit your notes, and Studio One makes it simple to do things like draw in velocities — small touches which help make the MIDI editing process a whole lot easier, and a whole lot quicker.
Studio One 4 also has some features that Studio One 3 doesn't. Perhaps the coolest and most helpful of these features is the ability for the DAW to detect chords in both audio and MIDI. That's pretty helpful. What it means is that, as a producer, I can have clients send me tracks and I don't have to figure out chords or ask them for the chords to be able to add instrumentation to the song. That's also helpful for those that might not know what particular chord they're using — in that situation, you can simply play it and Studio One 4 will detect it for you.
In the end, the edit window of PreSonus Studio One 4 looks and acts similar to the likes of Pro Tools and Logic, but it's nice and clean, easy to navigate, and has a number of features that the competition doesn't.
Mix window
The edit window is perhaps the most feature-rich view of PreSonus Studio One 4, but if you're a mixing engineer, as I am, then you may find yourself spending just as much time in the mix window. By default, the mix view pops up from the bottom of the window, but you can also expand it out if you want — something that I like to do considering my two-display setup.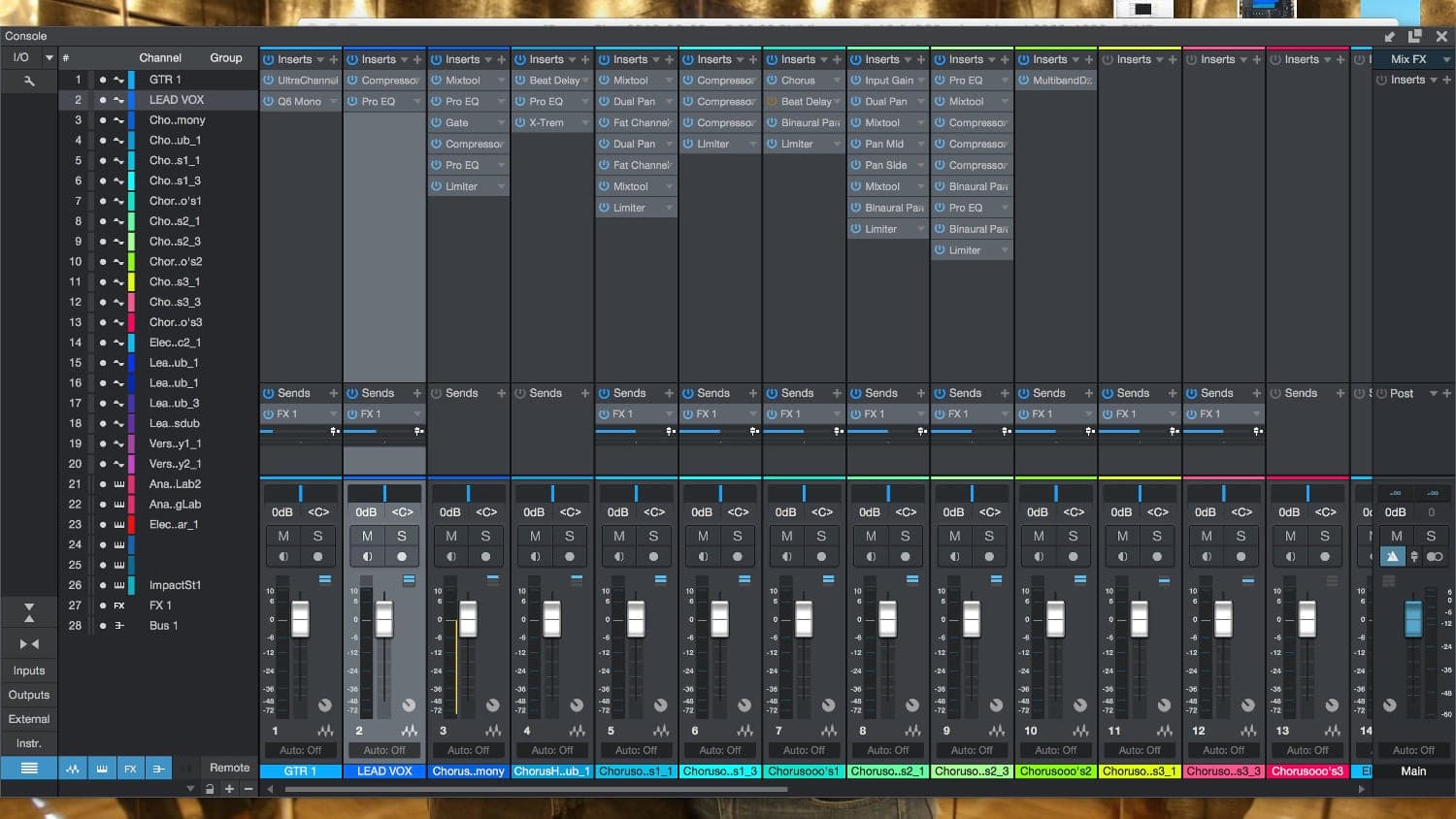 The mix window is a pretty similar to most other DAWs, but there are a few touches that make PreSonus Studio One 4 unique. At the top of a track, you can add inserts by pressing the "+" button, but you can also add a series of inserts by saving presets — which is very helpful when you're doing rough mixes and don't want to get too surgical yet. Under inserts, you'll find sends, and it's easy to use them too. In Studio One, aux tracks are called "FX tracks," and they'll be listed here for quick routing, which is handy.
Apart from that, everything is set up pretty much as you would expect. You have volume controls, solo and mute controls, monitoring controls, and recording controls. On the left side, you also have a list of all your tracks, and clicking on a track from that list takes you to it in the mix window.
Other features
PreSonus has loaded Studio One 4 up with plenty of other features too. For starters, the DAW ships with a new version of Sample One XT, with new and improved sampling and synthesizing features. It's a great feature for those looking for more powerful sampling tools, and it's awesome that it's built in to Studio One.
There's also a new version of Impact XT, which is PreSonus' drum pad instrument. Impact XT boasts a ton of features, including a hefty 8 banks of 16 pads; pitch, filter, and amp controls; and more. It's also easy to use samples that you've created in Sample One XT — just drag and drop, and you should be good to go.
Conclusions
PreSonus has hit a home run with PreSonus Studio One 4. The DAW is easy to use and extremely intuitive, especially if you're used to DAWs like Pro Tools. In fact, we think that this could well be the DAW of choice for many users, especially songwriters or those looking for a DAW that makes it easy for them to get their ideas down. We liken it a lot to Logic in how easy it is to use, but truth is Studio One 4 has more features than Logic. If you're a Windows user and want a good Logic alternative, this is the way to go. Then again, even if you're a Mac user, we think you may want to look into Studio One 4 too.
No matter what stage you are in music production, Studio One 4 is worth a shot. In fact, there's really nothing to lose here — PreSonus will soon offer a free version of the software called Studio One 4 Prime, though keep in mind that it won't have all the features on offer in Studio One 4 Professional, which is what we've been testing.
If you're ready to buy PreSonus Studio One 4 for yourself, check it out from the links below. There are a few versions of Studio One 4 — Studio One 4 Artist, which comes at $99.95, and Studio One 4 Professional, which comes at $399.95. You can compare their features here.