Design -

9/10

Features -

9/10

Sound -

8.5/10

Value -

9.5/10
PreSonus has cemented itself as a builder of high-end, studio-quality equipment that doesn't cost an arm and a leg. The company is perhaps best known for its audio interfaces, and more recently its Studio One DAW, but it also builds all kinds of other equipment — like studio monitors. These range in size and price point — and we recently had the opportunity to check out the PreSonus Eris 3.5 BT studio monitors.
The monitors are relatively small and inexpensive, coming in at $130. And, for that extra oomph, they're compatible with PreSonus' own Eris Sub8 subwoofer, which we were also able to test alongside the speakers — though that will set you back an extra $200. Are they worth that money? We put the PreSonus Eris 3.5 BT studio monitors to the test to find out.
Design
The first thing to notice about the PreSonus Eris 3.5 BT monitors is their design, and they're not bad-looking speakers at all. The speakers are all-black, and they're relatively small — which is good news for those who want something that can fit on a computer desk or smaller mixing desk. In terms of dimensions, they measure in at 8.3 inches tall, 5.6 inches wide, and 6.4 inches deep. That's definitely on the smaller side, but as we'll discuss later, that doesn't mean they lack oomph.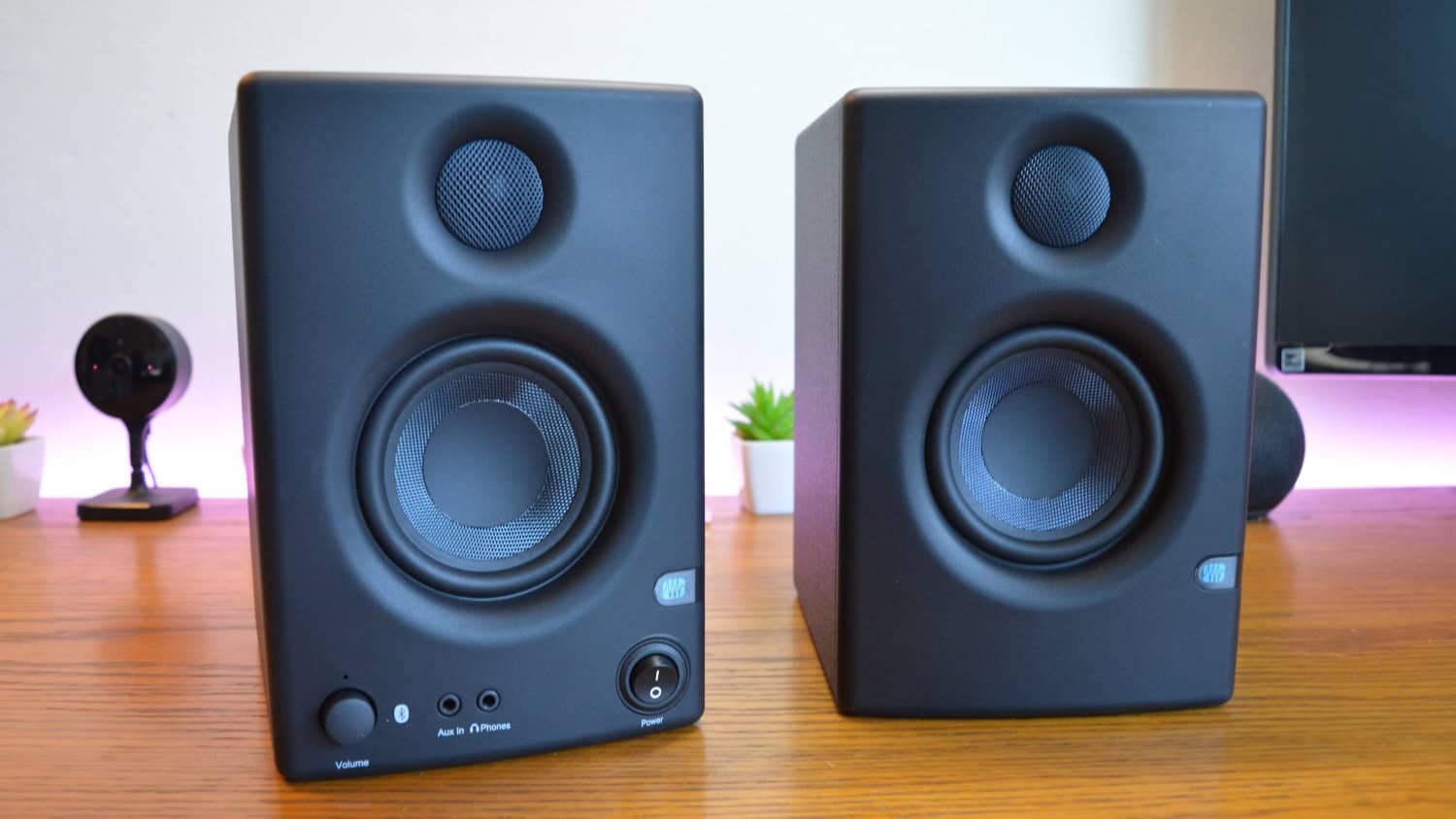 On the front of the left speaker, you'll get a volume knob, an aux in port, and a headphone jack, along with a power button. That's a solid selection of user-facing controls and ports, and means that the headphones can kind of act like an all-in-one monitor station for those who alternative between monitors and headphones.
On the back of the same speaker, you'll get TRS and RCA inputs, a pairing button for Bluetooth. You'll also get "acoustic tuning" controls to tune the lows and highs, depending on your environment, and you'll get an output to the right speaker. Speaking of the right speaker, it's passive — so thankfully you only need to power the left one.
Generally speaking, the PreSonus Eris 3.5 BT monitors look good — and certainly like they would cost more than they do. The Sub8 matches the overall design aesthetic. On the back of it, you'll get all the controls you would expect from a subwoofer. including an input gain knob, a low pass filter that ranges from 50Hz to 130Hz, a phase switch, and a high pass filter. You'll also get TRS and RCA inputs and outputs. To connect the subwoofer to your system, you'll plug your source straight into the subwoofer's input, and the output to the speakers. It's easy to set up.
Features
The PreSonus Eris 3.5 BT speakers offer a lot in the way of features. Perhaps the most obvious, thanks to the "BT" on the end of the name, is Bluetooth connectivity, and it works pretty well. You'll hold the pair button on the back of the left speaker, and connect to the speakers in the settings of your phone or computer. We never really had any issues with the Bluetooth connection.
Of course, there is a hole in the hookup of the speakers when you factor in Bluetooth — the fact that your device connects to the speakers themselves, and not the subwoofer. What that means is that when you use Bluetooth, you won't be able to take advantage of the subwoofer at all — you'll only be able to use it in wired setups. That may be frustrating for those who plan on using Bluetooth a lot.
There is a workaround, but it costs extra. PreSonus recently launched the MicroStation BT, which is a Bluetooth receiver that works with wired speakers and subwoofers. It's actually a pretty cool little device, and works pretty well. We'll be publishing a full review of the MicroStation BT in coming weeks.
One admittedly small feature that we've seen on other monitors of late is a left/right switch. Mackie includes this on some of its monitors, and it's a nice touch, especially for monitors that have a headphone jack. It just gives a little more flexibility to the user, and it's a feature I would have liked to see on these. Of course, you can fix this by just switching your outputs or changing left and right on your computer — but still, the extra work can be annoying.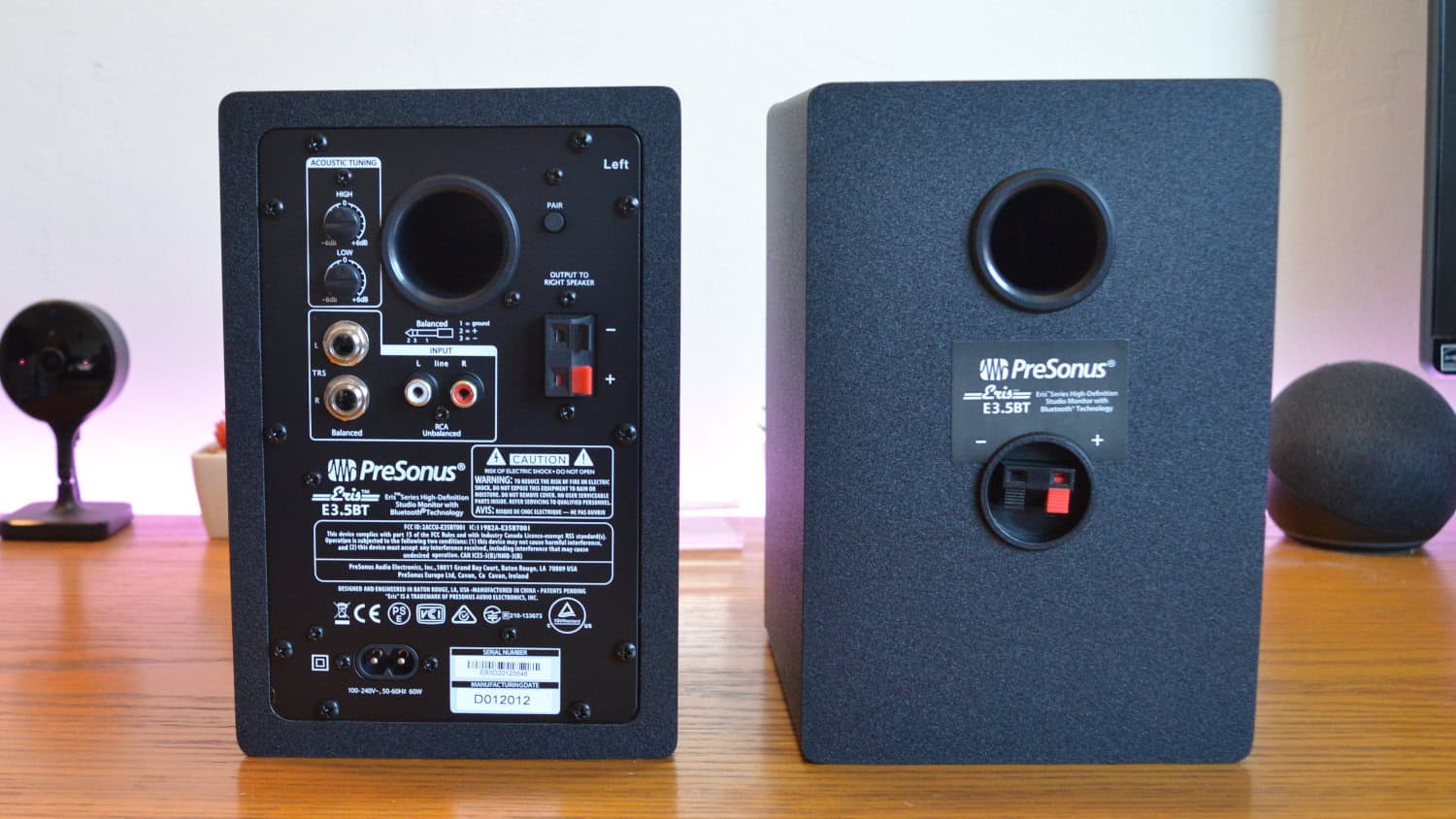 Still, for the majority of setups, the PreSonus Eris 3.5 BT speakers have a lot going for them. For most basic use, the speakers alone will offer everything users need, especially given the ports and controls on the front, and the tuning options. Add in the sub, and you get even more versatility.
Performance
Despite their low price, the PreSonus Eris 3.5 BT, and the fact that the monitors aren't necessarily targeted at an audiophile audience, they sound great. The speakers are relatively balanced, and while they're not the most detailed out there, they're more than suitable for most situations.
During testing, I used the speakers in a variety of different settings, including as part of a home theater setup, and with a computer as part of a home studio.
Thanks to the Bluetooth and subwoofer support, I really enjoyed using the PreSonus Eris 3.5 BT speakers in a home theater setting. With the subwoofer, movies were able to deliver room-rumbling audio that helped make for a generally immersive experience. The subwoofer is relatively larger, meaning you'll need to find a good spot for it, but assuming you can, it's well worth having. And, the Bluetooth support helps make it even more useful in the living room, as it means you can stream music from your phone or computer.
In the home studio setting, the speakers performed well too. The speakers offered a relatively flat frequency response, which is what you'll want in the studio. As mentioned, they can't offer as much detail as more expensive monitors, but for those on a budget, they're a great option. Even if you're looking for speakers for more casual use, they perform very well as a pair of computer speakers too. They're obviously quite a bit larger than other computer speakers, but if you have the room, they're worth the buy, considering the superior audio quality.
Of course, the subwoofer does significantly raise the price, and as a result, you may be wondering how they perform without it. Thankfully, they still do great. As you would expect, bass response doesn't extend as deep, and the bass that is there isn't quite as powerful. But it's still not bad at all, and easily able to handle most things you can throw at it. If you can afford it, the subwoofer is definitely a worthy addition.
Conclusions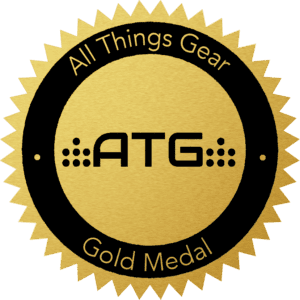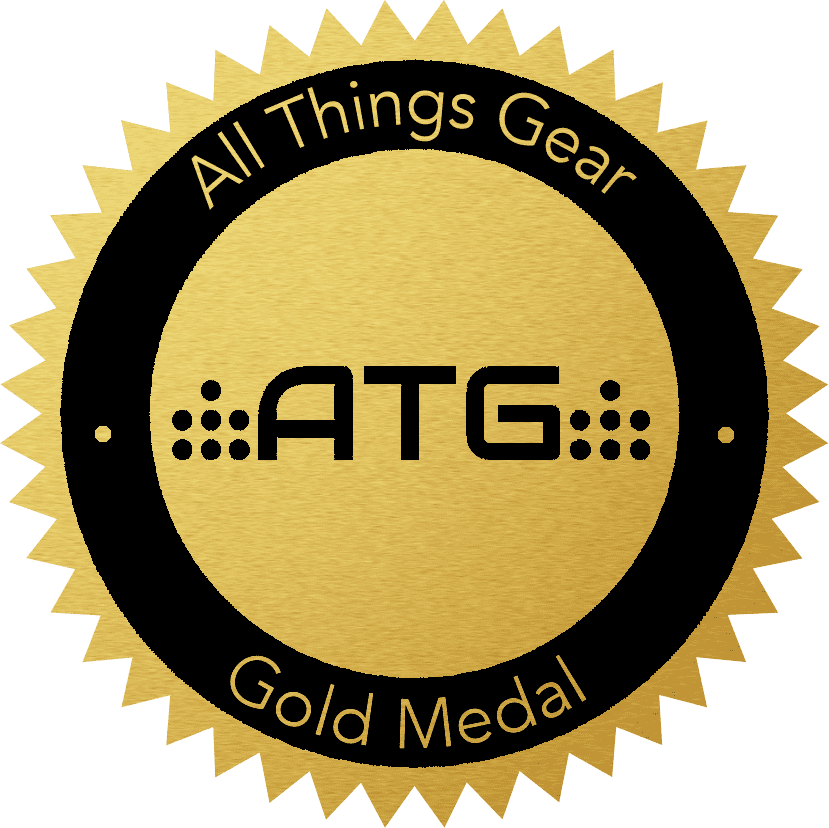 The PreSonus Eris 3.5 BT speakers are an excellent option for those who want a flat frequency response in the living room, or a budget monitor option in their home studio. The speakers are versatile, sound great for the price, and offer a sleek and stylish design that means they should look good in any home.
They're not perfect. You really should be able to use a subwoofer with the Bluetooth feature built in to the speakers, and the bass is only fine without the subwoofer. But still, for the price, you can't really do much better. That's why we're awarding these speakers the All Things Gear Gold Medal.