Design -

9/10

Features -

8.5/10

Performance -

9.5/10

Value -

9/10
Traditionally, there has been a bit of a division between high-end wired audio, and wireless audio that may not sound quite the same. Usually, wireless speakers are more convenient than wired ones, but come at the cost of the quality that most audiophiles and audio engineers look for. But PreSonus wants to help blur that line — by giving your high-end wired speakers support for Bluetooth with the PreSonus MicroStation BT.
The MicroStation BT, at its core, is basically a Bluetooth adapter. But it's a Bluetooth adapter for audiophiles, with the features to match. So much so, that it essentially serves as a basic monitor station with support for wireless audio. But do you really need it? And how well does it actually perform? We've been using the PreSonus MicroStation BT for a while now to find out.
Design
It's generally easy to tell a PreSonus product apart from a competitor. In recent years, PreSonus devices have offered matte black builds with blue highlights, and the MicroStation BT is no exception to that rule. The device is essentially a black box that measures in at 4.9 inches wide, 3.9 inches deep, and 2.2 inches tall. It's not a bad look, and should fit right in on any desk.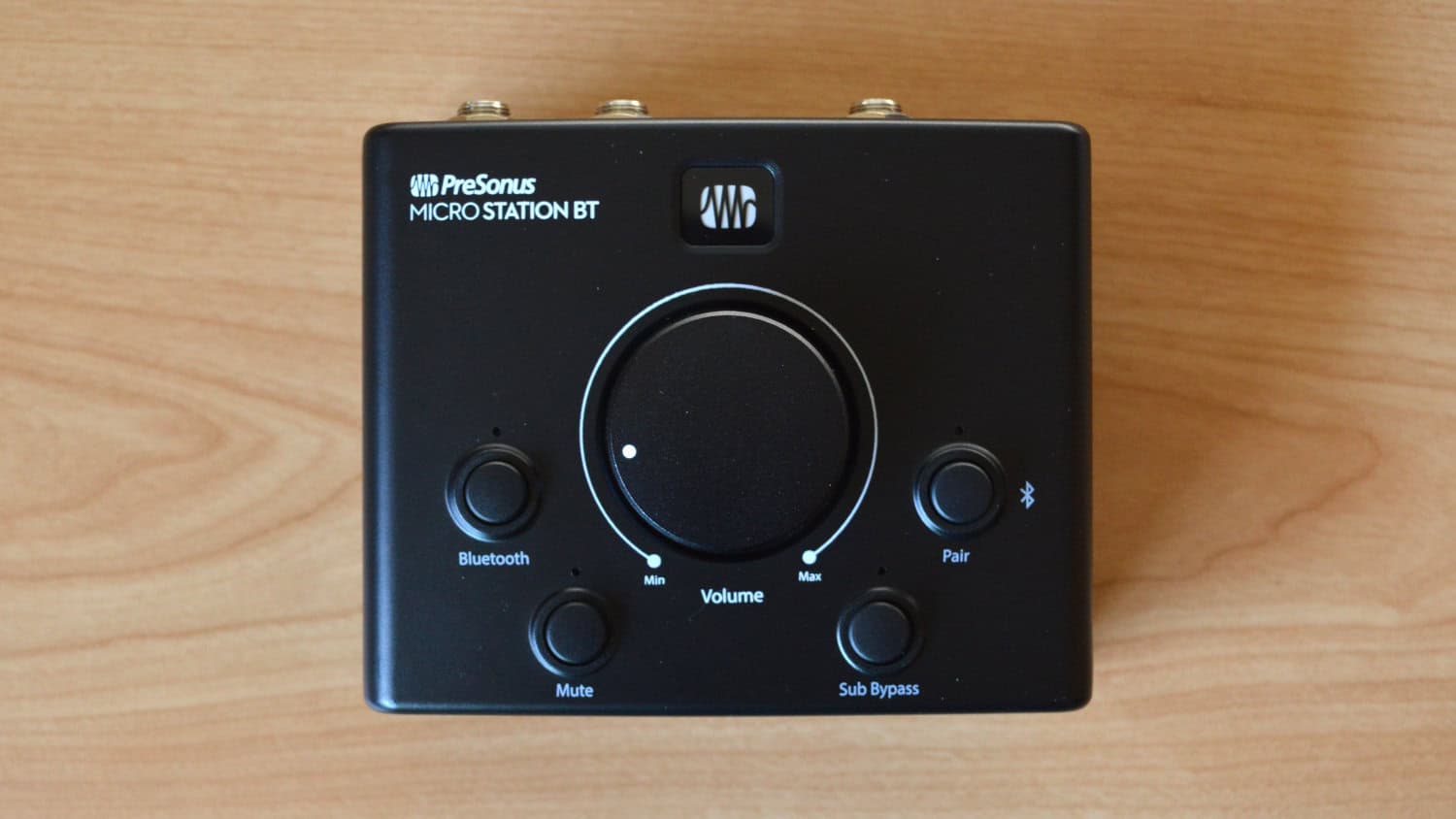 On the top of the box, you'll get all the controls. Central to the top of the MicroStation BT is the volume knob, which is easy to grab and use. Dotted around it are the rest of the controls, including one button to engage Bluetooth, a mute button, a button to bypass the subwoofer, and a button to put the MicroStation BT into pairing mode. You'll also get a cool-looking light-up PreSonus logo, and LED indicators for each of the buttons on the front.
On the back, you'll get all your ports, and there are more than you might expect. The MicroStation BT goes beyond just being a Bluetooth adapter — you can also use it with wired TRS inputs, and with an aux input. On the back, there are also outputs to the main speakers, and to a subwoofer, if you have one. And, there's a USB-C port for powering the device, and a switch to control whether or not the main output is enabled — for example, if you want to use headphones exclusively.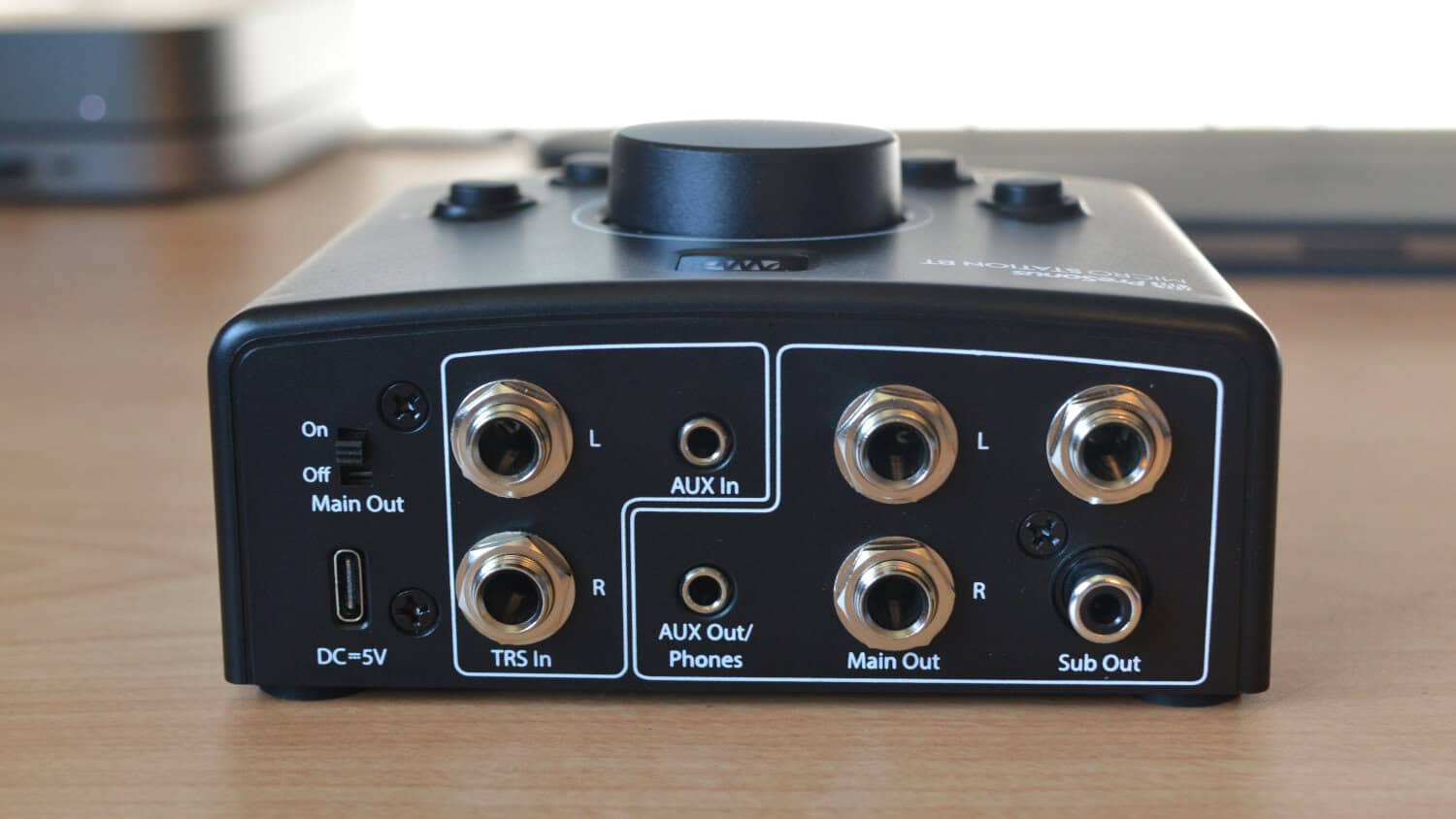 The general layout is fine, but we can't help but think that some of the inputs and outputs may be better served on the top, or even the front, for better access. You probably won't need to access the main outputs and inputs much, but you certainly might need to access the headphone jack and aux in more often — and you might want to control whether or not the main outputs are in use.
Still, in general use the MicroStation BT is very easy to use. Frustratingly, the device doesn't come with a power adapter, but you probably have a few lying around — and if not, they're relatively inexpensive. It does come with a USB-C to USB-A cable.
Performance
So the PreSonus MicroStation BT has plenty of controls and I/O — but how well does it actually perform? Well, exactly as advertised. We mainly used the device with the PreSonus Sub8 subwoofer and Eris 3.5 speakers, and it was a great way to incorporate Bluetooth into that wired setup. We also used the device in an existing home studio setup.
Generally, Bluetooth performance was good. The controller supports Bluetooth 5.1, which is one of the most recent versions of Bluetooth, and we found that it retained a good connection in all reasonable scenarios. Of course, it dropped connectivity in situations like extreme distance or lots of obstacles, but that's to be expected.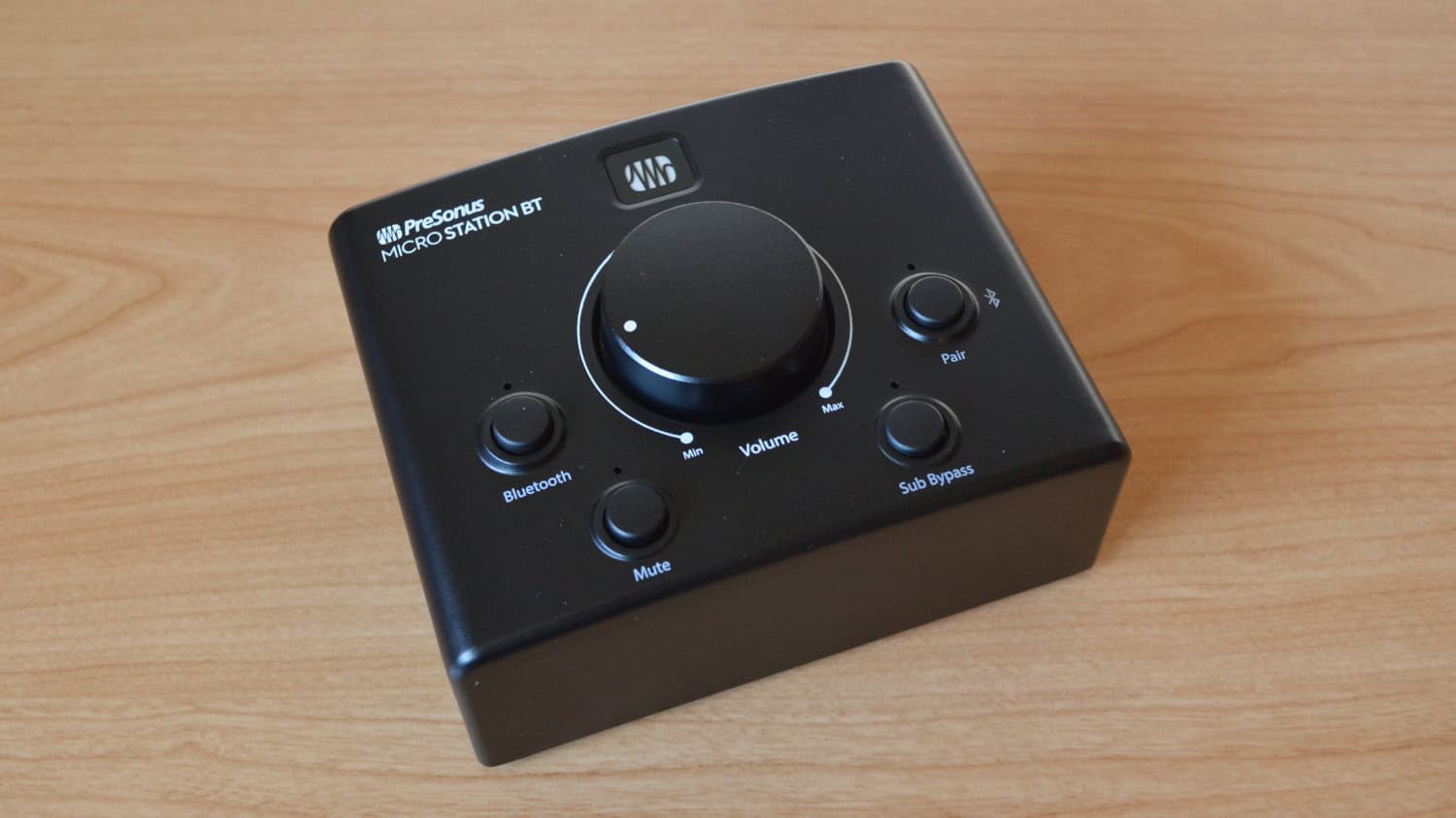 Pairing the device is also pretty simple. You'll hold down the Pair button until the light flashes, after which you should be able to find it on your phone, tablet, or other device.
Bluetooth performance aside, the device works great in other scenarios. This isn't the device to get if you have a surround sound setup, or need more than a few inputs and outputs — but we already knew that. Instead, it's very easy to incorporate into a smaller-format environment.
Conclusions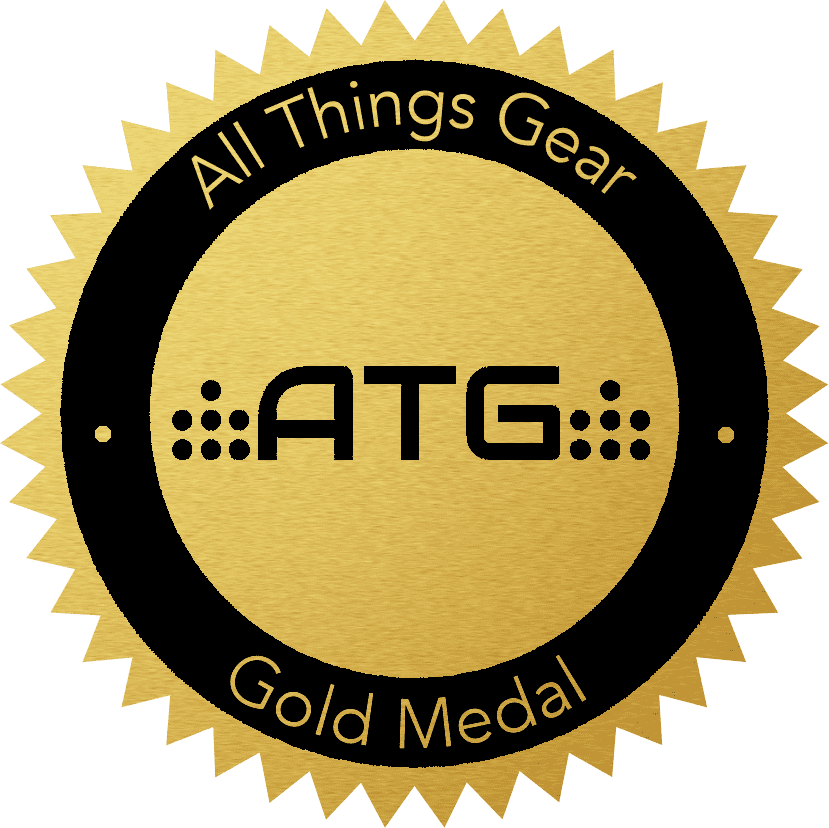 The PreSonus MicroStation BT is an excellent option for those who want to add Bluetooth support to their wired speaker setup, whether that be a home theater environment, or a smaller-format studio. The Bluetooth performance on offer here is very good, and the device has a design that should look good wherever you put it. We would rearrange some of the controls and ports, but that small gripe aside, the PreSonus MicroStation BT is easily worth the cash.
Because of the MicroStation BT's excellent feature-set, we're awarding it the All Things Gear Gold Medal. You can buy the PreSonus MicroStation BT for yourself using the links below.