Design -

9/10

Ease of use -

8.5/10

Value -

9/10
PreSonus is a serious force in the audio technology world, and for good reason. It offers a range of excellently-built audio devices aimed at both the home and professional studios — and some of those devices would be right at home in either situation. Like, for example, the PreSonus Monitor Station V2.
The device is a real lifesaver for many. When you're setting up your studio, you likely have at least a few inputs to juggle, and often you'll have a few different sets of monitors too. Not to mention things like headphones.
As the name suggests, the device is the follow-up to the original PreSonus Monitor Station, and it boasts a new color-scheme as well as a slew of awesome new features. But is it worth the $299? We put it to the test to find out.
Design
The design of the PreSonus Monitor Station V2 is quite well-done. It's very similar to the original Monitor Station, but that's not a bad thing — and we love the new color-scheme, which gives the device a much more professional and sleek look.
On the back of the device, you'll find the selection of inputs and outputs, which offer nice and easy access. You'll get two stereo inputs, three stereo speaker outputs, and two stereo line outputs, all of which come through TRS ports. You'll also find an auxiliary input through RCS inputs or a 3.5mm port.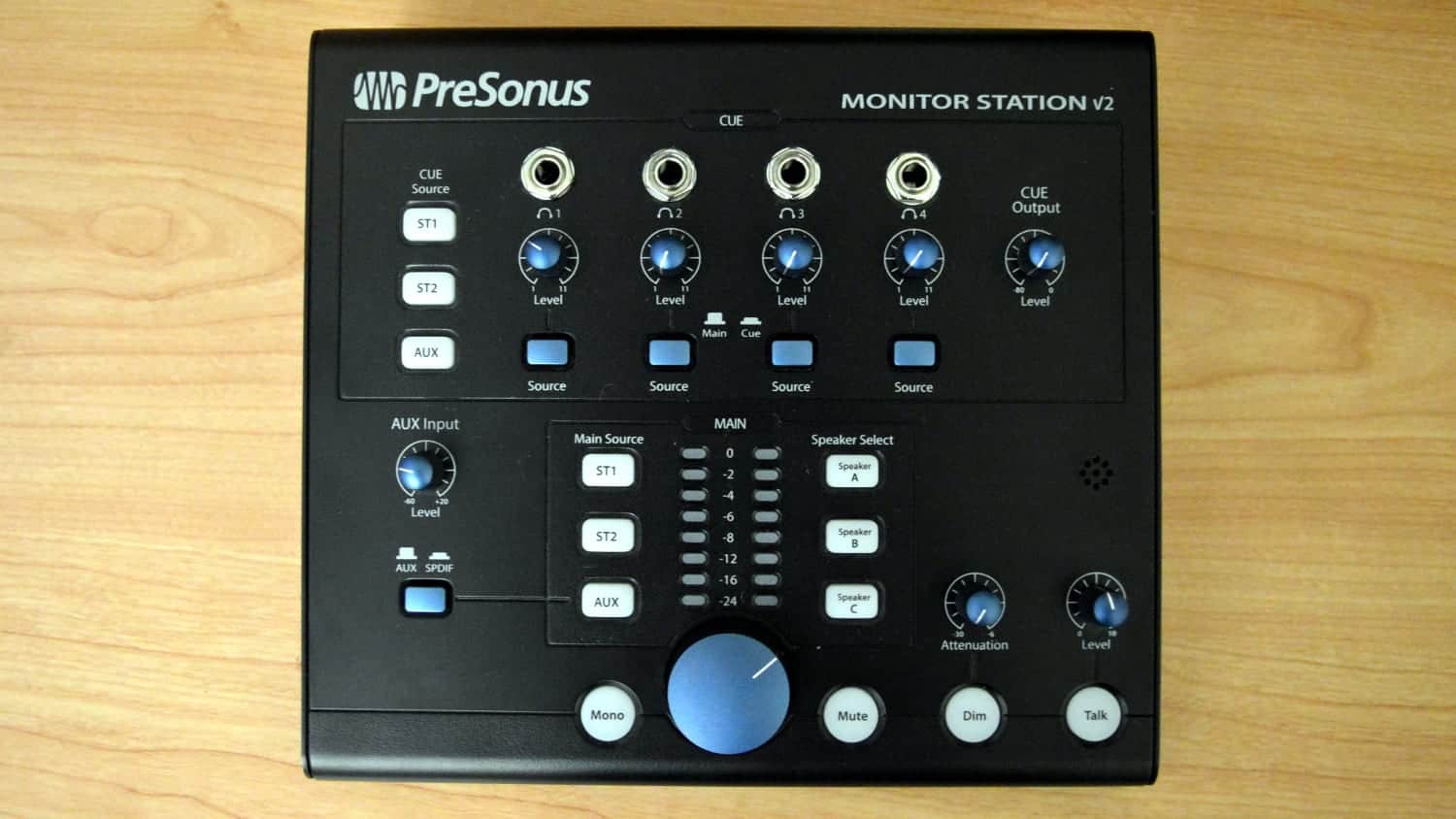 The PreSonus Monitor Station V2 is set up brilliantly. Those with varying degrees of knowledge will be able to grasp the device quickly and easily, and those who are already in-the-know regarding monitor control devices will have an even easier time.
The build-quality is also pretty noteworthy. The casing is built from metal, and measures 2.5″ x 8.5″ x 9″ (63.5 mm x 216 mm x 228.6 mm). When it comes to weight it sits in at 6lbs, or 2.72kg.
Ease of use
On the front, however, is where the magic happens. The centerpiece of the device is a large volume knob, which sits at the bottom or the control panel. Right near that knob, you'll be able to select from any of the inputs and outputs — so you can route the audio anywhere, as long as it's plugged into the back. You'll also find four headphone outputs with separate volume controls, and controls like a dim button, with an attenuation knob, and a talkback control.
On the front, you'll also find two LED meters, which show you the input level of your selected source — and you can calibrate it to your studio, though by default it sits at 0 VU at +10dBu.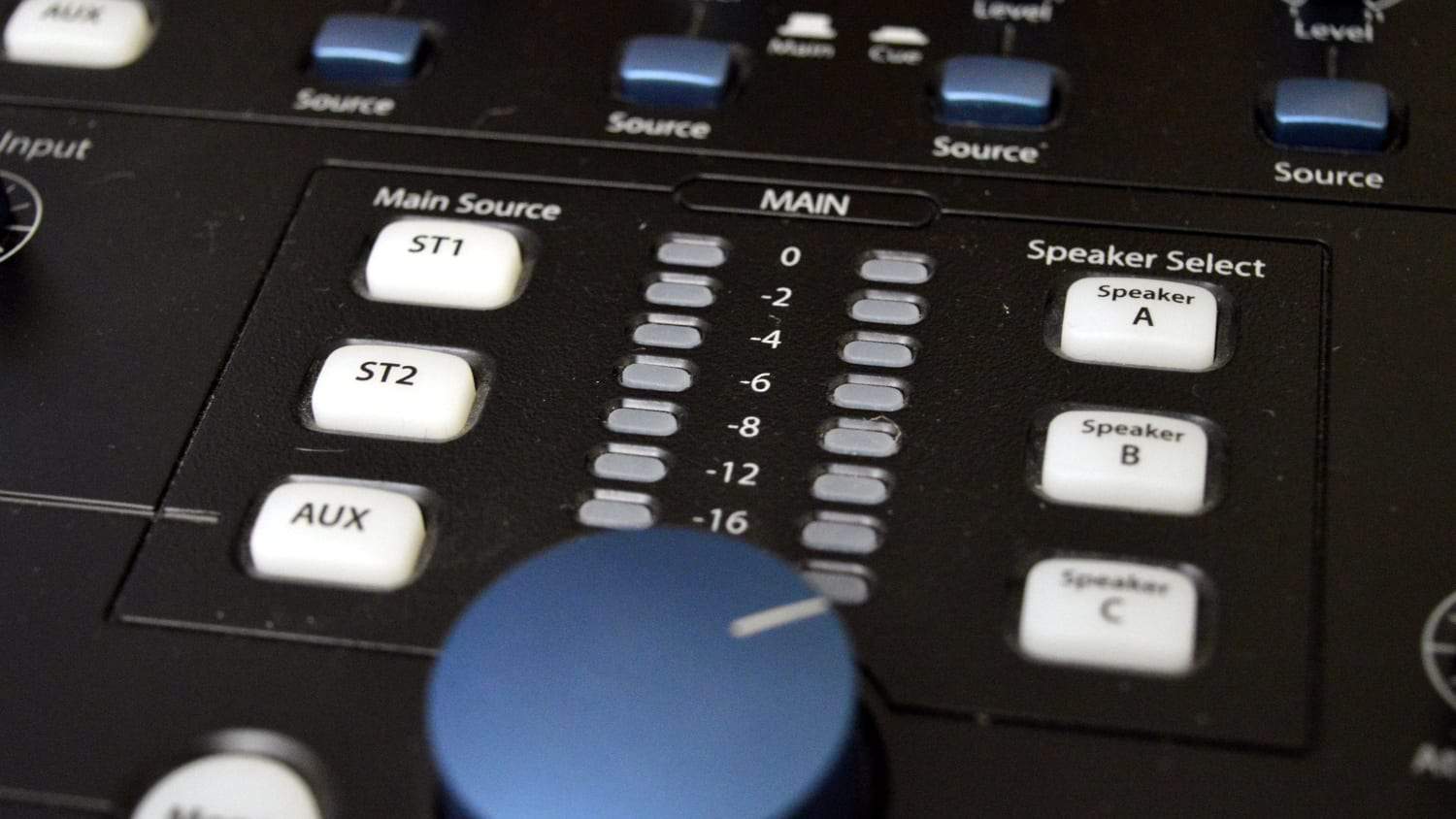 There's little to fault the PreSonus Monitor Station V2 on in the ease-of-use section. While the device is super easy to use, it's also very functional and powerful — making it perfect for home studio and pro studio use alike.
Another great feature here — and one that you won't find on all monitor control stations — is the talkback feature. There's a small microphone that can be found on the right hand side of the front-panel, which can be fed through to the headphones. Perhaps our only issue here is that the built-in microphone input has been removed from the original Monitor Station — so if you want to use an external mic over the built-in one you're out of luck without going through an audio interface.
Sound
Purists may argue that while the device is super easy to use, it compromises the sound quality — and while that may be technically true, in reality your audio will be indiscernible from the original source. In other words, while the sound is altered very slightly simply by going through the device's circuit, it isn't noticeably so, and the vast majority of users will be fine with the tiny changes that it does make.

Conclusions
The PreSonus Monitor Station V2 may largely be targeted at home use, but you could easily make a solid case for it being used in a pro studio too. It's well-designed, well-built, and extremely easy to use. The main competitor here is the Mackie Big Knob — which is arguably even easier to use. The PreSonus Monitor Station V2, however, offers more headphone outputs and a S/PDIF input, which could be helpful for many people. Because of that, we would argue that the Monitor Station V2 is an overall better device.
If you do already have the original PreSonus Monitor Station, and don't really care much about the S/PDIF input, then there isn't really all that much reason for you to upgrade. If, on the other hand, you don't own the original and are in the market for a monitor control station, the PreSonus Monitor Station V2 is an excellent choice.
You can buy the PreSonus Monitor Station V2 for yourself below.