As I started to brainstorm ideas for the top 10 accessories for music producers, I reflected on many of the sessions that I've been involved with from both sides of the microphones. I wanted to include items that you can easily fit into your gig bag and take with you to any session, but there are some items that are important enough to include that don't fall into that category.
Always remember – Gear is important, but one of the key concepts of music production is building and expanding your knowledge base. It's important not to put too much emphasis on things, but to focus on honing your craft skillset. If you do want some things to help you with your music production chops, we have a few suggestions.
Music Production Computer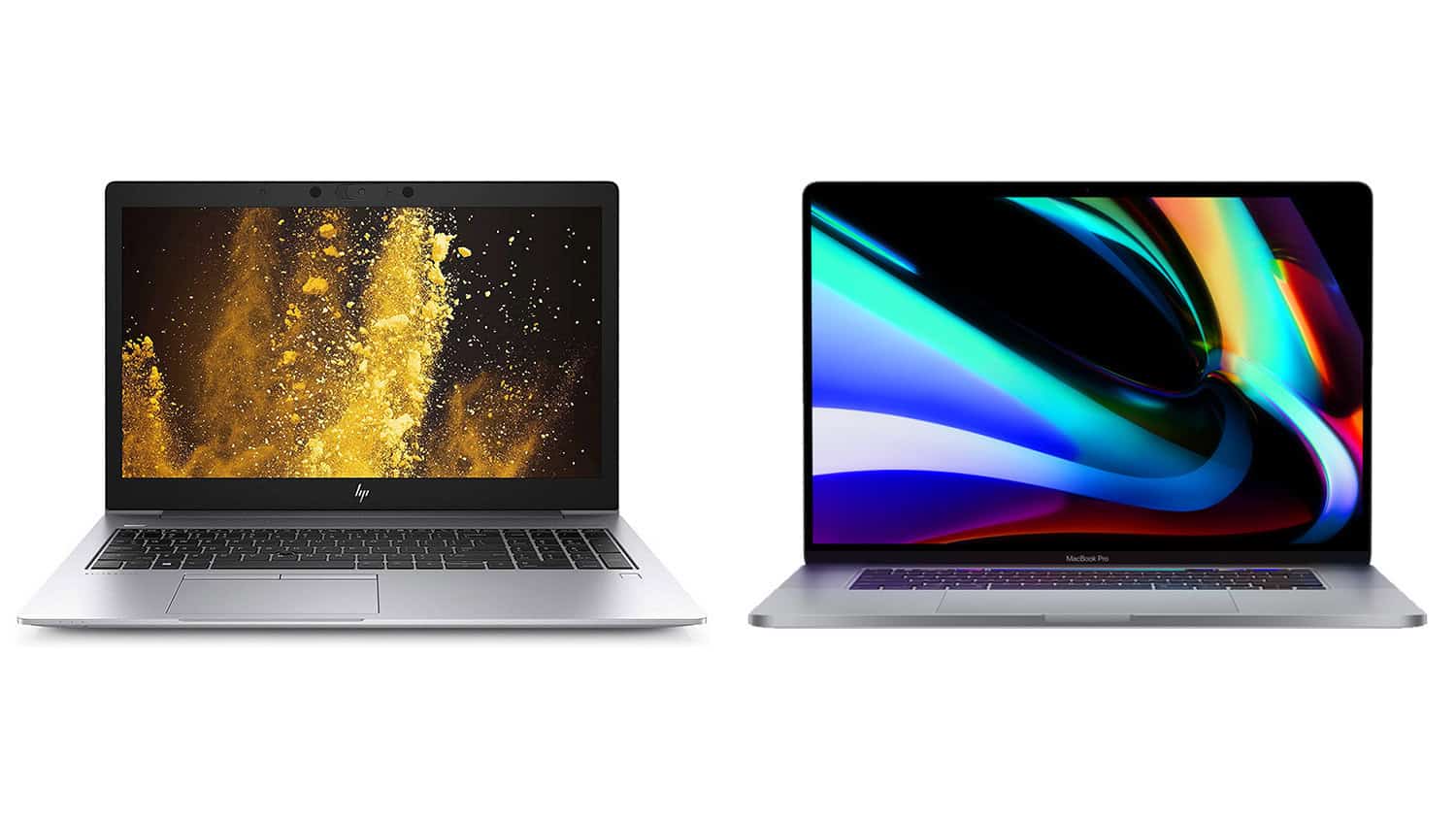 Since the traditional studio format is almost extinct, as a producer it's common to find yourself in all sorts of recording environments. What you don't want to do is leave a session up to chance. Will they have the DAW and plug-ins you're familiar with? Obviously, there are hardware considerations with the studio interface being compatible with your machine to keep in mind, but having your own music production computer you can take with you everywhere can help minimize some of the unknowns.
Buy the Dell XPS 13 on:
Amazon

Buy the Apple Macbook Pro on:
Amazon
Mouse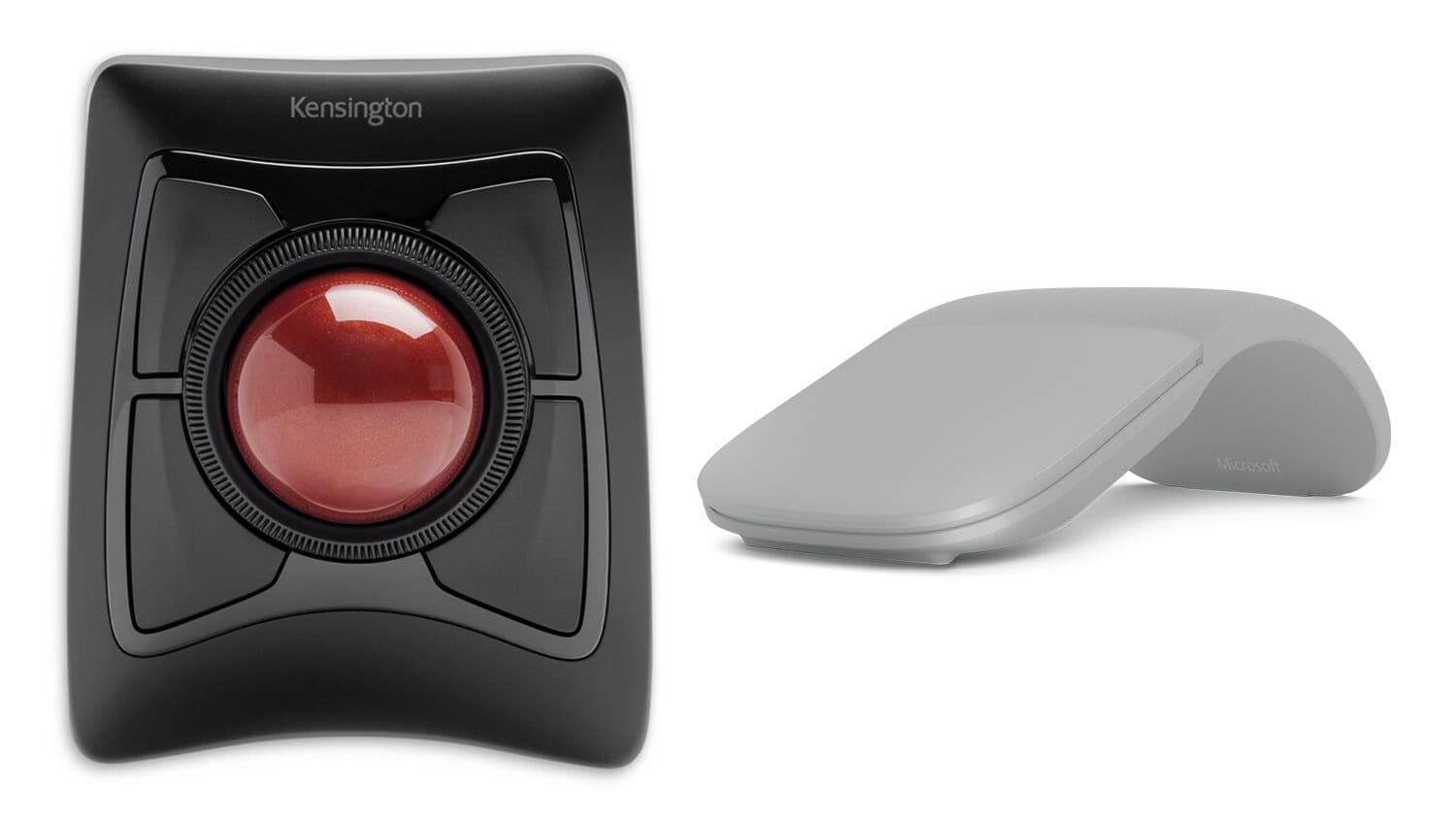 Long hours in the studio these days means long hours spent in front of a computer. You'll want to have an ergonomic mouse that reduces strain but doesn't impede workflow. Selection here is very much up to personal taste/needs, but luckily there are a wide variety of options on the market. Trackball models are very popular with music professionals of all types.
Buy the Kensington Expert Trackball Mouse:
Amazon
Buy the Microsoft Surface Arc Mouse:
Amazon | Guitar Center | Musician's Friend
Studio Headphones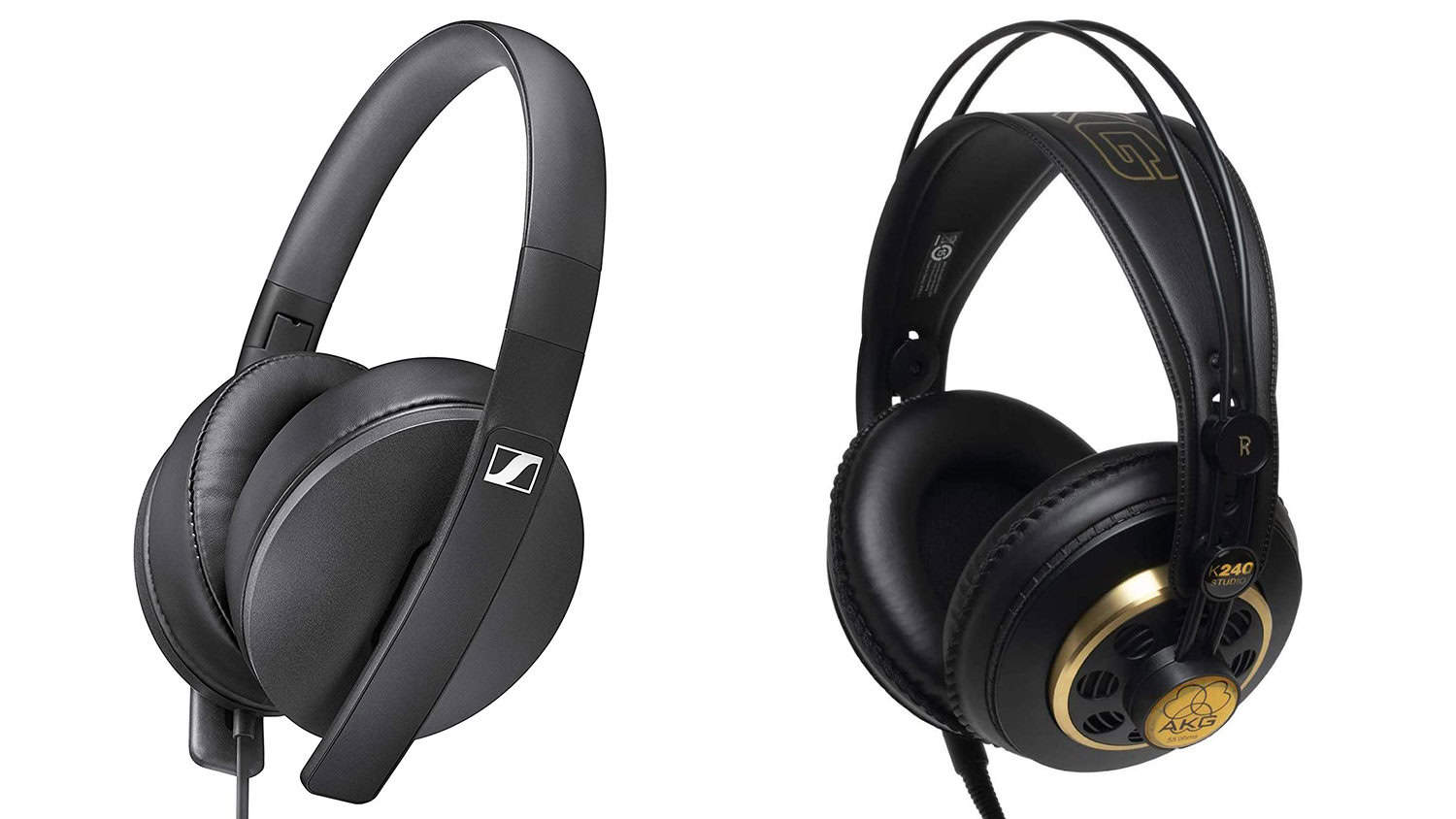 A good pair of headphones is an invaluable tool. Closed-back designs are great for tracking, as they reduce bleed. But an open or semi-open back design can be better can give you a better sonic image for mixing – if you have to mix on headphones. Just as important is having plenty of 1/8″ to 1/4″ adapters for use with different types of gear.
Buy the Sennheiser HD300:
Amazon | Guitar Center | Sam Ash | Musician's Friend
Buy the AKG K240:
Amazon | Guitar Center | Sam Ash | Musician's Friend
External Hard Drive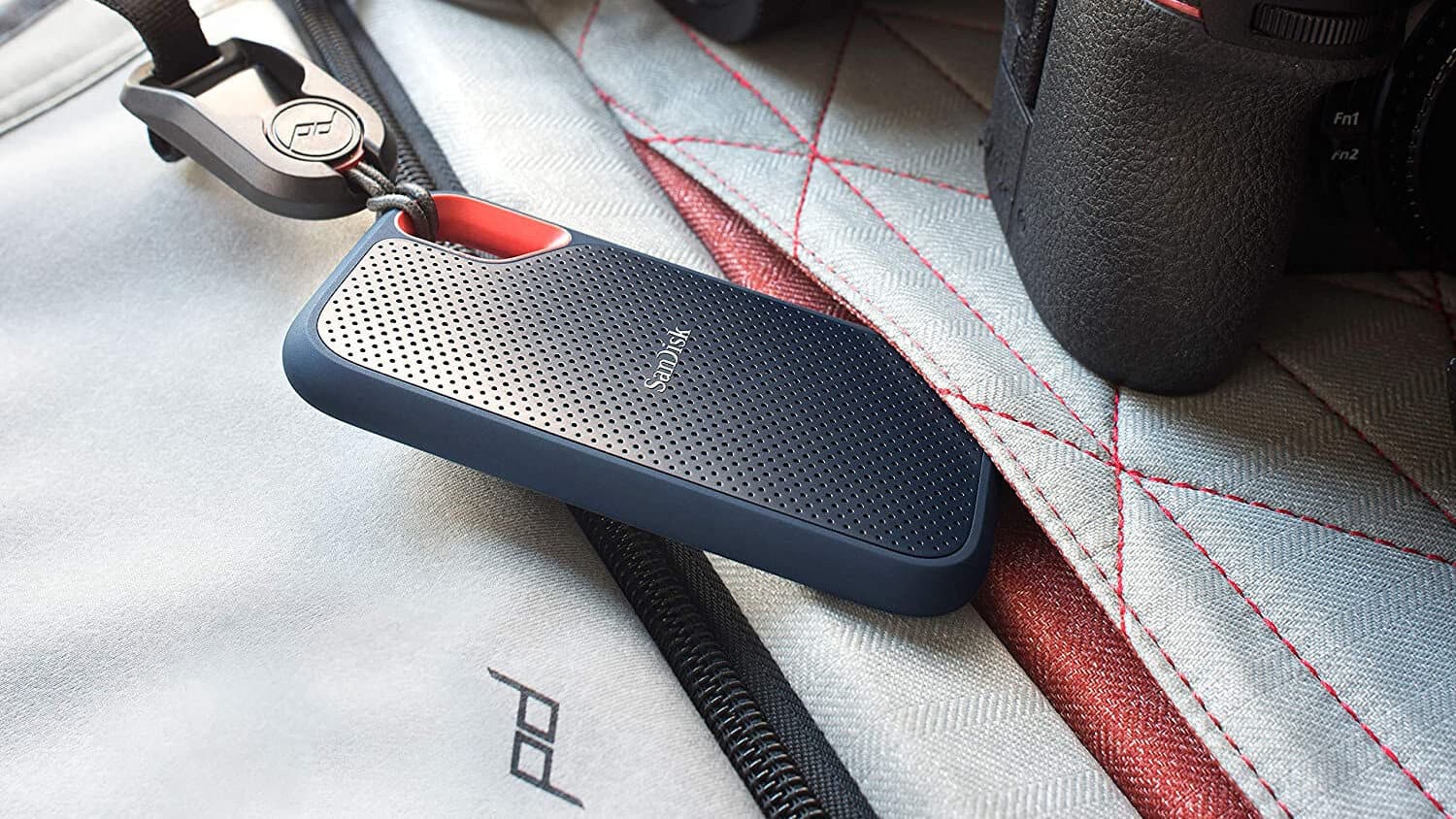 Even if you're not traveling between recording locations (or working out of a bedroom studio), and redundancy (pun intended!) is intentional here – storage drives are the lifeblood of your sessions. A really durable model that you can take with you wherever you go is a necessity. Solid State Drives (SSDs) are probably the best way to go in 2021, considering the fact that they're more durable than traditional hard drives and available in a range of storage options. Some DAWs (like Reaper) can be run from a hard drive without having to install locally, so you can fire up your software of choice anywhere.
Buy the SanDisk Extreme Portable SSD:
Amazon
MIDI Controller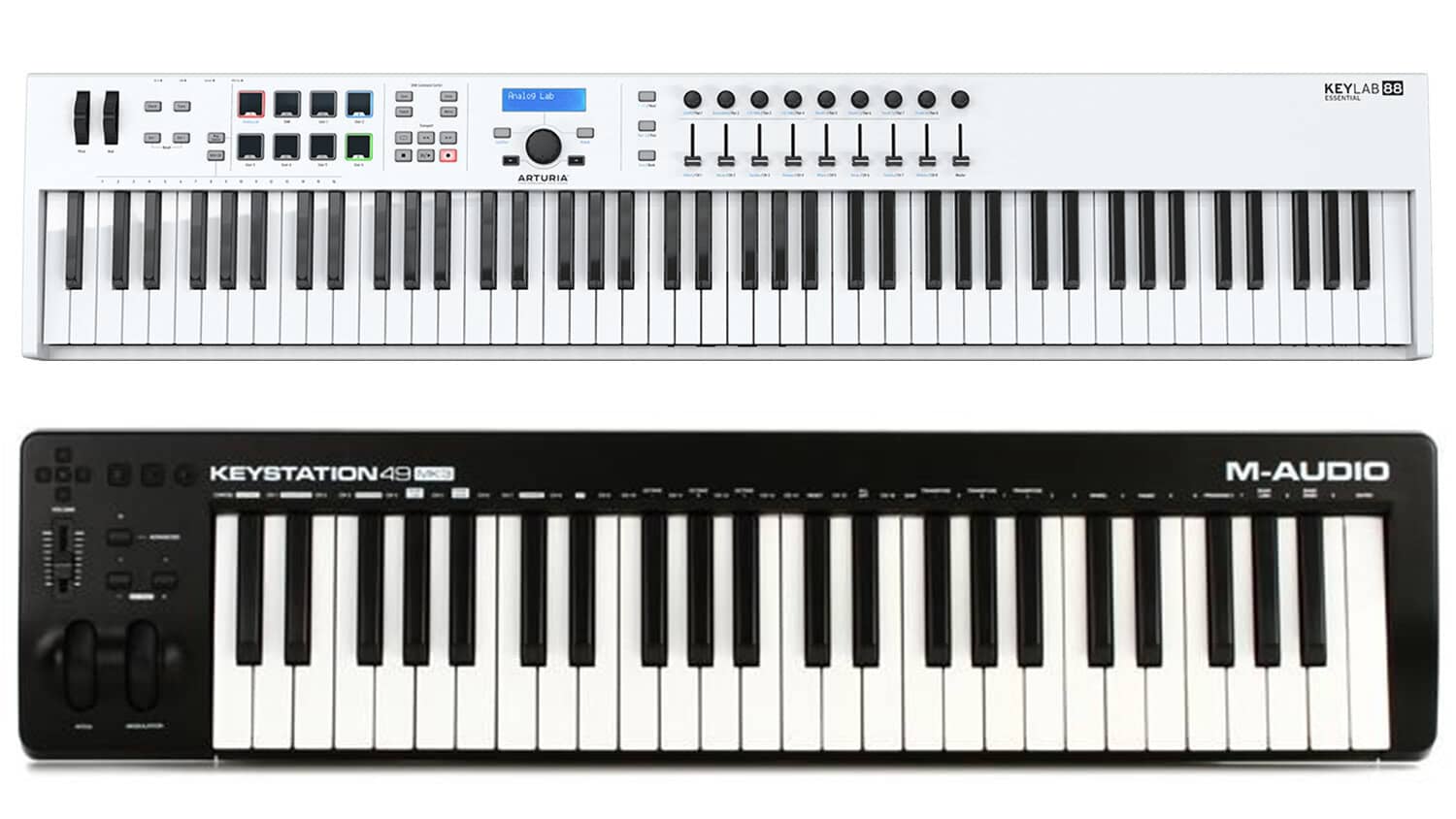 A good MIDI controller goes a long way. You can control virtual instruments, write automation, and more. The more keys the better, and 88 is ideal. But depending on what you'll be using it for you might only need a few octaves. It's also best to get a model with weighted keys. This will come in handy if talent wants to play it and they are used to the feel and response of these kinds of keys. If you want to take it a step further, some keyboards offer a host of quality onboard sounds and can act as a MIDI controller as well. Many are compact enough for you to travel with from session to session.
Buy the Arturia Keylab 88 Essential:
Amazon | Guitar Center | Sam Ash | Musician's Friend
Buy the M-Audio Keystation 49:
Amazon | Guitar Center | Sam Ash | Musician's Friend
Frequency Analyzer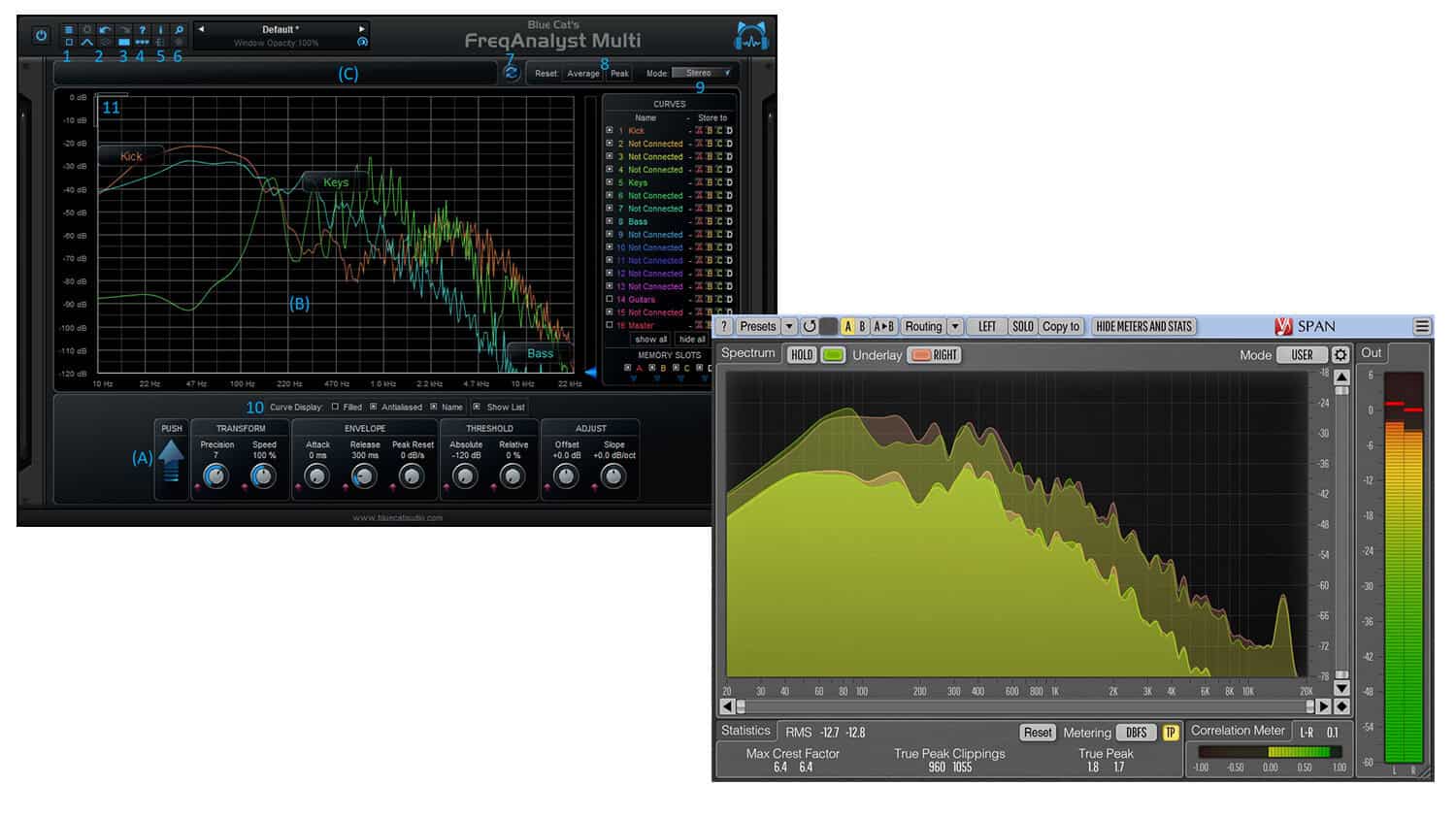 Frequency analyzers are one of the most critical tools or accessories for music producers. Aside from providing a visual representation of what is happening across the equalization range of your mix, they also provide readouts of volume levels and phase correlation. There are plug-ins, hardware units, even phone apps (that are surprisingly accurate!) that are all great. SPAN from Voxengo is an amazing application that is totally free.
Buy the Blue Cat Audio Multi-Frequency Analysis Pack:
Guitar Center | Musician's Friend
Get Voxengo SPAN for free:
Download
Control Surface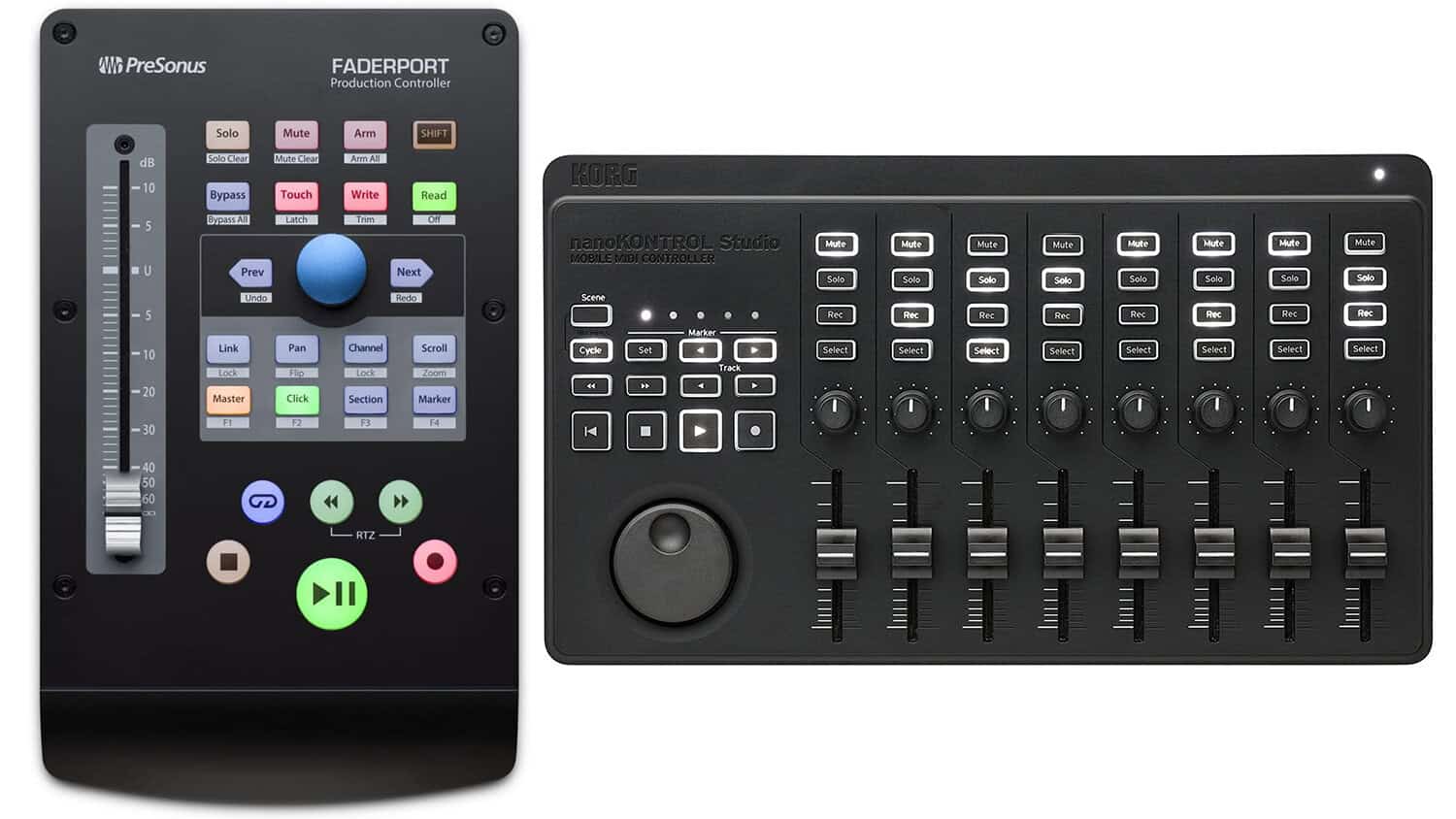 Definitely one of the more esoteric accessories for music producers, this can be a love it/hate it item. While they do introduce some of the tactile elements back into the workflow, they can be clunky and glitchy. Obviously this is more of an individual preference than any slight to manufacturers. If the idea works for you and is properly integrated into your system it can be a tremendous time saver and headache reducer.
Buy the Presonus Faderport:
Amazon | Guitar Center | Musician's Friend
Buy the Korg NanoControl Studio:
Amazon | Guitar Center | Sam Ash | Musician's Friend
Headphone Extension Cable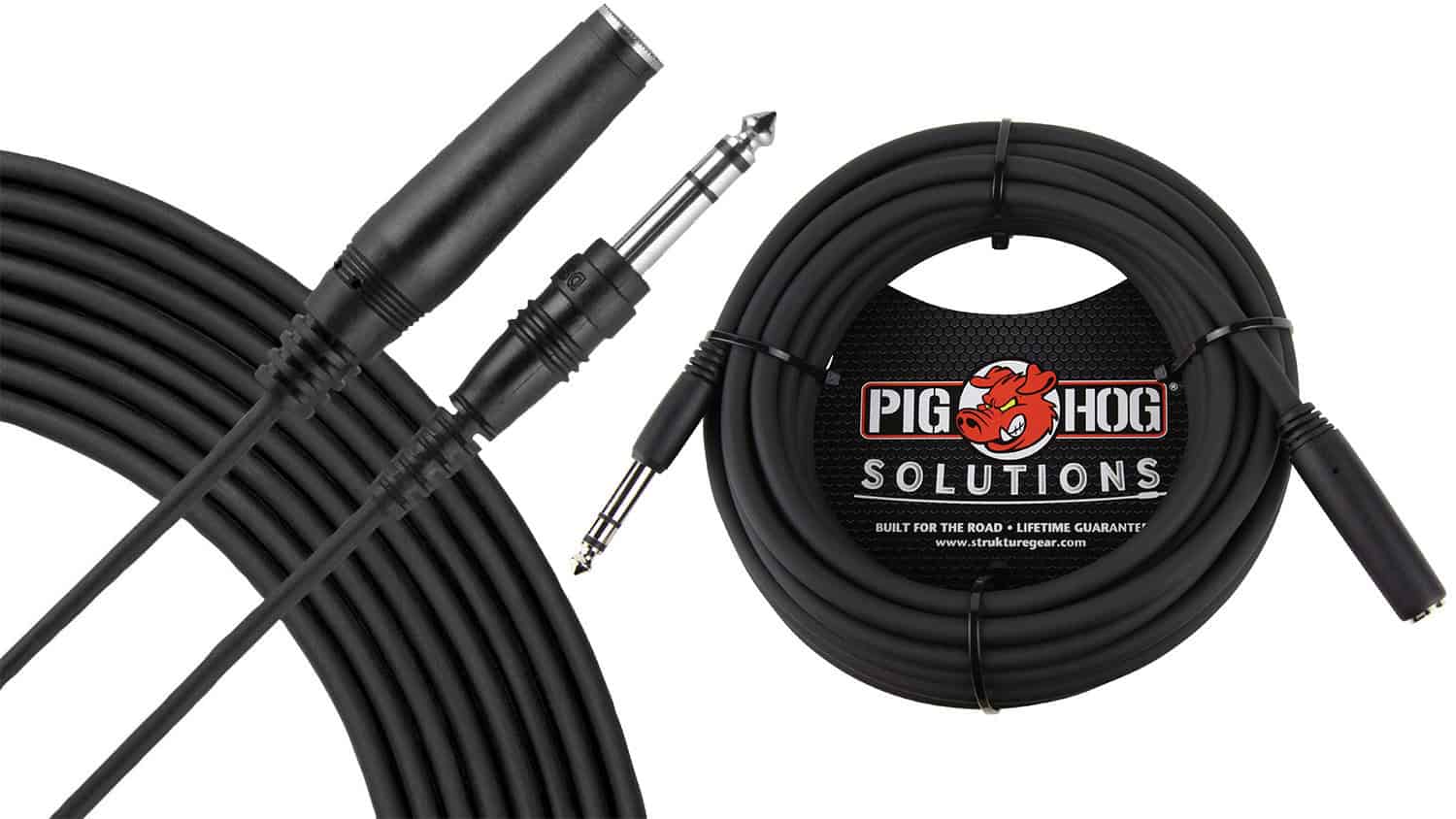 Any studio you're working in should have multiples of these, but it's a good idea to have your own. It is great to add additional length if you're tracking, or for freeing you up at the workstation or console.
Buy the Livewire Essential Headphone Extension Cable:
Guitar Center | Musician's Friend
Buy the Pig Hog Solutions Headphone Extension Cable:
Amazon | Guitar Center | Musician's Friend
Cable Tester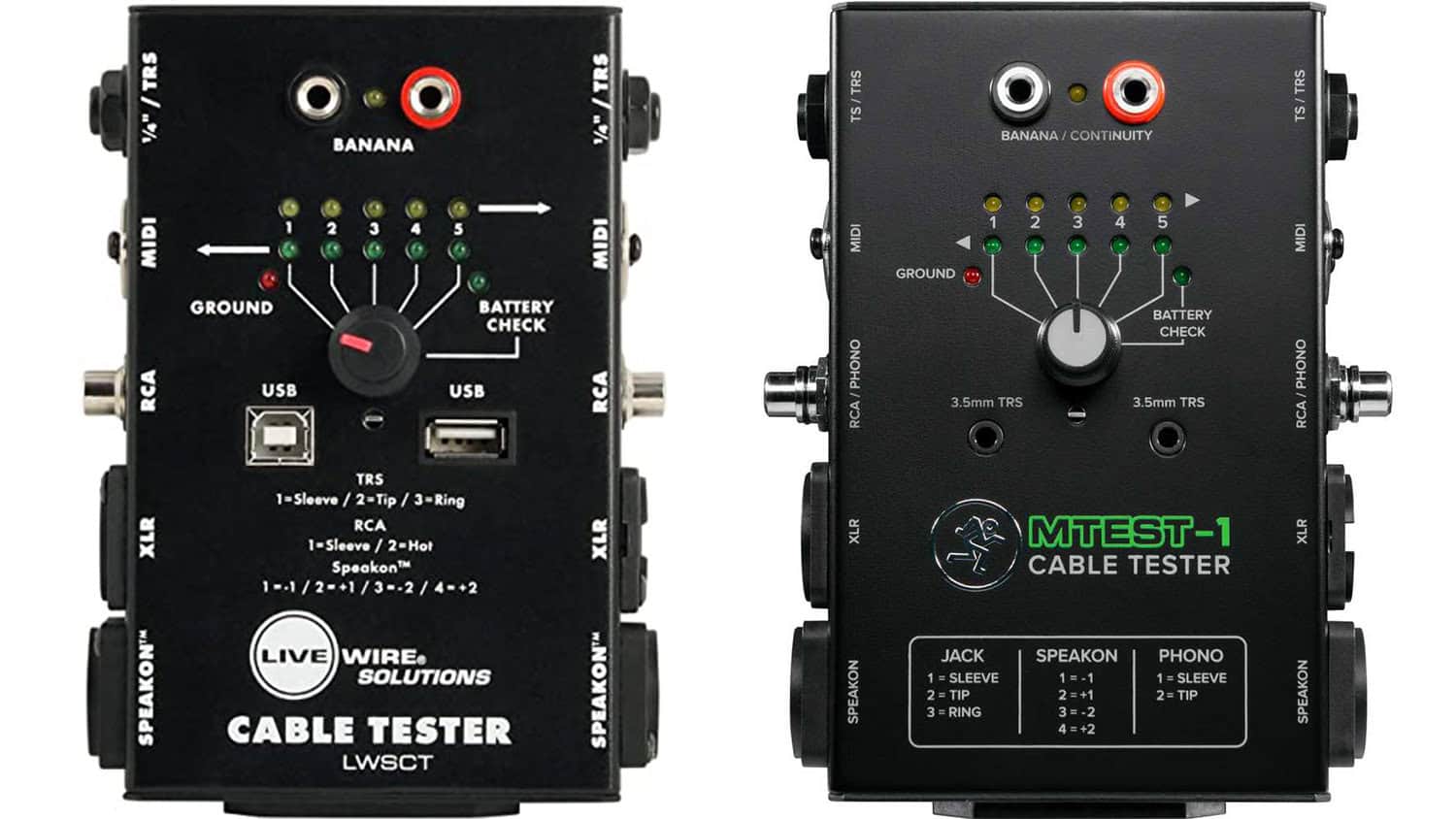 Cabling issues can kill the momentum of a session very quickly. In the heat of the red light, you don't have time to bust out the multi-meter to troubleshoot cables. A cable tester is a great, easy, and fast way to narrow down issues. And some can even check the efficacy of vacuum tubes as well.
Buy the Livewire Cable Tester:
Amazon | Guitar Center | Musician's Friend
Buy the Mackie M-Test 1:
Amazon | Guitar Center | Sam Ash | Musician's Friend
Studio Chair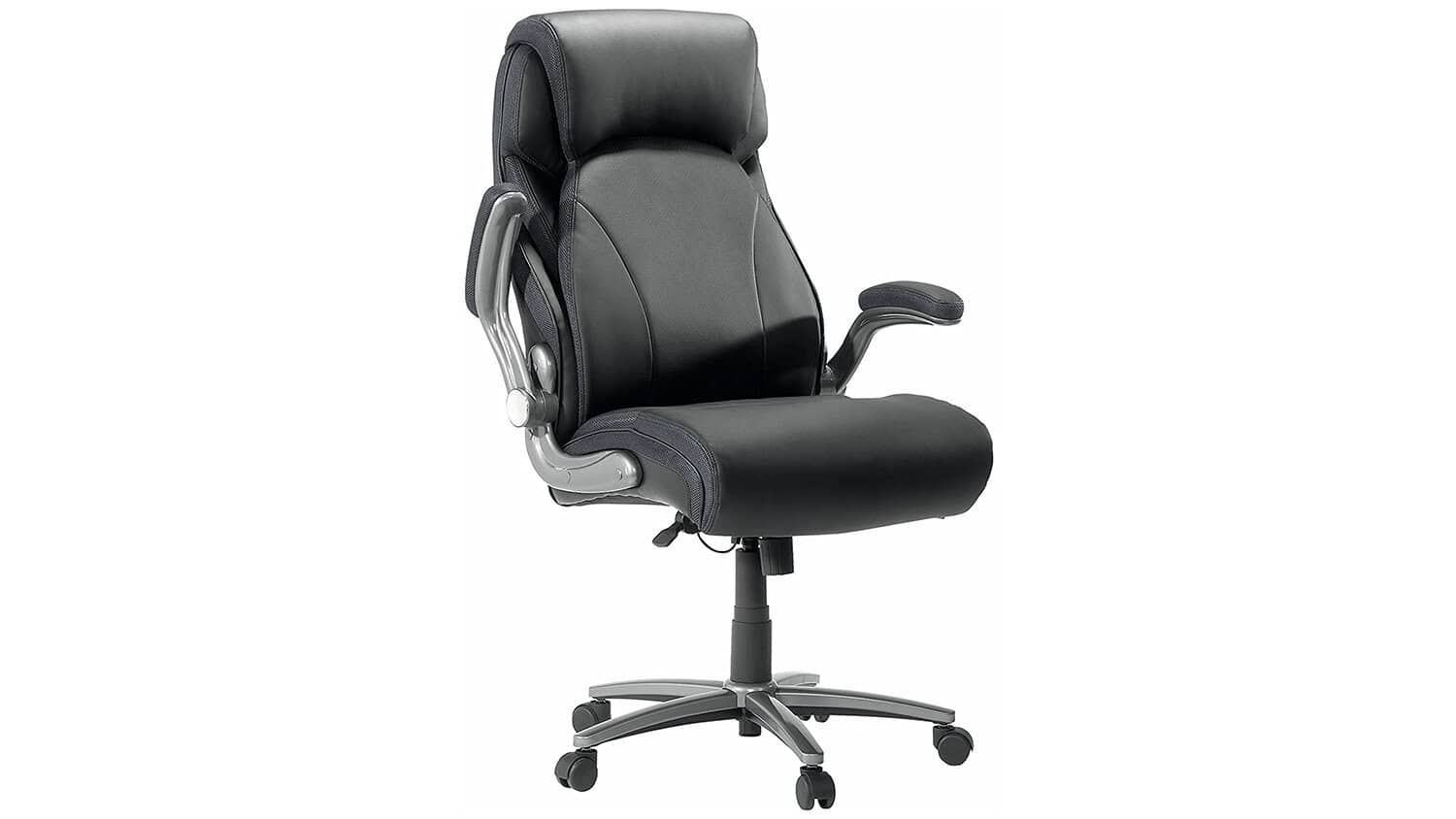 Of all of the accessories for music producers, this might be the most overlooked. We all know how much time is spent in the studio, so you want to make sure you have a great chair, as it might be the most used piece of equipment. Wheels are a must regardless of size of your space, and one with removable arms is a guitarist's best friend. Last but definitely not least- it will help your posture. Any office chair can work, but there are certainly models that are made just for the recording studio. Remember, comfort equals concentration!
Buy the Sauder Woodworking Company Big and Tall Office Chair:
Amazon | Guitar Center | Musician's Friend