Design -

9/10

Features -

8.5/10

Usability -

9/10

Value -

9.5/10
Arturia is known for releasing keyboards and controllers in many different versions and sizes at affordable prices and top-notch quality. Its latest controller is the Keylab Essential 88, bringing much of the design and functionality of the KeyLab 88 MkII to a more compact and affordable package. There are many 88 key controllers available, so does the Essential 88 stand up to the others, and even its big brother, KeyLab 88 MkII? Let's dig into the details.
Design
You'll be hard-pressed to find a more attractive keyboard than the Arturia line, and the Essential 88 reinforces that. With a soft white finish and a clean, simple layout, this keyboard is a stand-out among a selection of confusing and cluttered keyboard controllers available from other manufacturers.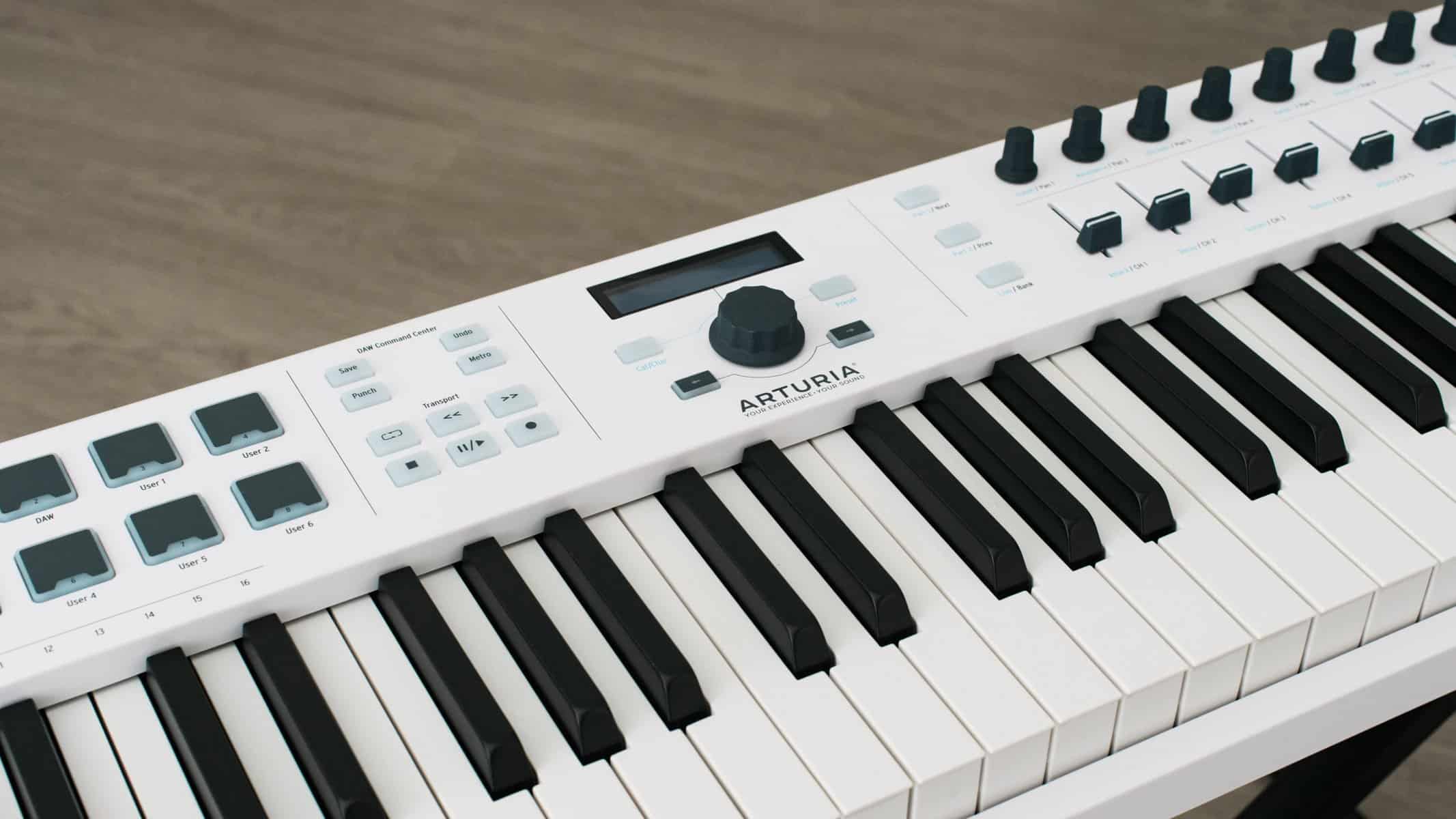 The keyboard comes in just under 19 pounds, which is pretty manageable for an 88 key device. While the keyboard feels like plastic, it also feels durable enough to take between gigs and studios without much concern for bumps and bruises. The soft back-lit pads take on Arturia's newest multicolor design. The endless rotary knobs and faders are smooth, although a more rugged feel or tougher material would be nice to see. A small but noticed touch was adding labels to the top of the keyboard indicating where the connector jacks are on the back. Plugging in your sustain pedal and USB cable is much easier from a top-down view with this.
Compared to the KeyLab 88 MkII, there's not much missing here. They both have nine rotary knobs and faders. The Essential 88 has eight pads compared to the sixteen on KeyLab 88 MkII, but the additional pads aren't necessary for most. The Essential 88 also lacks expression pedal input and CV inputs and outputs, but those could be considered pro-level features that may integrate with additional hardware and software.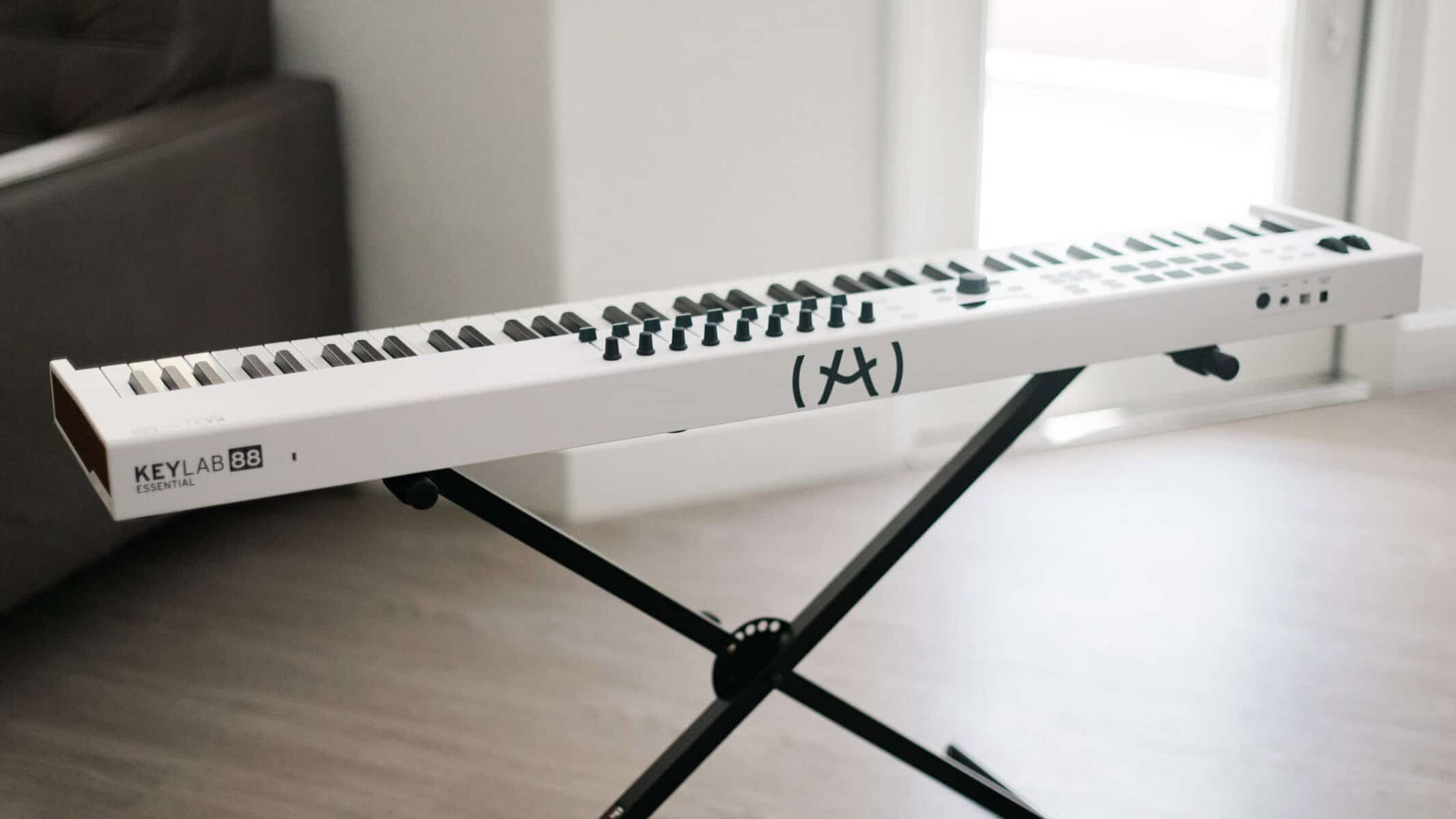 It's hard to beat the clean design Arturia has stuck to, and they focused on the details here, one of our favorite being the wooden side panels. The design of the Essential 88 falls right in line with Arturia's other keyboards (but we're hoping we see that sleek black finish come around for this model as well).
Features
The Keylab Essential 88 features a similar feature set as the KeyLab 88 MkII, taking popular controls in earlier MIDI controller models and streamlining their use. Arturia has put a focus on the Analog Lab software with their newest keyboards. The rotary encoders, faders and pads on the keyboard can be mapped with different presets to work seamlessly with Analog Lab, or map to your DAW of choice. Analog Lab really shines with the keyboard integration, where you can instantly get hands-on with common synth controls like filter cutoff, LFOs, ADSR and more. Using your hands on hardware is much more comfortable than reaching for the keyboard and mouse while playing.
There's a lot of smart and simple tools available on the Keylab Essential 88 that make it easy for players of all skill levels. Take the Transpose key for example. On previous keyboards, you'd dial in the amount of semitones to transpose with a plus and minus button. Now it's easier than ever – Press "Transpose" and press the key you'd like to represent middle C, and you're done!
Keylab Essential 88 includes the DAW Command Center like the KeyLab 88 MkII does, but I may prefer how the Essential 88 lays out the controls. The soft touch pads make punching in recordings simple. Transport controls let you scrub through your timeline with ease. There's even a Save button, which we all could learn to use more often.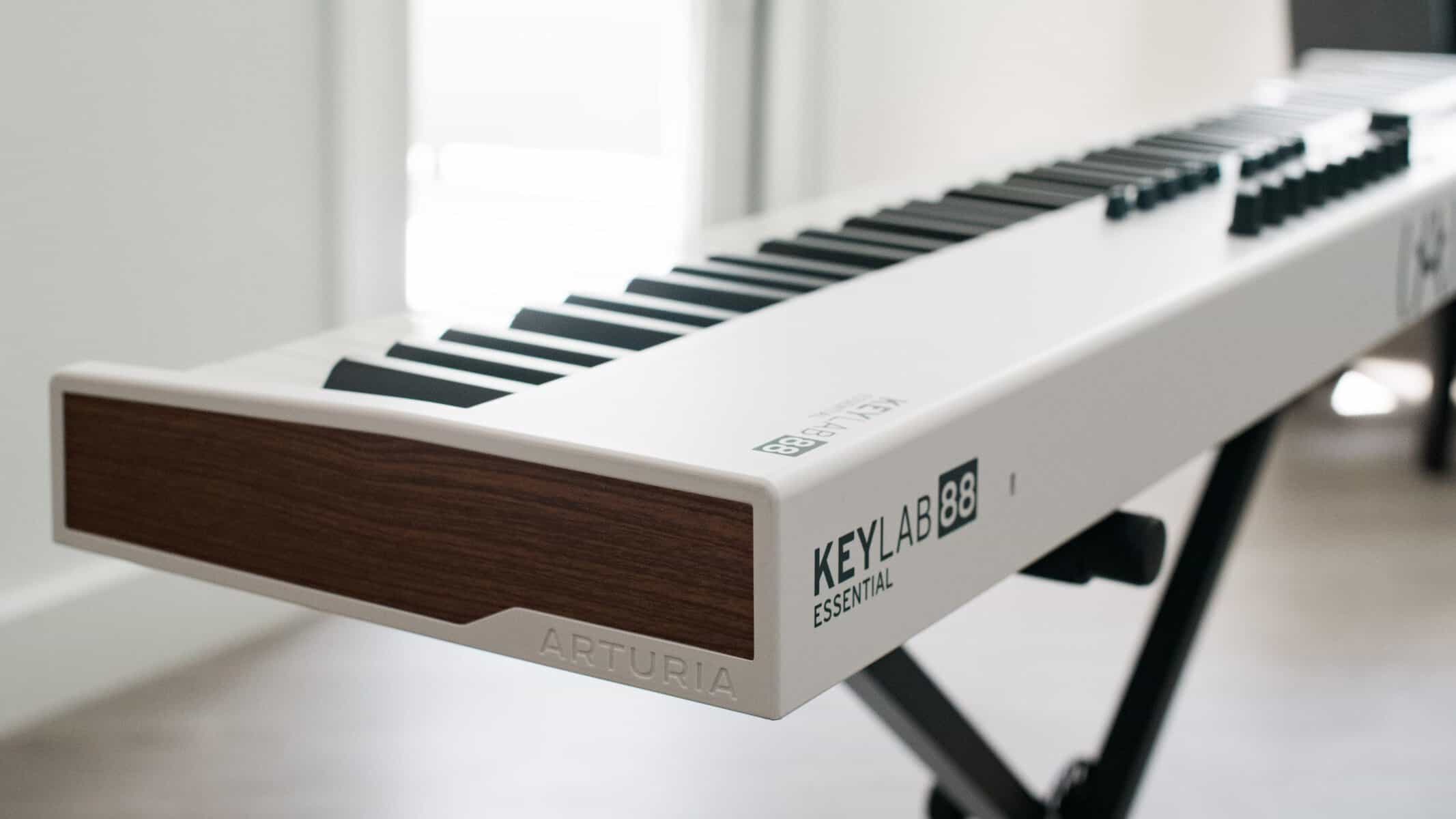 If you want to customize MIDI mapping, you can make adjustments in the MIDI Control Center on Mac or PC. You can adjust most all parameters and change MIDI notes and channels, and save these into presets to retrieve them anytime.
In Use
For a MIDI controller, the Keylab Essential 88 has a fantastic keybed. The keys aren't as heavy as authentic piano keys, but are authentic enough to have proper dynamic control in piano performance. The keys feel very durable and much better than any other in its class. Of course we'd love to see true piano-level dynamics, but the balance between physical weight of the keyboard, dynamic control and price point is hard to get perfect. The keys are extremely responsive and allow players to vary their dynamics and hear accurate results. The eight pads are very pressure sensitive, which is great for plugins that allow control based polyphonic pressure.
Conclusions
The Arturia Keylab Essential 88 is a solid choice for a full-size keyboard controller, and fits the needs of beginners and experts alike. The portable package makes it right at home in a studio or on the stage, or anywhere in-between.
You can get the Arturia KeyLab Essential 88 using the links below.