Sound -

9.5/10

Design -

9.5/10

Ease of Use -

8.5/10

Value -

7/10
Sound Devices, perhaps best-known for its audio tech for videographers, is trying to appeal a little more to musicians. We've reviewed Sound Devices gear in the past, including the company's MixPre-6 interface, with good results. Now, we're taking a look at the latest device in the MixPre series — the Sound Devices MixPre-10M.
The MixPre-10 is a little different than its predecessors. How? Well, as mentioned, it's targeted specifically at musicians, and it offers a hefty eight mic preamps, with the ability to quickly and easily route any physical input to any channel knob — meaning you don't need to mess around with inputs when you want to record to a different track. In general, Sound Devices' equipment is pretty easy to use. Does the Sound Devices MixPre-10M live up to that? We put it to the test to find out.
Design
As with anything, the first thing you'll notice about the interface is its design, and it's not a bad-looking device. It looks very similar to Sound Devices' other interfaces, and we like that. The interface is aimed at portability, and as such there's a function on every square inch of it.
On the front of the device, you'll find eight gain knobs for the preamps, as well as a record button and a display for controlling different aspects of the interface. On the left of the device, you'll find four of the mic preamps, along with a USB-A and USB-C port, a power switch, and an unbalanced 3.5mm output. On the right side, you'll find the other four preamps, a headphone output, an aux input, and balanced TA3 outputs. Last but not least is the back, which offers the power input and a battery compartment. Under the battery compartment, you'll get an SD card slot and an allen wrench, which is used for the 1/4-inch-20-thread screw.
In general, the interface is pretty well-designed. It's clearly functional, and quite rugged too. We couldn't really test just how rugged it is — we have to return it to Sound Devices eventually — but we imagine it would be able to withstand most day-to-day abuse.
In use
Once you've plugged your interface in and powered it on, you'll be greeted with a few lights and the display turning on. The display is a touch display, which makes it much easier to use than it otherwise would be, but you'll still want to take some time to learn your way around the user interface.
In general, we found the device pretty easy to control as a standalone, but the fact that the display is so small does make it a little difficult at times. For example, it can be hard to tap buttons on the edges of the display easily, and as such it might take a few minutes to get used to. From the display, you can access things like the interface's settings, see different channels and input, and more. You can also control the interface through different knobs on the interface — turn an input gain knob, and you'll see the gain represented on the display. You can also press in each gain knob to quickly jump to a screen showing information for that preamp, and allowing you to change settings like phantom power, which can be very handy.
One of the best things about the device is that you can record multi-track recordings quickly and easily — so even if you're not in a full band, you can still record multiple instruments yourself. We found it very easy to do so, and very easy to set up new tracks that use the same mic preamp. You can even do basic mixes on the go, if you want to. When recording, a knob sets the gain — but after recording, as long as that knob remains assigned to the same track, it'll control output volume, so you can get a general feel for your song with basic mixing.
Because the device's display is so small, it would have been nice to get another way to visually control it. Unfortunately, unlike the MixPre-6, the MixPre-10M is not compatible with the Wingman app. In other words, if you're interested in controlling the interface from your phone, this may not be the device for you.
Of course, thankfully, the Sound Devices MixPre-10M isn't just a standalone device. You can also set it up to work as an interface with your computer, and when used as an audio interface it performs exactly as you would expect it to. Once we plugged in the MixPre-10M, it was easily recognized by a Mac, though we did have to make a few tweaks on our computer's audio settings to show all the tracks. You'll also need to ensure you record the latest drivers, if you're using a PC. Also, for recording you'll need to enable monitoring for each track on the interface, otherwise audio won't be passed through the interface to your DAW.
Apart from those things, however, the interface worked pretty well with Pro Tools — plus it's a pretty portable way to get eight microphone preamps.
Sound
As we would expect from a Sound Devices product, the MixPre-10M sounds great. They're pretty transparent, which is exactly what you would want from a device like this. That's to say, you're likely going to be recording a range of different instruments with the MixPre-10M, and it should perform perfectly well in recording all of them.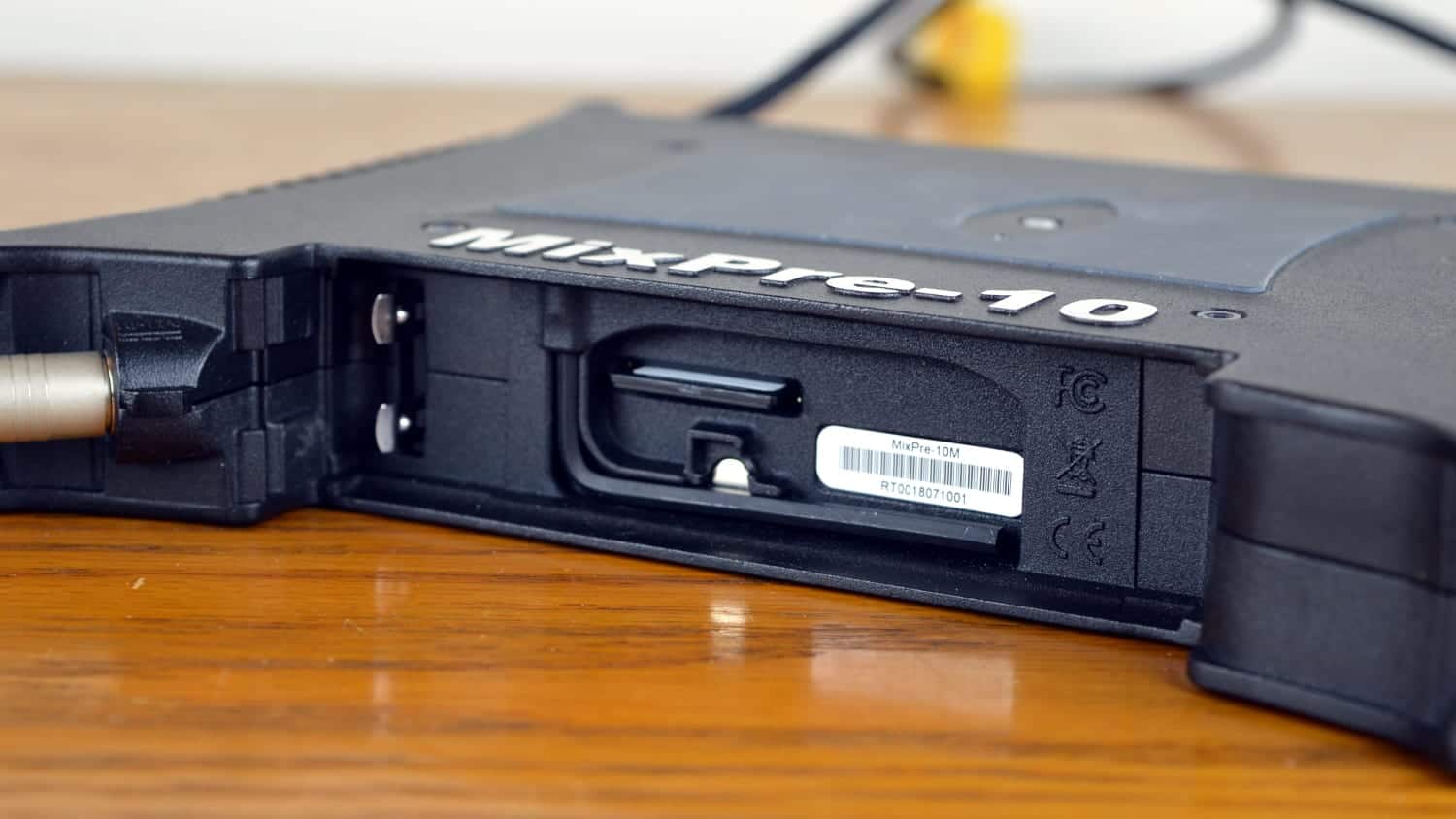 When it comes to audio quality, the recorder is capable of recording audio at 96kHz, 24-bit — which is more than high enough quality for the vast majority of users. There's not much else to talk about here — the MixPre-10M sounds great, and that's the biggest thing that matters for an audio interface.
Conclusions
The Sound Devices MixPre-10M is an excellent option for those looking for a highly portable and fully functional recorder that they can also use as a USB interface. It features 10 inputs, functions extremely well as both a standalone recorder and an audio interface, and sounds great. It's not perfect — the display is a little small for some, though you'll get used to it. It's also a bit pricey — the device comes in at a cool $1,499.
Given what it can do, however, that may not be too high of a price. There aren't that many products out there that can function as both standalone recorders and audio interfaces, and feature eight mic preamps — and are relatively portable. Because of that, we think that the MixPre-10M is well worth the money. If you agree, you can get it for yourself from the links below.