Sound -

9.5/10

Design -

9.5/10

Ease of Use -

9/10

Value -

8/10
Sound Devices has long been a force to be reckoned with the the music technology field, and for good reason. The company is behind the audio recording of a number of major Hollywood movies, including La La Land and Mad Max, and it has a ton of great products under its belt. Like, for example, the newly announced Sound Devices MixPre-6 recording interface.
The device was actually unveiled alongside the SoundDevices MixPre-3, a slightly smaller-scale interface with streaming of up to three inputs instead of the six on offer in the MixPre-6. But the Sound Devices MixPre-6 isn't cheap — it comes in at a cool $900. Is it worth the cash? We put it to the test to find out.
Design
The first thing you'll notice about the device is its design, and when we pulled ours out of its box we were quickly struck by how compact it is. Sound Devices has long placed an emphasis on portability, and that shows in its new products. The interface comes in at only 16.6 x 11.8 x 3.6 cm, or 6.53 x 4.65 x 1.40-inches, which is really quite small. It's relatively light, too, and only weighs in at 0.56kg, or 19.9oz.
Portability is important here — while you can use the interface for recording anything you so choose, it's really targeted at being a field recorder and is particularly useful for videographers thanks to its retractable 1/4-20 mounting screws. Thanks to its small size, it'll fit in most standard-sized bags without taking up too much space at all.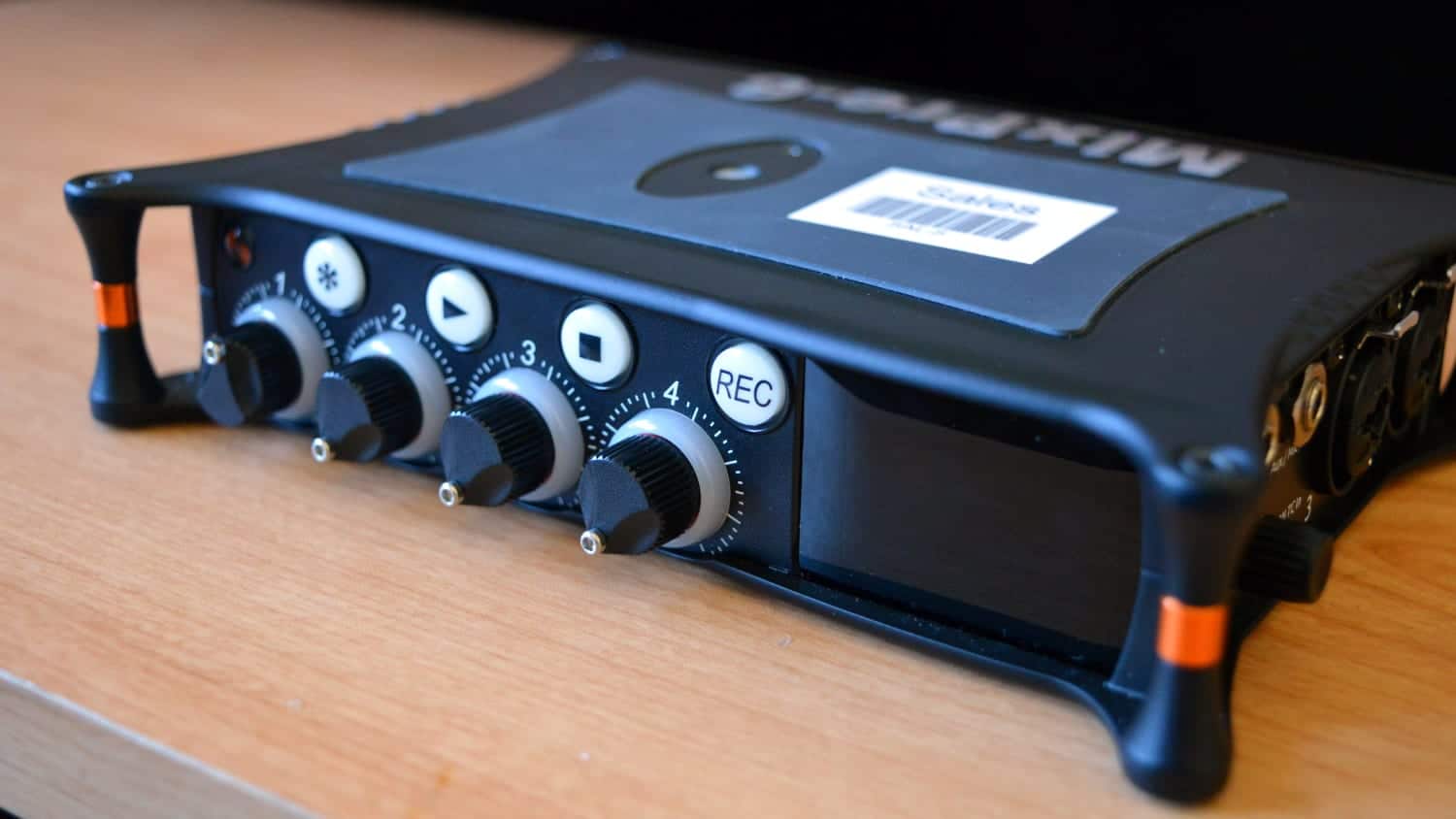 The interface is pretty sleek as well. One word that might pop up when you look at it is "rugged," and it seems like it should be able to withstand most abuse thrown at it.
On the front of the Sound Devices MixPre-6, you'll find gain controls, along with transport controls and a small display for showing information about your recording. On the left side, you'll get two XLR/TRS combo ports, a 3.5mm stereo output, a USB-A and USB-C port, and a power switch. The back houses a small battery compartment for recording on the go, under which you'll find an SD card port, and an allen key. Last but not least, the right side houses two more XLR ports, an aux/mic in port, a headphone port and volume control, and a HDMI TC input.
As you can see, Sound Devices has made good use of the space available to it. All those inputs and outputs are found on the outer edge of the MixPre-6, yet it's still a pretty compact and easy to navigate box. Not only that, but Sound Devices has added some really nice touches to the design — like the light-up rings that surround the channel knobs, which glow depending on the intensity of the signal. The light is green for a good signal, yellow when the built-in limiter kicks in, and red when you're clipping. Things like this help make the Sound Devices MixPre-6 visually quite nice, and they serve a nice function too.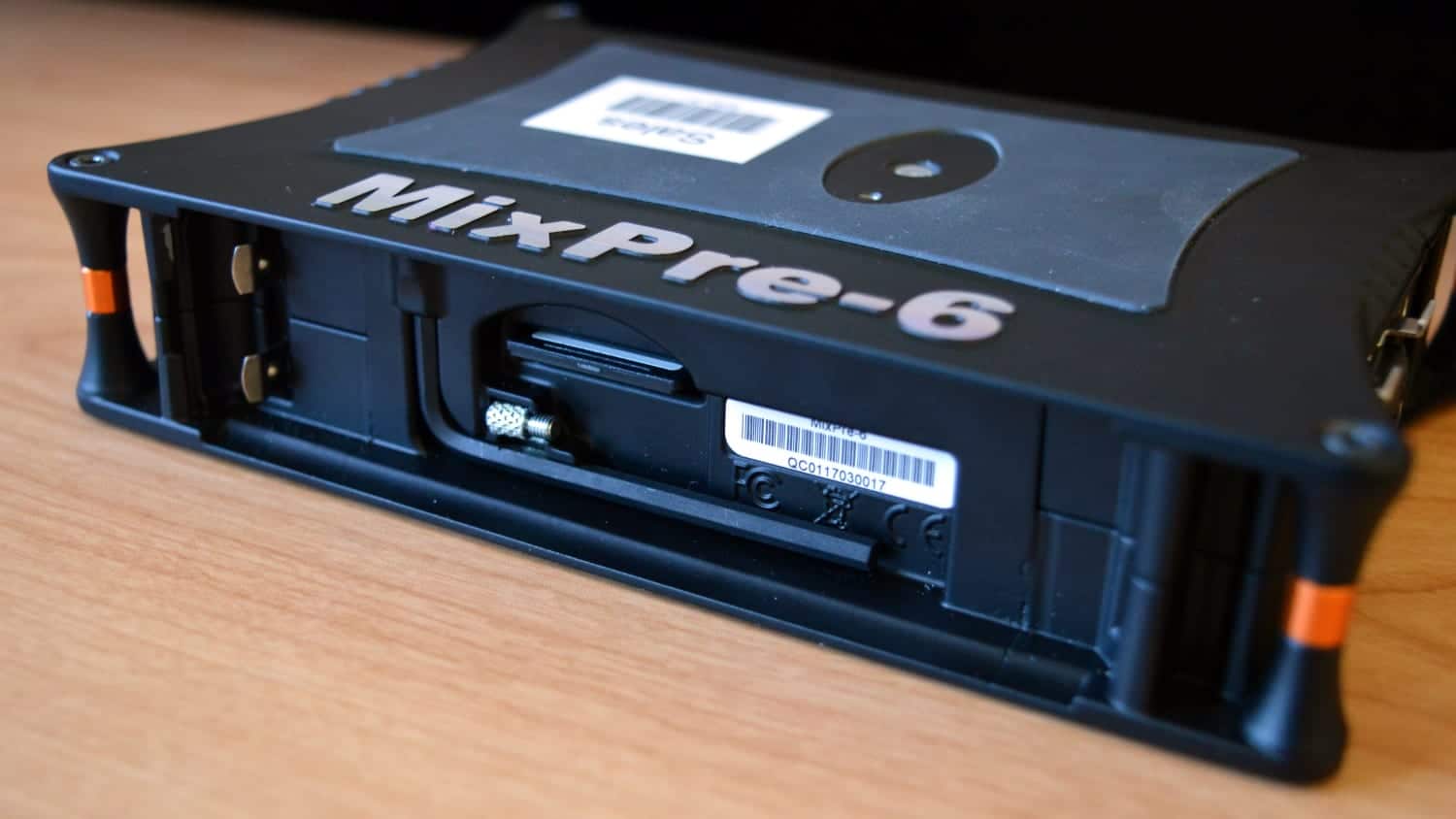 In the box, you'll find the MixPre-6 itself, along with a USB cable, and a battery sled for 4 AA batteries. You can also buy a battery sled for Sony L-Mount-Li-Ion batteries. Alternatively, you can use the USB port to power the device.
Overall Sound Devices has done a great job, both at designing the look of the device and optimizing it for functionality. It looks great, is rugged and strong, and there are controls and ports on every single side of the device.
Ease of use
Once you plug the device into your computer, you can switch it on, and you'll be greeted a few lights turning on, and the display lighting up. The display is a touch display, and if you've used a smartphone before you shouldn't have too much trouble finding your way around the user interface. For example, from the "home" screen, which is basically a way to see input levels, you'll find a small menu button in the upper right-hand corner. From there, you can pull up presets, create or open projects, set up your inputs, and configure time code — then you can head over to the second and third menu screens for even more controls.
It's really quite a simple and intuitive interface, and it represents the fact that audio companies are finally moving into the 21st century. The device also is compatible with the Sound Devices Wingman app, which is available on the iTunes store and on Android.
You can also access the different "channel" screens, which allow you to control different aspects of each channel. Accessing the channel screen is really pretty easy — just tap the associated channel knob and you'll be taken straight there. From that screen, you can do things like solo a channel, arm it, select the input, turn on or off phantom power, and more.
One of the selling points of this device is that it can be used as a standalone recorder or as a computer-connected audio interface, and it's easy to use the device in both scenarios. As you might expect, you won't need to really get to know the user interface as much if you plan on using the device as solely an audio interface, but you probably still should — learning your way around the device can be pretty helpful.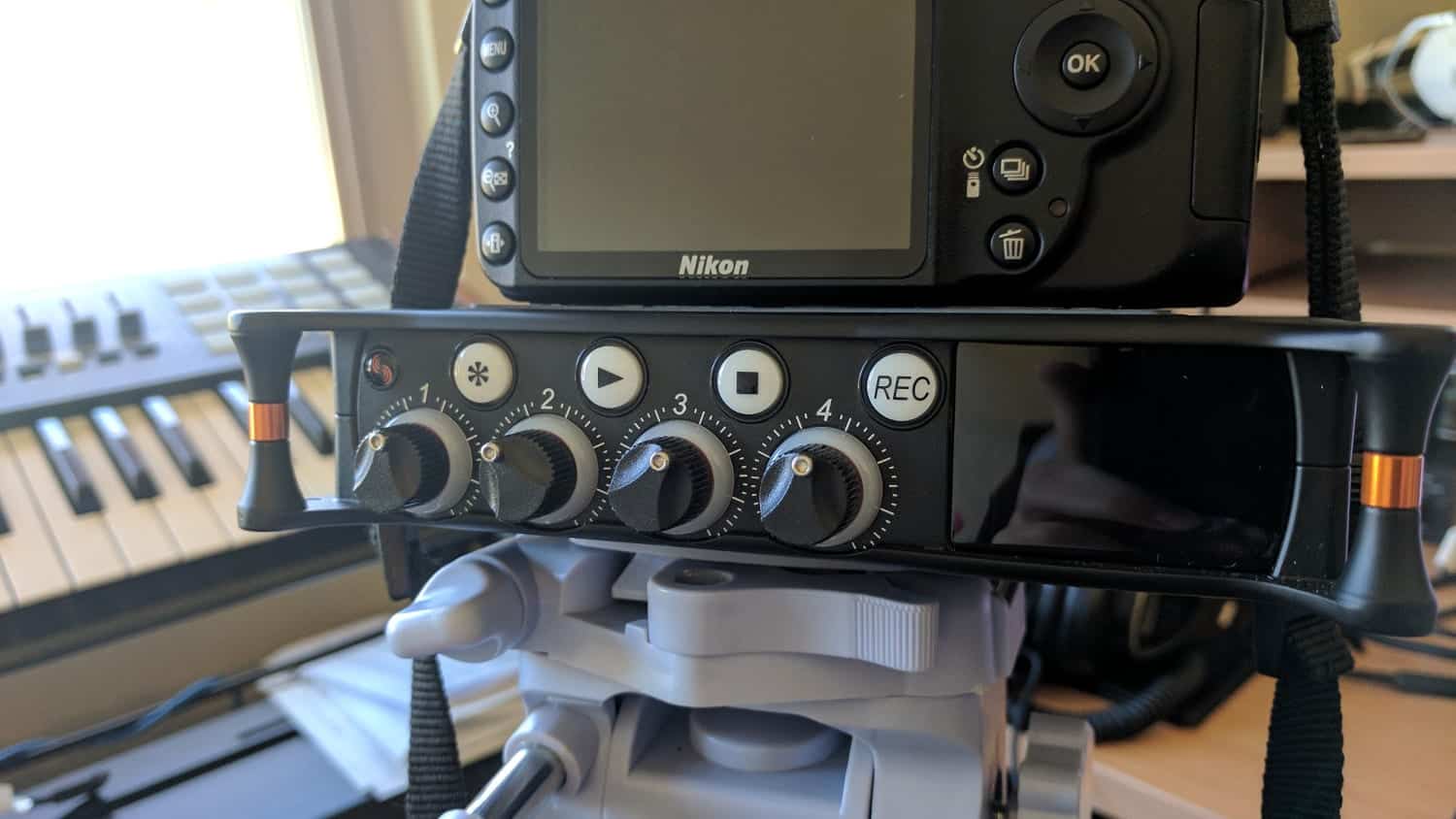 The device actually features two modes — "basic," and "advanced," and to switch between them, you'll head to the "system" menu item. Advanced mode will give you control over a number of extra features — like the ability to solo and arm channels, the ability to switch phase, variable panning (rather than simply choosing between left, center, or right), and more. We used the device largely in advanced mode — but sometimes it was nice to simplify things a little.
In general, the Sound Devices MixPre-6 is extremely easy to use. Sound Devices has done a great job at ensuring the user interface is easy to use, and while you might want to spend an hour or so familiarizing yourself with how it all works when you first get it, one hour is nothing compared to the time you could spend on some more confusing recording systems. If you find that the device isn't all that easy to use, Sound Devices has also put together a manual that's pretty easy to read through itself.
Sound
We've established that the Sound Devices MixPre-6 looks great and is easy to use — but as an audio tool, how it sounds is the most important thing to consider. Thankfully, the preamps sound great.
That's because the preamps in the Sound Devices MixPre-6 are really quite transparent. They don't add much color or tone to your recording at all, which is exactly what you want for what is supposed to be a versatile recording device.
The "sound" section of this review is short, but that's because we don't have any complaints — the preamps sound great, and are versatile enough to be useful in any and all situations. We tested them recording guitars, vocals, bass, and more — and loved the way the recordings turned out.
Conclusions
Sound Devices has really hit a home run here. The Sound Devices MixPre-6 is a very solid option for anyone looking for a versatile recording device/audio interface combo. But it's not for everyone.
If you're looking for a dedicated audio interface, while the Sound Devices MixPre-6 would be a great option, it's a little pricey and you could get a quality interface at a lower price. That, however, ignores the real point of the MixPre-6 — this is for those that don't necessarily always have a computer at their disposal, like videographers on the go or even touring musicians who don't want the hassle of having to set up a computer-based recording system every time they want to lay down an idea.
To that end, if you are looking for a recording device to accompany your video gear, or something to help you record on the go without the need for extra computers and cables, then this is the device for you. The Sound Devices MixPre-6 is well-designed, looks great, is easy to use, and sounds good too — meaning it really ticks all the boxes.
You can get the Sound Devices MixPre-6 for yourself using the links below.
Update: We've updated this article to highlight the fact that an Android app is now available.