Sound -

9/10

Design -

9.5/10

Value -

8.5/10
Ampeg has long been a staple in the bass industry, offering not just excellent bass amplifiers, but also top-tier bass pedals and effects. Just recently the company launched a few new effects pedals, including the new Ampeg Scrambler overdrive pedal.
The Scrambler pedal is new as a standalone pedal, but the circuit has actually been used in a number of Ampeg products before. It started out in the Ampeg BA combo amps, then made its way into the Ampeg SCR-DI, where it was one half of a DI/overdrive combo pedal. Now, however, you don't have to get it with other stuff — you can get the Scrambler as its own pedal. That's great news for bassists looking for a new overdrive.
But just how good is the pedal? And is it worth the $99 price tag? We put the Ampeg Scrambler bass overdrive to the test to find out.
Design
The first thing you'll notice about the Ampeg Scrambler is its design, and it's quite well put-together. The look is very basic, but that's not necessarily a bad thing — and it means that it'll be easier to navigate in a darker room. The pedal itself is black, and features a total of four different controls — drive, blend, treble, and volume. Drive and blend are both found at the top, while treble and volume feature right below in a second row.
It's a simple layout, but an effective one. It'll take little time to figure out how to use it if you're used to using bass pedals, and even total newbies will have an easy time using the pedal. Not only that, but the pedal's black color-scheme is a classy look — and while look obviously comes second to sound, it's still a nice added bonus.
Sound
The Ampeg SCR-DI was praised in reviews for its great-sounding overdrive circuit, and that circuit sounds just as good in a standalone box. Often times, bass overdrives simply sound weak — but that's not the case here. The Ampeg Scrambler sounds like a monster.
In our experimentation, the pedal sounded great all the way from a light growl to a heavy crunch. The blend knob — which dictates the ratio between wet and dry signal — is a great way to ensure your bass doesn't go all out with drive when it's not necessary, and it would have been nice to the blend knob get even lighter if possible, it's not a deal-breaker — and after all, if you're using a drive pedal you'll likely want some growl anyway.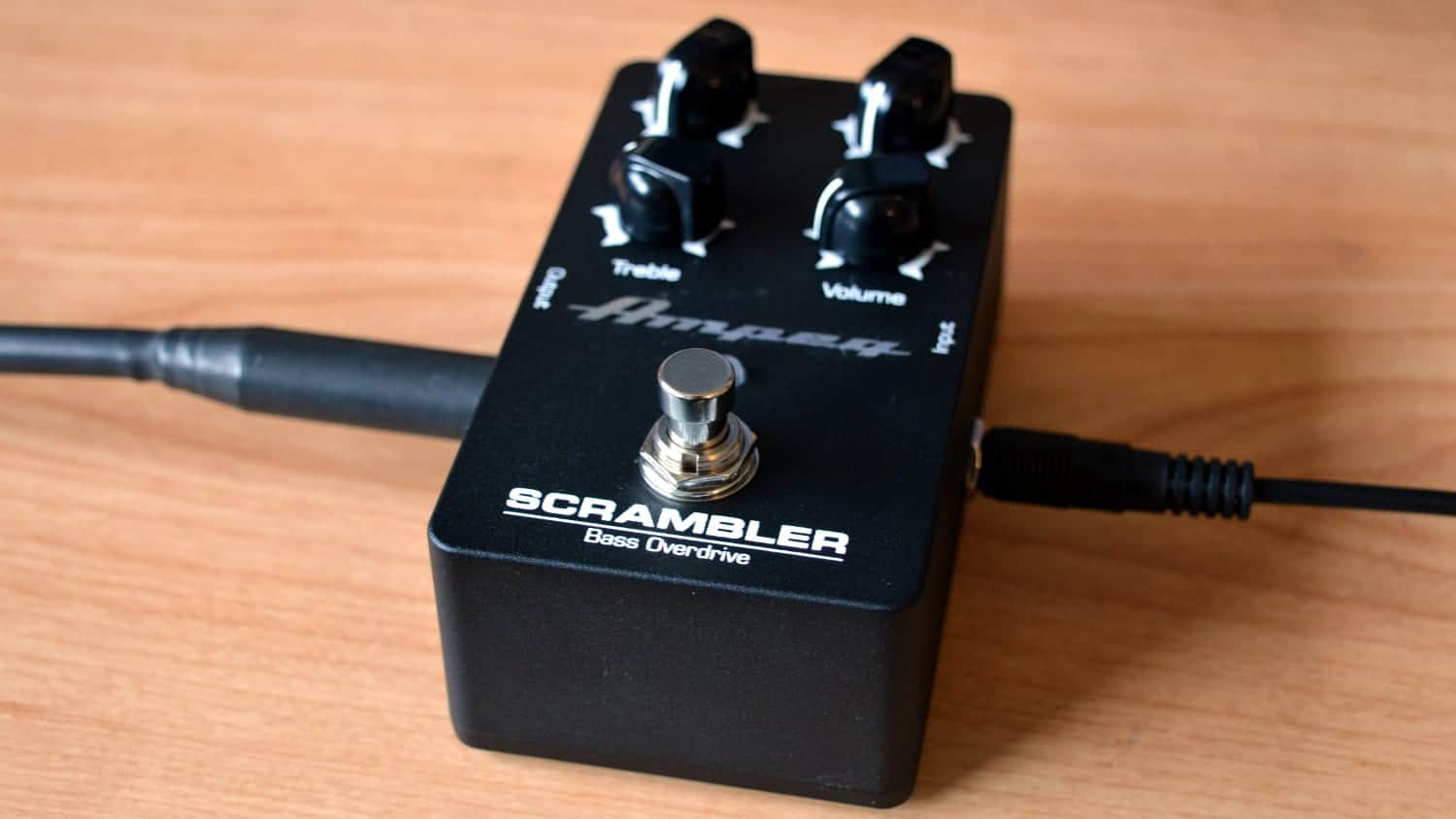 The sound of the Ampeg Scrambler is different from some other well-loved bass overdrive pedals out there. We found that compared to pedals like the Electro-Harmonix Bass Big Muff, it had a little less character — but the trade-off is that it's also a little more versatile. That's not something to shake a head at — and if you're a session bassist or someone who plays a wide-range of music, then the Ampeg Scrambler may be a better choice.
Last but not least is the fact that the pedal is pretty quiet when you're not playing. You're not going to find too much background noise or hum, which is very helpful. And, it's true bypass, so you won't need to worry about the circuit messing up your precious bass tone when you're not using it.
Conclusions
The Ampeg Scrambler is an excellent addition to any bassist's rig. The emphasis here is on versatility, and while other bass overdrive pedals may have a little more character, the Ampeg Scrambler is, based on our tests, the most versatile of the bunch. It's not overly expensive either — despite its status as a totally new product, it comes in at only $99, which isn't bad at all.
If you're a bassist looking for an excellent bass overdrive pedal to your rig, then the Ampeg Scrambler is a great choice. You can buy one for yourself at the links below.