Design -

9/10

Sound -

9.5/10

Ease of Use -

8/10

Features -

9.5/10

Value -

9/10
Antelope Audio is becoming an increasingly important brand in the studio AD/DA market, and for good reason. In the past few years, the company has been developing high-quality, well-built, and great-sounding interfaces, and its recent releases — including the recently reviewed Antelope Audio Orion Studio HD, have been very well-received. Now, we're taking a look at another Antelope product — the Antelope Audio Orion 32 HD.
The Orion 32 HD sets itself apart than most other interfaces in this price range in that it can connect to Pro Tools through the HDX port, and it works with MADI and USB 3.0. That's a whole lot of connectivity, and makes it a pretty versatile piece of machinery.
But not only is it versatile — it's also pricey, coming in at over $3,500. Is it worth the cash? We put the Antelope Audio Orion 32 HD to the test to find out.
Design
Antelope Audio has put a pretty heavy emphasis on great design over the past year or two, and the Orion 32 HD is no different. The interface features the same sleek black look as the Orion Studio HD, and we love it.
The front of the interface offers plenty of features, but it never felt overly cluttered or difficult to get around. On the left of the main display, you'll find two buttons to switch the frequency of your audio — from 32kHz to 192kHz. That's all you'll probably ever need in an interface. We're not quite sure why you would want to go under 32kHz, and over 192kHz is a little overkill. To the right of those buttons is the display itself, and to the right of it is the so-called "Antelope Button," which basically toggles between a few main screens that show you things like sync source and outputs. You can also hold down the button to access the "control menu," which allows you to adjust clock source, monitor trim, line out trim, and so on.
The rest of the buttons on the device are basically for the saving and recalling of presets. You'll save presets from your computer, and recalling them is easy through the buttons on the device.
On the back of the interface is where you'll find all your ports and connections. For starters, you'll get four D-SUB 25 output connectors, and four D-SUB 25 input connectors, each offer eight lines, giving a total of 32 inputs and outputs. On top of that, you'll find four ADAT connectors, a MADI input/output, word clock outputs, S/PDIF inputs and outputs, and a USB 3.0 port. That's a ton of connectivity, especially for a 1U unit.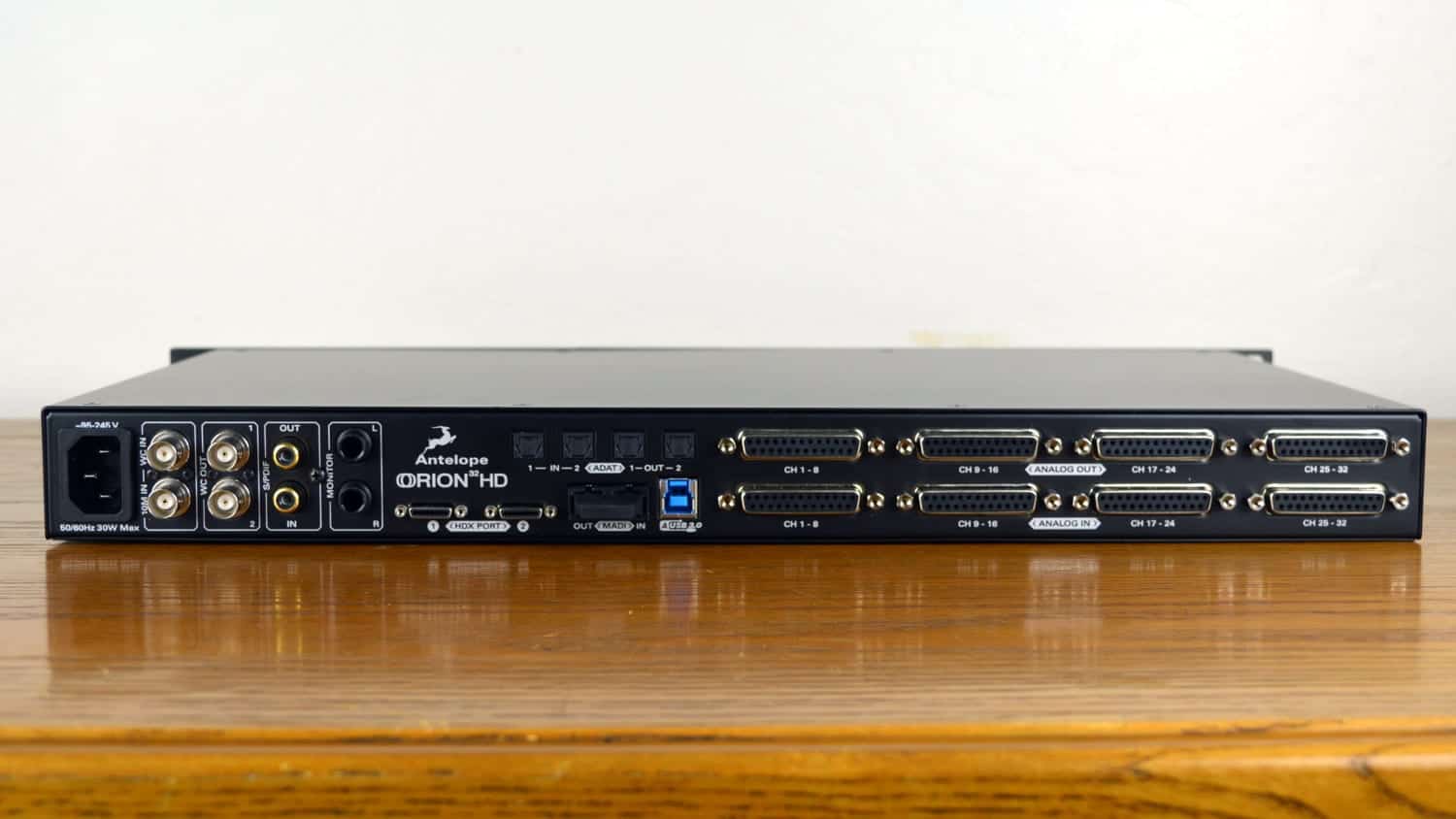 In general, the interface is well-designed and easy to get around. There are plenty of ports on the back for inputs and outputs, and the front panel is sleek and stylish too.
Software
In general, the software is also very easy to use. After installing the driver on your computer, you'll install the "launcher," which allows you to access and control the routing, mixing, effects, and so on for your interface. The software is divided up into a series of different tabs, and it's easy to switch between then to make the necessary tweaks.
Once you've set up your interface, you'll probably want to head to the routing section of the software and get acquainted with it. We found that after spending a few hours with the router, we were able to pretty much set things up the way we wanted — and we didn't really need to tweak it much after that. Still, getting used to using it will really help unlock the capabilities this interface has to offer — and it'll help you get stuck into the effects on offer from the interface too.
From the launcher, you'll also control your hardware effects. In your DAW, you'll assign inputs and outputs as hardware inserts, make sure things are routed properly the routing section of the launcher, and then you'll change the settings for the effects within the launcher. Obviously it would be easier to control the settings of the effects within your DAW, but assuming that's not currently possible, this is the next best thing. We found it very easy to tweak effects, and we loved the way they sounded too.
Under the hood
The Antelope Audio Orion 32 HD features a ton of connectivity, and it's pretty capable under the hood too. The interface supports 192kHz audio with zero latency monitoring, and I/O streaming of up to 64 channels through the HDX ports. That's a pretty impressive effort for a unit this size, and in this price range.
Of course, as is the case with all Antelope Audio products, clocking is a real headline feature here. The interface offers Antelope's 64-bit clocking technology with two Word Clock or Loopsync outs. Like the previously reviewed Orion Studio HD, the interface offers Antelope's "Acoustically Focused Clocking" jitter management, which is great news for those familiar with Orion's arguably far superior clocking tech.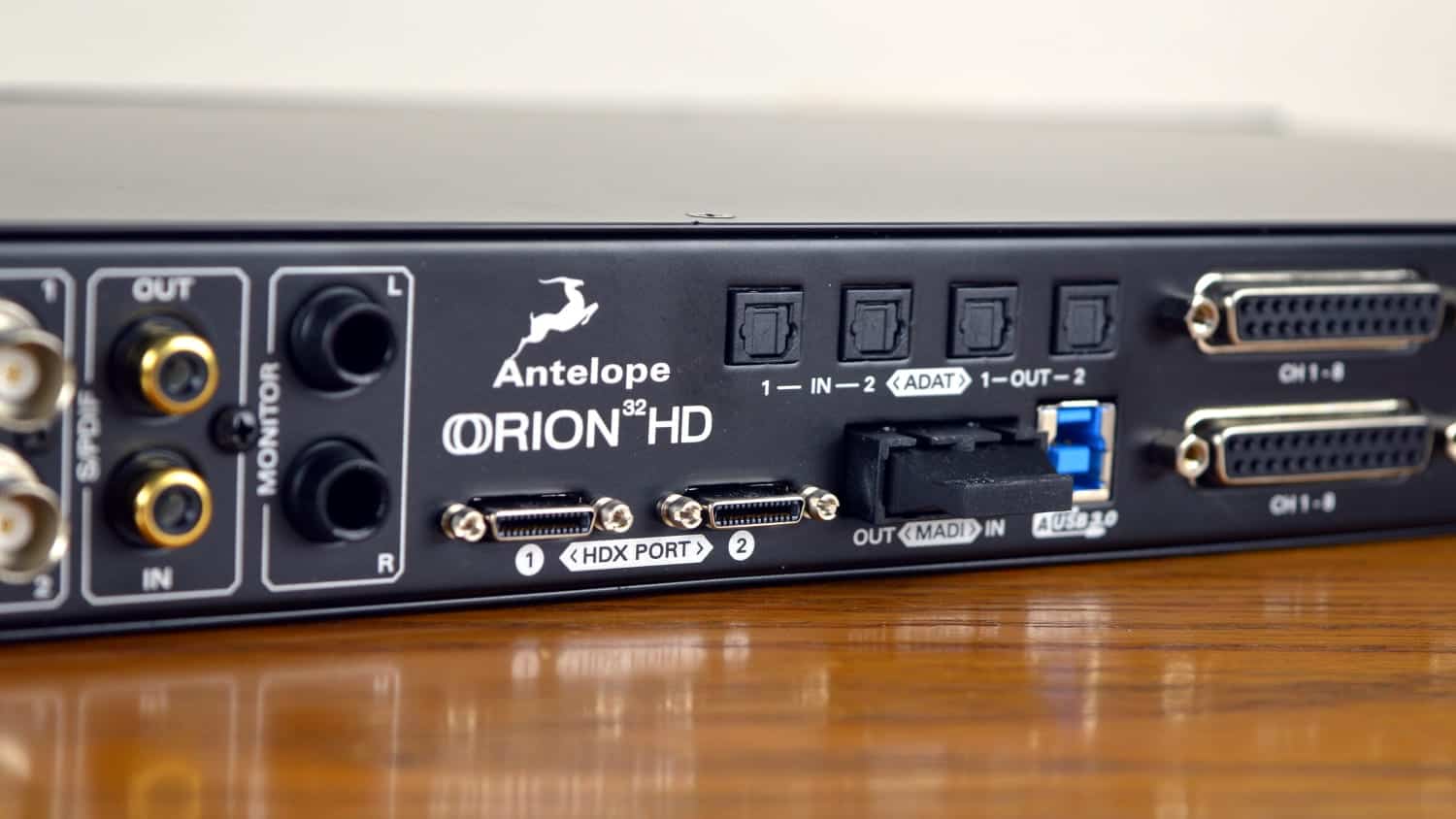 Also like other Antelope Audio interfaces, the Orion 32 HD features many of Antelope's awesome-sounding effects. It doesn't feature the guitar effects like some of its other interfaces, but it's also not really designed for that purpose anyway. It still offers a range of excellent-sounding compressors and EQs, many of which are modeled on classic effects like the BAE 1073.
Sound
The sound section of this review will be short — and that's because it sounds great. In general, it could be very much described as clean and clear. The interface is very good at delivering a natural sound, with excellent response and awesome clarity — and we never felt like the interface got in the way of the sound we were going for.
Conclusions
The Antelope Audio Orion 32 HD is an absolute home run. The interface is sleek and stylish, supports a massive amount of I/O, works easily no matter how you intend on connecting it to your DAW, and sounds absolutely awesome. In this price range, we can't really think of a real competitor — especially considering the amount of I/O you'll get through those HDX ports.
You can get the Antelope Audio Orion 32 HD for yourself using the links below. If you're looking for an interface for a medium-sized studio, we can't recommend anything else.