Design -

9/10

Sound -

8/10

Ease of use -

8/10

Value -

8.5/10
Keith McMillen Instruments has been building a name for itself since 2005, and it has come up with some really awesome products over the years. One of the biggest releases the company has come up with over the past few years is the Keith McMillen K-Mix, an audio interface, MIDI controller, and mixer all in one compact and nice-looking box.
But just how well does the K-Mix perform with all those different hats on? We put the device to the test to find out.
Design
The first thing you'll notice about the Keith McMillen K-Mix is the design, and it's very sexy. The device is built with a sleek black and white color scheme, and it's relatively soft to the touch. It really feels very premium when you pick it up — which is very nice. While solid, it's not overly heavy either, so it's a great option for taking on the go — which is obviously a main draw for buying the K-Mix in the first place.
The actual controls are touch sensitive rather than using mechanical faders, and we like the feel of it. Sure, it may not be as surgical as actual knobs and faders, but it looks and feels futuristic, and works just fine for most uses.
On the back of the device, you'll find the eight inputs and eight outputs, as well as a microUSB and miniUSB port. The microUSB port, labelled Audio, is used for both bus-powering the device and for connecting it to a computer, while the miniUSB port, labelled Control, is used to connect the device to an external KMI MIDI Expander, which comes equipped with physical MIDI ports. It can also be used to connect to a power supply in the event that your computer or device doesn't offer enough power. On the front, you'll find a 3.5mm headphone jack for use when you're using the device as an audio interface or mixer.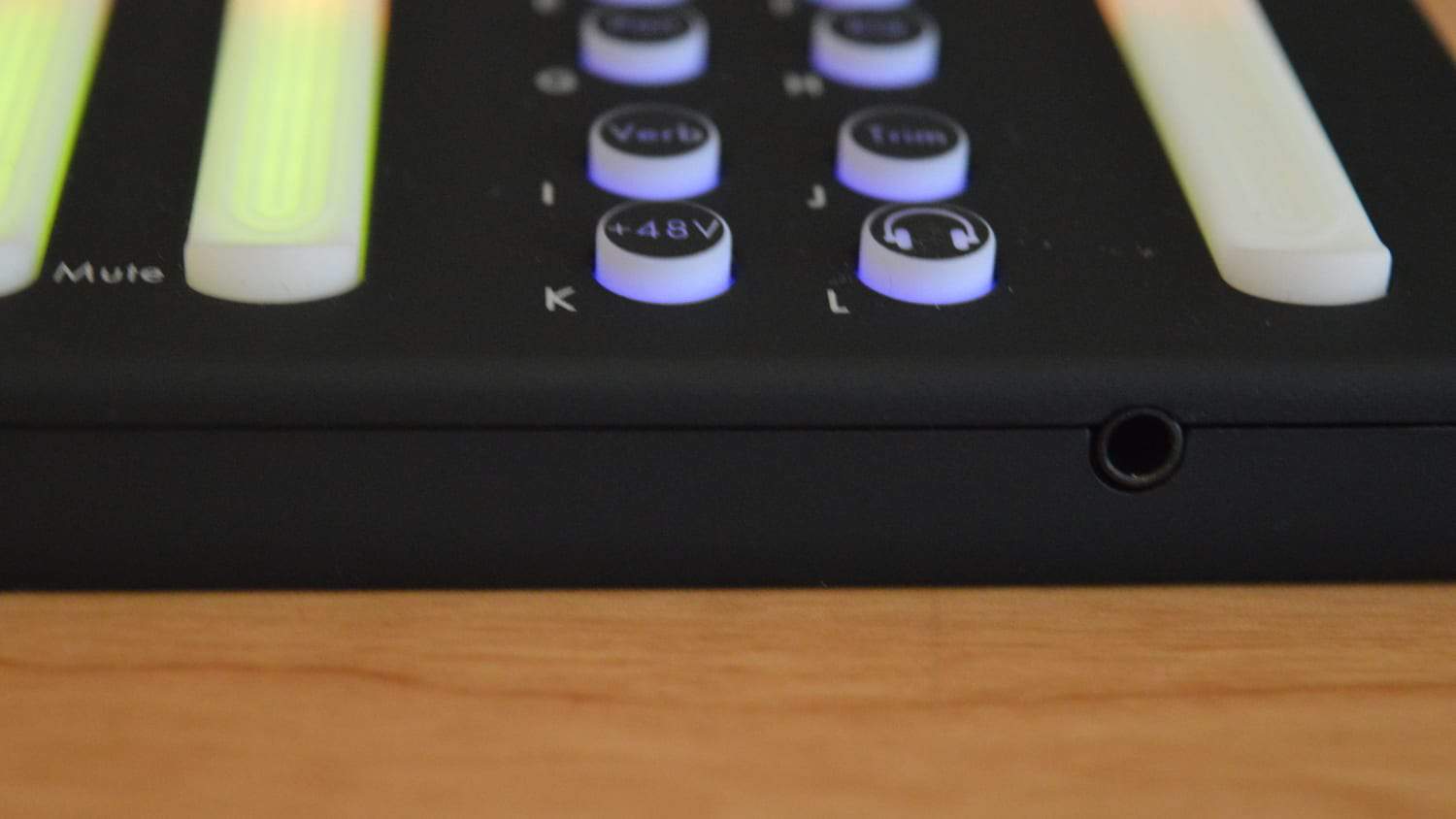 In the box, you'll find all the cables and adapters necessary to use the device. That includes a few different adapters for different countries, and quick-start instructions. Unfortunately, there's no carry case or pouch, which is a bit disappointing considering the fact that the K-Mix is designed to be portable.
In general, the Keith McMillen Instruments K-Mix looks and feels great. It's well designed and well-built, plus it's super portable, which is very helpful.
As an audio interface
One of the main reasons you'll buy the Keith McMillen K-Mix is if you need a solid desktop audio interface, and it works quite well in that regard. It supports sample rates of 44.1, 48, 88.2, and 96kHz. Audio can be sent to the computer both pre and post processing, and if you choose to go the post route, you'll have access to the built-in EQ, dynamics, and aux sends.
Audio is routed back to the interface through USB returns 1-8, and can be routed accordingly through your DAW, which is very handy. If you're using the headphone jack on the interface, they'll be routed through outputs 9-10, so you can easily monitor your mix, for example.
In general, the preamps on the device sound quite good, and they're pretty transparent too, which is a good thing. Some may prefer their own dedicated preamps, but in general those installed on the device are versatile and sound good.
As a mixer
The device isn't just useful in the studio, it's also pretty powerful in small-scale live situations too. Considering its size, it's really impressive to see eight inputs and outputs, which should be plenty for acoustic and small band situations.
While the fader touch pads aren't as responsive as mechanical faders, they're still super easy to use. On top of that, we love the LED lights that feature underneath the faders, as it will help you better monitor routed audio.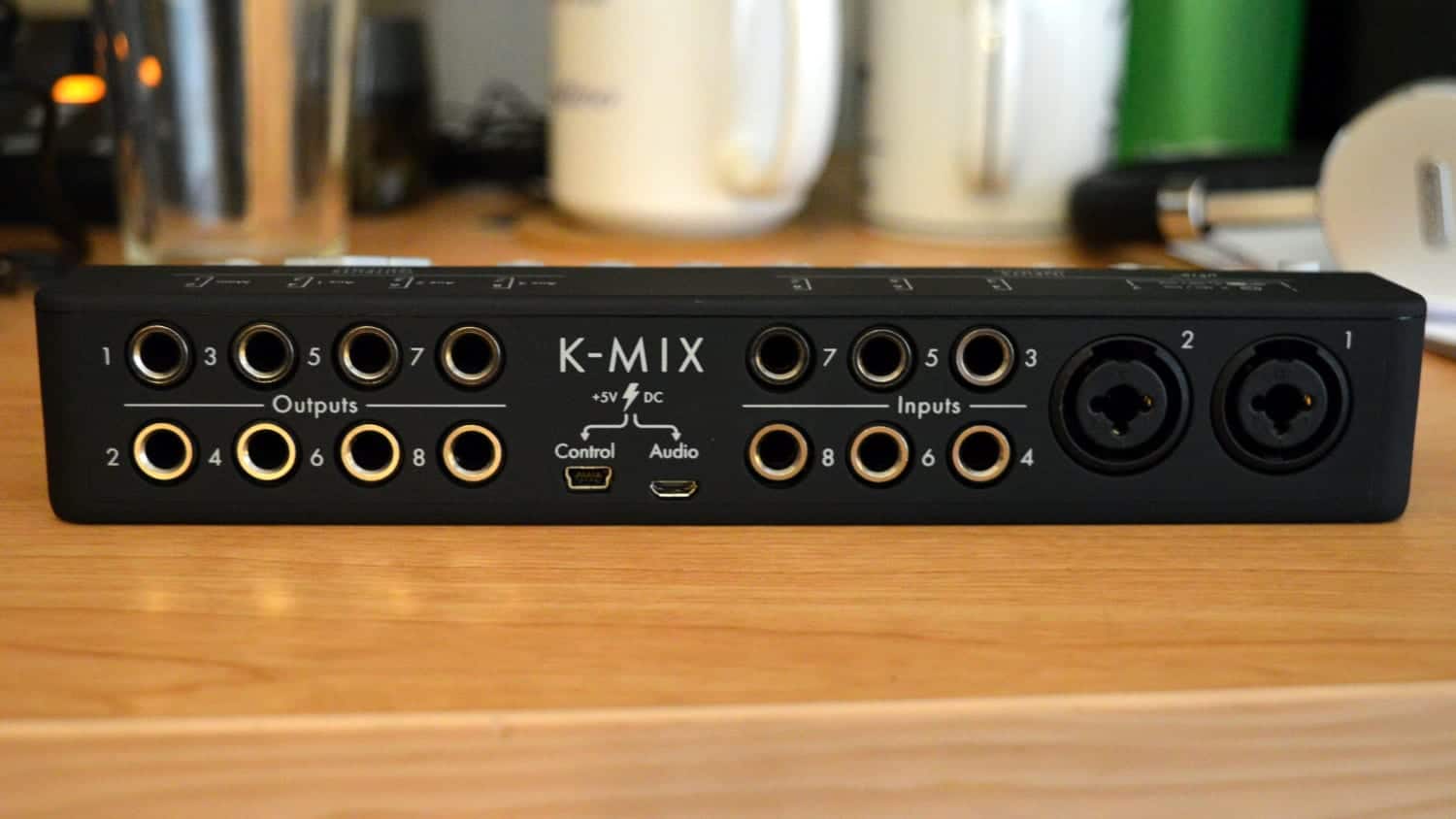 Above those faders, you'll find four large pads, which emulate rotary knobs. Those can be modified to control essentially what you want, but common cases include things like Main, Aux 1, Aux 2, and Aux 3 levels, or controls for on-board processing.
As a control surface
The last major mode that you can use the device as is a control surface, and it's not bad as one. This is probably the weakest use of the K-Mix, but while we wouldn't recommend people buy it specifically for its use a control surface, it's a nice extra feature. The device is connected to the computer through a total of three virtual MIDI ports.
To set up and use the device as a control surface, you'll need to use the K-Mix Editor, which we'll discuss in the next section. It's not a bad software, but setting it up may involve referencing the instruction manual a little.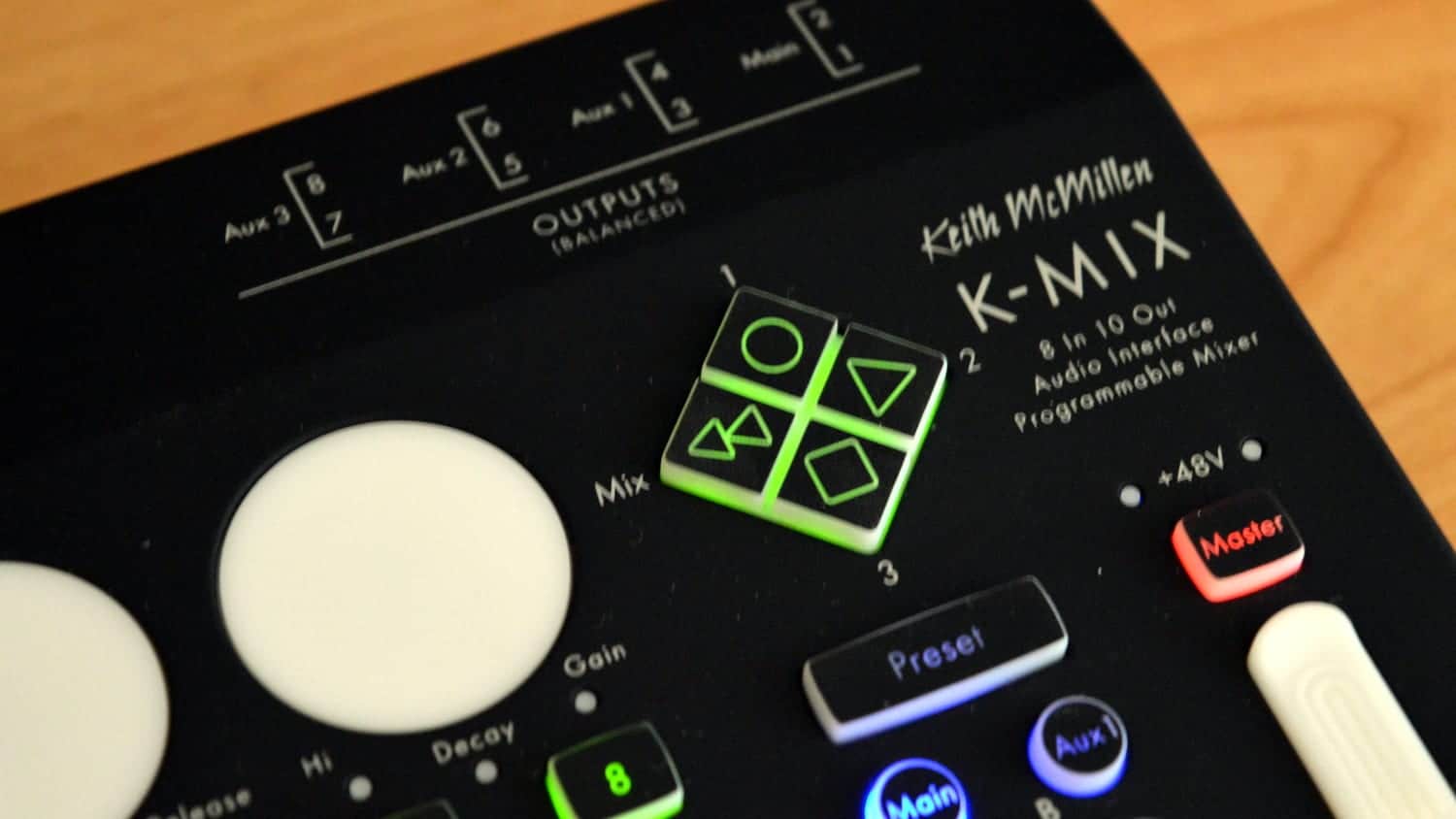 K-Mix has a few different operating modes, or "banks," in which the device will act differently. In the Mix bank, all audio manipulation is carried out — and the device will only control things like playing, pausing, and recording. In the three remaining banks, you'll be able to use the K-Mix and also the Expander, if you have one set up. Switching between banks is extremely easy to do, just hit the shift button and the corresponding bank button at the same time.
The K-Mix Editor
At the center of much of the communication between the Keith McMillen K-Mix and the computer is the K-Mix Editor, a small program that you'll download from the Keith McMillen Instruments website. While you can do some things without it, to get full use of the device you'll definitely want to use the Editor. It's important to note that Editor doesn't actually handle any audio processing — it just visualizes it and allows you to make some changes to how K-Mix works.
The K-Mix Editor takes a little getting used to, but in general its well presented and easy to use. You can edit the different parameters on the device, and save them to it for future use. A total of 12 presets can be created and installed quickly and easily.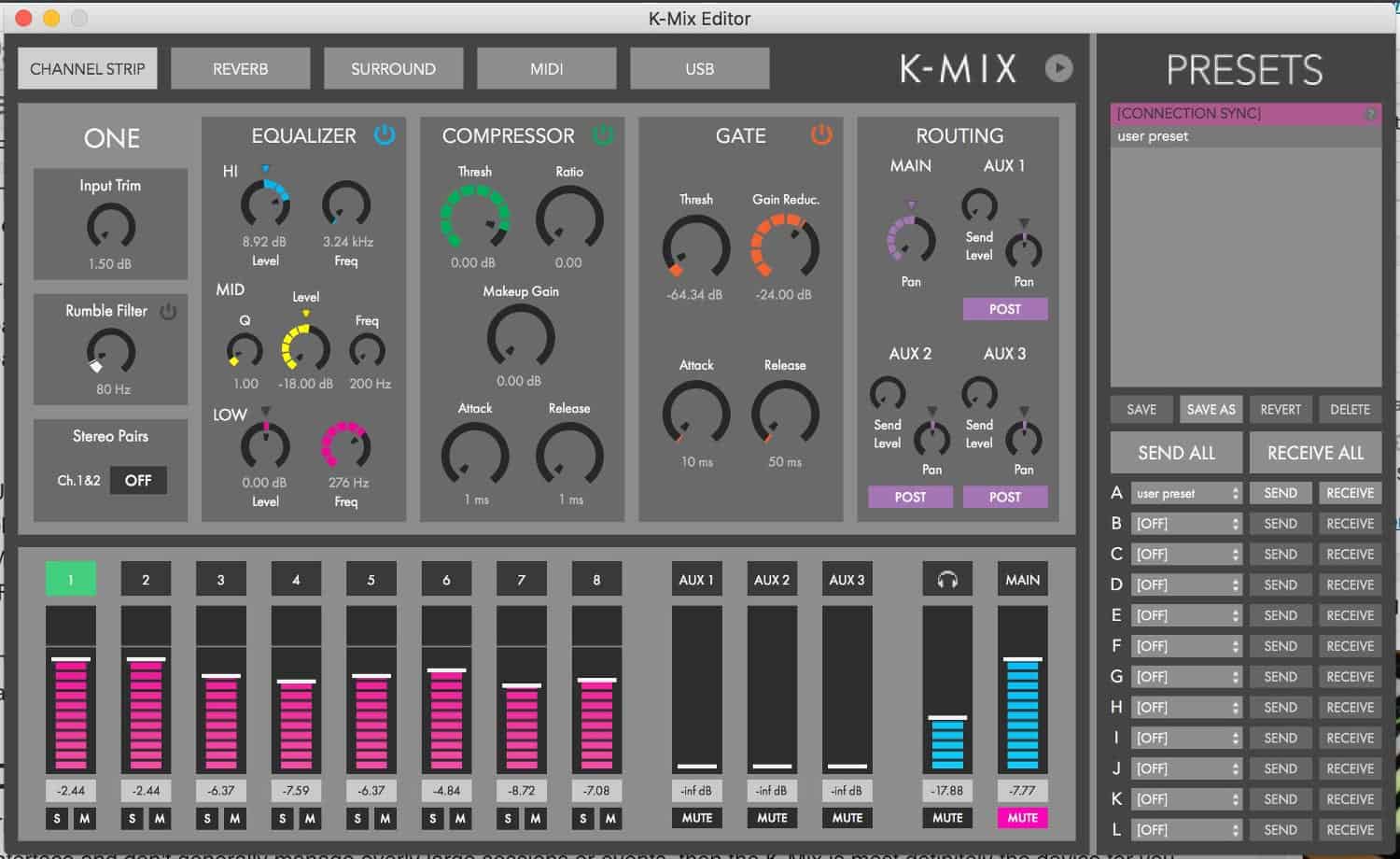 Using the K-Mix as a control surface is a little hidden and may require a little tinkering. To enable virtual HUI ports in the first place, you'll need to delve into the settings of the Editor. Once you enable it, depending on your DAW you'll need to head to the MIDI controller settings to enable. For example, in Pro Tools, you'll head to "Peripherals," then "MIDI Controllers," and enable "From K-Mix Editor HUI" and "To K-Mix Editor HUI."
In general, however, we liked the K-Mix Editor, and while like the K-Mix there is a learning curve, once you get used to the layout it's pretty easy to use.
Conclusions
The Keith McMillen Instruments K-Mix is a real swiss army knife in the audio world. If you're looking for a do-it-all type of interface and don't generally manage overly large sessions or events, then the K-Mix is most definitely the device for you. There is definitely a learning curve, and we recommend downloading the manual for at least the first week or so of use — but once you get used to it, it'll be easy to use, and quick to control. While the $579 price tag isn't cheap we certainly think the device is worth it.
You can get the Keith McMillen Instruments K-Mix for yourself using the links below. Also, stay tuned for a video review if you'd like to see it in action.