Design -

9/10

Sound -

9.5/10

Ease of Use -

8.5/10

Features -

9.5/10

Value -

9/10
We've reviewed a few Antelope Audio interfaces over the past few weeks, with excellent results. We started with the Orion Studio HD, hailing it for its ease-of-use and excellent effects. Then, we moved to the Orion 32 HD, which struck us as being the complete package in a relatively affordable interface. Now, we're moving to the big guns — the Antelope Audio Goliath.
The Goliath is clearly one of Antelope's more comprehensive and high-end interfaces, and on the surface it seems to have a lot to offer. But does it follow through on that? We put the Antelope Audio Goliath to the test to find out.
Design
As with any product, the design of this interface is the first thing you'll notice about it. At first glance, it seems a lot more comprehensive than other interfaces we've reviewed — and it is. But the way it looks is a little more intimidating than what it actually has to offer.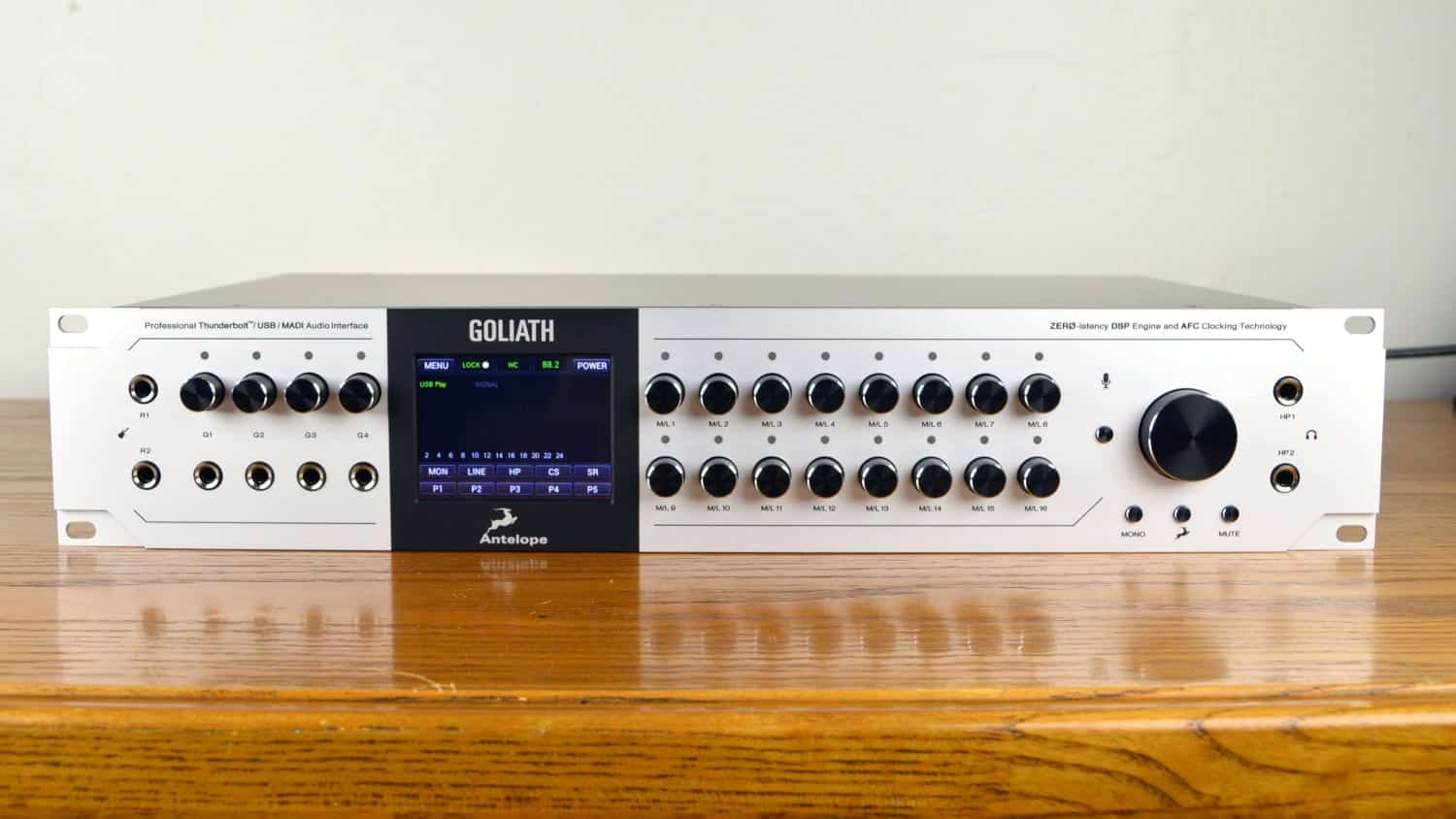 On the front panel, you'll find a range of different controls. On the far left, you'll find the re-amp outputs, next to which you'll get four Hi-Z instrument inputs along with gain knobs. To the right of that, there's a touch display that displays a range of interface-related information and gives you easy control over the interface itself. Next up are the channel control and input selector knobs. You can press these knobs in to control them on the touch display, while turning them adjusts their gain in 1dB intervals. To the right of those controls, you'll get a talkback button, next to which is the main knob, mono and mute buttons, "Antelope" button, and headphone outputs.
Around the back is where you'll get the bulk of your connectivity. There are 16 mic/line inputs along the bottom of the interface, along with two ADAT inputs, two ADAT outputs, two MADI inputs, two MADI outputs, three D-SUB 25 outputs, two D-SUB 25 inputs, and two AD insert points. You'll also find, in classic Antelope fashion, word clock inputs and outputs, and a S/PDIF input and output. There's even USB 3.0 and Thunderbolt ports to connect with your computer.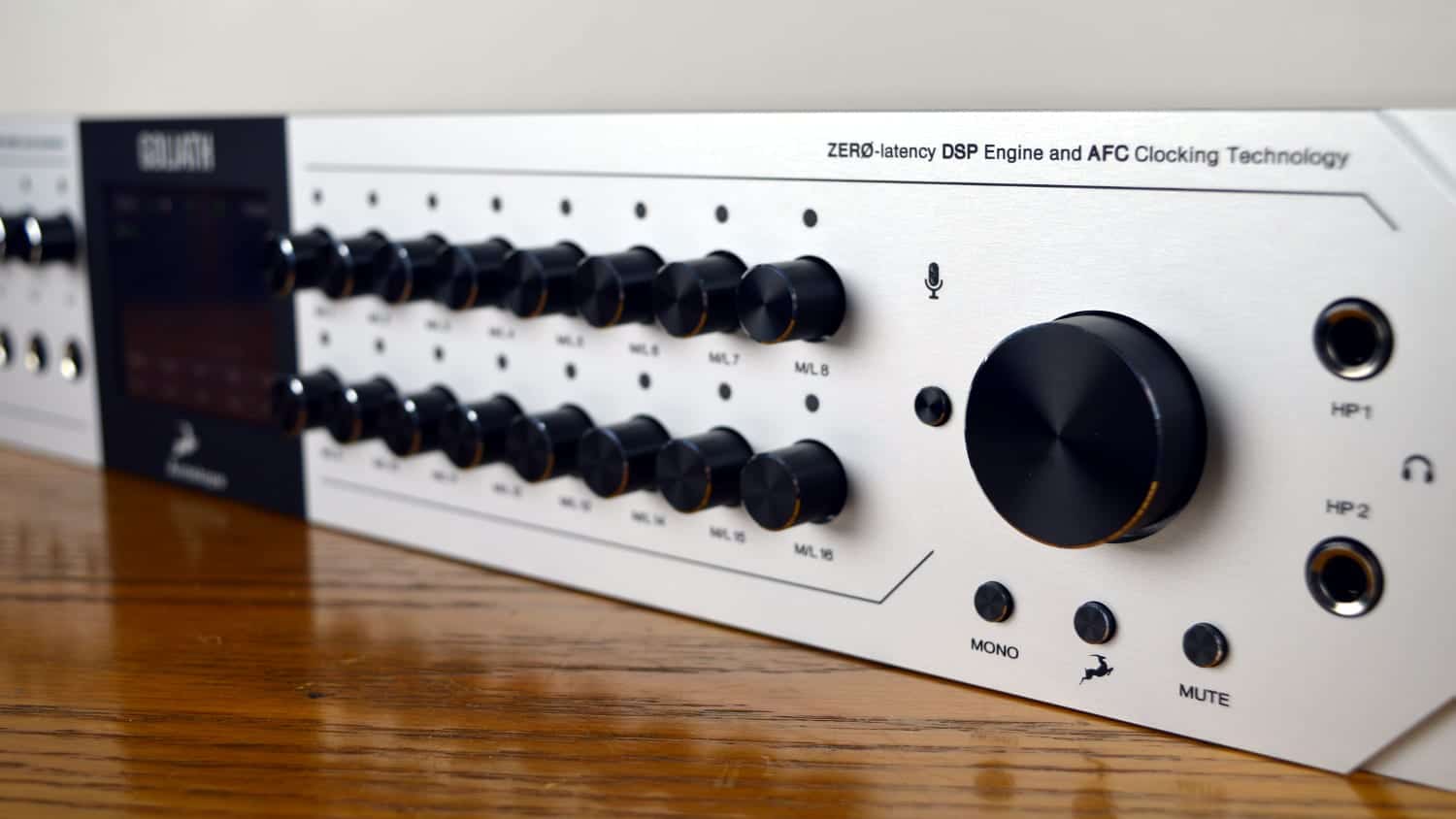 Safe to say, there's a ton of connectivity to go around. This interface should well and truly be the device to connect even some large-sized studios, and smaller studios will easily be covered.
While the interface is pretty versatile for most studios. its clear that it's built to be very guitar-friendly. Not only do the Hi-Z inputs on the front make it easy to record guitars quickly and easily, but the discrete re-amp outputs make for an extremely smooth direct recording experience.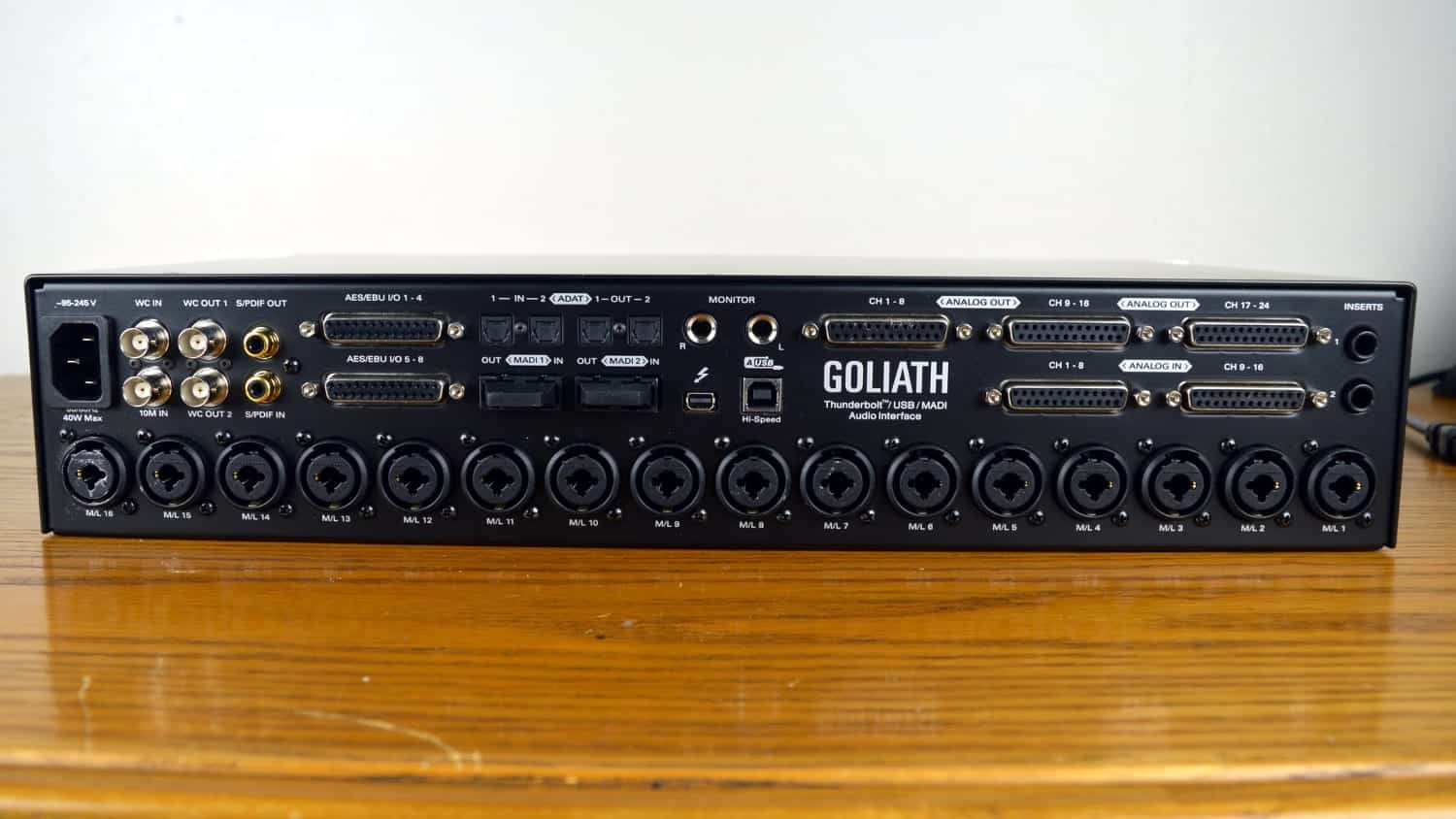 Using the touch-display is also pretty easy, and it got easier as time went on. Antelope Audio has made it so that everything is laid out pretty well, and after spending a few minutes with the interface it should be easy to figure out how to control it, at least for those that have been in the industry for a while. The display isn't controlled uniquely through touch — you'll also control it through buttons on the interface. For example, if you want to control the gain of a mic preamp, simply press in the knob that controls that preamp. Easy.
In general, we found the Antelope Audio Goliath to be extremely well-designed and user friendly. It's quite clear that the interface is built to be guitarist-friendly — but that doesn't mean that studios that don't deal with guitars often won't get good use out of it. In fact, they will.
Software
Antelope Audio's accompanying software has long been pretty easy to use, and we found that to be no different with the Antelope Audio Goliath. As with any interface, you'll first download and install the drivers for your particular system, after which you'll launch the "Launcher," download any software or firmware updates, connect the interface and the software, and you should be good to go.
In general, the software is pretty well-designed and easy to use. It's split up into a few different tabs. The first tab is "Routing," and when you press it, a new window will open that allows you to route the different inputs and outputs — which is very easy once you get the hang of it. Next up is "Mixer," which, as the name suggests, gives you the ability to mix the different inputs and outputs. Then, you'll find "Effects." The Antelope Audio Goliath features quite a few onboard effects, and we found that they really sound quite good. We wish they would have integrated better with your DAW, but for now they are still worth using, especially if you don't have a large library of effects in the first place. Finally, you'll find the "Meter" tab, which basically just shows the meter levels for the inputs and outputs you select.
We really like what Antelope Audio has done with its software. The Routing tab unlocks infinite possibilities, and allows you to really control how your interface works within your particular setup. That's a good thing — no two studios are the same.
You can even control the interface through an iOS or Android app, which is a very nice touch. It works through the computer software — so you can't only use the mobile app, though we don't expect anyone would by this interface to use with a mobile app anyway. Instead, you can use it to control certain gain features and adjust stereo link selections. That means that you can be in the control room with your singer or instrumentalists, and still control gain nice and easily. In general, the app was pretty easy to use, and worked with little latency.
Under the hood
Under the hood, the Antelope Audio Goliath is a pretty comprehensive interface. The interface is aimed at offering 24-bit audio with a frequency of up to 192kHz, which is a far higher frequency than most will ever need.
Perhaps even more important than that is the fact that, like Antelope Audio's other interfaces, the Goliath offers Antelope Audio's ultra high-tech — and high-quality — clocking tech. The interface offers Antelope Audio's 4th-generation 64-bit acoustically focused clocking, which should result in pretty clear and pristine audio in general. In other words, the audio recorded here is pretty detailed — and far more so than what you'll get from many other interfaces.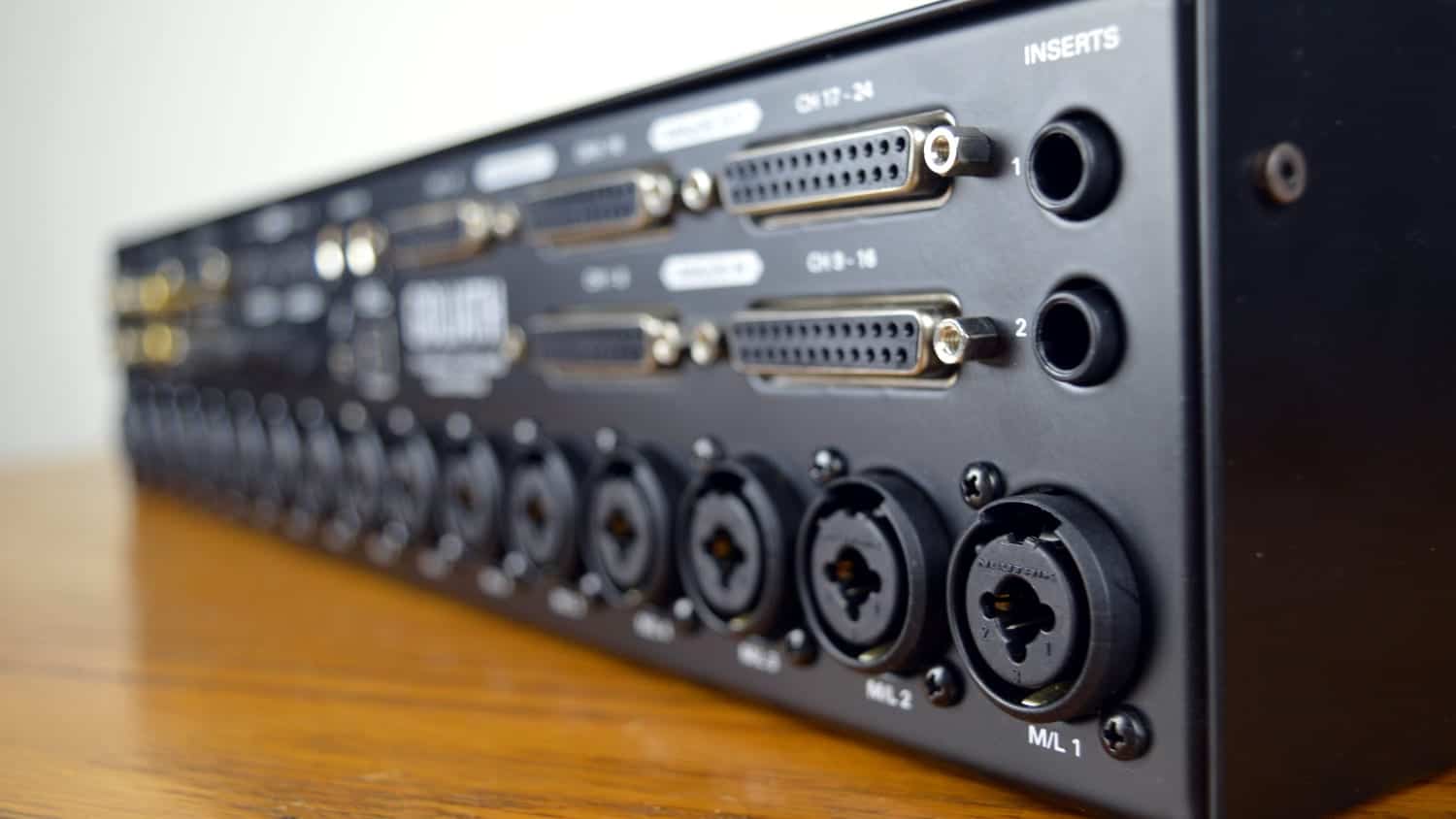 Using the interface, you can record a massive 64 channels of audio through Thunderbolt, which is pretty massive. There aren't too many interfaces out there that offer 32 inputs and 32 outputs through Thunderbolt, if any at all.
Sound
This section is going to be relatively short, but that's because the overall sound of the interface is absolutely beautiful. Audio is extremely clear and detailed, and the converters are obviously built for clarity. The preamps are generally pretty clear and natural too. If you're looking for a colored or warm sound from your preamps, you might want to get some external preamps to use with the interface — but the trade-off is that the interface is very versatile, which we loved.
If you're looking for a great-sounding interface, then look no further. The Antelope Audio Goliath offers a detailed and clear sound, while the preamps are beautifully pristine too.
Conclusions
Once again, Antelope Audio has hit an absolute home run with the Antelope Audio Goliath. The interface is versatile and easy to use, powerful, and offers a ton of connectivity. Features like the accompanying app aren't really necessary, but they're nice touches nonetheless, and they help make the interface an excellent option in its price range.
If you're looking for a new interface for your medium-sized studio, we think you really can't do much better than the Antelope Audio Goliath. It offers an amazing sound-quality, and the accompanying software is a breeze.
You can get the Antelope Audio Goliath for yourself using the links below.