Design -

9/10

Features -

9/10

Sound -

8.5/10
IK Multimedia has released the iRig Pro Duo I/O, a simple yet feature-rich centerpiece for your on-the-go recording rig. If you've seen the previous iRig Pro Duo, not much has changed – and that's just fine. The engineers knew they didn't need to reinvent the wheel, they just needed to add some flare. If you're looking for an interface that could be your all-around home and mobile studio, we've broken down our thoughts on how iRig Pro Duo I/O may meet your needs.
Design
Improving upon the iRig Pro Duo from 2015, the body of the interface is a new rubberized finish, making it easier to hold and makes small bangs and bumps less concerning. The gain knobs are now numbered 0 to 10 instead of a singular dot for referencing location on the wheel (a big relief for anyone keeping track of their recording process and settings).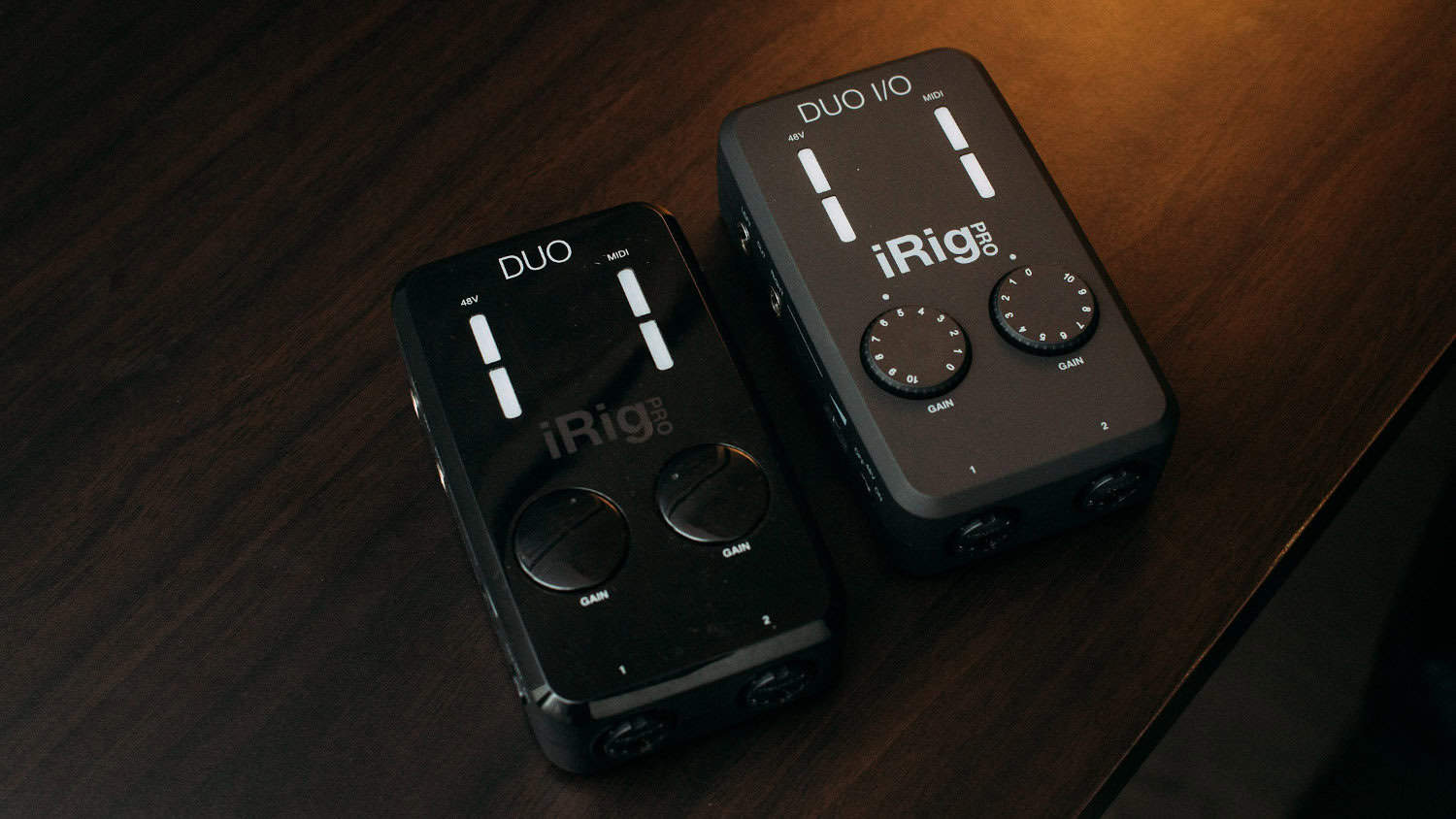 The top of the iRig Pro Duo is where you'll find the gain knobs and input lights, while the left side is home to the outputs, phantom power switch, and an output volume wheel. On the bottom, you'll get the two inputs and on the right, you'll find a headphone jack and controls.
It's a good-looking package overall, and seems solidly-built too. That's good news for those who might want to throw it in a bag on the way to a session. That said, it's not made of metal — so it's still worth taking care of.
Features
This upgrade sports new Class-A preamps (combo mic/guitar/line input) and promise additional gain. Also included is phantom power for powering condenser mics, stereo 1/4" balanced outputs and a headphone jack and MIDI in and out. Two AA batteries power the iRig when used with mobile devices.
While the iRig Pro Duo I/O is a solid piece of hardware, it can be difficult to wrap your head around the software. IK Multimedia provides tons to get started shaping the sounds in our heads, including extra content in the AmpliTube CS and SampleTank apps, but ensuring you're getting the proper upgrades included with the product can be confusing. Information in the box with iRig Pro Duo I/O could explain the download process a bit clearer, and it is further complicated by how many apps IK Multimedia has available in the App Store. Be careful not to pay for an app or in-app purchase before redeeming what you receive with this interface.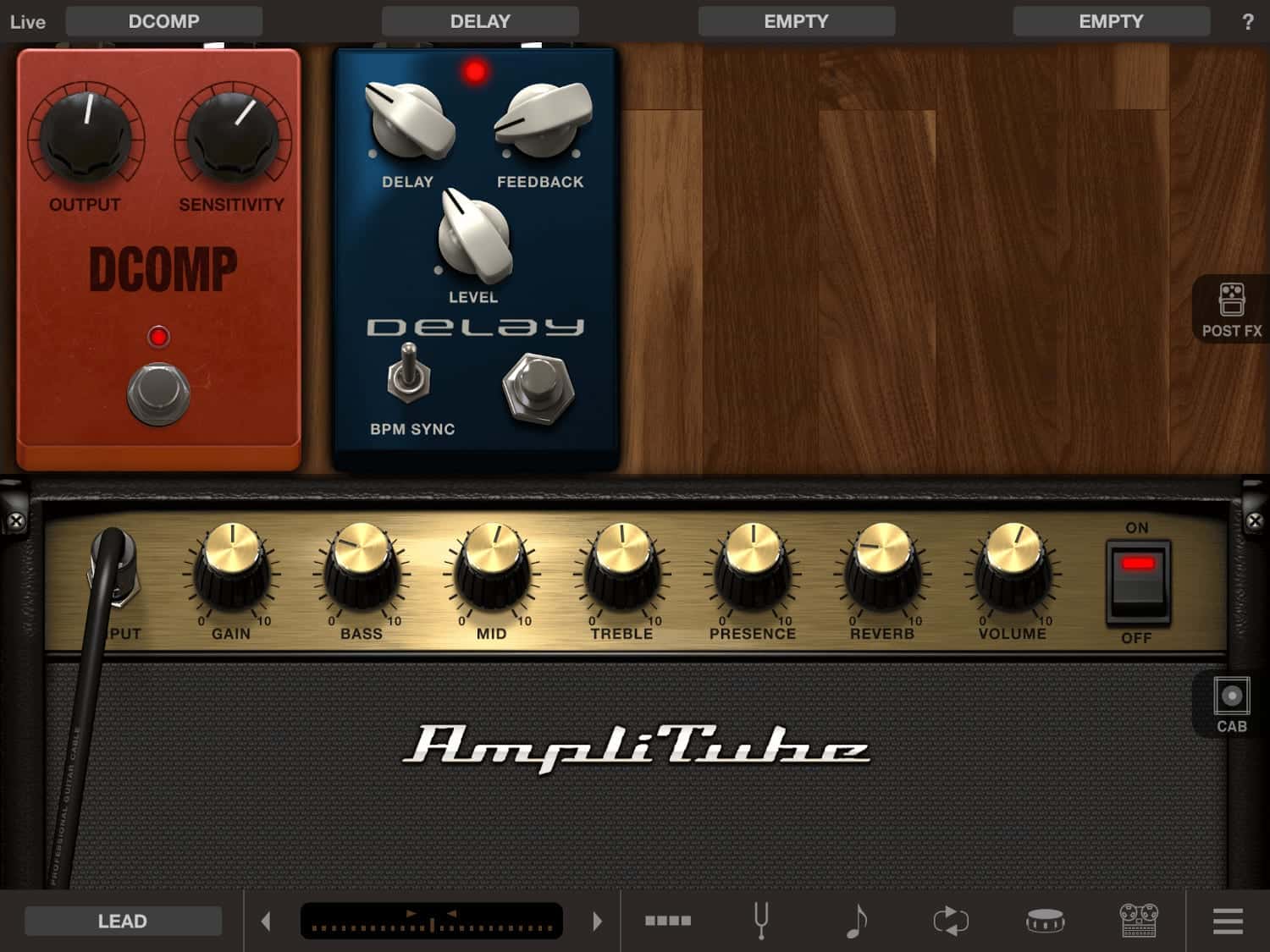 Let's take a quick look at AmpliTube CS for iPhone and iPad. AmpliTube CS offers players of all skill levels an easy way to experience guitar tones crafted after well-known and world-renowned equipment. You can select from a variety of different amps and cabs and mix and match these, as well as adding stomp boxes in your signal chain. The amount of in-app purchases that present themselves can be frustrating. Paid upgrades that I ran into often were additional stomp boxes and amps branded by Fender and other industry-known tone kings. What isn't as commonly used but makes AmpliTube CS a powerhouse is the compatibility with Inter-App Audio on iOS, allowing users to route the sound from AmpliTube CS to another app within the iPhone or iPad, like Garageband. This easily makes up for what may be lacking in recording and audio track editing features.
There's much more to explore on the software side that comes included with a download from IK Multimedia, including the desktop Mac/PC versions of AmpliTube 4 and SampleTank 4. SampleTank benefits greatly from a MIDI keyboard, which iRig Pro Duo I/O has connections for. There's also plenty of additional audio plugins for T-RackS, IK Multimedia's mixing and mastering app and DAW plugin. These can be great supplements to the recording applications you may already be familiar with on desktop, or you could run these in standalone versions without a DAW.
Sound
The new preamps on iRig Pro Duo I/O promise an extra 2 dB of gain over the previous iRig Pro Duo. When plugging in a condenser mic and recording some simple voice recordings, I didn't notice or hear a difference based solely on increased gain. What I did find helpful was that rotating the gain knob was more tactile and transitions between gain levels weren't as jarring as on the original iRig Pro Duo. High frequencies sounded a bit richer, but didn't significantly change tonality.
I plugged in a Fender Stratocaster and recorded some rhythm guitar clips to listen for any tone differences. I was able to discern extra clarity and brightness in the recording. Low-mids were slightly fuller as well. Without an A/B test, this would be very difficult to notice. Make no mistake – The sound quality here is solid. On it's own, the quality you can achieve will rival what's available from larger and more expensive home interfaces for desktop use. Users of the original iRig Pro Duo will feel at home with the performance they've come to expect.
Conclusions
If you already own the iRig Pro Duo, these feature upgrades may not be enough to warrant the purchase. If you don't yet have a mobile recording device, or are looking for a high quality dual input interface, this is one of the best-sounding and most attractive little packages for the price.  Paired with your favorite mobile software, the studio sounds aren't restricted to the walls of the home. Set up in seconds and create anywhere inspiration strikes.