Electronic drums have so many benefits. They're great for low volume playing, they're fairly portable, and through MIDI you can use them to trigger virtual instruments (not just drum plugins either) and other plugins. With everything that can affect the sound of your drums, they also take room acoustics out of the equation in the studio. The most appealing feature might be the advancements in sound modules over the past decade. You're not stuck with mediocre sounds anymore. The models on this list all come with an impressive number of kits, voices, and customization options. Some even let you go even further and adjust microphone position of the samples and effect things via on-board processing. It's a wide-ranging list, going from the cream of the crop to models affordable enough for the hobbyist. So here are some of the best electronic drum kits for 2022.
Best electronic drum kit overall: Roland V-Drums Acoustic Design VAD706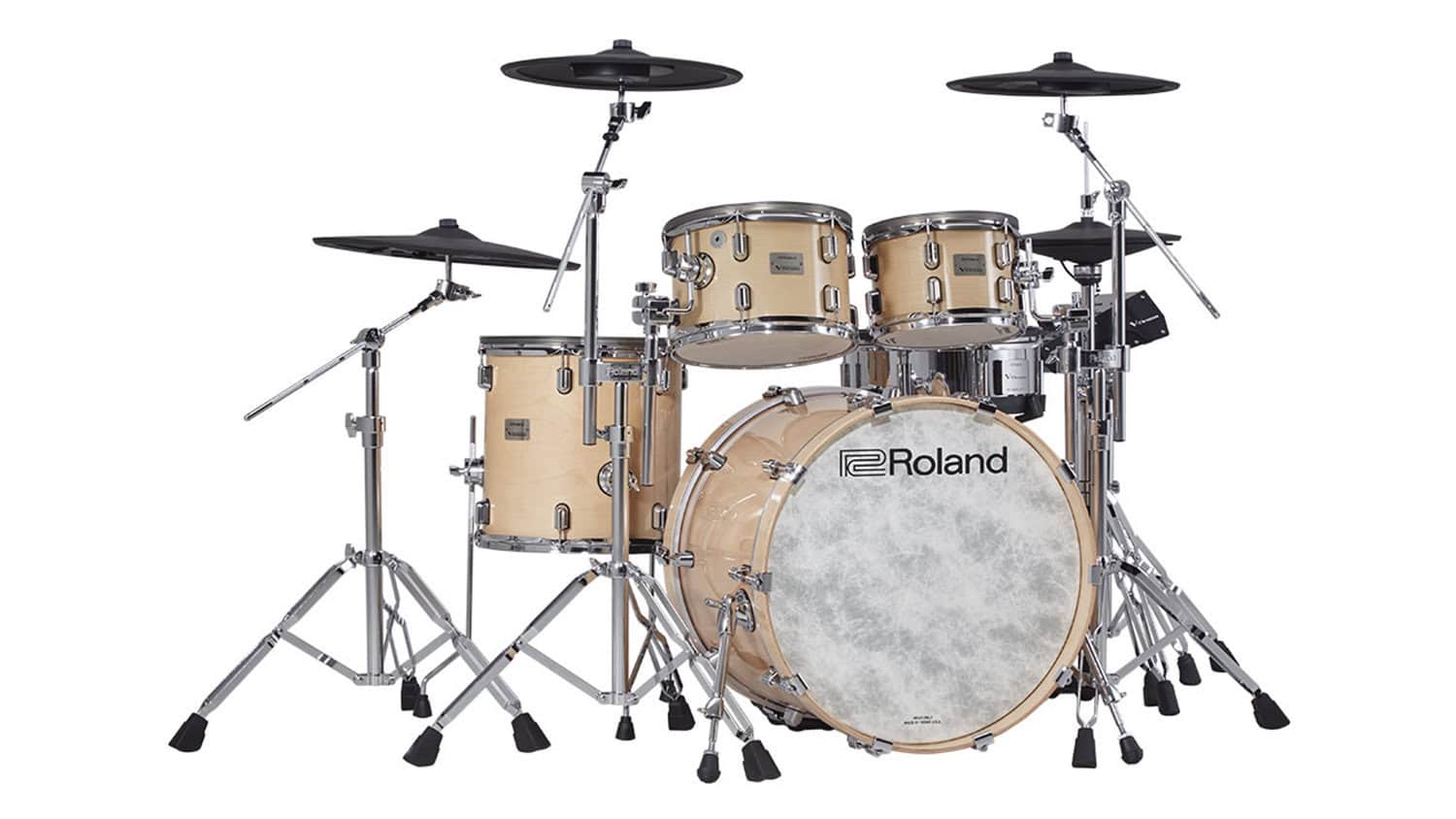 As far as the best electronic drum kits go, the mother of them all is will run you a pretty penny. But if it's in your budget range it's worth every single one. Roland has long been a leader in innovation when it comes to the best electronic drum kits, and if you're looking for the most realistic sampled sounds with an acoustic kit aesthetic to boot – look no further. It's a five-piece with all wood shells. The entire sonic vibe is designed around Roland's TX-50X sound module. It's highly advanced technology that provides the best sounds in the game, powering the digital snare that allows for all of the personal touch of a real one. Through it you get multi-layer samples captured in some of the best studios in the world. The hi-hat, snare, and ride are digital with the lightning fast transient character.
This advanced module goes way beyond using it to simply choosing your sounds. You can adjust microphone settings for the samples and add in processing that include EQ, reverb, and compression. It's got some next level output with stereo XLR, and eight direct outs for sending each kit piece individually, something that is very unique and not offered with many other models. All-in-all this is a stellar product. It's expandable, versatile, and looks and sounds amazing. It will definitely be out of the price range for many, but the more discerning drummer will fall in love instantly with this masterpiece.
Buy now: $8,000
Guitar Center | Sam Ash | Musician's Friend | Reverb
Most versatile electronic drum kit: Alesis Strike Pro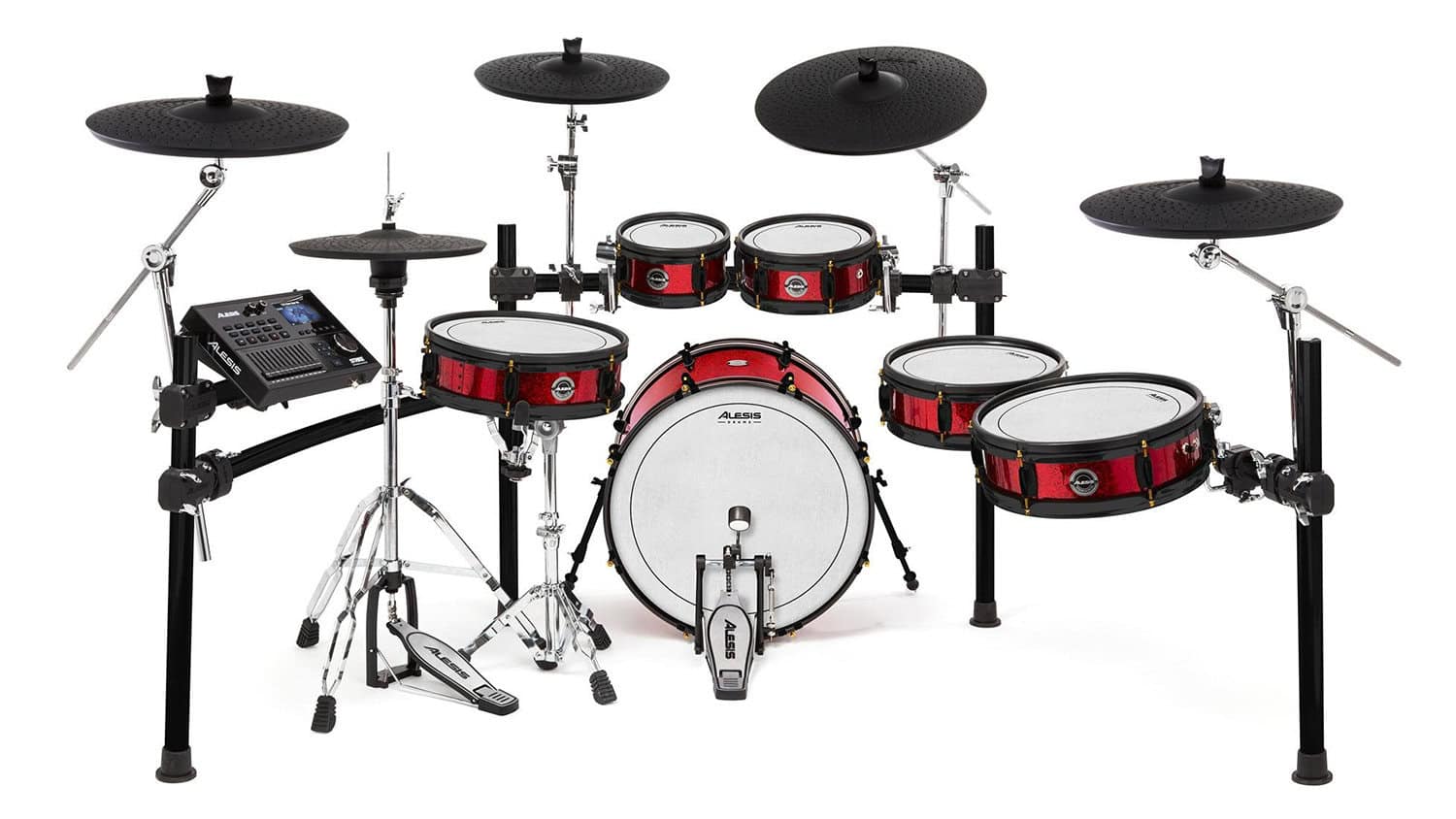 The Strike Pro has a lot going on. Full-size wood shells, mesh heads, and multi-zone kit pieces. All drums have adjustable tension and the cymbal pads have triple zone strike points. The dual zone toms come in four different dimensions (8/10/12/14"), as does the 14" snare.
The module contains a plethora of next-gen features. For starters, there are sounds that include almost 2,000 instruments modeled from an insane 45,000 samples. You can even upload your own samples or trigger some from plugins. Multiple velocity layers can alter the way you play if you'd like. And with the Strike editor software you can create any sounds your mind can innovate. It also comes with its own amplifier cranking out 2,000 watts you'll have no issue being heard over the band.
Buy now: $3,000
Amazon | Guitar Center | Sam Ash | Musician's Friend | Reverb
Most versatile electronic drum kit under $2,000: Yamaha DTX6K3-X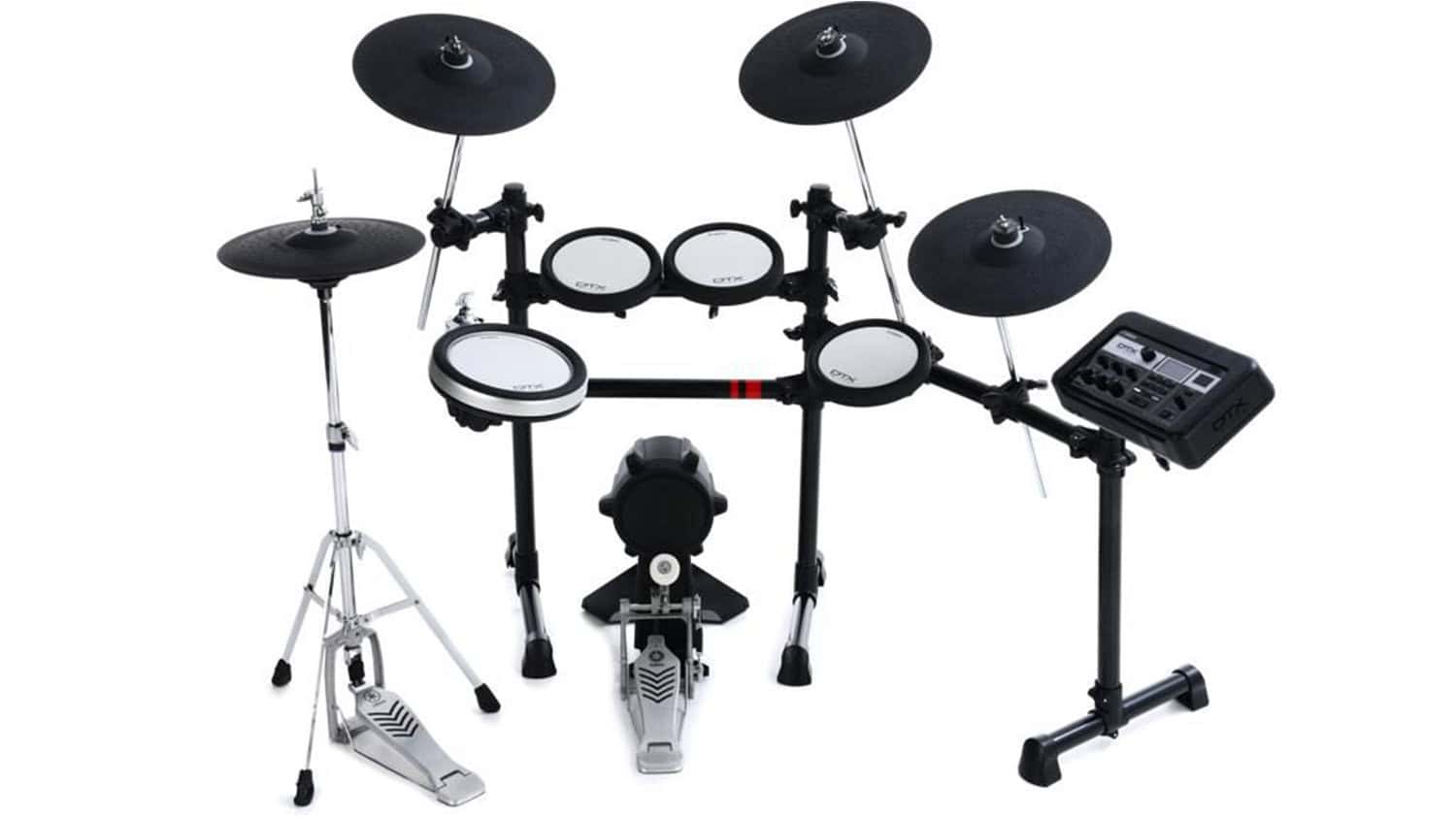 Yamaha makes some of the best drum kits and they continue that tradition into the electronic world here. 400 onboard sounds range all over the electric and acoustic soundscape. The three cymbals (including hi-hat) have choking to add even more of a realistic feel. The snare and ride cymbal have a triple zone layout, and the kick pad allows for more comfort when using the pedal. It's compact enough to make it easily portable, with the durability to stand up to even the most expressive performance.
The sound module uses a unique three knob design for quick and easy modification. Settings include Effect, Compression, and Ambience. And with 40 kits you have access to a massive 400 sounds with easy control over everything. It also comes in an upgraded version for around $500 more that includes a free-standing hi-hat setup and floor tom pad among some other upgrades. The pedals are one of the best features, giving drummers solid foot control over the kick drum and hi-hat. The snare has triple-zone technology and all three of the cymbals can be choked and each has its own trigger.
200 user slots let you save your creations for easy recall. It's got great training technology with 10 modes, 37 songs to jam to, and metronome to help you keep up your timing chops. There is a great community for sharing your playing with the Rec'n'Share app that works with Android and Apple devices. The rack is well-built, but with how it's configured it might be a little clunky depending on how you like your set up.
Buy now: $1,900
Amazon | Guitar Center | Musician's Friend | Reverb
Best electronic drum kit under $500: Alesis Turbo Mesh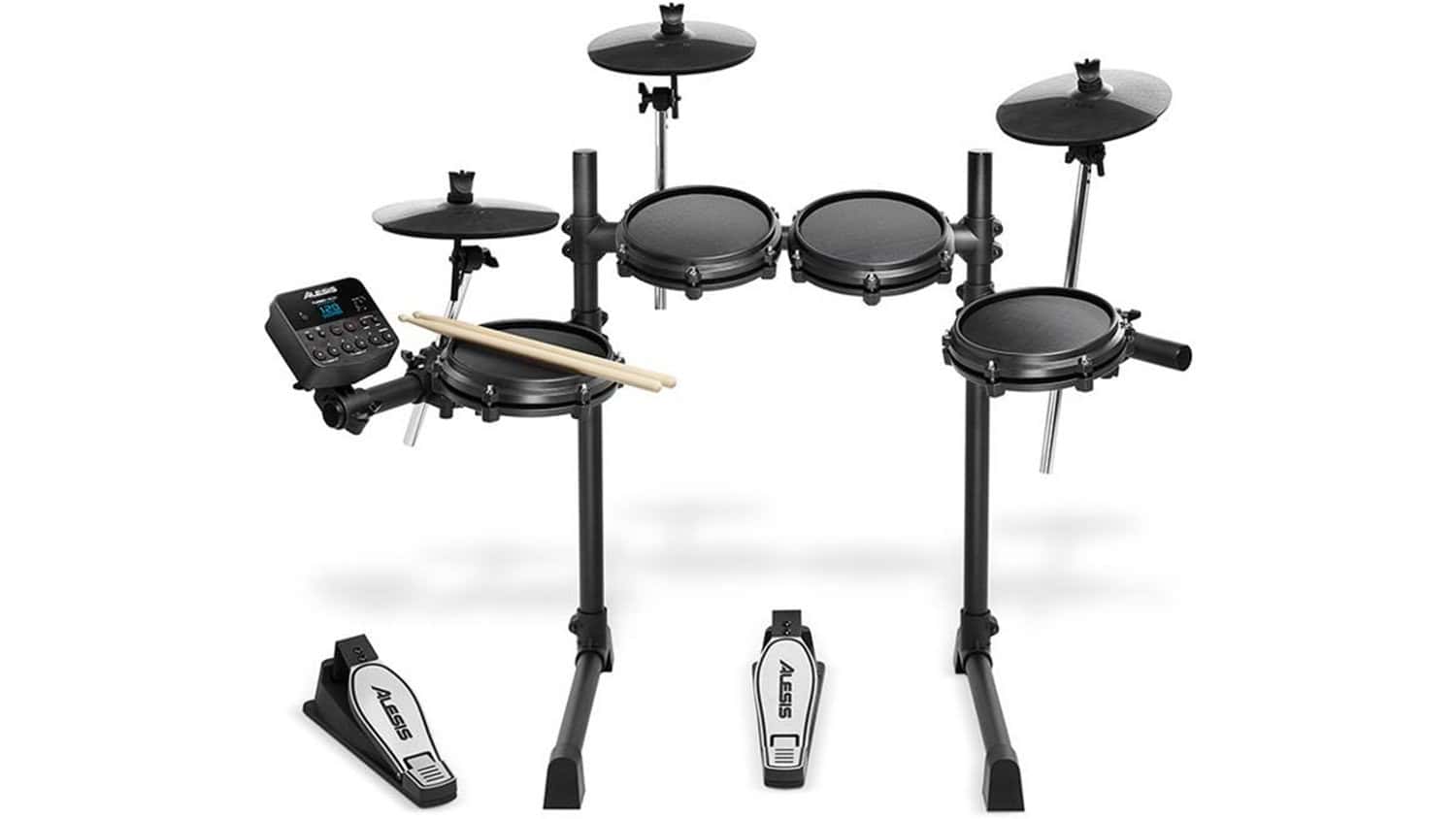 Alesis has been one of the more popular brands in the world of electronic drums and drum machines for decades. If you're looking for a good electronic set under $1,000 it's a solid choice. The four-piece Turbo Mesh kit is built with tuneable heads custom-designed for the most realistic feel. This allows you to play at lower volumes while providing a natural response. And three 10" cymbals. All drums are 8" in dimension, with the cymbals being 10". The cymbal set includes a hi-hat, ride, and crash. And the aluminum rack adds plenty of stability, so heavy-hitters have nothing to worry about!
The module offers a lot of options. It comes with 120 overall sounds across 10 kits. You can also play along to 30 tracks, and if you're just starting out there is a metronome and built-in coaching system. If you need something more, the auxiliary input lets you pump in your own tracks. It's got plenty of connection capability as well. The USB and MIDI outputs allow you to connect it directly into your recording rig to trigger virtual instruments. As for I/O, there are stereo ¼" outputs and a headphone out. So you can get going right away, it includes everything you need to get started right out of the box like sticks, drum key, and power supply.
Buy now: $300
Amazon | Guitar Center | Sam Ash | Musician's Friend | Reverb
Best budget electronic drum kit: Simmons SD200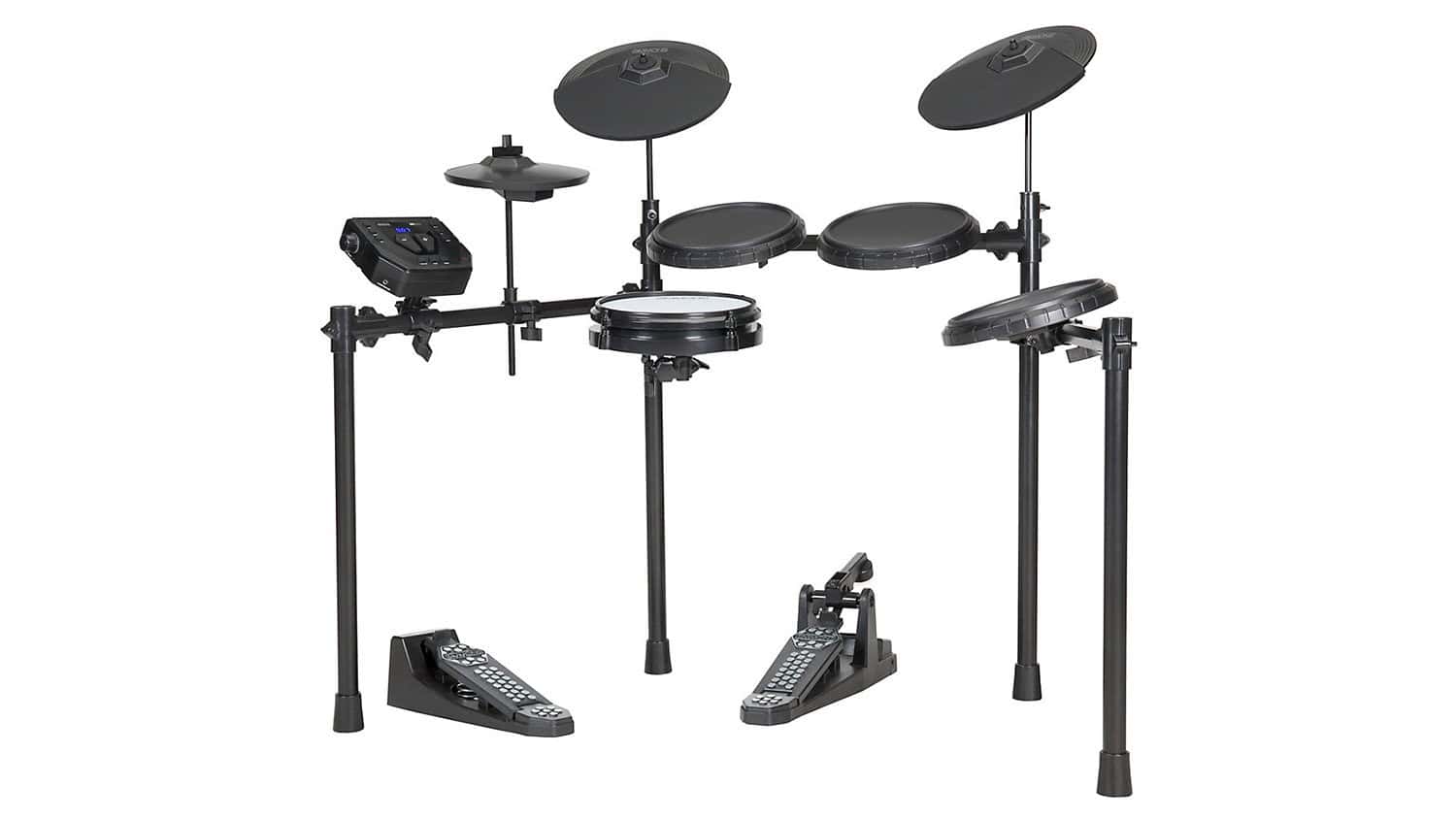 If budget is a concern, the SD200 is one of the best electronic drum kits for cost-conscious players. It's a full size like the other options here and comes with an 8" dual-zone mesh snare, three toms and three cymbals at 10" each. The snare is the heartbeat of any kit, and tension can be adjusted to player preference. When used with Simmons' app you can select between kits, customize your sounds, and utilize a variety of tools for practice. Additionally, it's got all the connections you need to use it with other products as well, like MIDI, USB, aux input, and headphone out. At just over $200 it won't break the bank and can be a great entry point to the world of electronic drum kits.
Buy now: $210
Guitar Center | Musician's Friend | Reverb