Getting into audio recording has never been easier. Gone are the days when recording decent audio meant having to shell out thousands of dollars on recording equipment. These days, it's easy to spend just a few hundred dollars on equipment, and specifically a good audio interface, that sounds almost as good as a top-level studio. Sure, there are things you can't yet achieve at home, like good isolation — but by spending a few hundred bucks, you can get at least close to a professional sound quality.
Of course, there are dozens of audio interface options out there in the sub-$1,000 price range, and they're not all created equal. That, however, is why we've put together this guide.
Before buying an audio interface, it's worth considering a few things. For starters, you'll want to think about the number of inputs and outputs you need from your audio interface. It's generally a good idea to get more inputs and output than you think you'll need, as it allows you to grow a little and record more instruments down the line. It's also a good idea to consider how the interface will communicate with your computer — whether you need a USB-C compatible interface, or prefer to go with an interface with an older connectivity method. And, of course, you'll want to think about price range. All of these audio interfaces are under $1,000 — but $1,000 might be a little expensive for some, so we've included far cheaper interfaces too.
Without further ado, here are the best audio interfaces under $1,000.
Best audio interface under $1,000: PreSonus Quantum 2626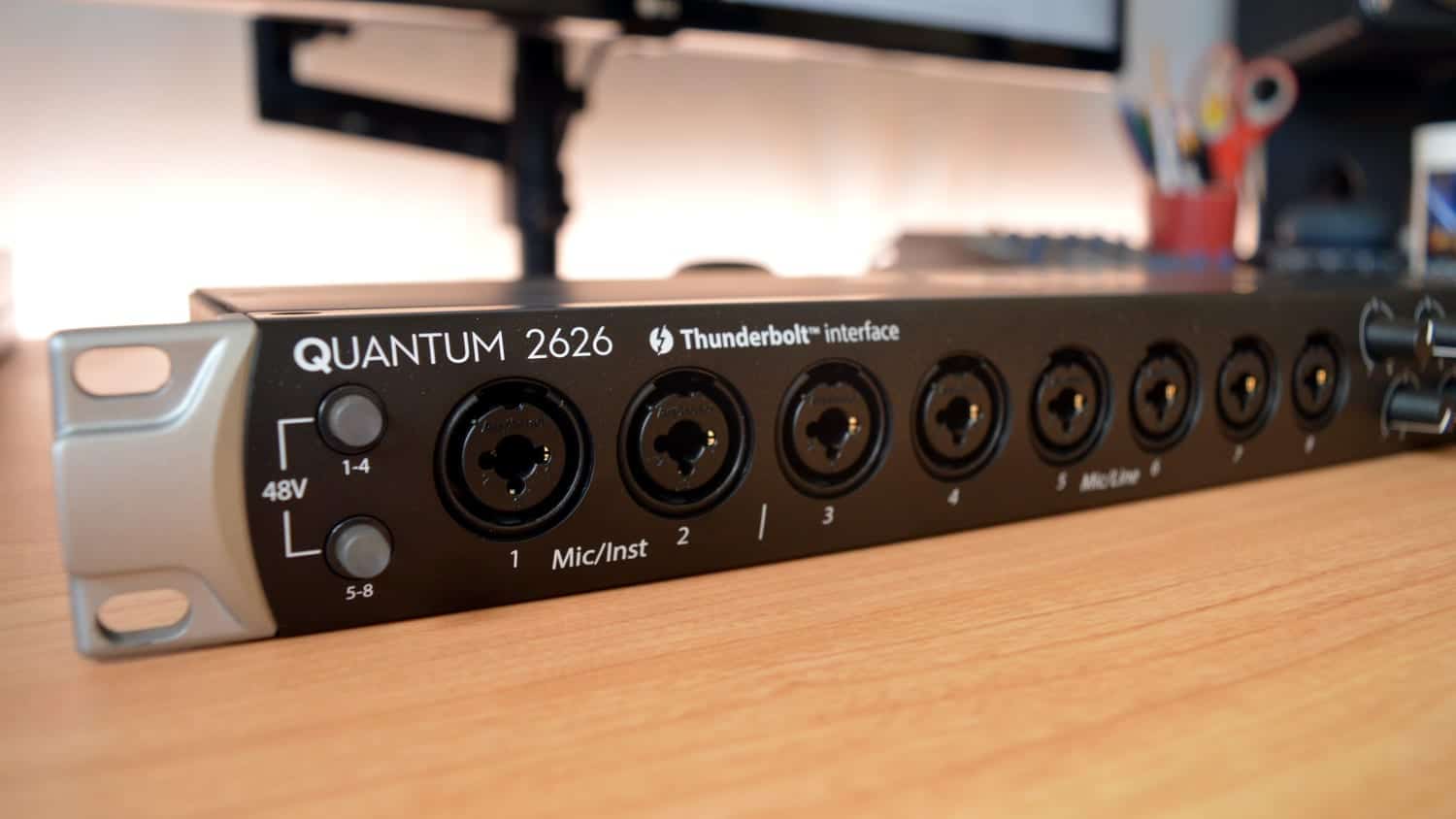 If you have $1,000 to spend on an audio interface and want the best interface out there, then the PreSonus Quantum 2626 is simply the way to go. The interface boasts a ton of I/O, a great design, and more — and we think it's able to go head to head with interfaces much more expensive.
This is the first of a few PreSonus interfaces on the list, and for good reason. PreSonus is known for building excellent-value interfaces, and it has pretty much cornered much of the market in the sub-$1,000 price range. The PreSonus Quantum 2626 boasts a number of features you would normally expect on more expensive interfaces. For example, the interface offers up to a hefty 26 inputs, and up to 26 outputs, with eight of those inputs coming in the form of built-in preamps. You'll also get MIDI support. Last but not least, it connects to your computer through Thunderbolt 3, making for a fast, latency-free recording setup. Last but not least, with the interface you'll get PreSonus' StudioOne recording software, which is getting better and better every time it's updated.
Buy the Focusrite Clarett 8Pre here
Best small audio interface under $1,000: Universal Audio Arrow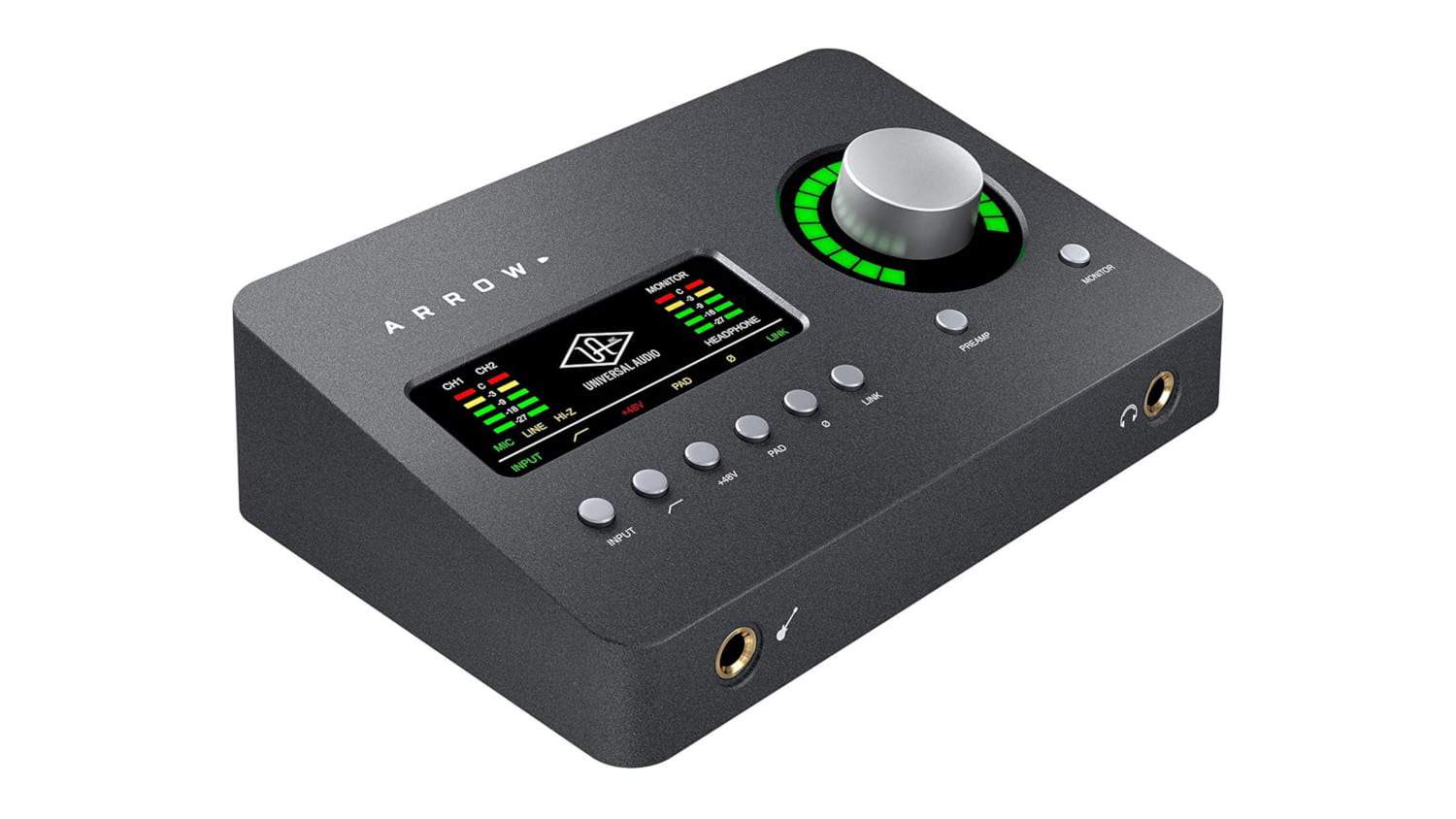 If you do want to take advantage of the new Thunderbolt 3 standard in a compact form-factor, then there are a few options for you. Perhaps the best of those is the Universal Audio Arrow, which is a compact, well-designed interface aimed at small studios that won't need to use a ton of inputs at once.
The Universal Audio Arrow has two mic pros built in to it, and as you would expect from a Universal Audio device, they sound awesome. On the front of the interface, you'll get LED input and output indicators and a few monitoring controls, while on the back is where you'll find the two preamps and outputs, as well as the Thunderbolt port. Safe to say, this preamp is a beautiful device — but it's probably not the best choice for larger setups.
Buy the Universal Audio Arrow here
Best audio interface under $500: Focusrite Scarlett 18i20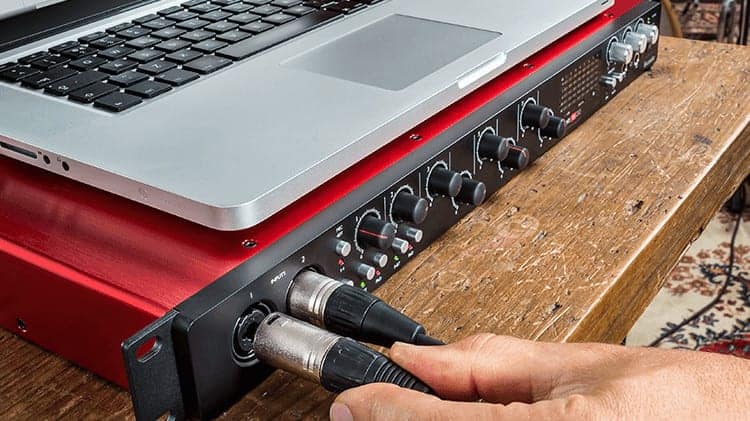 While there are plenty of great interfaces under $1,000, you don't necessarily need to spend that much on an audio interface. Why? There are some excellent devices under $500 too — like, for example, the Focusrite Scarlett 18i20.
The Scarlett 18i20 has a lot going for it, even in this price range. For example, you'll get a nice 18 inputs and 20 outputs, with eight built-in Scarlett microphone preamps and two instrument inputs designed for hot pickups. Focusrite has made headlines over the years for its excellent conversion too, and the Scarlett 18i20 is no exception to that rule. In the box, you'll also get some pretty sweet software instruments and plug-ins, including the Focusrite Red plug-in suite, Avid's Pro Tools | First, and more.
Buy the Focusrite Scarlett 18i20 here
Best audio interface under $300: Audient Evo 8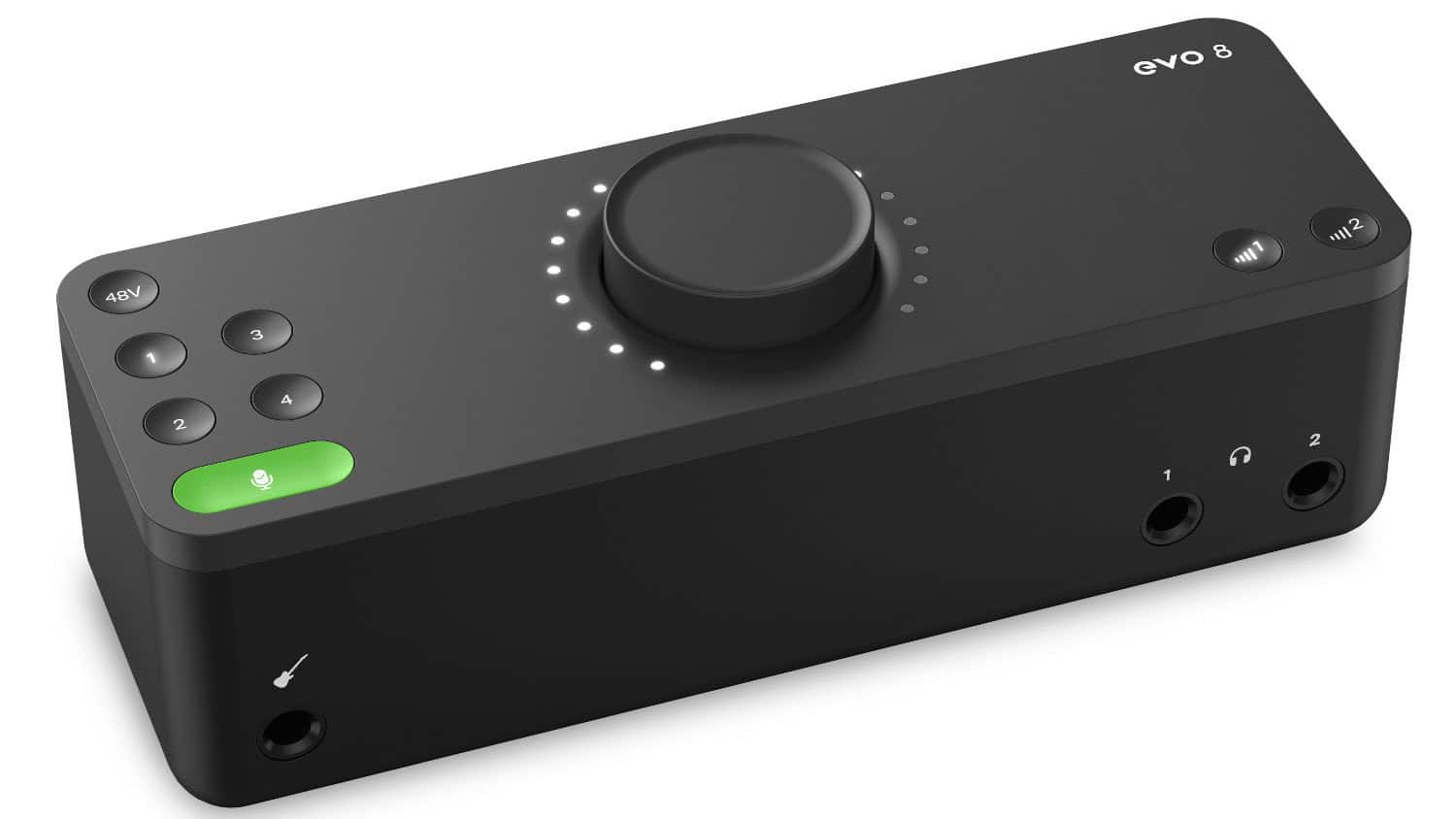 Looking for something ultra easy to get started with? The Audio Evo 8 is built for just that. The interface is sleek and stylish, plus it makes things as easy to understand as possible. It has two mic preamps and an instrument input built into, as well as monitor and two headphone outputs, a big volume knob, and a SmartGain feature that automatically adjusts your microphones' gain without you having to do anything. That big knob actually controls the volume of a range of different things around the interface, including the headphone and monitor output. It's pretty cool.
Best audio interface under $100: PreSonus AudioBox USB 96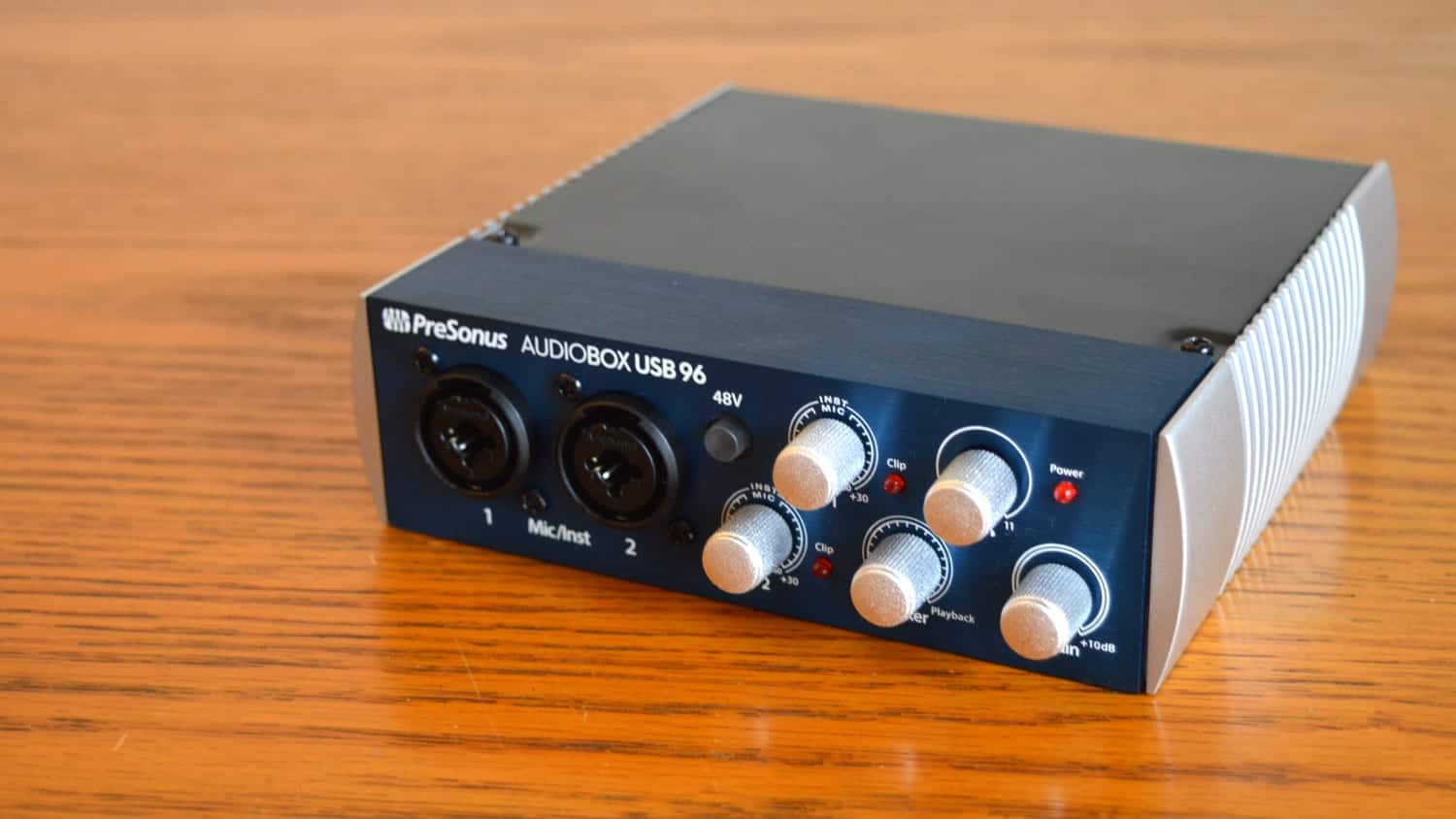 Simply want to get started with recording and don't have much cash to set aside? The PreSonus AudioBox USB 96 is the audio interface for you. PreSonus has made quite a name for itself when it comes to low-cost yet high-quality products, and the AudioBox 96 is no exception to that rule. We reviewed the AudioBox USB 96, and found that it offered excellent audio quality, with some great features like MIDI support — things that can seriously come in handy in an interface in this price range. The AudioBox USB 96 is also capable of recording audio at up to 96kHz, which is a step up from thee previous generation AudioBox, which was limited to 48kHz.