Design -

7/10

Features -

7.6/10

Value -

5/10
If you've heard any of the big rock hits released during the late 1970s or early '80s, you recognize it as one of the high-points for the implementation of creative mix techniques. Whenever you put on a record from this time period, small aspects such as the tone on Keith Richards' guitar as he opens "Start Me Up," or the slamming gated snare reverb on "Born To Run," have since been attached to the songs themselves, and made them completely unmistakeable from the rest. And the man behind these mixes and more, Bob Clearmountain, made that possible.
Sometimes, you have to escape normalcy and apply something outrageous to make a hit song stand out among the crowd. We still see this idea being used today by artists like Billie Eilish — taking an already great song and adding something strange and colorful to decorate it with. Yet unfortunately, it has become quite less common than it used to be. Which is why Clearmountain took it upon himself to team up with the folks at Apogee and put this idea into a signature plugin, marking the beginning of what is now known as Clearmountain's Domain.
Design
When you watch interviews with Bob Clearmountain, it's easy to tell that he is a laid back, give-it-to-you-straight, no frills kind of guy. If you want his opinion on something, he'll let you know his absolute truth with no sugar coating, yet remains relaxed and kind through it all. The Clearmountain's Domain plugin from Apogee is packaged similar to the personality of its namesake. It's straightforward, easy to set up and navigate through, with not a lot of added design to make it look cool. Parameters are controlled by a series of longthrow faders, so you can dial in your perfect tone, and blend it with your dry signal.
Design wise, the most appealing part of this plugin is its visualizer. We would consider it similar to that of one of the standard visualizers that you can load up in iTunes. When nothing is happening, it's a plain black screen, but when the plugin is loaded and effects are being applied, it lights up with colorful shapes to let you know how it's responding to the incoming signal. There's really nothing that the visualizer displays that is relevant to the monitoring of your plugin, or otherwise practical to keep an eye on, but it does add a nice effect to watch and get lost in as you work on your song.
Features
To be frank, we'd wager that anybody out there who wants to purchase Clearmountain's Domain, is doing so to mimic the tones he made popular a few decades ago. And what better way to do so, than through a plugin he himself helped create? It seems in the creation process, Apogee had this figured from the get-go, as the software seems to heavily revolve around its list of presets named after his biggest hits and artists.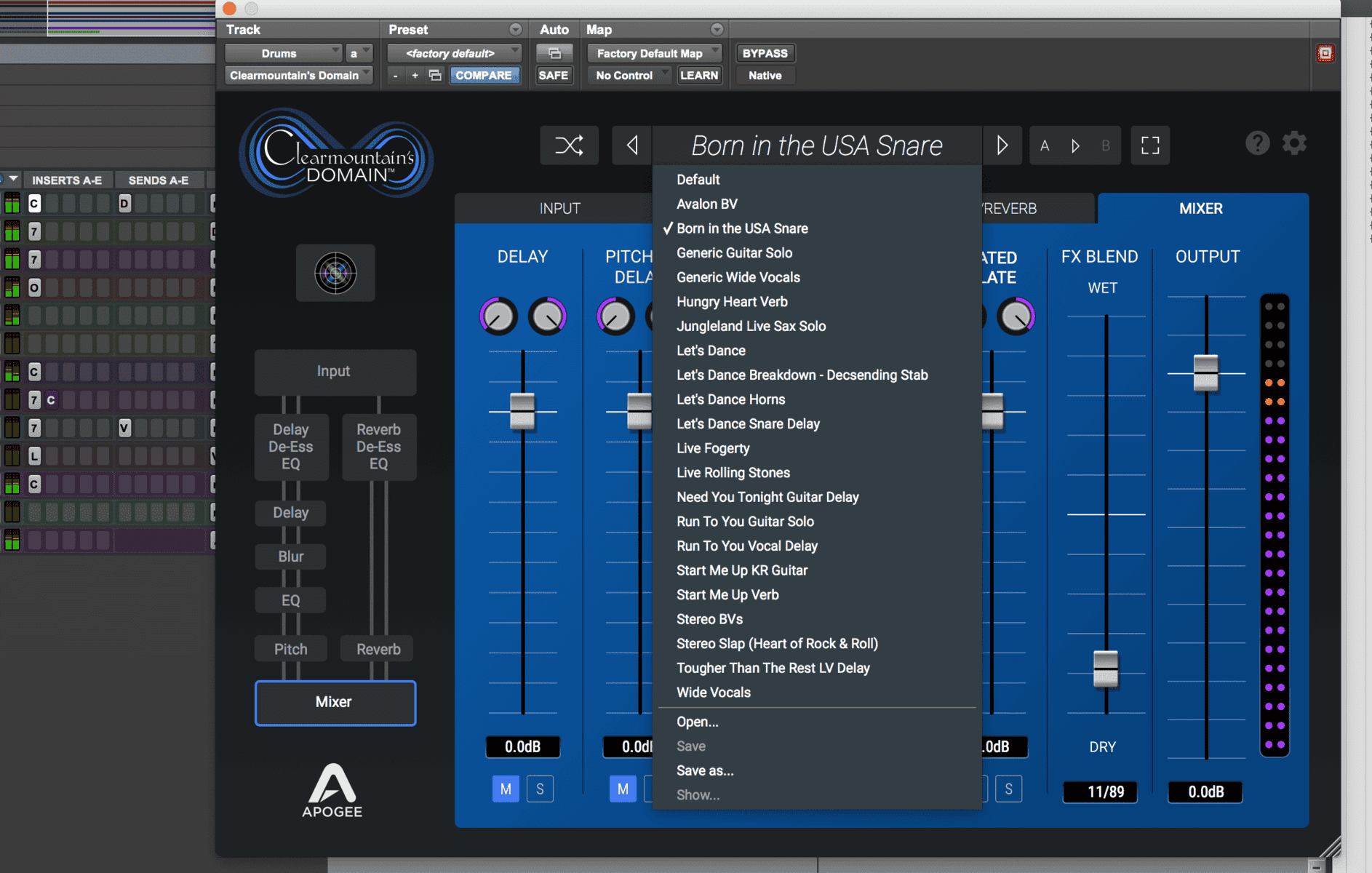 From this standpoint, it seems that the most efficient way to use this plugin is to find the presets list. Then choose a song/instrument/artist that you want your applied instrument to sound similar to, tweak it, and blend your effect with your dry input from there. There was, however, one issue we did find in the 'FX Blend' area itself. It seems that no matter what preset effect you choose, unless you're looking to apply some soaking wet reverb and delay to your signal, the only practical settings of this knob was to only apply between 1% and 10% of the wet signal. Whereas across the other 90% of the spectrum, you get bombarded with way too much of everything when it's placed back in your mix. While we completely understand this is there to allow some extra creative freedom, in a practical setting aside from just messing around with it for smiles, they may have given us a little too much freedom.
The final notable feature we'll mention about this plugin is its randomizer setting. Located just to the left of the presets menu, when pressed, it will apply a random setting to every parameter to let you play around with. Most of the time, when pressed, what you'll get is an assortment of washed out reverb, delay, and pitch shift. But again, it's fun to play with, but unless you happen to be working on a weird, experimental project that calls for that much effect, you won't be able to use it in your mix unless you turn that blend fader way down.
Conclusion
At the end of the day, Clearmountain's Domain is quite a lot of fun to play with, and could certainly be loaded up to use on any project that calls for some embellishment. And it seems that's exactly what it was designed for, Clearmountain himself in a promotional video encouraged users to load up presets, but most importantly, to have fun with it and to get creative with your mixes.
Although, at its best, this plugin is a simple way to possibly add some color to your instruments that you wouldn't have initially thought of. If you're already a big fan of Clearmountain and his signature sounds, this would be a perfect plugin for you to load up, and have them at your fingertips. However, at an asking price of $349, we believe it ought to offer quite a bit more in terms of practical mix use. As well as a little bit more time spent going into its parameters during development.
At the same price, one could easily purchase several heavy delay and reverb plugins from a company like Waves or Soundtoys, and adjust the parameters to a point that sounds similar to these classic mixes. But it seems you have to shell out quite a bit more for Clearmountain's name and signature package. If that's what you're after, then Clearmountain's Domain is absolutely the right tool for the job.