Just like the tonewood selection manufacturers use in designing electric guitars, those used in acoustic guitar construction are equally as deliberate. So, what are some of the parameters that determine good tone? Harmonic content, sustain, and project are just a few of the elements to consider. This acoustic guitar body tonewood guide will go into the differentiators between the different types of woods used for acoustic guitar bodies, as well as anything else you need to know.
Acoustic guitar construction can be broken down into a few areas: The body, which is made up of the back and sides, the top (or soundboard), and the neck and fretboard. This acoustic guitar tonewood guide will take you through the most popular materials used in the construction of bodies, including the back, sides, and top.
Backs and Sides
Materials used for the body (back and sides) of acoustic guitars may not be quite as influential on the sound as the top, but it is nonetheless important. And just like with electric guitars, wood selection for tops generally differs (but remains complementary) from those used for back and side materials.
Mahogany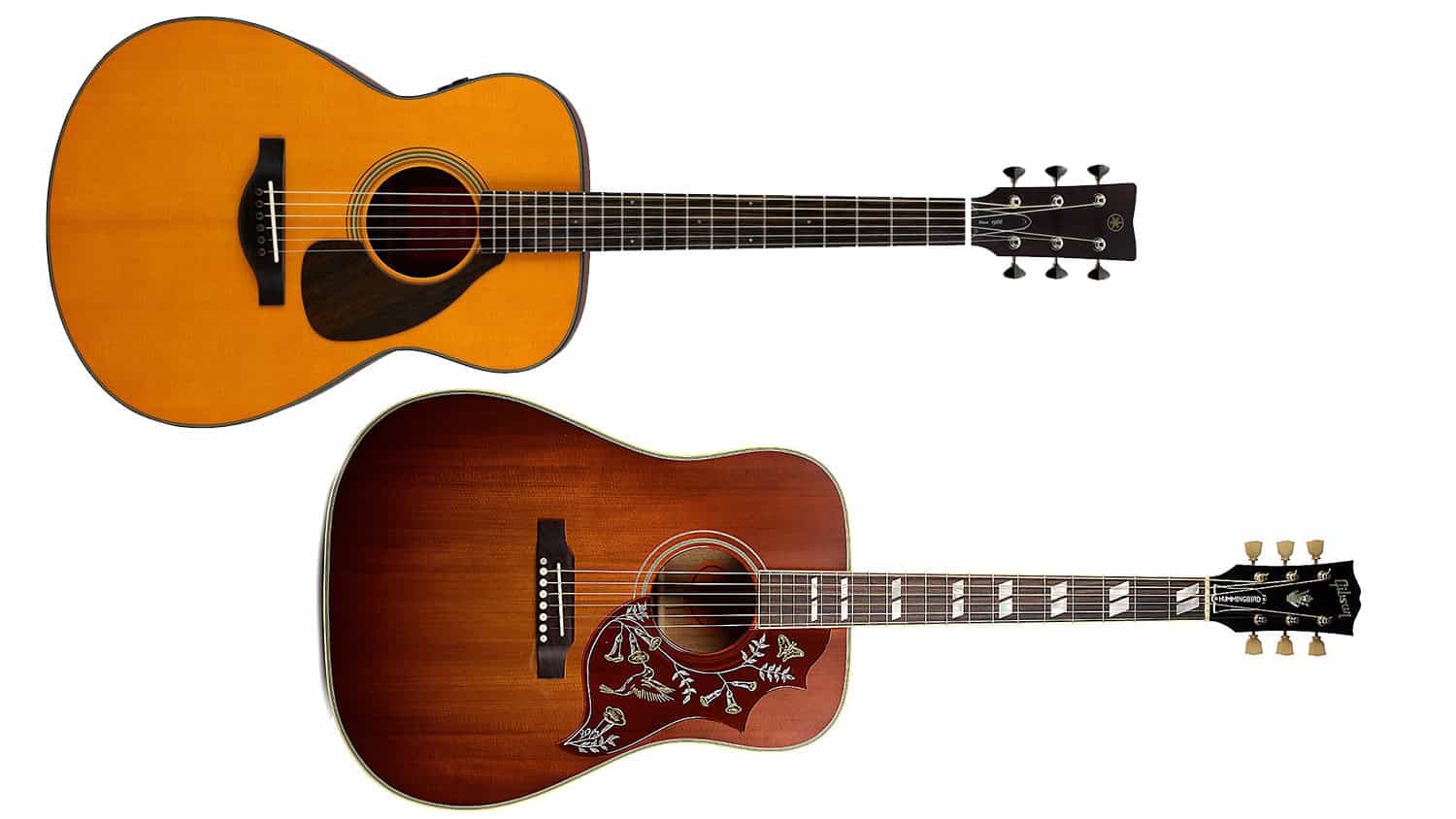 Mahogany has been used for backs and sides in acoustic guitar building for almost a century. Most, if not all, of the fabulous pre-World War II guitars from Gibson and Martin made it popular. The tone changes over time as it ages extremely well, resulting in the evolution of pleasant overtones.  This adds character and color to the sound. Mahogany has phenomenal low end and low midrange response, and it looks just as good as it sounds. It is darker sounding, but has a little more attack than rosewood.
Buy the Yamaha Red Label FSX5:
Amazon | Guitar Center | Sam Ash | Musician's Friend
Buy the Gibson Hummingbird:
Guitar Center | Sam Ash | Musician's Friend
Koa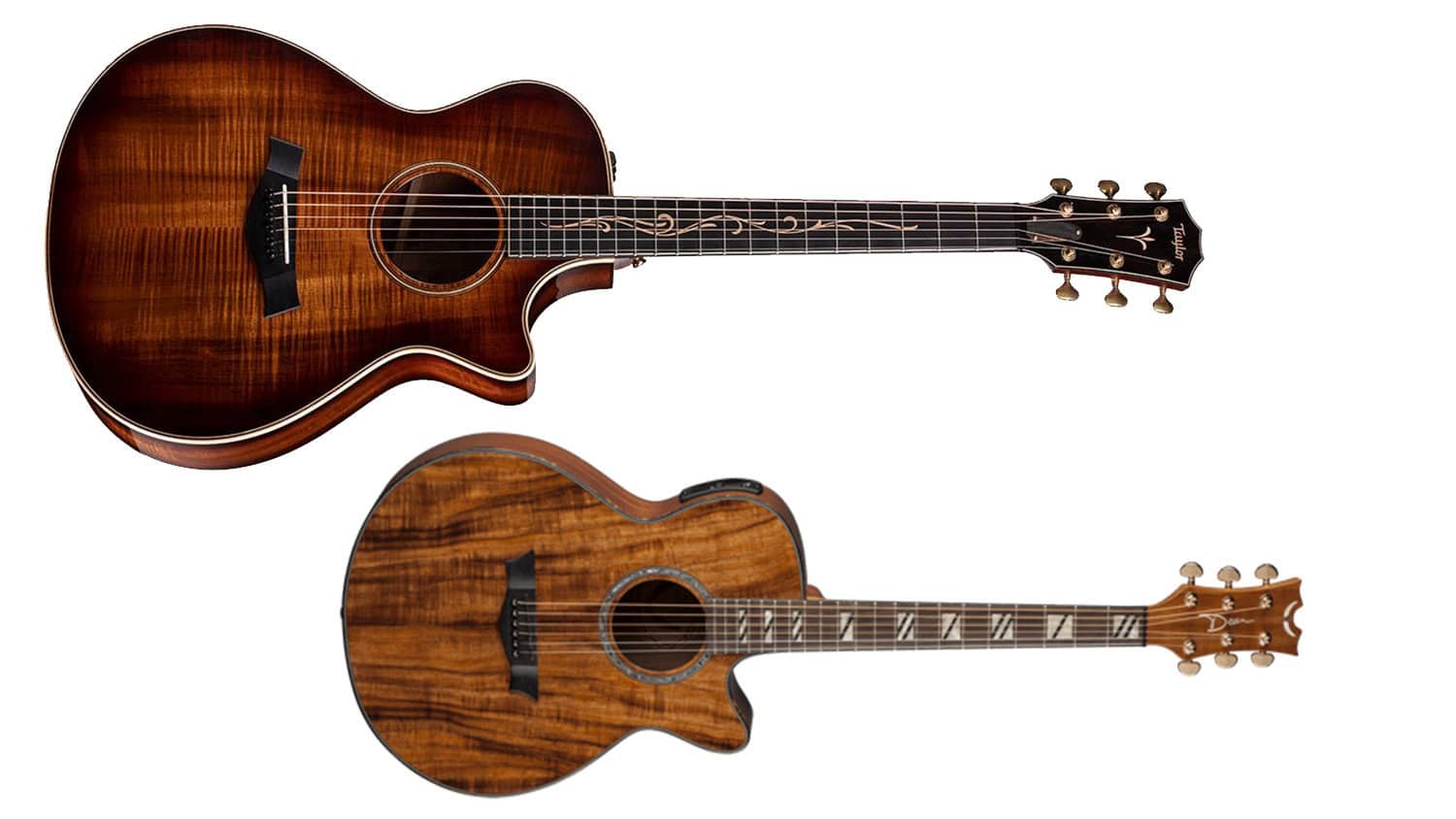 Well known in ukulele lutherie, Koa is an indigenous Hawaiian wood. It isn't cheap, which is why you'll often find it on more expensive guitars. Taylor is really the only large manufacturer that uses it on a wide range of models. Aesthetically, it is quite beautiful with a gorgeous tone to boot. Initially it is very bright, but as it is played in it mellows out. This provides a crystalline top end with solid bottom. Being that it is so bright it is very popular among fingerstyle guitarists.
Buy the Taylor K22ce:
Amazon | Guitar Center | Musician's Friend
Buy the Dean Performer Koa:
Amazon | Guitar Center | Musician's Friend
Rosewood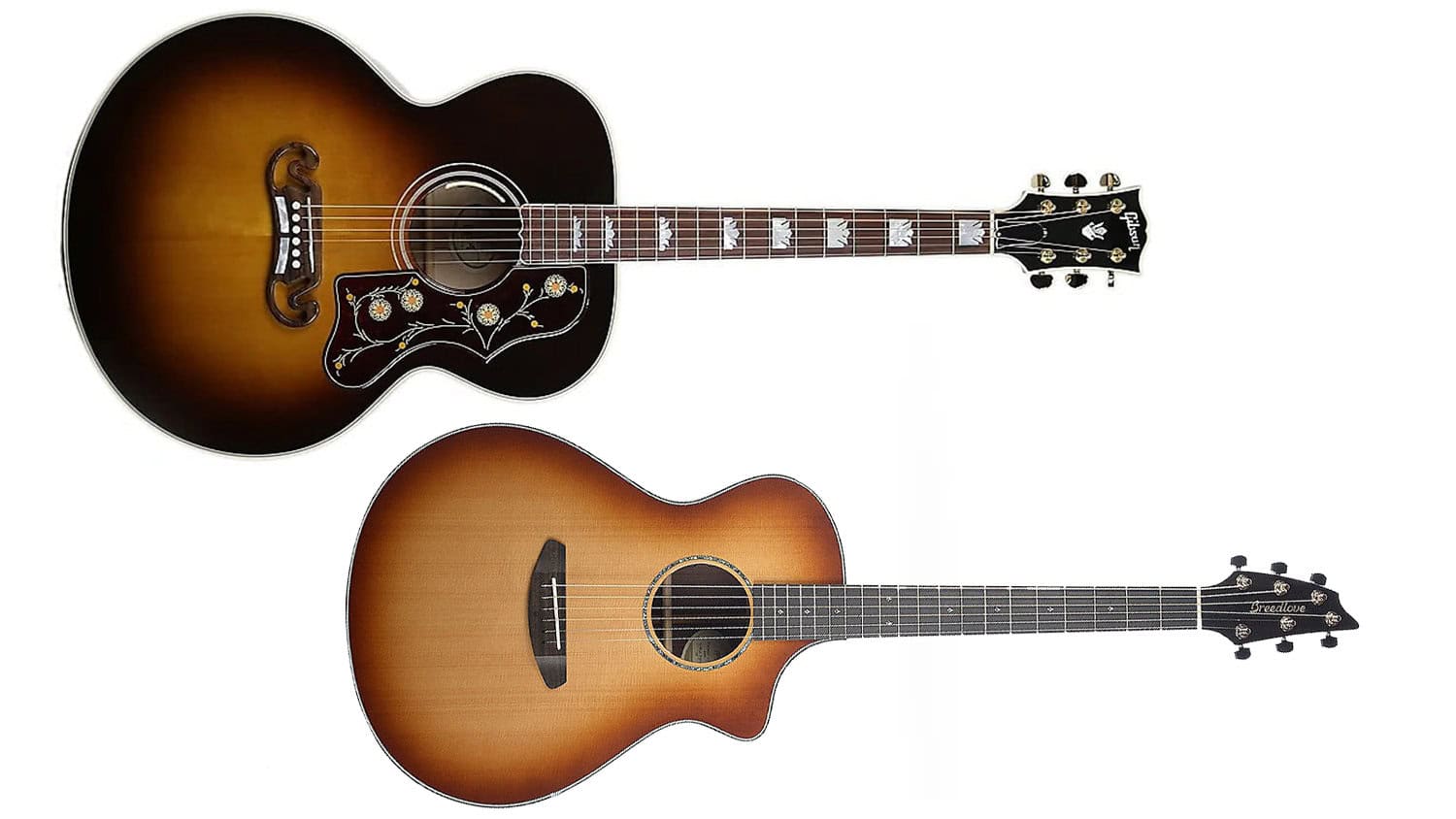 One of the most popular tonewoods in acoustic, as well as electric, guitar construction. There are two main types: the rare (and endangered) Brazilian variety, and the East Indian type. Due to environmental regulations East Indian is the type commonly used these days. The two varieties have visual differences, but tonally are very similar. Rosewood has a a darker quality with a sweet high end, with tight lows and a bit of a dip in the midrange but is generally even response across the frequency spectrum.
Buy the Gibson SJ-200:
Amazon | Guitar Center | Musician's Friend
Buy the Breedlove Premier Concert CE:
Amazon | Guitar Center | Musician's Friend
Maple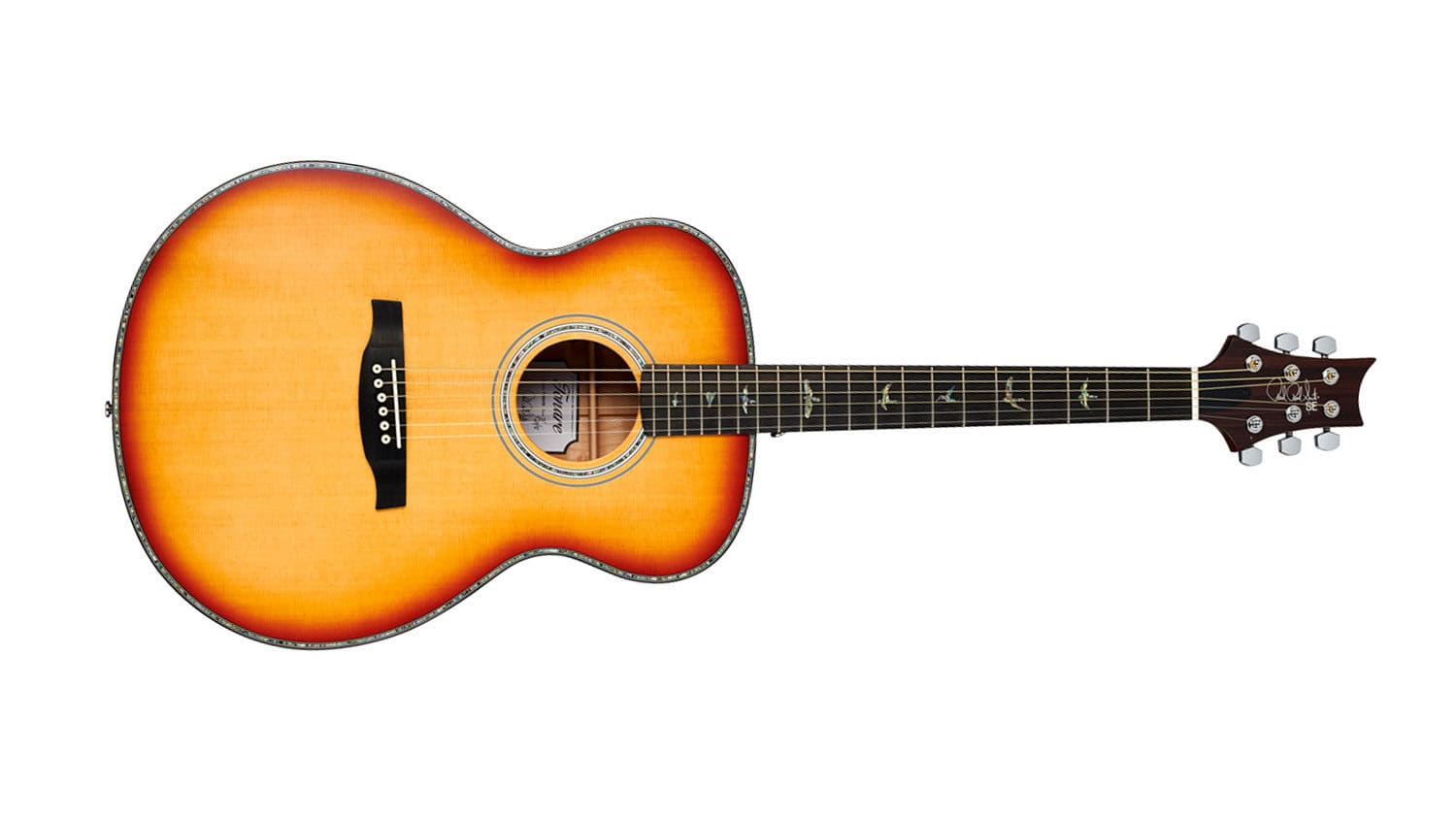 Maple isn't as common in acoustic guitars as it is in electric guitars. Its appearance can be breathtaking, with unique grain patterns. There are three main types: birdseye, quilted, and flamed each with their own unique look. It is quite dense and provides a fast decay. It's also very bright and focused without much overtone material – which means there is excellent separation to the notes.
Buy the Paul Reed Smith SE Tonare T50E:
Guitar Center | Musician's Friend
Sapele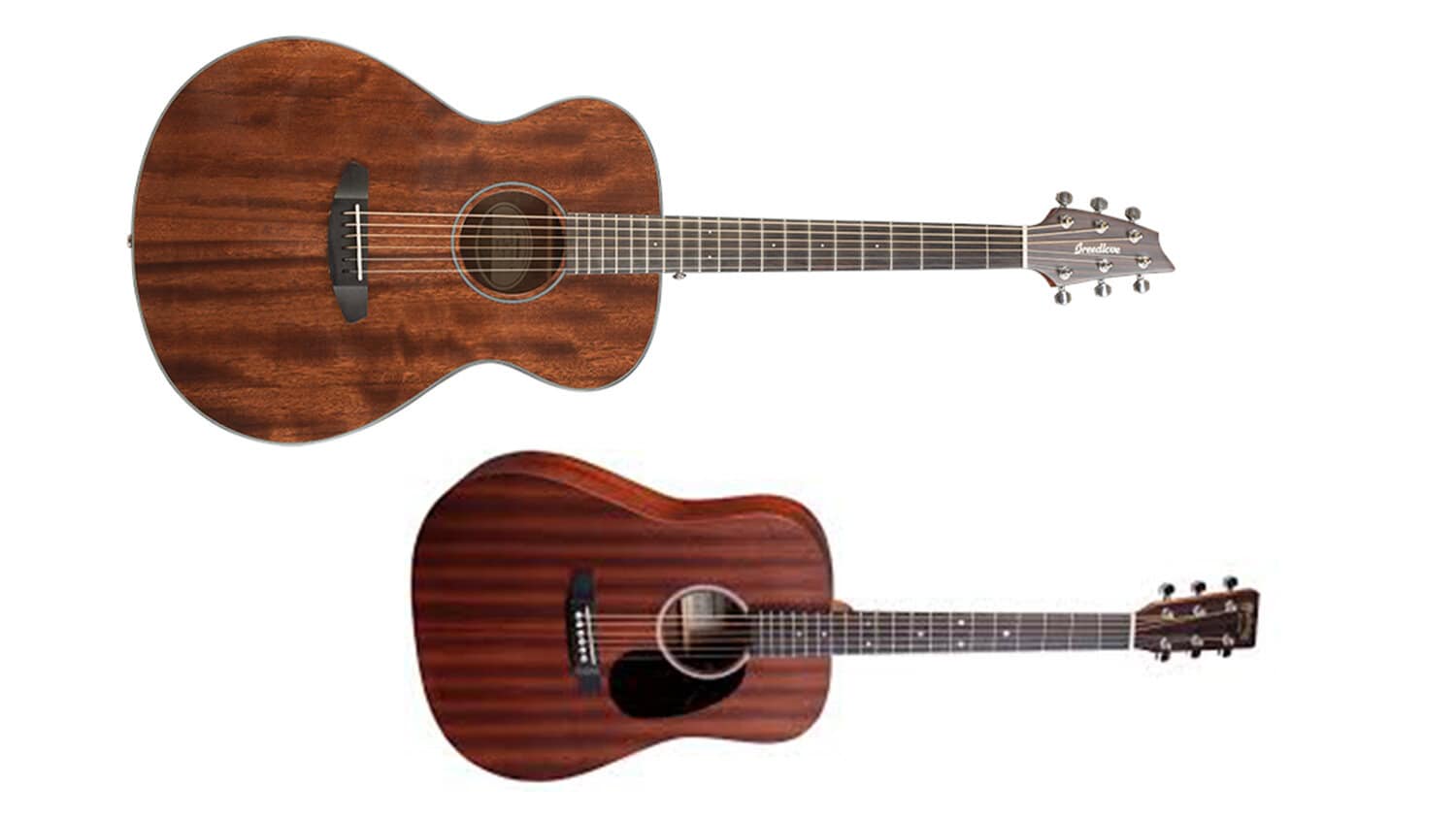 Sapele is an African tonewood that is very similar to mahogany in sight and sound. It has the tight low end and midrange pronunciation of mahogany, but it also has more high end.
Buy the Martin DRr-10E:
Amazon | Guitar Center | Musician's Friend
Buy the Breedlove Discover Concert:
Amazon | Guitar Center  | Musician's Friend
Walnut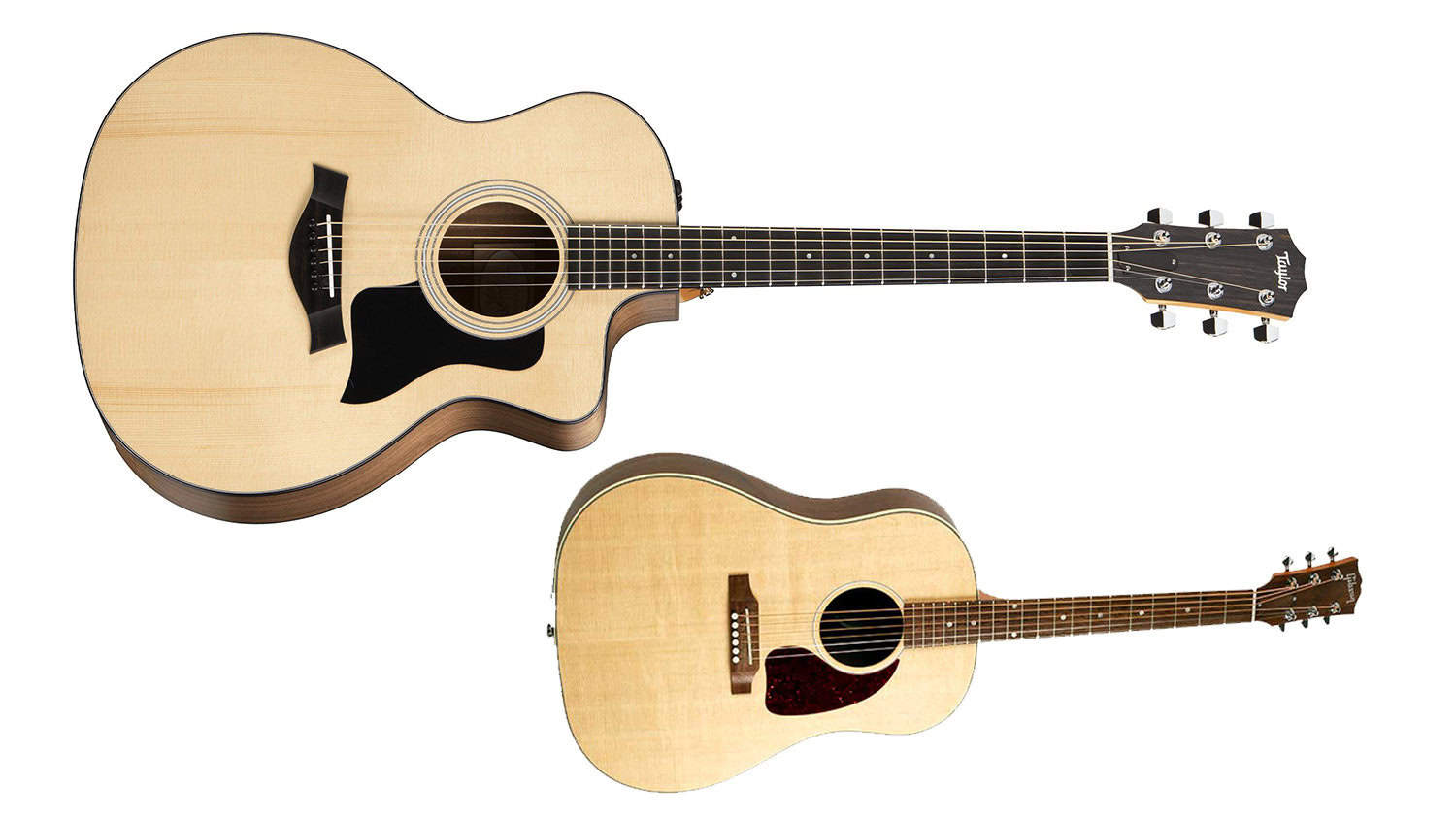 Walnut and koa have a lot in common, and in fact walnut is a popular alternative. It's easier to work with as well as source, leading to a more affordable price point. It's a dark, dense wood with a shiny high end. As for the midrange, tonally it falls between mahogany and rosewood. Conversely, it has a stronger low end and low midrange than koa, and just as well the tone mellows as it ages.
Buy the Gibson G-45:
Guitar Center | Sam Ash | Musician's Friend
Buy the Taylor 114ce Grand Auditorium Walnut:
Amazon | Guitar Center | Musician's Friend
Tops
The sounding board, also known as the top, is the most critical factor in the overall tone of an acoustic guitar. It affects the fundamental, attack, and articulation of the sound.
Spruce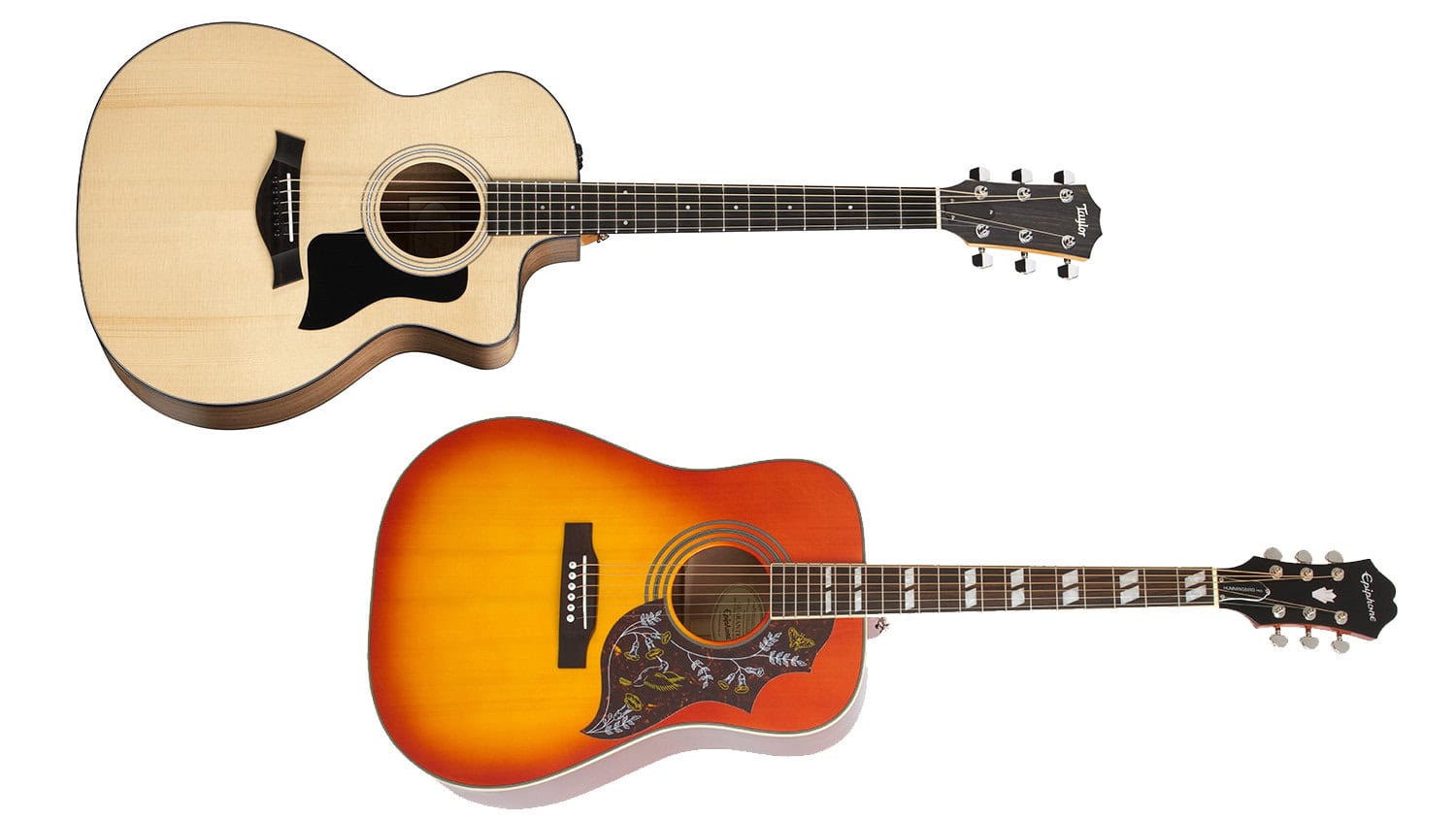 This is by far the most common tonewood used for tops. The reason for this is it is very versatile and not only pairs well with other tonewoods – it works well for every style of guitar playing. The most common species are Sitka, Adirondack, and European. Visually it ranges from light brown to a creamy white.
Its dynamic range is very wide with few overtones. This makes for a consistent sound with good attack. Some find it to be lacking a little something, but this lack of harmonic complexity is what allows it to pair well with other woods. It also has a good amount of volume, another reason it is so commonly used for the sounding board.
Buy the Taylor 114ce:
Amazon | Guitar Center | Sam Ash | Musician's Frien
Buy the Epiphone Hummingbird Pro:
Amazon | Guitar Center | Sam Ash | Musician's Friend
Mahogany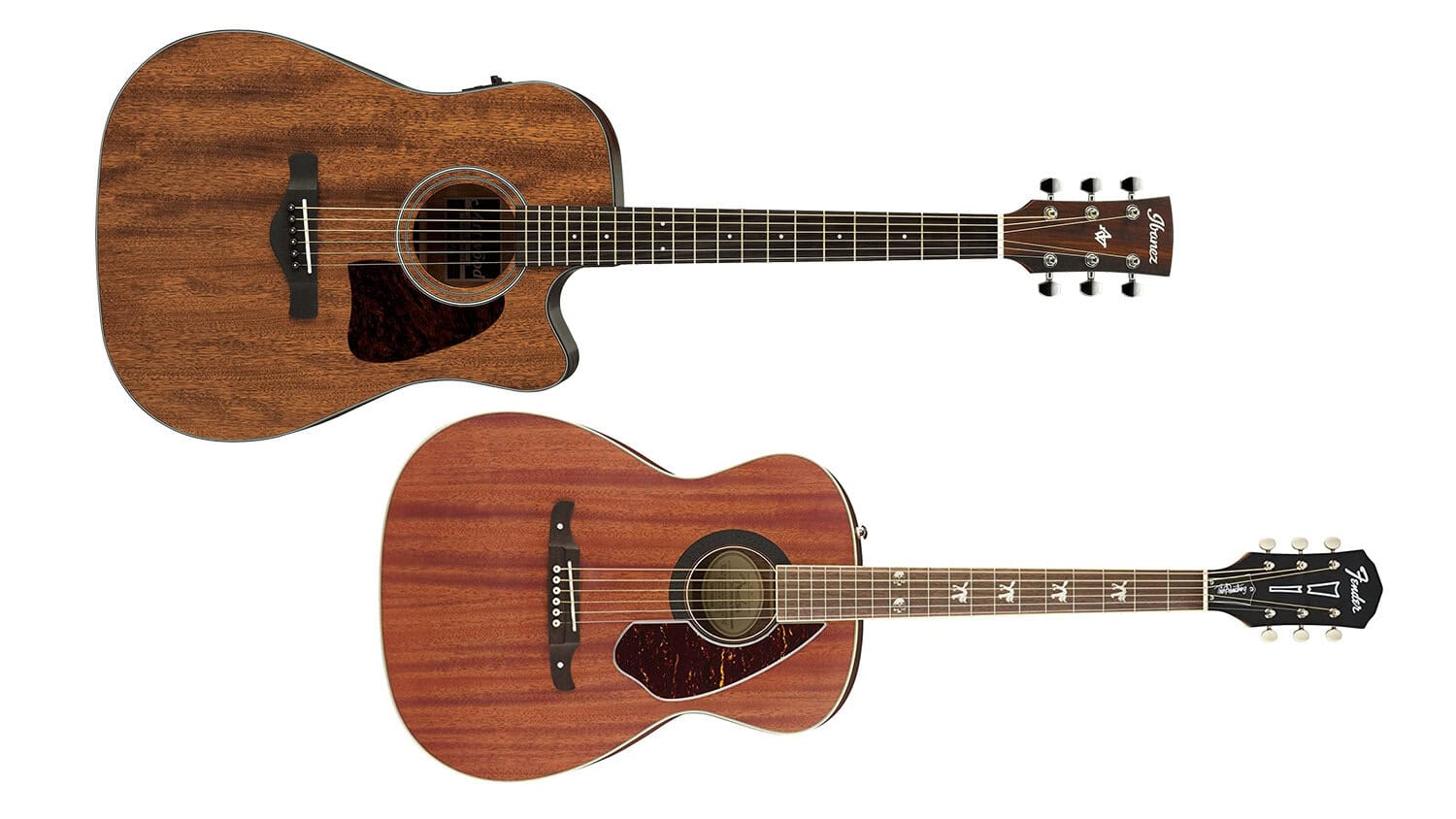 Not nearly as popular as a top material as it is for backs and sides, mahogany-topped guitars are warm with excellent low end and a pleasant midrange. The wood has a natural brown to reddish color, and as a top is often left unfinished so the natural aesthetic can shine through.
Buy the Ibanez AW54CE:
Amazon |  Sam Ash
Buy the Fender Tim Armstrong Hellcat:
Amazon | Guitar Center | Sam Ash | Musician's Friend
Maple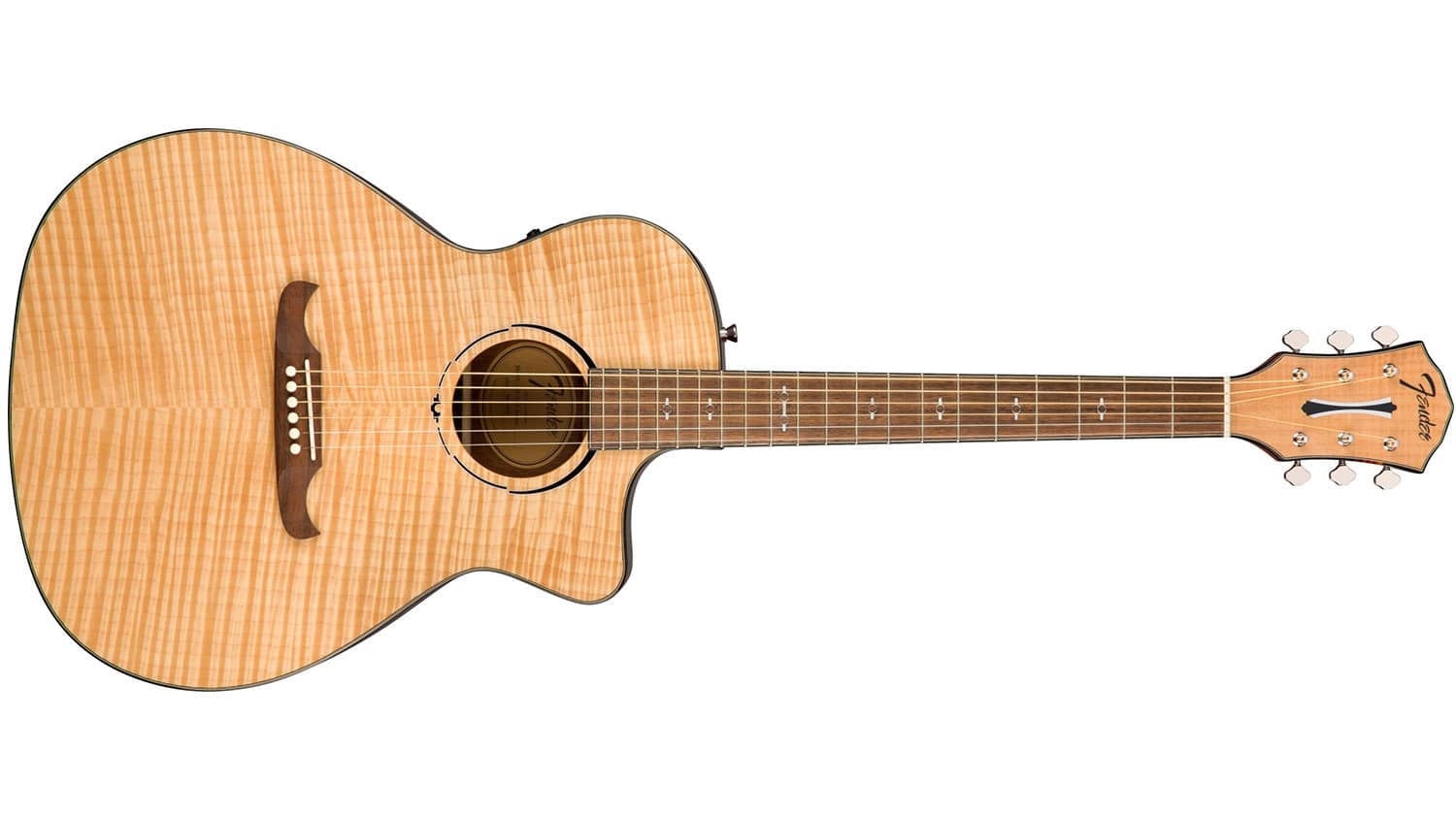 Another tonewood that is less common as a top material is maple. The grain patterns are attractive and thus are visually appealing. Just like when used as back/side material it is very bright with healthy acoustic volume and great definition.
Buy the Fender FA-345CE:
Amazon | Guitar Center | Musician's Friend
Cedar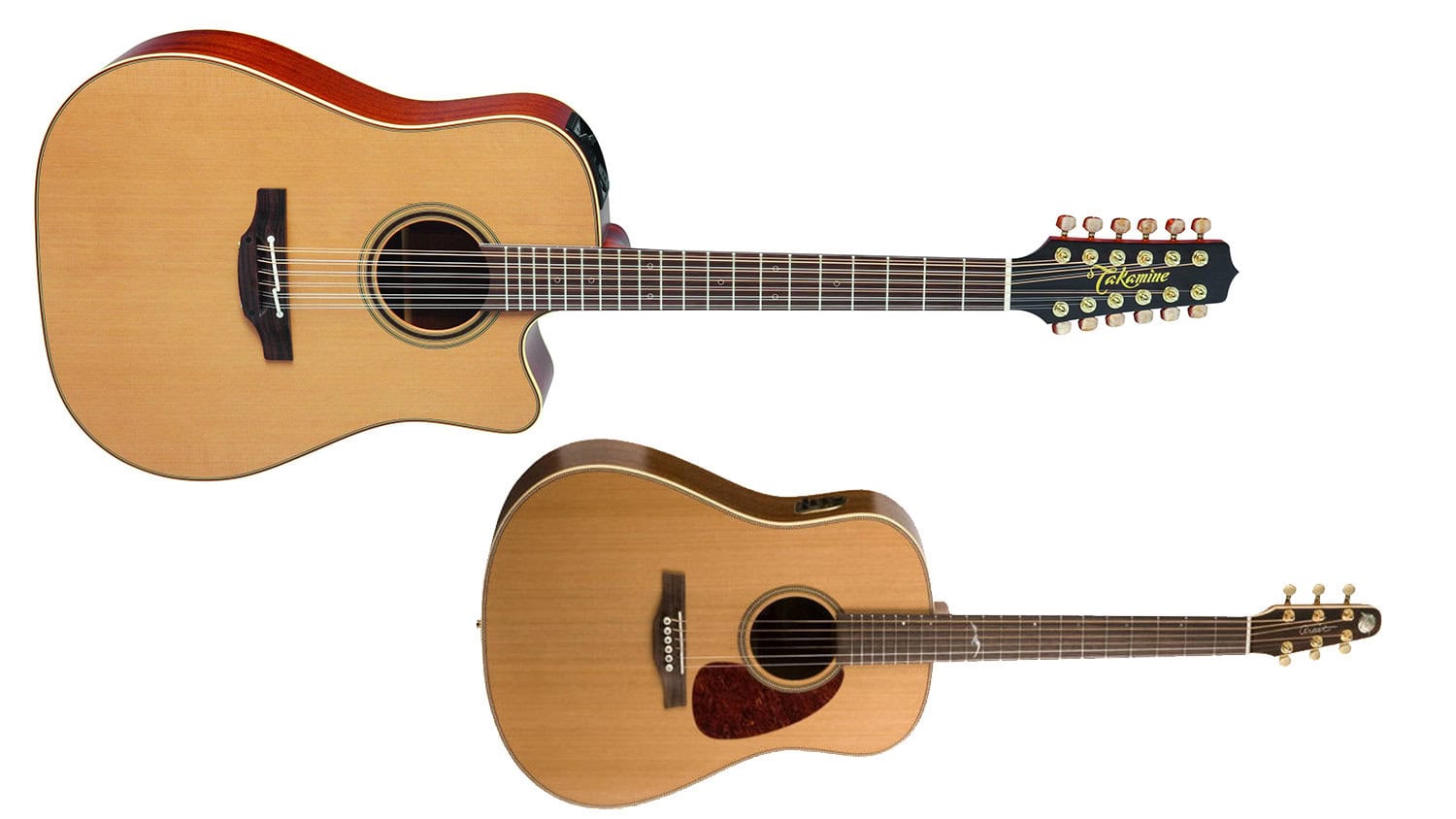 Long used in the construction of classical guitars, cedar is a very popular top wood. It has a bit of a darker tone than spruce but also provides strong overtones and solid overall tonal character.
Buy the Takamine P3DC Pro Series 3:
Amazon | Guitar Center | Sam Ash | Musician's Friend
Buy the Seagull Artist Mosaic Deluxe:
Guitar Center | Musician's Friend