It's never been easier to make quality recordings affordably, at home. Audio interfaces have come a long way in terms of the level of the technology. Not long ago, beginner interfaces were just that. They provided a stepping stone into the world of recording, but were really only able to produce sonics that had a "demo" quality at best. This is no longer the case. There is a wide variety of gear that can give you professional results at an amateur price point. Let's dive into what to look for in an interface, and some of the best audio interfaces for beginners on the market today.
How Audio Interfaces Function
Audio interfaces in the beginner range basically come down to a few factors. There are the preamps, which amplify the signal to get it to a nominal level for recording and mixing. The number of preamps included on smaller interfaces ranges from one to four, but you'll generally find them to have two. These kinds of preamps are meant to be very clean and transparent without any coloration to the signal.
Then there are the converters. These change (convert!) the signal from analog to digital so it can be recorded into the computer and then back to analog for playback through the monitors. The standard of converters now included in entry-level interfaces is pretty great, and some companies like Universal Audio and Audient use the same in all tiers of their equipment.
SSpeaking of monitors, interfaces in this range also have monitor control built in. All you need is to hook up your playback gear without having to purchase additional power amps or monitor controls.
Which Interface is Right for Me?
When it comes to choosing an interface there are a number of considerations. Probably the most critical factor is how many inputs you need. Unless you're recording full bands you can probably get away with an interface with only two inputs. As mentioned previously, most preamps on interfaces in this range are designed to be as clean as possible. This means they will faithfully recreate the quality of the signal going in, but they won't introduce any analog mojo or vibe – which isn't necessarily a bad thing.
The type of converters is worth researching, but isn't so important if you're just starting out. Eventually, you might want to integrate some outboard gear like preamps, compressors, or expanded inputs so I/O is another thing to think about. Most interfaces can work with a PC or Mac, but you'll want to double-check that it will work with the type of computer you're running.
Best audio interface for beginners: PreSonus Studio 24c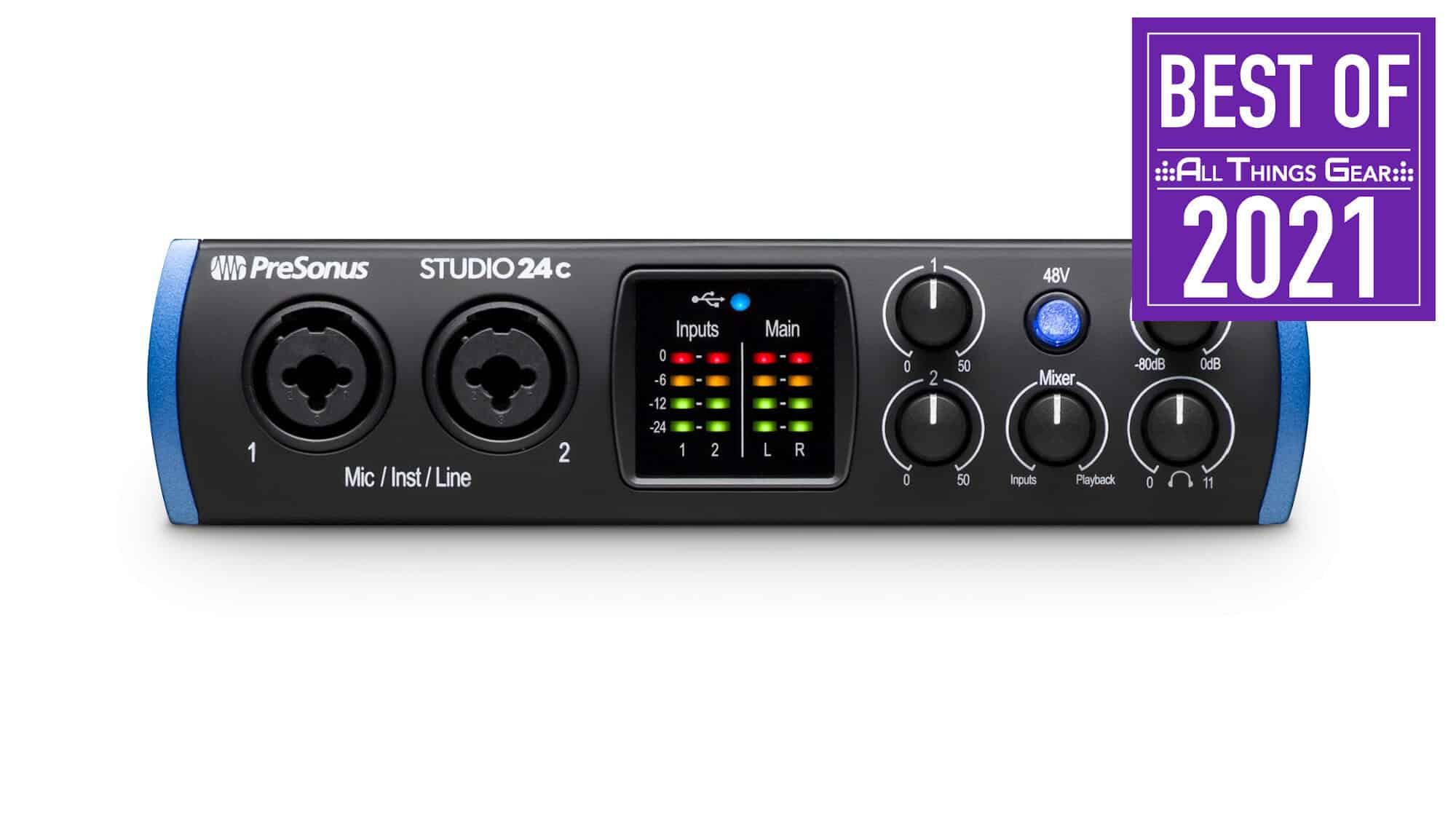 Pros: Relatively portable, sleek design, two mic preamps
Cons: Not as cheap as some on this list
Looking for a high-end audio interface that looks good, sounds great, and will connect with your Mac and PC? The PreSonus Studio 24c is the way to go. PreSonus has long been a go-to brand in the world of audio interfaces, and this interface is a perfect example of why.
On the front of the Studio 24c, you'll get two mic preamps with a switch for phantom power, and knobs for gain, headphone volume, and so on. Turn around to the back, and you'll get the rest of the ports and connections. The interface offers a MIDI input and output, along with stereo main output, and another headphone output. It's everything you'll need for basic recording.
The interface supports both Mac and PC, including Apple's newer Apple Silicon Macs. It has a USB-C port on the back, and can connect to your computer's USB-C or USB-A ports. And, it can record at up to an impressive 192kHz at 24-bit. All you really need to know about it, however, is that it's easy to use, and sounds great.
Buy here:
Amazon | Sam Ash | Guitar Center | Reverb
Best audio interface with 8 mic preamps for beginners: Focusrite Scarlett 18i20 3rd Gen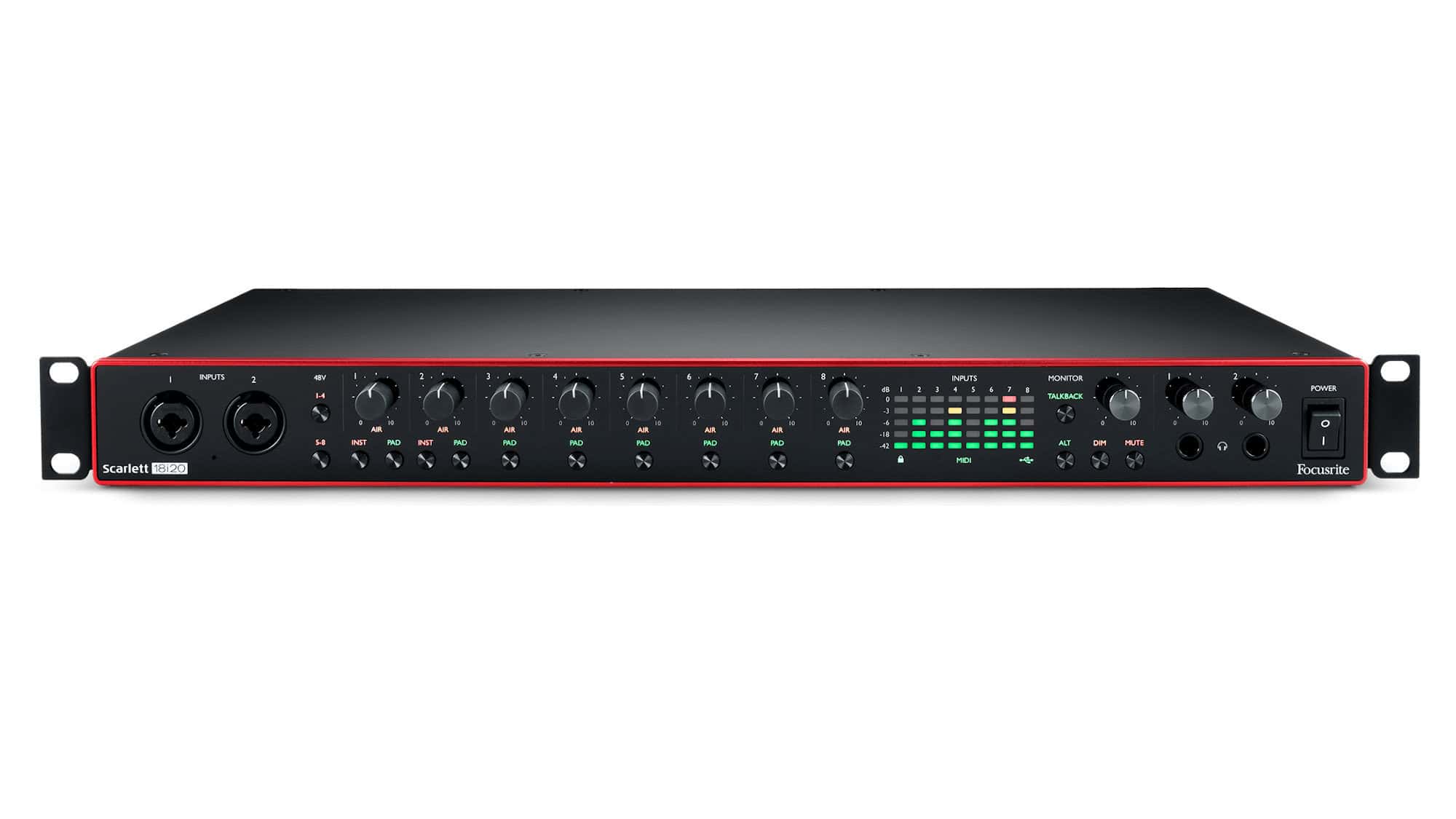 Pros: Lots of inputs, slick design
Cons: A bit pricey
The PreSonus Studio 24c is great for singer-songwriters or those that don't mind recording a few tracks at a time. If you want to record a live band, however, you'll need a few more inputs — and in that case, we recommend the Focusrite Scarlett 18i20. This interface offers eight microphone preamps, two of which are located on the front for quick access.
Also on the front are the eight gain knobs, switches for phantom power, LED level meters, and two headphone outputs. Turn the interface around, and you'll find an impressive 10 line outputs, MIDI in/out, optical ports for expansion, S/PDIF, and power. Yeah, it's a solid selection of inputs and outputs, and pretty much everything you'll need to get started in recording.
So what's the big downside? Well, the interface is certainly among the most expensive on this list, so if you're on a budget you may need to get used to using fewer inputs. But if you can afford it, you'll love the versatility that an eight-input interface allows for.
Buy here:
Amazon | Sam Ash | Guitar Center | Reverb
Best ultra-portable audio interface for beginners: IK Multimedia iRig Pro Duo I/O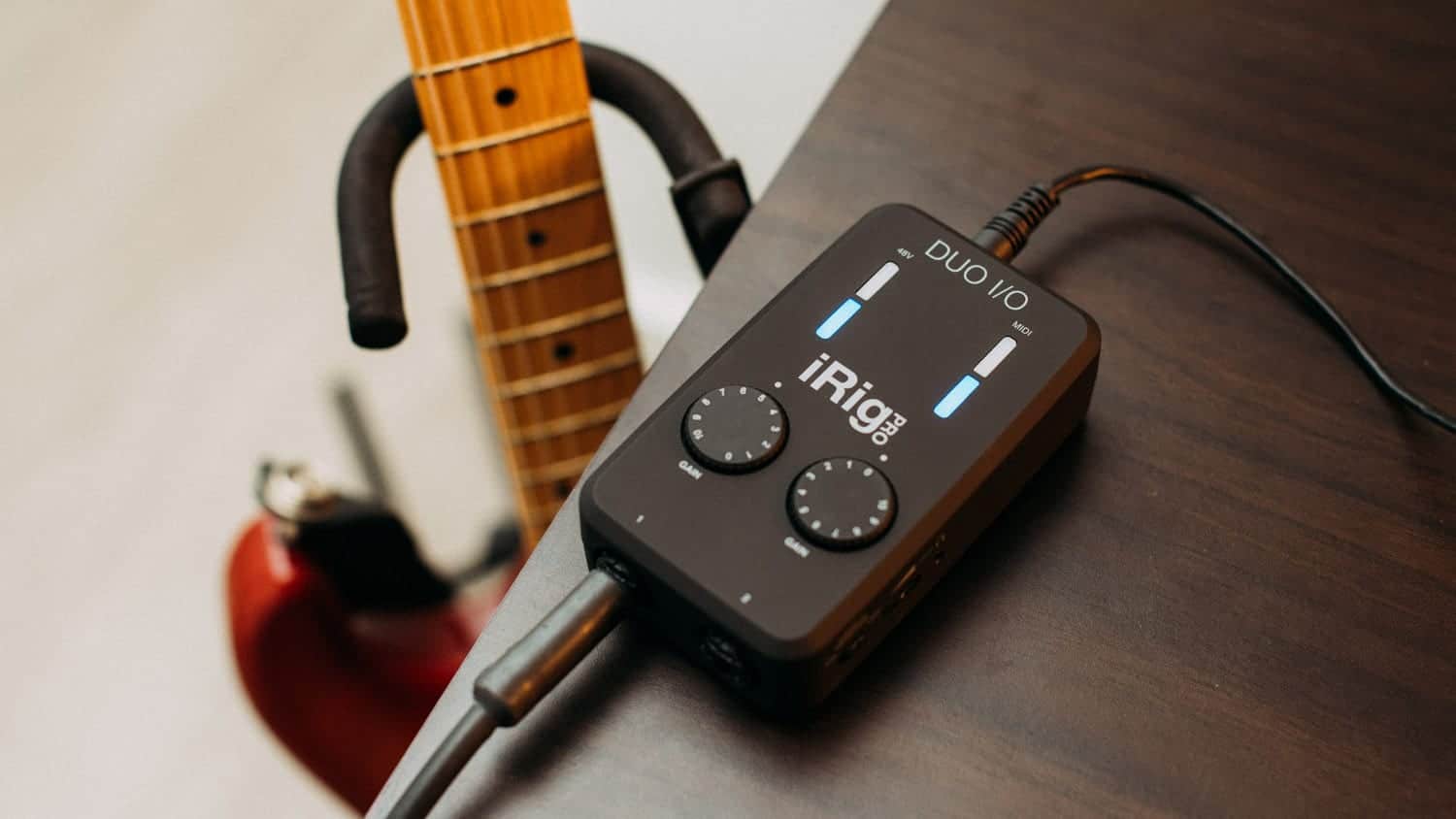 Pros: Sleek strong design, extremely portable, easy to use, highly usable
Cons: Not the cheapest
If portability is your top concern, then the IK Multimedia iRig Pro Duo I/O is the interface for you. This interface may not offer all the connections you'll get with other interfaces, but it still offers enough for most to get something out of.
When it comes to inputs and outputs, the iRig Pro Duo I/O boasts two microphone preamps, along with MIDI ports, and a headphone jack. On the top, it has two big gain knobs that let you easily control gain for each microphone preamp. It's almost as full-featured as some of the full-sized interfaces on this list, which is extremely impressive.
In our full review of the iRig Pro Duo I/O, we found that the interface was extremely versatile, and came with plenty of great software to use with it. The only downside? It's relatively expensive, coming in at $199.99.
Buy here:
Amazon | Sam Ash | Guitar Center | Reverb
Best iPad audio interface for beginners: Focusrite iTrack Solo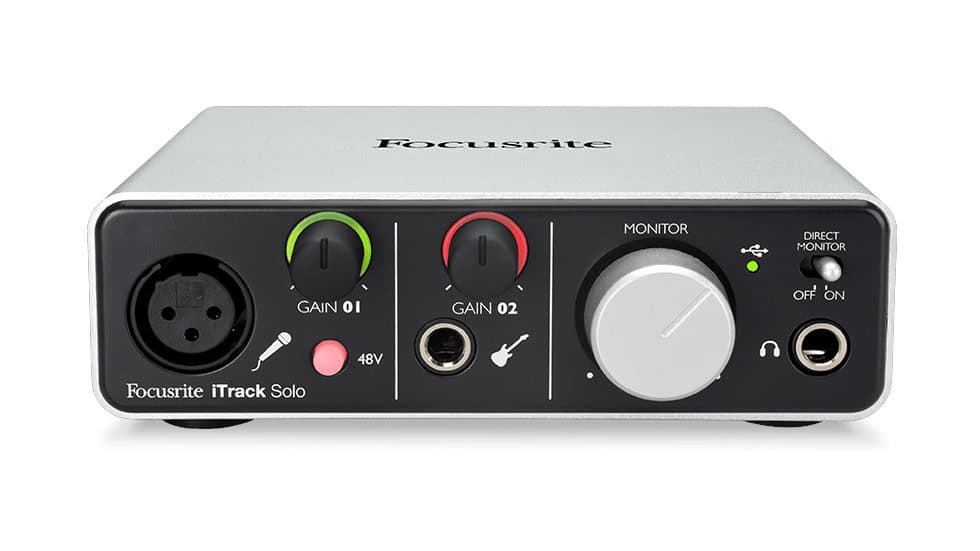 Pros: Inexpensive, works with your iPhone and iPad
Cons: Aging, short cable
Want a solid audio interface that will work with your iPhone and iPad through Lightning? It's worth considering the Focusrite iTrack Solo. This interface may be getting old, but so is the Lightning standard in general — and despite its age, it still works pretty well.
The front of the iTrack Solo is where you'll find the single microphone preamp, along with an instrument input. There's a phantom power switch, two gain knobs, and a large volume knob. There's also a headphone jack, which is handy. On the back of the interface, you'll get the two line outputs, a USB 2.0 output, and Focusrite's "Device Link" connector, which you'll use to connect the device with your iPhone and iPad. Note, many newer iPads offer a USB-C port or Thunderbolt port instead of a Lightning port. You'll want to make sure yours has Lightning, otherwise, it's worth considering other interfaces on this list that are compatible with USB.
There are some downsides to this interface. As noted, its overall design and connector is aging a little. And, the cable it comes with is relatively short, so you'll need to deal with keeping your devices close together. But it's still an excellent interface, and worth considering if you want to record with your iPhone or Lightning-based iPad.
Buy here:
Amazon | Sam Ash | Guitar Center | Reverb
Best ultra-budget audio interface: M-Audio M-Track Solo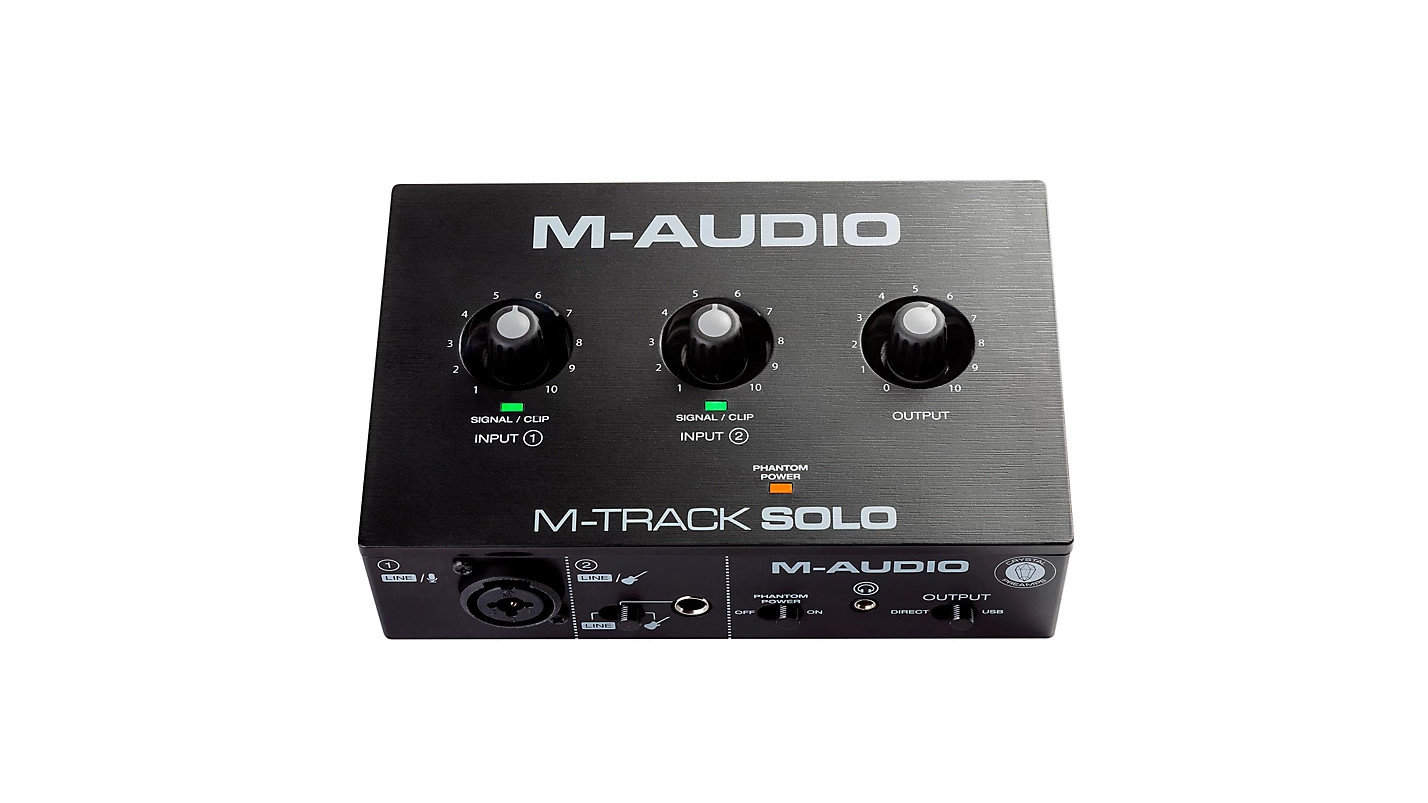 Pros: Very inexpensive, decent features, easy to use
Cons: A bit boxy, controls are pretty basic, no MIDI
Just want an audio interface for basic recording, and want to spend as little as possible? In that case, go for the M-Audio M-Track Solo. This interface may not offer all the bells and whistles that you get on the more expensive options, but it does the basics right, and all for less than $50.
The M-Track Solo has a single microphone preamp on the front, along with an instrument input. On the top, there are gain knobs for the two inputs, and an output volume knob. And, on the back, there's a USB port and RCA stereo outputs. Yeah, it's pretty basic — but offers enough for many basic users.
As you might expect, there are downsides at this price. There's no support for MIDI, for example, so if you want to use MIDI, you'll need to use it through another device or directly through USB from your MIDI controller. That said, it's a bit hard to complain given the price point.
Buy here:
Amazon | Guitar Center | Reverb