Acoustic guitarists have options with how they amplify their sound. In many cases, the acoustic guitar signal will be sent into a D.I. box and then out to the house sound system. While this method is simple and tried-and-true, you might want to explore the different sounds that acoustic guitar amps provide.
With an acoustic guitar amp, you can expand your sound by adding effects and microphone modeling, as well as being able to amplify your direct signal, a microphone, or even vocals. Whether you're busking on the street, doing a set at the coffeeshop around the corner, or wanting to get adventurous in the studio here are some of the best acoustic guitar amps available today.
How are Acoustic Amps Different Than Electric Guitar Amps?
Unlike electric guitar amps, acoustic amps are designed to fully replicate the sound of the guitar. This means they provide a clean, transparent platform for you to build on and generally don't introduce any extra "mojo". While it's entirely possible to get a great electric sound by using a nice amp with a guitar made from a countertop, acoustic guitar amps respond very differently in their relationship with the guitar.
Feedback is the worst enemy of an acoustic guitarist, and if you add in an amplifier, things can get out of control quickly. Luckily, many acoustic amps come with ways to combat feedback. These include phase, filtering, or altogether noise reduction. These features go a long in keeping things under control but remember proper sound techniques are still critical.
Why Use an Acoustic Guitar Amp?
So, what's the advantage to using an acoustic amp? For starters, it puts control of the sound more in the hands of the player. They are great for smaller gigs where there might be an underpowered sound system – if there is one at all. And if there's not, you can run a vocal into the amp. They are also very convenient and portable for smaller gigs. Beyond that, they really do provide a sound all their own – which you may or may not like.
Effects on Deck 
Pedals are becoming increasingly popular in the acoustic world, and many acoustic amps now come with onboard effects – or at the very least reverb. These let you expand your tonal options without having to lug around additional gear.
Best Overall: Mesa Boogie Rosette One:Ten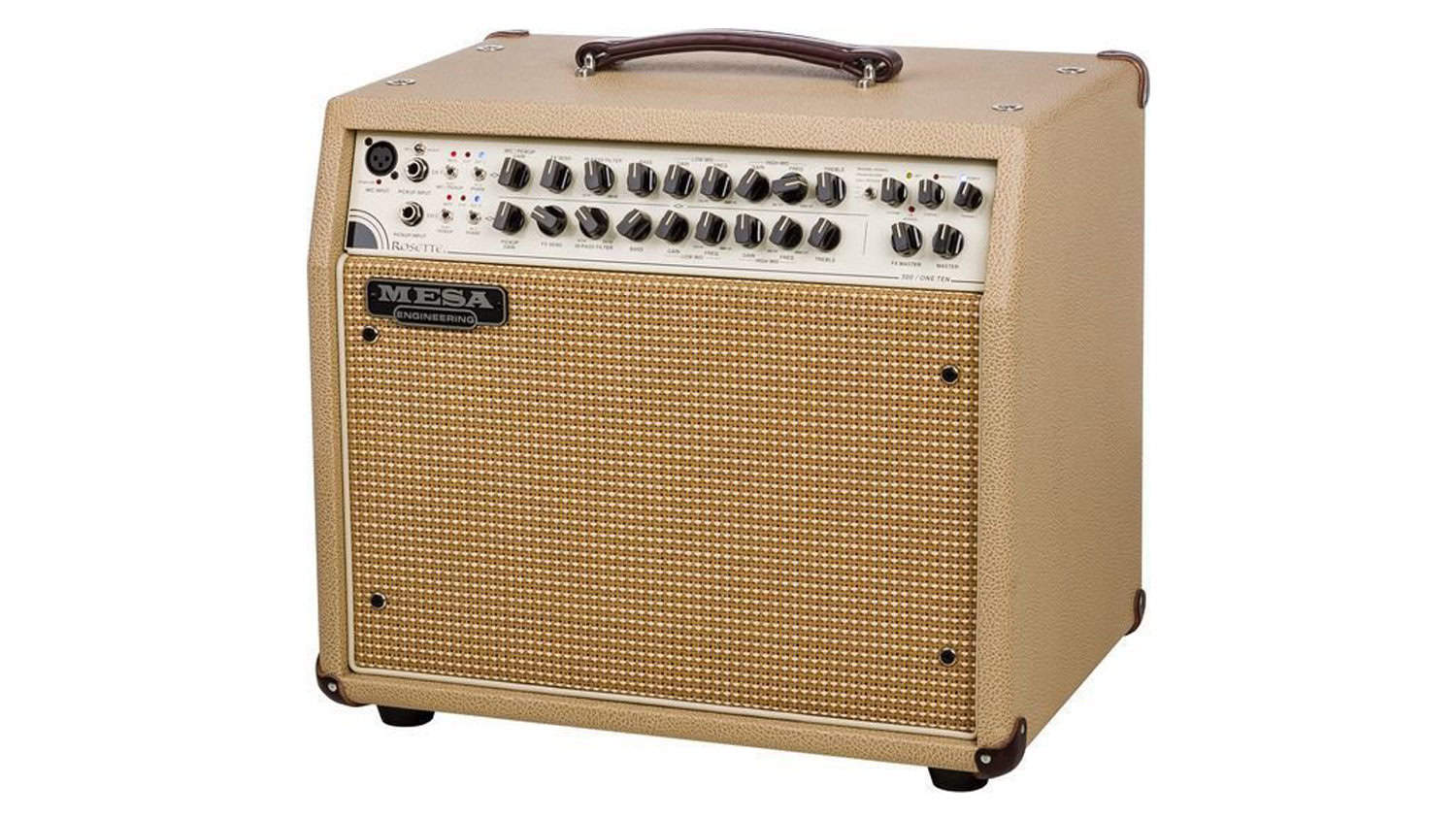 Like most Mesa Boogie amp, this is an absolute monster. It packs 300W into a combo amp with a single 10" speaker. It has two channels, so you can also run vocals through it. The midrange portion of the EQ section is semi-parametric and each channel has additional high-pass filtering. It also has onboard reverb and FX loops with control over the send level. The three D.I. outputs open up all kinds of routing and recording options. All of this comes in a package that weighs less than 30lbs.
Buy now ($1,200):
Guitar Center | Musician's Friend
Runner-Up: Fender Acoustic 100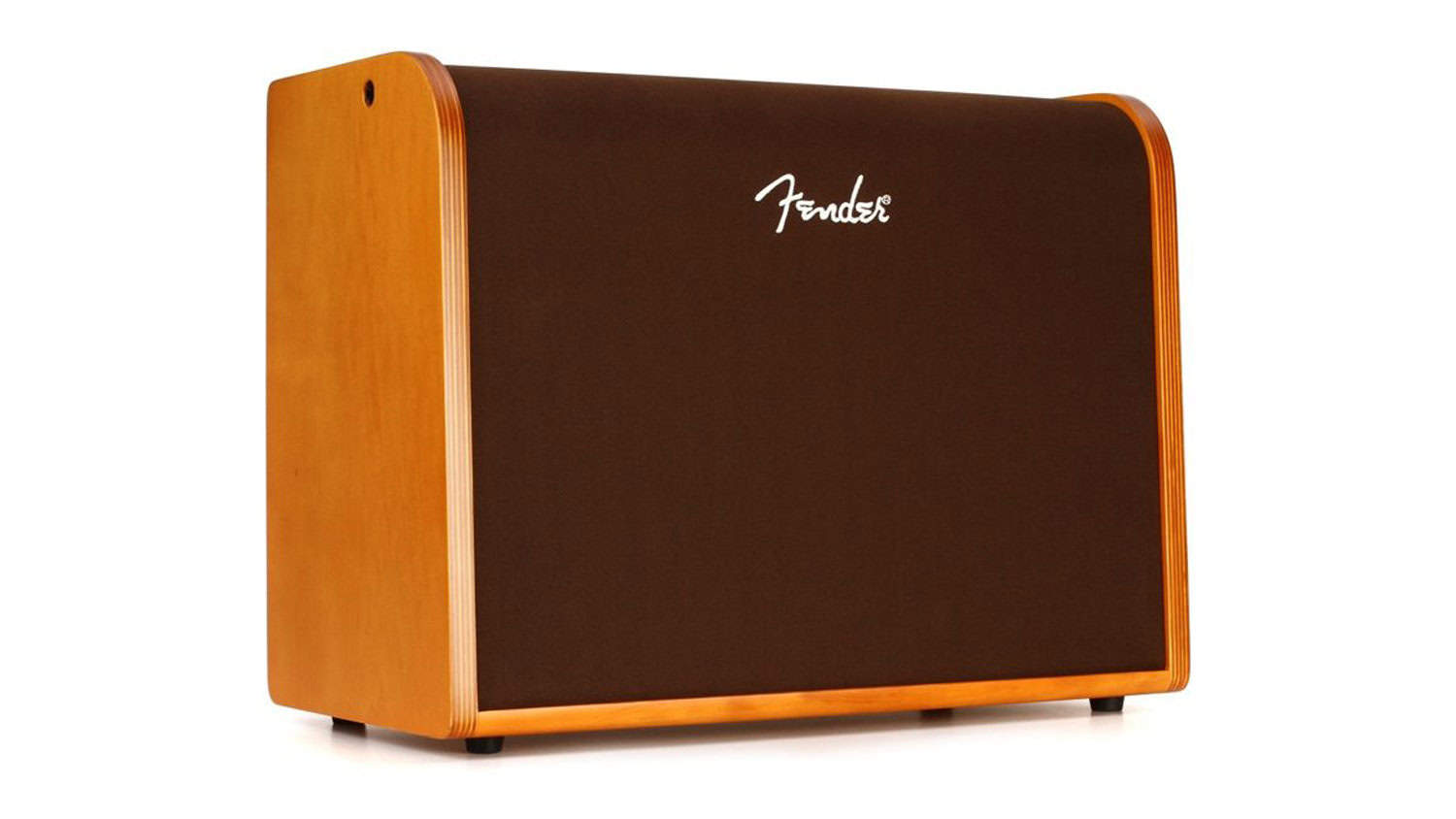 This isn't the priciest or sexiest option, but Fender's Acoustic 100 is sleek and simple. Combination inputs accept guitar or microphone cables. There are a ton of great effects and a built-in tuner. It's not small, but the vintage aesthetic is very cool, and at 100W, the single 8" speaker can fill even the most cavernous concert halls.
Buy now ($400):
Amazon | Guitar Center | Sam Ash | Musician's Friend
Best Mid-Priced: BOSS Acoustic Singer Live LT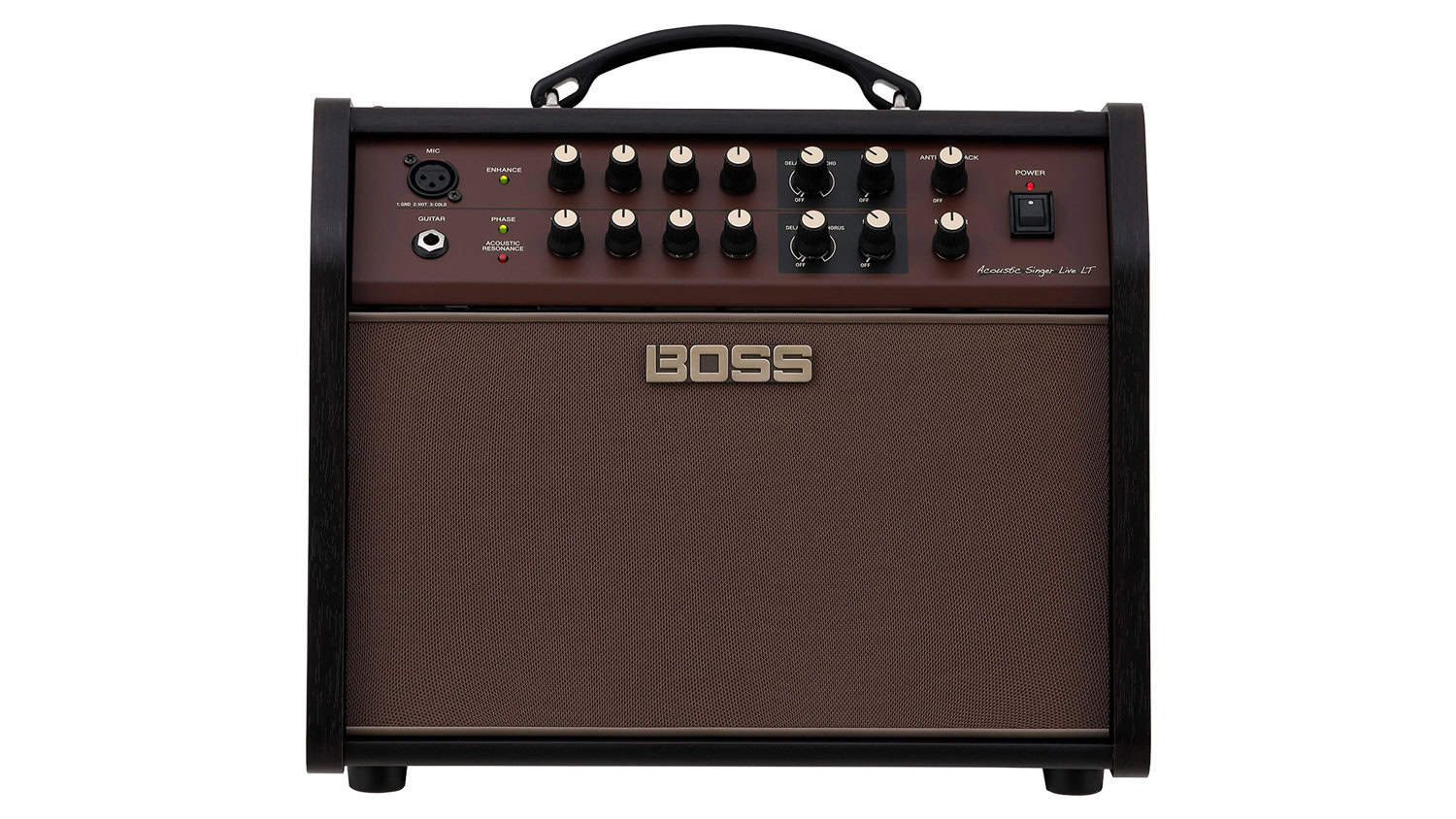 Each channel of this convenient solution has an individual 3-band EQ, reverb, and rotary selection of effects like chorus, echo, and delay. The cabinet can tilt back for increased projection, and it has direct and USB outputs. BOSS has figured out how to pack 60W of power into an extremely useful and portable design. If you are in need of an all-in-one gigging solution this should be on your radar.
Buy now ($399):
Amazon | Guitar Center | Sam Ash | Musician's Friend
Best Amp/P.A. Hybrid: Marshall AS50D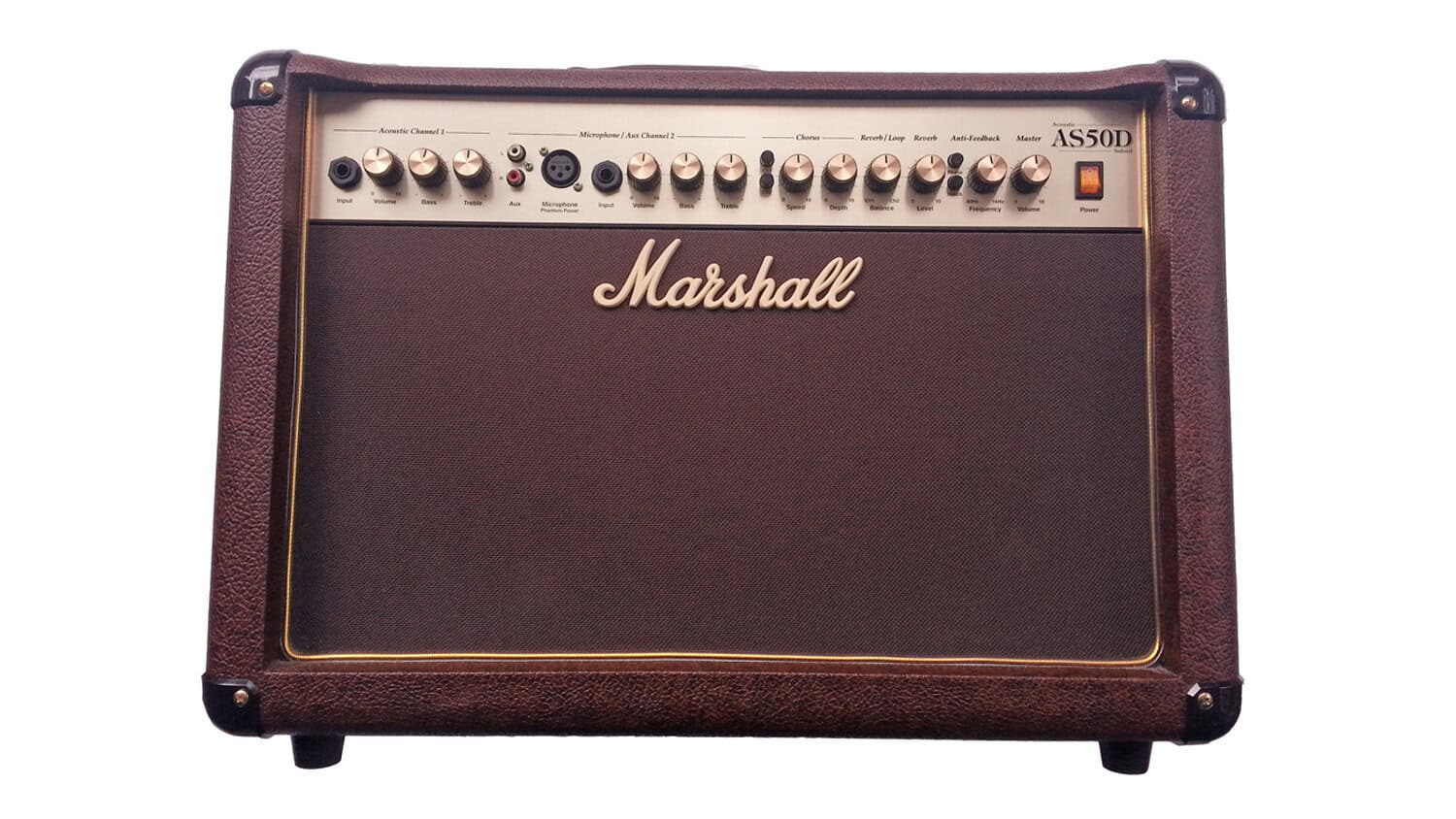 This hybrid from Marshall has two channels – one for guitar and one for vocals. Each has independent EQ, chorus, reverb, and the mic channel has phantom power. This means you can run condensers into it. The onboard FX loop and a variety of outputs make it useful for all types of gigs, and it is easily portable.
Buy now ($350):
Amazon | Guitar Center | Sam Ash | Musician's Friend
Best For Recording: Yamaha THR5A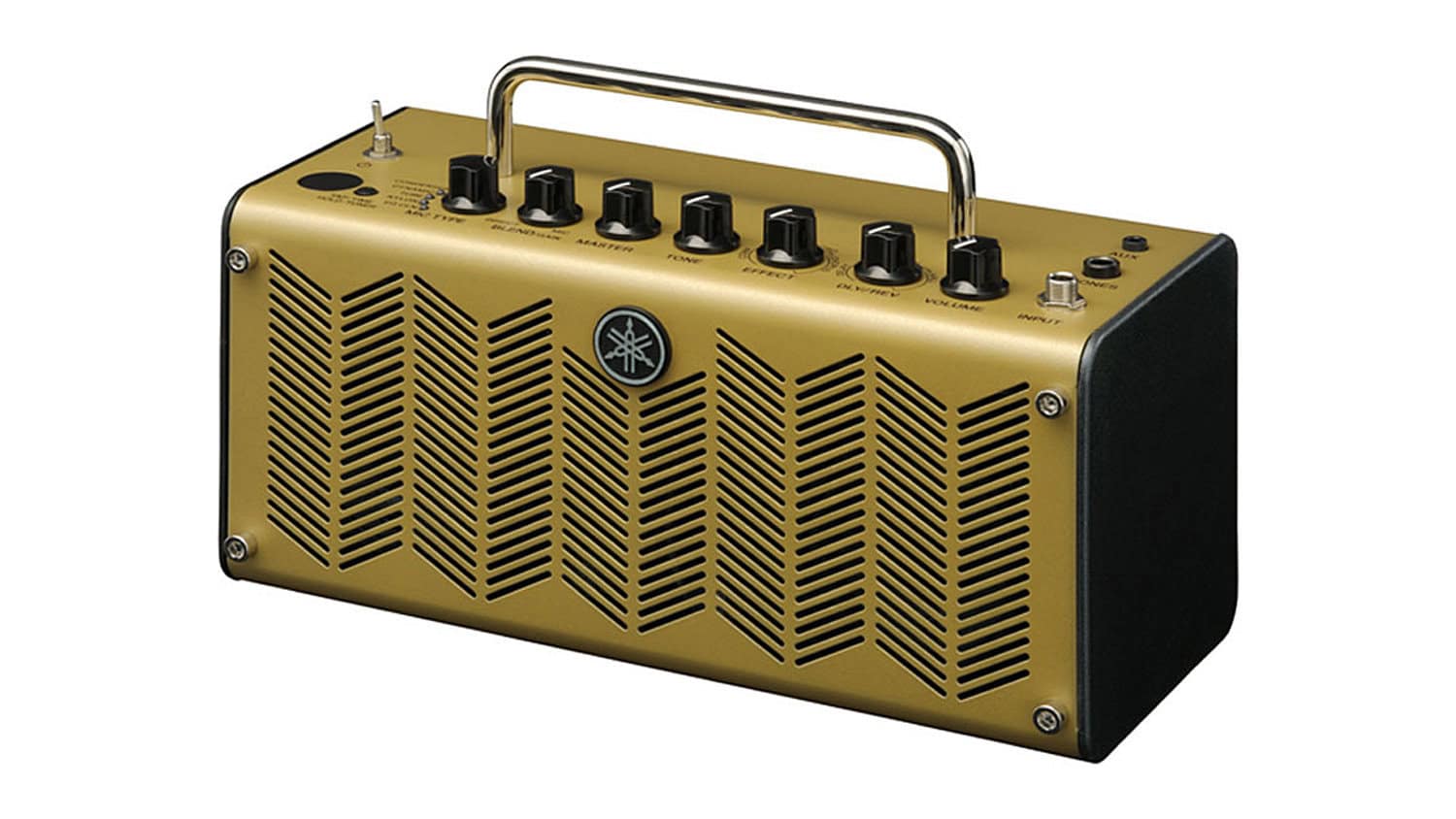 Acoustic modeling isn't very common when it comes to acoustic amps, which makes this entry from Yamaha all the more unique. It provides a clean modeling amp platform and includes a host of condenser and dynamic mic simulations. Also included is a host of effects and a tuner. It's compact, easy to dial in, and can really push the envelope when it comes to creating new acoustic sounds. It comes with its own editing software, but unfortunately some of the effects are only accessible through it.
Buy now ($200):
Amazon | Guitar Center | Sam Ash | Musician's Friend
Best for $100: Fender Acoustasonic 15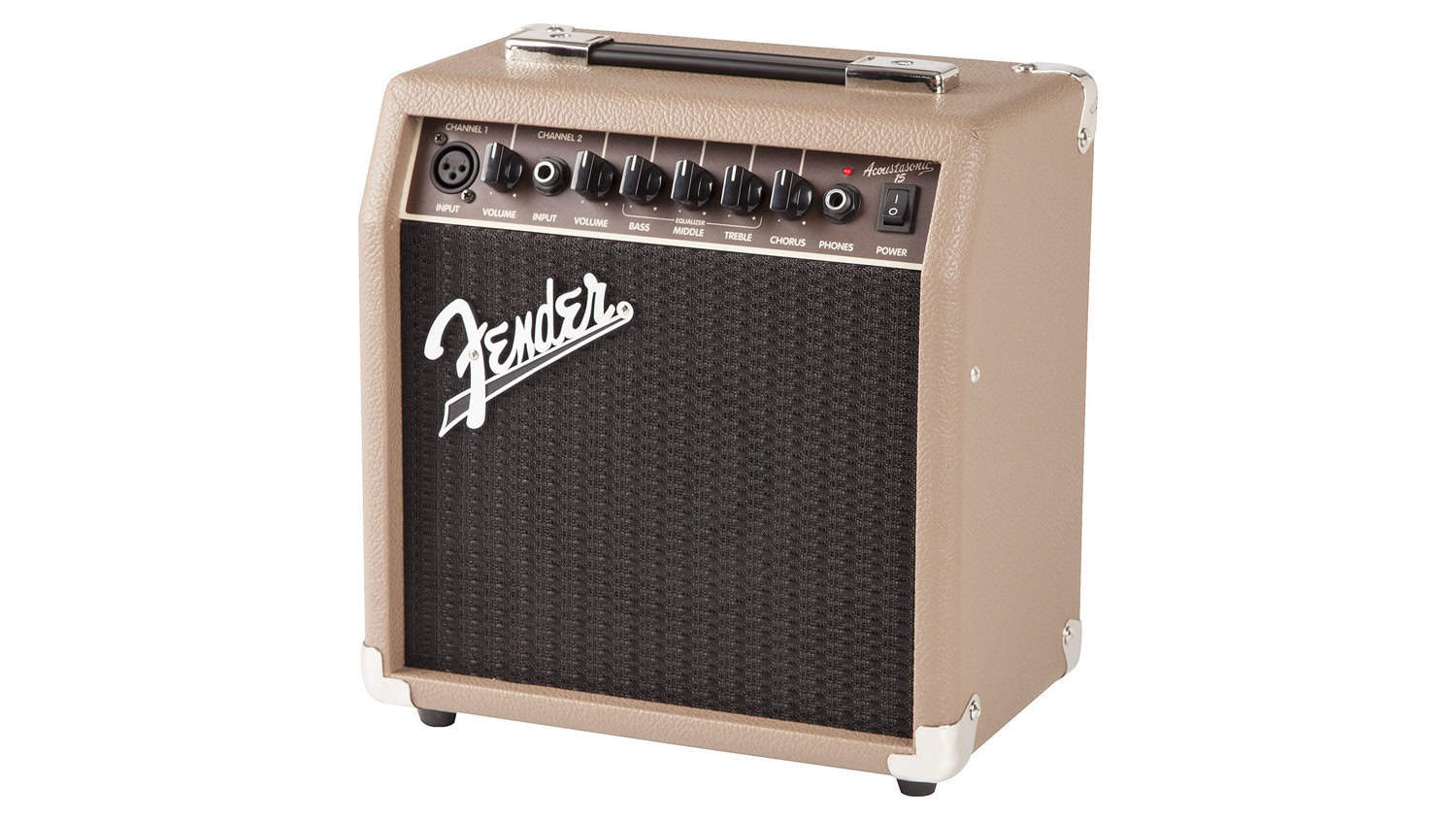 If you are looking for a versatile option that costs next to nothing, this 15W entry from Fender's Acoustasonic line is a solid choice. It comes with two channels, chorus, headphone out, and 3-band EQ. It is useful for small gigs, recording sessions, or just practicing at home.
Buy now ($100):
Amazon | Guitar Center | Sam Ash | Musician's Friend