Sometimes just one set of monitors isn't enough. You might normally work with 8" or 10" speakers but want to have a set of 12" to reference. Most people listen on computers and devices with really small speakers, so you might want to have a set of consumer-grade "monitors" so you can check your mixes on what the average listener will be using. This is where studio monitor controllers come in.
Just like a control surface or MIDI controller, they're a really useful studio accessory. They provide a centralized way to use multiple playback devices, so you can ensure your mixes translate across multiple types and sizes of speakers.

No matter your level of expertise or budget, here are five of the best studio monitor controllers.
Best monitor controller overall: Antelope Audio Sartori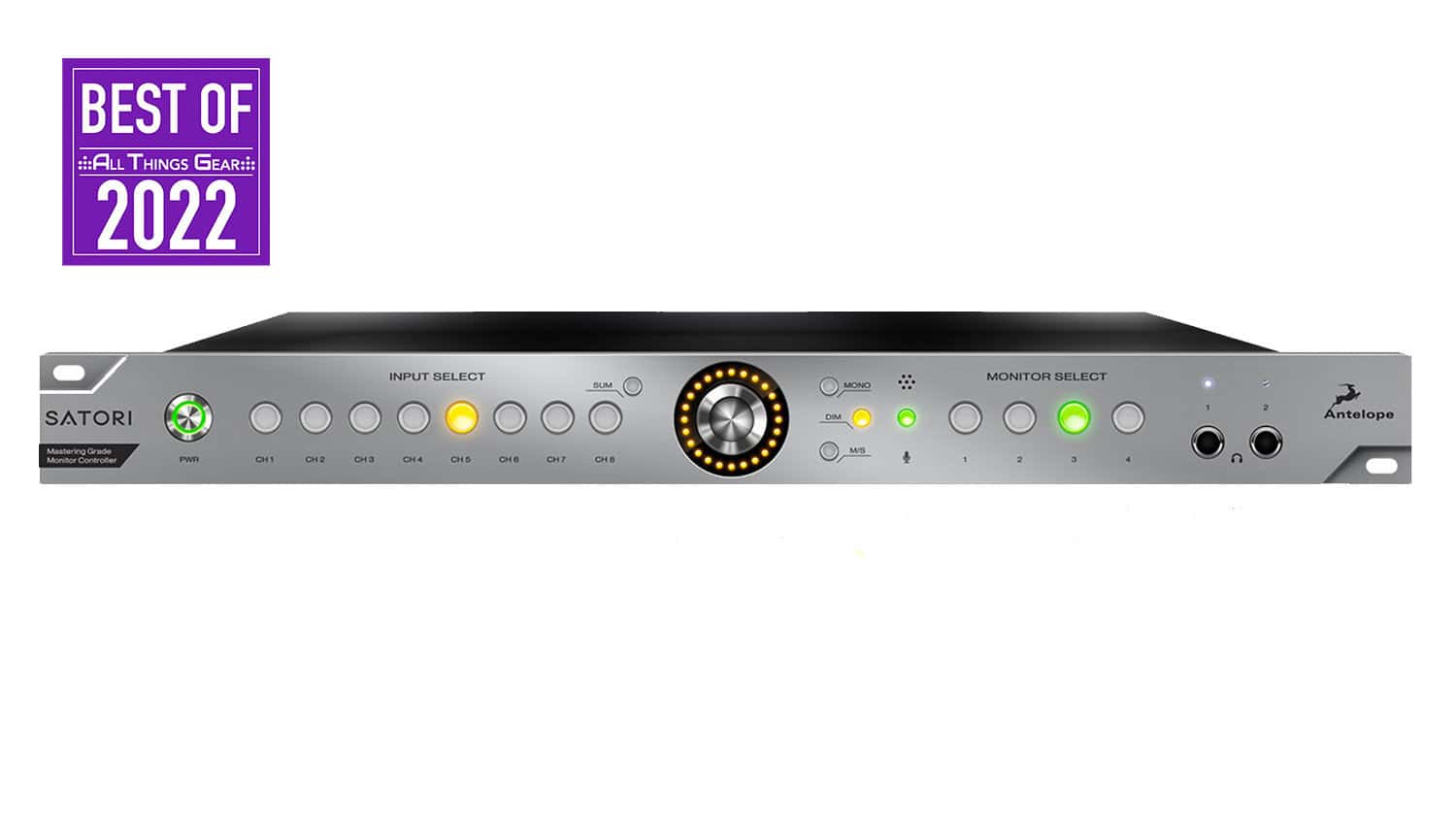 Pros: Entensive routing options, great sound quality, also functions as a summing mixer
Cons: Expensive, too elaborate for small studios
Antelope Audio makes some of the most renowned recording gear available. The Sartori is one of the best studio monitor controllers in the game. It's their answer to common problems that arise when integrating multiple monitors into your studio setup. It gives you the beloved sounds of analog, but with all the workflow improvements that come with working in digital.

You get a useful, professional suite of I/O and routing options. And with four headphone amps and talkback function it's equally useful for tracking as it is for mixing and mastering. Adding even more to its value, it also functions as an 8-channel analog summing mixer, which makes it useful during mastering. And through the mobile app it can turn Android and iOS devices into remote controllers!
Buy now: $2,400
Amazon | Guitar Center | Musician's Friend | Reverb
Most versatile monitor controller: Dangerous MONITOR ST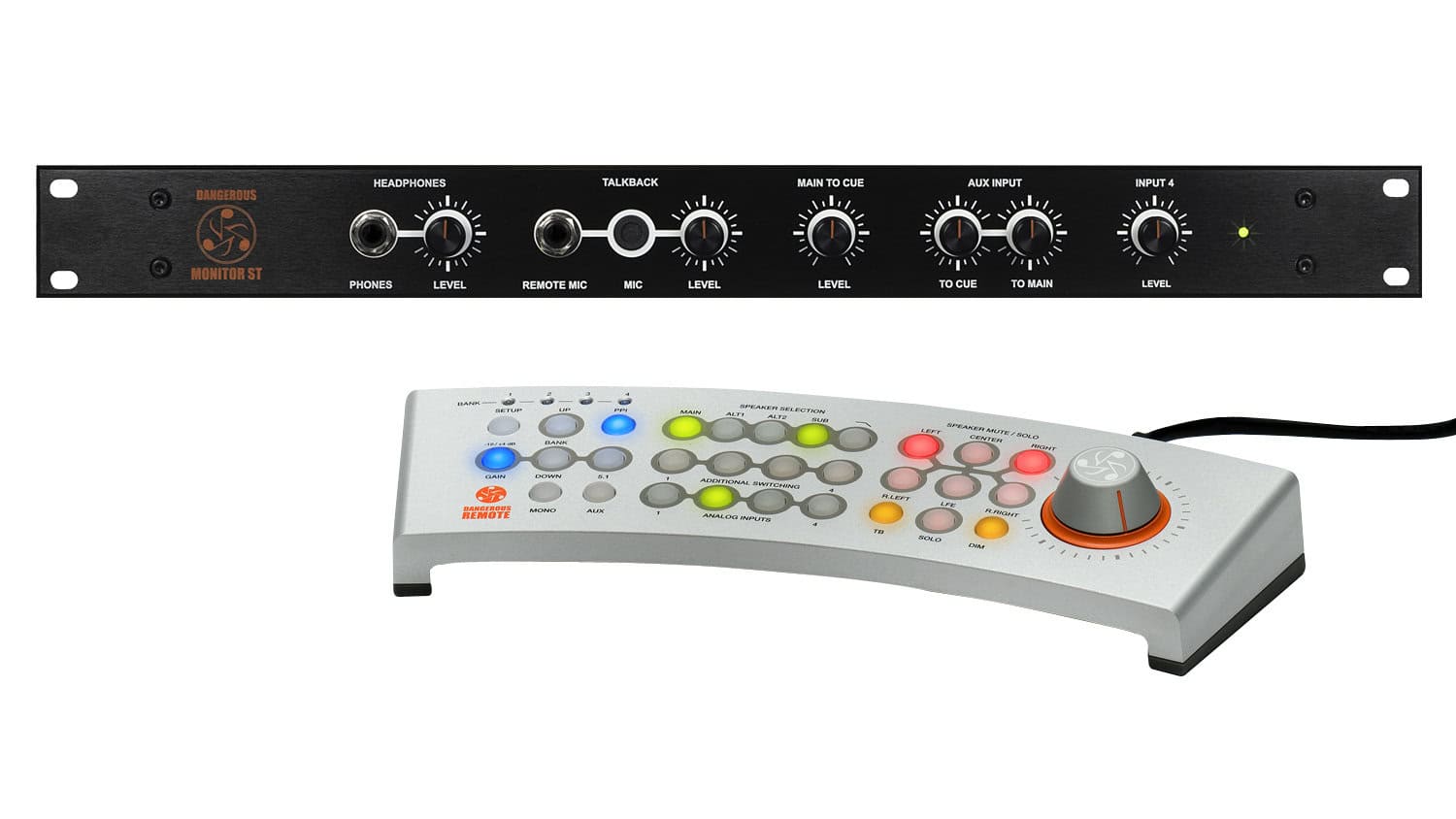 Pros: Versatile, high-quality, professional sound, works in 5.1 surround sound, remote control
Cons: Expensive, won't work for every studio set up, steep learning curve
The highly professional-grade Monitor ST from Dangerous Music will make the playback portion of your studio setup absolutely…dangerous. The amount of features it offers is just this side of ridiculous. You can select between multiple input sources, different sets of speakers, and it has a live monitoring and talkback function for setting things up quickly in the moment. And for those in film and video production, it can even do 5.1 surround sound! Remote control means you can hear how different monitors react with your room.
There are so many reasons to love the Monitor ST. It's manufactured and hand-wired in the USA, adding to Dangerous Music's commitment to quality. Obviously, it's aimed solely at the professional market. The learning curve might be a bit steep, but those in the price range of affording a unit like this will be hard pressed to find a monitor controller that's better.
Buy now: $2,200
Guitar Center | Musician's Friend | Reverb
Best midrange monitor controller: Presonus Monitor Station V2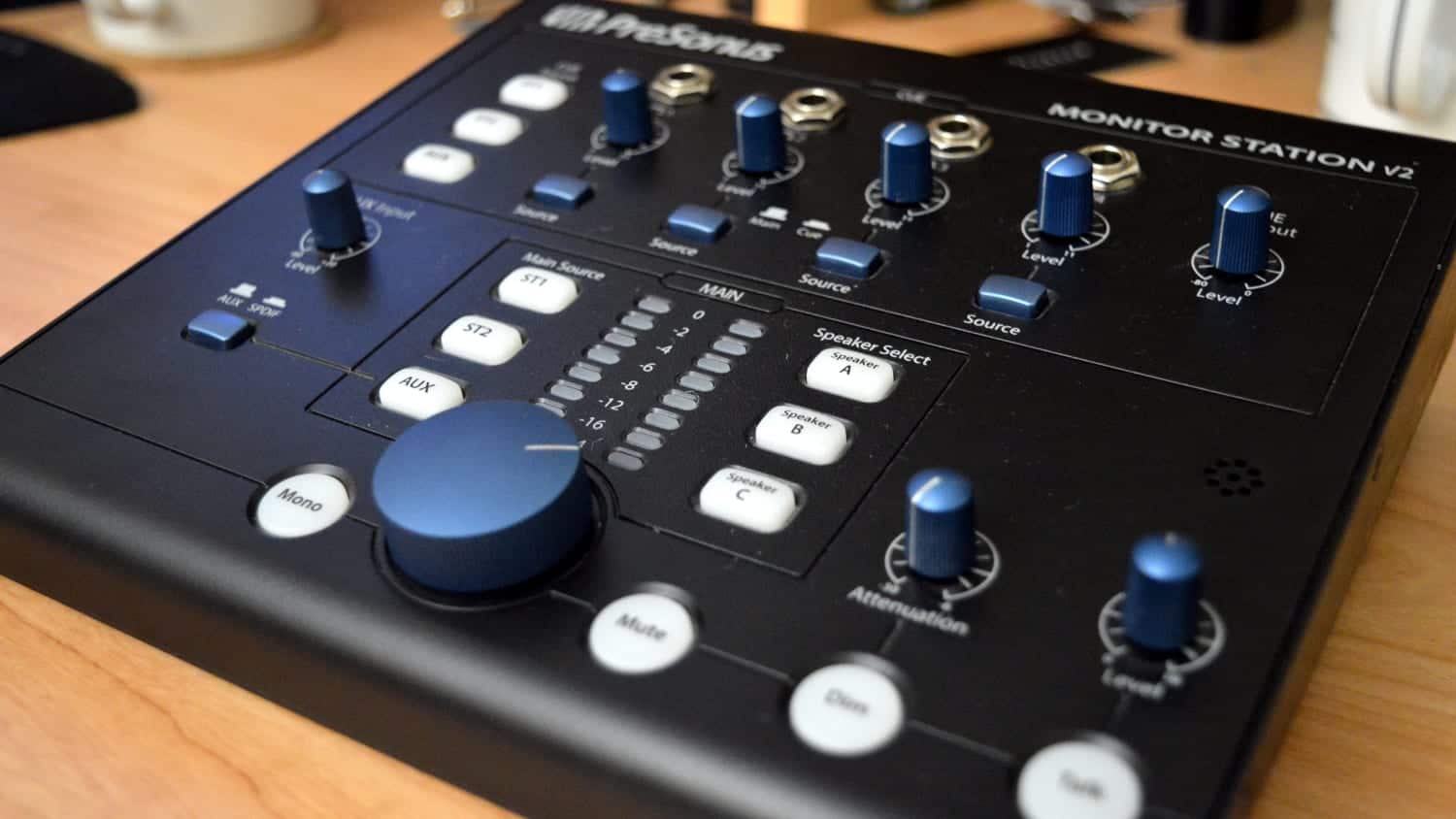 Pros: Great I/O, multiple sound controls, great for live monitoring and recording playback
Cons: Might not support enough monitors for some studios
Presonus' V2 is a popular choice of studio monitor controllers (especially in home and project studios) that won't take up too much of your space. It offers a robust amount of I/O options, especially at the market it's targeted toward. These include stereo TRS, RCA, and SPDIF (44.1 up to 96kHz) inputs. For the outputs you get three stereo pairs of ¼" TRS (all with level control) jacks and a stereo pair of outputs that govern the main and cue mixes. It also has four stereo TRS headphone outs that are great for tracking talent live.
Presonus also gives you plenty of controls that let you set up your monitor auditions however you'd like. This means that your playback workflow won't be inhibited by switching listening devices. Buttons let you fine-tune your listening with mute, mono, and dim options. Dim also has a variable control. LED metering gives you a readout of master level. Rounding things out is a talkback feature with gain control.
All of this comes in a sleek, desktop-friendly format. Check out our full review here.
Buy now: $350
Amazon | Guitar Center | Sam Ash | Musician's Friend | Reverb
Best monitor controller under $500: Audient Nero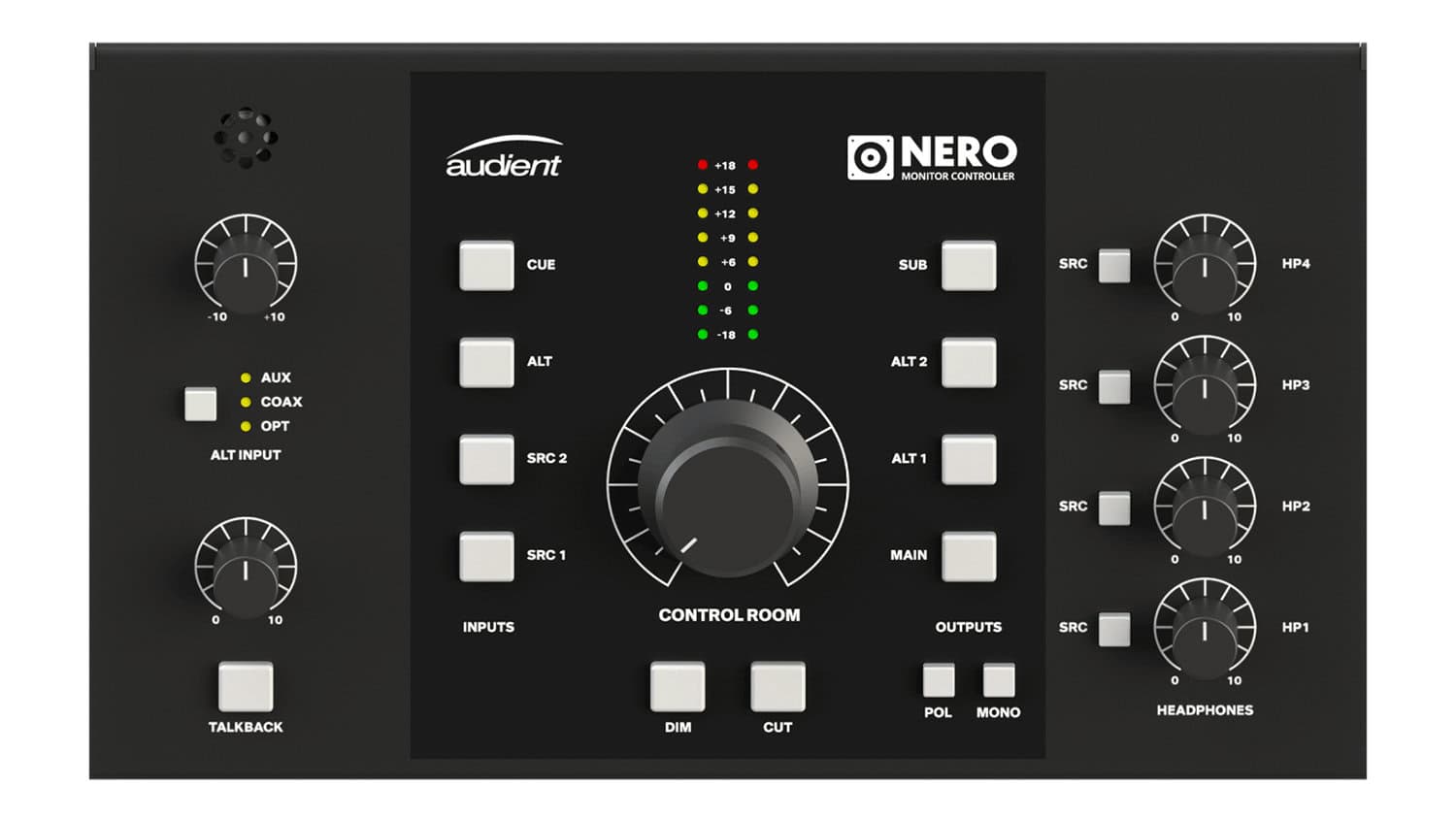 Pros: Independent volume controls, instant recall, talkback feature
Cons: Requires USB3.0 standard for power, doesn't take all connection standards

Adding to Audient's line of great gear is their take on monitor control, the Nero. It lets you connect up to three sets of speakers with independent volume over each set. The on-board headphone amp lets you create mixes exactly how the artist likes them, with gain controls over each. You can customize signal flow for whatever is best for you through Smart Touchpoint technology and instantly recall them.
Dim, cut, mono, polarity controls let you work quickly and efficiently and change or attenuate as needed. Communicating with the talent in the live room is easy thanks to the talkback feature through its built-in microphone! It connects via USB3 and runs on bus power, reducing clutter from additional cabling.
To sweeten the deal Audient also includes some free software and plugins with the purchase of Nero.
Buy now: $500
Amazon | Guitar Center | Musician's Friend | Reverb
Best monitor controller under $100: Mackie Big Knob Passive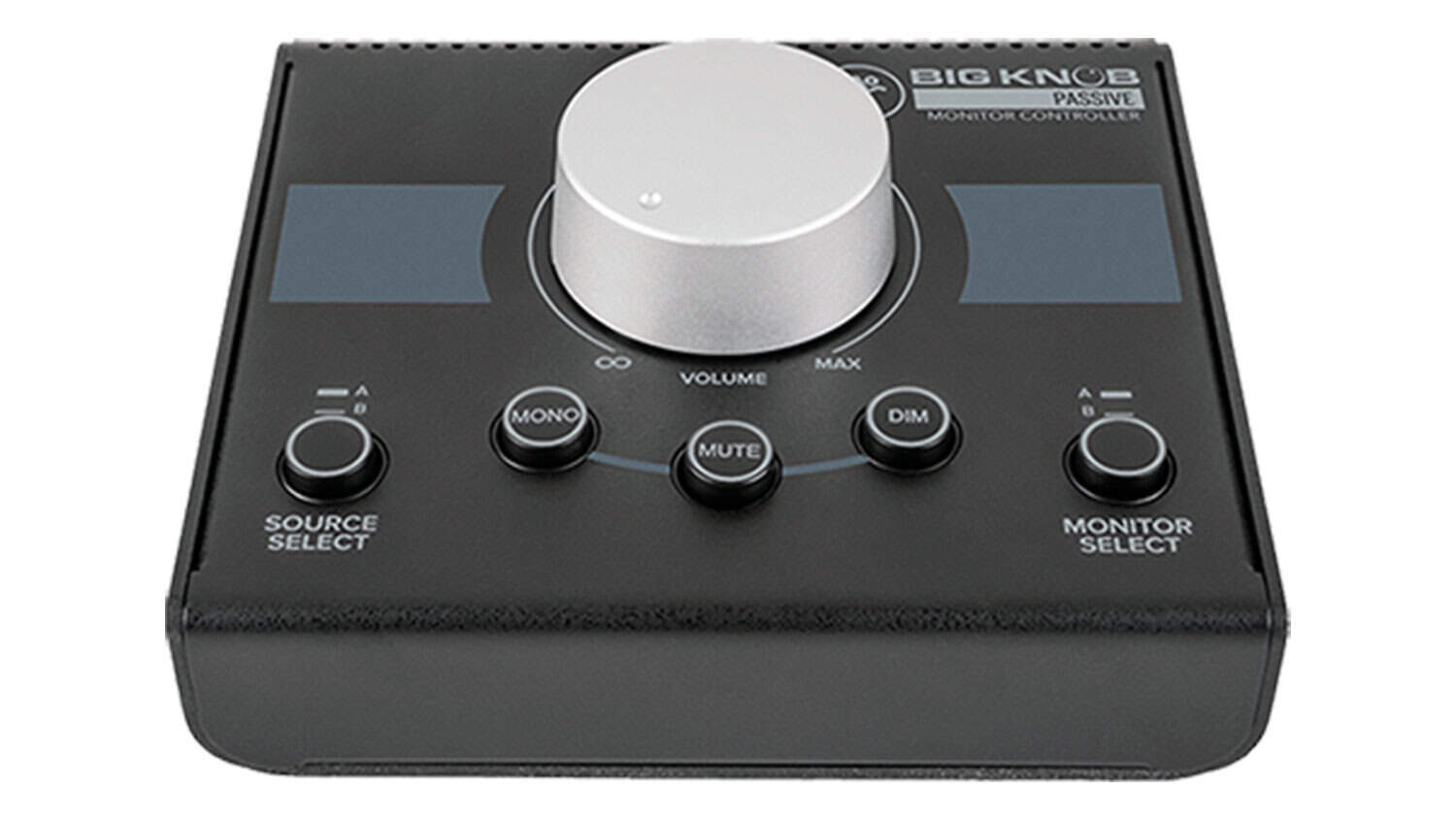 Pros: Affordable, easy to use, compact size
Cons: Only works with two sets of monitors, TRS I/O only,
Mackie's Big Knob is a little lighter on features, but that doesn't make it inferior. It integrates between two sources and two sets of monitors, and transitioning between them is as simple as the touch of a button. Volume is controlled by the central knob, with mono, mute, and dim buttons directly below it. For being at such an affordable price point it's really well-built.

It's perfect for smaller home and project studio setups and editing suites. But it can hang in bigger environments as well. If you're interested in putting in an additional set of monitors and need something simple to get started, the Big Knob is a perfect way to get your ears wet.
Buy now: $70
Amazon | Guitar Center | Sam Ash | Musician's Friend | Reverb