Design -

8.4/10

Performance -

8.6/10

Value -

9.3/10
When it comes to companies emulating vintage recording equipment, Warm Audio remains among the top few who are consistently successful. Particularly so, in the area of microphone recreations. Especially now, in a world with many left without a primary income to save and splurge on actual vintage equipment. With that said, we need Warm Audio perhaps now more than ever before. Some of the company's more notable creations includes the WA-47 tube recreation of the Telefunkin/Neumann collaborative u47 mic. Or, its version of the widely popular KM84 pencil condenser, also from Neumann, which went out of production in 1992.
Of course, the recreations don't stop here, and that point alone brings us to today. Arguably one of the most sought-after Warm products is the WA-87 recreation of Neumann's original u87 many decades ago. Because of Warm Audio's refusal to quit innovating, the company recently announced a revision of the WA-87. This was ultimately dubbed the WA-87 R2 (revision two), coming as a shock to none. Thanks to Warm Audio's team, we had an opportunity to try the WA-87 R2 for ourselves and offer our thoughts.
Design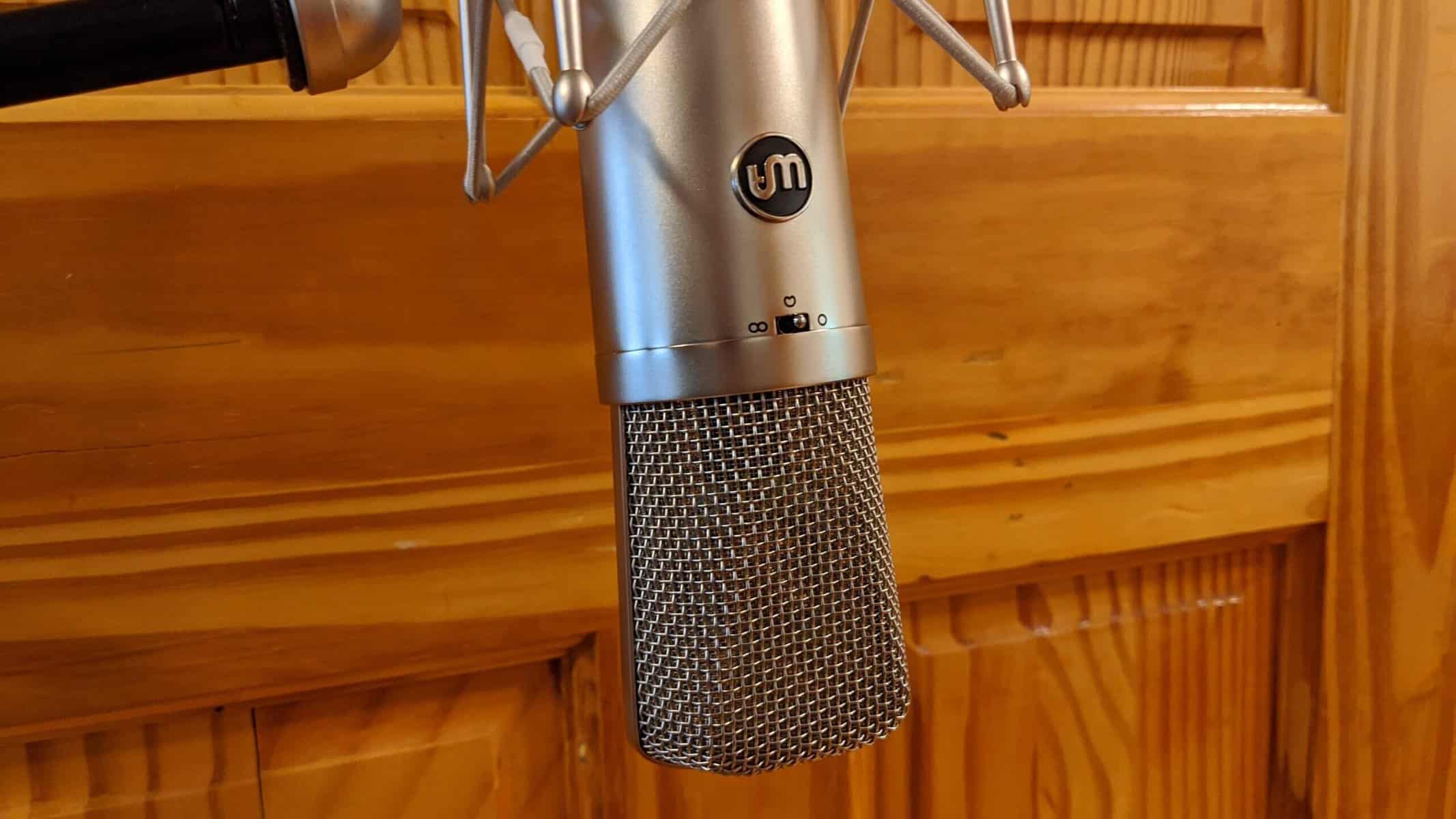 The WA-87 R2 is available in either of two color variations: Silver, or black. Both are created with nickel-plated brass. This alone gives the mic a quality feel, similar to that of an authentic u87. In terms of size, the WA-87 R2 is considerably larger and heftier than its Neumann inspirator. The Warm Audio mic weighs in at 6 lbs. as a full package. This quality also lended itself to the microphone's quality feel. A microphone with some heft definitely leaves many with a positive first impression. Speaking of the packaging, we'd be remiss not to mention the incredibly beautiful hardwood case, included in your purchase. It's got a very appealing cherry-wood finish, and black velvet lined interior. If that doesn't scream class, we don't know what does.
At the front of the microphone sits Warm Audio's logo emblem, big and in your face. As with other mics, this guides users towards the correct location to point the source at, in a directional pattern. This emblem looks really nice in a very simple silver color on the silver model we were given, with a black background. On the back is another Warm Audio logo, however this time it is fully spelled out in bold, black lettering. This is printed on the opposite side of the emblem, with more black printing towards the bottom. This printing notates the product's use of CineMag USA transformers, and the model name.
This does appear as a bit of a disservice to the front appeal of the WA-87 R2's emblem. Since the basic black printing on the back in bold lettering offsets the first impression a bit, taking away some of that quality appeal. If it were up to us, we might suggest using smaller text on the back logo and positioned further down, or getting rid of it entirely. Of course, in the long run however, this really doesn't matter all that much.
Finally, we will touch on the overall design of the WA-87 R2's three switches. This includes two, double-option switches on the back for flat or bass roll-off. As well as the application of a -10dB pad. The third switch at the front is a triple-option switch for the microphone's polar patterns, cardioid at center position, figure-eight at right position, and omnidirectional at left. The switches themselves have a simple setup, and successfully accomplish their assigned tasks.
With this said, strictly speaking on design, we did also notice some small inconsistencies here. First off was how far out the switches sat from their housings. For example, on the back we noticed that the bass roll-off switch sat a few millimeters further back into the microphone than that of the pad. This made the act of engaging the roll-off require slightly more effort than the pad. Again though, these issues in the long run are nothing major at all.
When it came to the polar pattern selector, one final thing we noticed is that our unit's switch held a position slightly more to the left within its housing, in comparison to its labels. As a result, the switch sat left-of center when placed in what should be its center cardioid position, and right-of center when placed in figure-eight. This is depicted above, where the switch can be seen, sitting in its centered position.
While seemingly presenting as a small level of concern, we can foresee some confusion being caused by this minute detail. This could perhaps lead a less practiced engineer with this mic to believe the WA-87 R2 is capturing in a different polar pattern than it actually is. However, we are also considerate of the fact that this could be a minor flaw, unique to our demo unit alone. Either way though, we thought it worthy of noting.
Performance
The time has come to touch on the WA-87 R2's overall audio capturing performance. First, we'll touch briefly on the switches. The bass roll-off switch impressed us most, as it maintained a very smooth, natural quality that wasn't too dramatic to the ear. According to the mic's tech specs, the WA-87 roll-off starts at about 80Hz, which sounded quite accurate in our application as well. The other polar pattern, and -10dB pad switches performed exactly as expected, with no other surprises or roadblocks that came up at all.
To best test the sound of the WA-87 R2 from Warm Audio, we placed our comparisons into two separate camps. The first, against two other slightly lower priced, mid-tier large condenser mics at our disposal. These ended up being the Blue Microphones Bluebird, and the AKG C214. Secondly, as a test of accuracy in terms of the "recreation," we set up the WA-87 directly next to a Neumann u87 from the 1970s. We made sure to separate these tests, since they will both provide valuable information to different groups, depending on their own specific needs and goals.
In our first test, against the Bluebird and the C214, our prediction that the WA-87 would out-perform both microphones turned out absolutely correct. Price wise, the WA-87 R2 is double the price of the $200-300 Bluebird, and slightly under double the $349 C214 from AKG. With that fact alone, we had high hopes for the WA-87. However, all three mics are very popular within a range of budget-mindful microphone consumers. And don't get us wrong, for their own capabilities, both the Blue and AKG mics are absolute knockouts at their price point.
When it came to sound, the WA-87 R2 seemed to have provided a happy medium between the response flaws of the other two mics. Where the Bluebird lacked in its low end what the C214 provided, the WA-87 also had under lock and key. Similarly, Where the C214 lacked in its highs, but the Bluebird performed well in response to powerful vocals, the Warm Audio also knocked out of the park. This definitely made the 87 preferable to both, strictly as a single all-inclusive work horse.
When put to the test against the vintage Neumann u87, at a price difference of around $3,000, the WA-87 performed stunningly well. It definitely held its own throughout the course of our experimentation, and at no point did it audibly stand out as sounding cheap in general. There were some points of higher-amplitude signal applications, where the WA-87 capsule was more susceptible to rattling, compared to the u87. But these were quite rare instances, and under very specific conditions.
The WA-87 does have a much more intense low-end presence than the u87 as a whole. This remains true when considering the relationship to the low end, and the rest of the frequency response. The Neumann frequencies held a strong integrity throughout. This was even more notable in the mid range. The WA-87 stood out as having a 'honkier' presence in the 500Hz-1kHz range. And held less precise detailing in the mids than that of the u87. With all of that aside however, for the price, the Warm piece performed miles better than we expected going in.
Value
On par with other Warm Audio products, the WA-87 holds a very high value in comparison to its quality. Nowadays, it seems only fair to crown Warm Audio the king company, in terms of product value. Although there are many out there recreating older equipment at consumer-prices, we firmly believe this company has consistently done it best. For just $599, this classic u87 recreation remains well worth it, and now more-so than ever before. As we mentioned above, Warm Audio has lead with innovation for a long time. With that said, it is also certainly no stranger to regularly improving upon its own products.
When deciding between a Neumann, or a Warm Audio with money being a non-issue, one should purchase the vintage u87. It remains unmatched in overall quality and integrity in the mid-range. But truthfully, if what you need is a very high-quality microphone that out-performs most other mid-tier condensers, don't even hesitate. Pick up a WA-87 R2 for yourself, we guarantee that you will not be disappointed. To learn more about the newly revised and released WA-87 R2 microphone from Warm Audio, check out the company website. There you can find even more exact specifications, as well as a list of worldwide dealers, and other Warm products as well.