Just weeks after the official close of NAMM's first ever virtual conference week, Warm Audio apparently saved some new products to kick March off right. Recently, the company announced two new products, this time focusing more on accessories rather than the big drops it is known for.
The announcements included the new Warm Cables, and the WA-MBA boom arm. Here's everything you need to know.
Warm Cables
The first big release came in the form of a new 'boutique' line of audio cables. The aptly named Warm Cables are the result of a collaborative effort between the company, and Gotham AG, a Swiss company, and Europe's top producer of cables. This first new project definitely comes as exciting news, since Warm Audio has a strong reputation for creating high-quality products, and selling them at a lower rate.
Warm Cables will be offered in two distinct categories: Premier and Pro. Where the two products differ is at the Premier line's offering of features like gold-plated connectors, and four-conductor construction for rejection of EMI. Additionally, Double-Reussen shielding for increased rejection of RFI is also exclusive to the Pro lines. However, both offerings include a lifetime warranty — a fact which on its own speaks to the quality Warm is promising here. Both Premier and Pro cables will be offered in XLR, XLR to TRS, TS to TS, and TS to angled TS varieties. Warm Cables are available to pre-order now through any of Warm Audio's online dealers. Price wise, your buy will depend on cable type and length. But from what we can tell, prices seem to range from $20 on the low end, to $120 on the high end.
Warm Audio Desktop Mic Boom Arm (WA-MBA)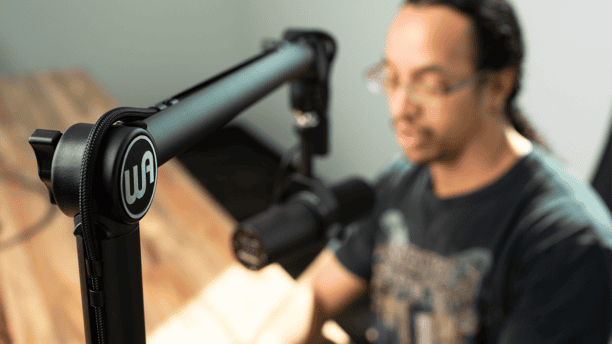 The second product announced from Warm Audio today was the company's very own desktop mic boom arm. This accessory is widely and primarily used in the broadcast & streaming industry. It allows for easy on-the-fly adjustments, and eliminates the need for positioning a stationary stand around or on one's desk. Models like the WA-MBA have been in production from other manufacturers for a long time, however there still aren't a whole lot of options. The Texas company seemingly saw this lack of variety, and decided to put out its own version, once again at its trademark high-value, low-price seal. Much like the new Warm Cables, the WA-MBA can be picked up from any of Warm Audio's dealers now, at $99 per unit.