Design -

8.8/10

Performance -

8.3/10

Value -

7.8/10
A few months back, Audix unveiled its new 'A' series of large diaphragm condensers. Included in that line are the Audix A131 and A133 microphones, two cardioid microphones that operate similarly to each other, with additional -10dB pad and rolloff switches on the A133.
While we are now several weeks past the introduction of these new designs from Audix, the mics seem to be gradually gaining the momentum needed to reach consumers. Additionally, the new 'A' series brings only the second large-diaphragm condenser offering from the company, after its SCX25A. Of course, in light of a brand new offering in this style of mic from Audix, we had to try it for ourselves. Here are our thoughts on the Audix A133 studio condenser microphone.
Design
The Audix A133 may seem unassuming at first glance, but it still offers a sleek and stylish overall design. The microphone sports the company's trademark black coat across its aluminum housing, with its logo front-and-center in white. On top, Audix implemented a double-woven steel mesh grille surrounding and protecting its 33mm gold sputtered capsule. That, by the way, stands out. Gold sputtering has proven time again to be a very effective conductor, while keeping the diaphragm both rigid and agile.
This characteristic goes hand-in-hand with our next major design topic, the microphone's size. Clearly, Audix has outdone itself with a truly compact design on the A133. It's very obvious when compared to its sound, that Audix's design team worked hard to keep its new condenser as portable as possible and the resulting product is an A133 that fits just-so in the outstretched palm. While Audix has already established itself as a go-to company for portability among its dynamic mics, we're sure making this happen with large condenser technology was no easy task — so props to the team on that one.
Finally, aside from the microphone itself, each purchase of the new 'A' series condenser microphones includes a zip-up carrying case, and a heavy-duty snap on clip. The case looks very straightforward, and reminds us of cases that may come with a newly-purchased set of headphones. It definitely seems to be protective against small drops and minor spills. However, it probably won't fare well against anything more than that. In other words, be sure to take care of your A133 just as you would any other large-diaphragm microphone, even when cased up.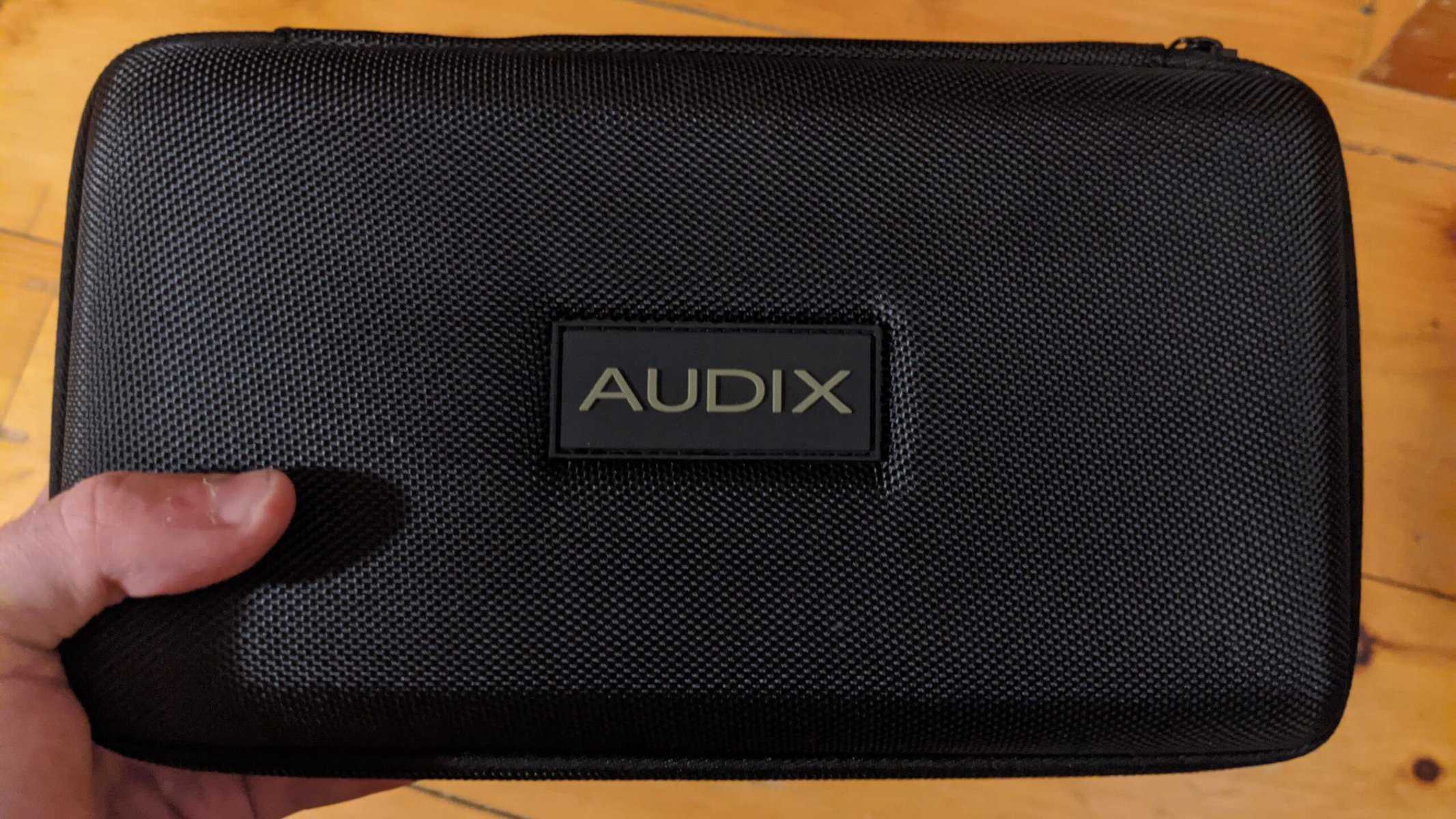 Performance
Right out of the gate, we'll touch on a fact that stands out prominently to us about this mic, and something even Audix itself has made clear. The Audix A133 and A131 condenser mics are not meant to be used as a go-to piece of gear for just any instrument or setting. Right after plugging in and firing the mic up, we were instantly taken back by its crisp high-end frequency performance. Because of this, we found this mic will likely be best suited for acoustically treated environments where room or outside noise will not present itself as an issue. It's definitely worth noting that it's suggested to have at least some form of treatment before diving into a purchase of this mic.
In the right implementation however, this quality also highlights a very positive side to the A133. One of the core issues many have found when purchasing other studio condensers under $500 is a lack of transparency across the high end. Often, a mic in that price range will come off sounding artificial, especially after additive EQ, which is often needed on those types of capsules. Here, Audix delivers a mic that truly lets high-end characteristics shine through as they should on voices or stringed instruments.
To make this possible while keeping its small frame in tact, sacrifices of course were necessary. Mid-range wise, this microphone does hold its own fairly well. However, we found locating the sweet-spot placement on acoustic guitar to emphasize its lower tones a bit more of an effort. At first, this appeared to come off as a flaw. But after some searching and consideration, we found the Audix A133, in fact, replicates its direct source very closely. In light of this, placement and instrument choices will be key when enlisting this microphone. Finally, the A133 does cut off at 40Hz in the low end. So again, this is not the microphone to turn to on drums, bass instruments or really anything that holds down the lows.
As mentioned above, the A133 includes a -10 dB pad as well as a high-pass roll-off. The switches themselves are quite firm so will definitely stay in place as needed without fear of accidental nudging. Simply put, the pad worked very well for us during testing. The roll-off also performed very nicely, however it did stand out as much more of a subtle change in the low end rather than a drastic difference in tone. But that also makes sense when again considering the situations and sources this condenser is meant to be used for.
Conclusions
Overall, for musicians in need of a truly-transparent highs-highlighting condenser, Audix has truly delivered a great contender in the Audix A133. For those looking to bring out the best in their instrument's full range of tone, we'd likely recommend pairing it up with another microphone in your arsenal that performs well in the low-mids. But for a microphone of its size, as we've touched on before, we'd argue there's no placement scenario the A133 couldn't find its way around.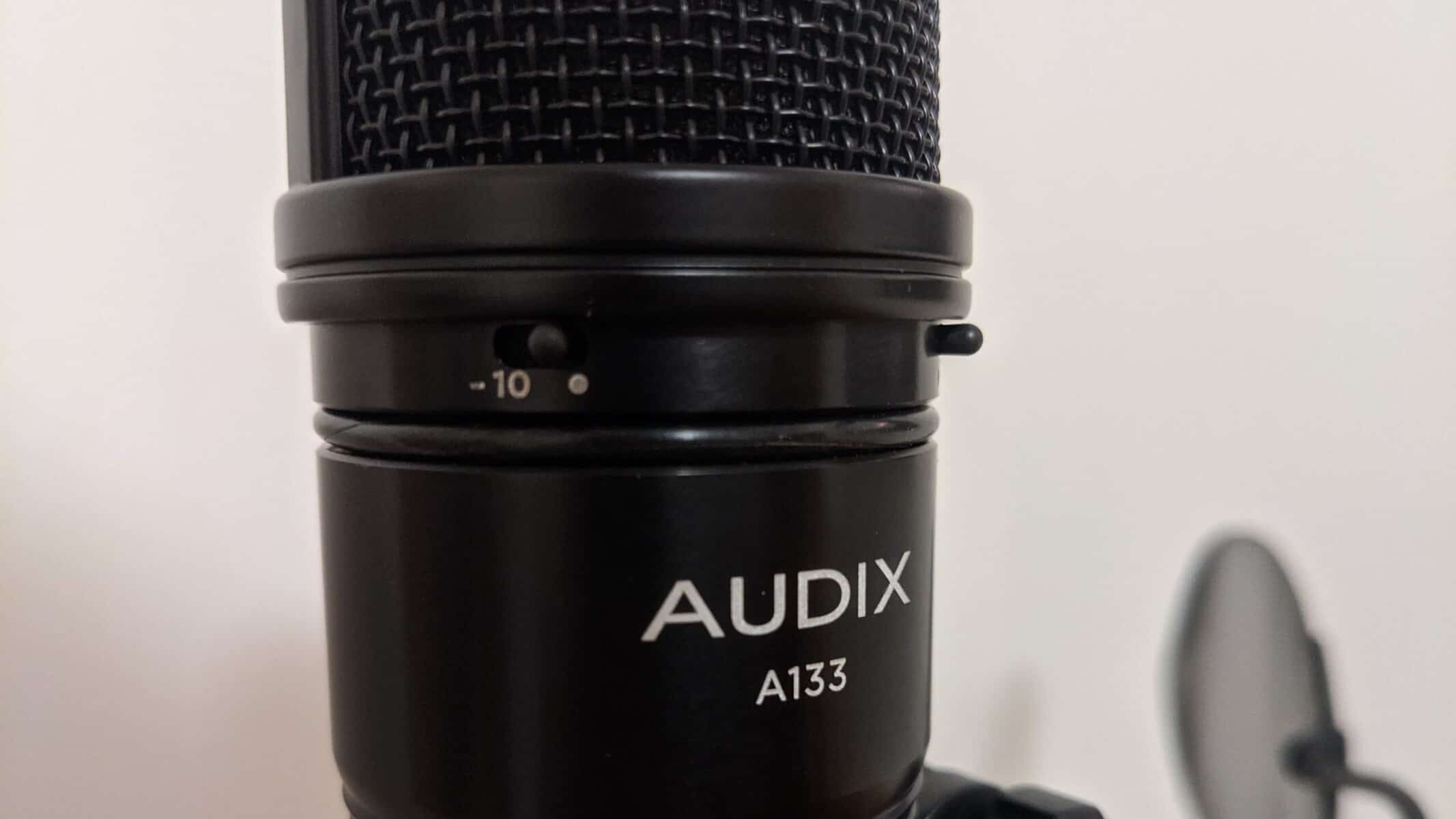 For those who want the pad and roll-off switches on hand, the A133 is currently priced at $499 across retailers. Anybody else who would be interested in this microphone who wouldn't need those extra features can pick up the A131 at $399. To us, this primarily stands out as a question of whether you'd want that extra -10dB pad for more versatility around louder sources. In most cases though, we'd argue the Audix A131 will fare just as well for the majority of folks, especially for that $100 price difference.
Either way you swing it though, you'll be getting a bang for your buck. The performances of both units fall right in line with what we'd expect from other mics in that range. With its ingenuity in design and extreme portability in mind, there's no question this mic will prove itself as a welcome addition to your mic locker. When placed in the right circumstance and position, the Audix A133 (or A131) will definitely out-perform in areas some other mics wouldn't even be able to touch.
You can get the Audix A133, or the Audix A131, for yourself straight from the Audix website or by using the links below.