New this summer from Ernie Ball Music Man is a new five instruments that are sure to appeal to anyone. The series includes two guitars, two basses, and one baritone guitar, as part of its July 2020 Ball Family Reserve. While released simultaneously, each instrument of Ernie Ball Music Man's release contains unique individual specs. Each guitar and bass will be available in a very small quantity, and one can purchase them using the links underneath each unit below. With that said, let's dive straight in, and see what the July 2020 Ball Family Reserve release has to offer us.
Here's a rundown of what's included in the new series.
StingRay5 Special in Vintage Sierra Burst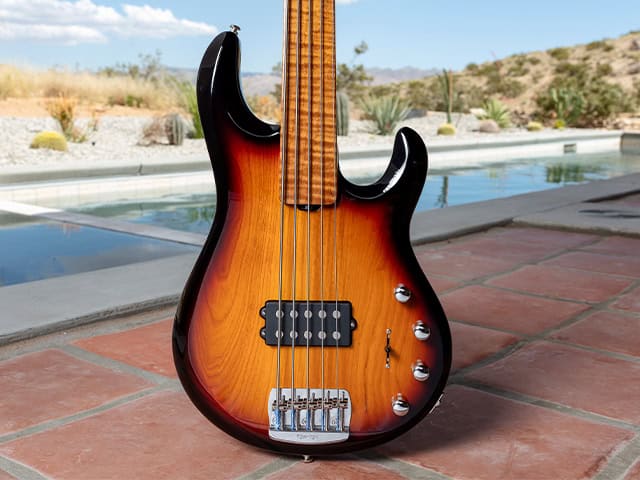 One of the two bass releases in this set, includes the charming StingRay 5 Special. Its 'Vintage Sierra Burst' finish shows off its more natural wood-grain beauty. Its inclusion of a fretless, high gloss maple neck is perfect for fast and smooth playability overall. Additionally, each bass is fitted with a set of Ernie Ball lightweight tuners. Ernie Ball Music Man has placed a limited availability of this bass to just 70 units worldwide.
Silhouette in Silver Flake Sparkle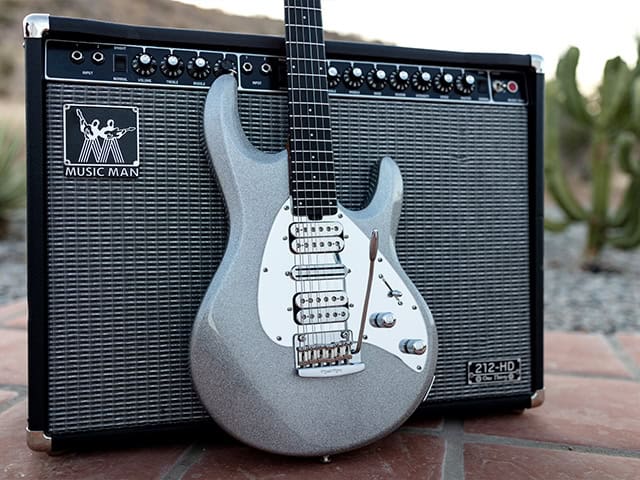 When compared to the StingRay5 Special, Ernie Ball gave this Silhouette guitar a much more dazzling finish. Its body and headstock have the same matching 'Silver Flake Sparkle' color, which is sure to stand out on stage. For that reason, this model may appeal to many. The guitar incorporates Schaller locking tuners, which is always a great inclusion on any guitar. It's bridge pickups are DiMarzio Super Distortion, a Chopper Blade middle pickup, and capped with a Super II Distortion at the neck. When considering this, we can truly expect some heavily driving tones out of this beauty. The Silhouette is limited to a worldwide 75 units.
Axis Super Sport Baritone in Starry Night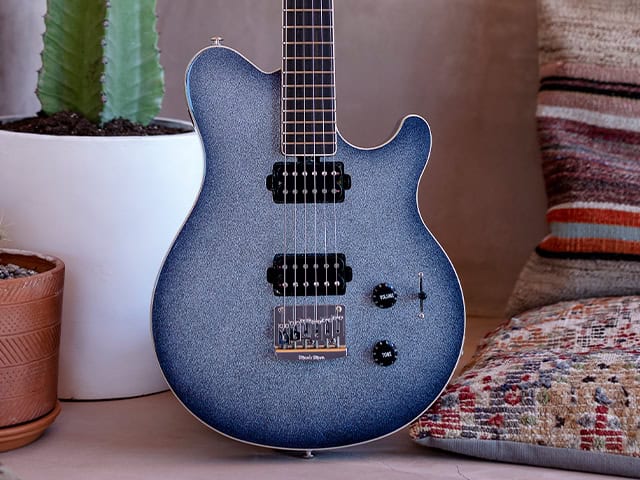 Out of left field in this new lineup of July 2020 Ball Family Reserve pieces, is this new baritone guitar option. The Axis Sport Baritone guitar has a unique body shape to it, sitting somewhere between a Fender Telecaster and an Epiphone ES-335. It's 'Starry Night' color name seems to lend a nod towards Van Gough's classic painting. This guitar's basswood body provides a sturdy backbone for the roasted maple neck's fast ability. Similarly to the Super Sport Baritone, this guitar also includes Schaller locking tuners. Finally, its pickups are custom designed baritone models, made in house by Ernie Ball. The availability of this guitar is a meager 60 pieces worldwide.
StingRay Special in Pink Champagne Sparkle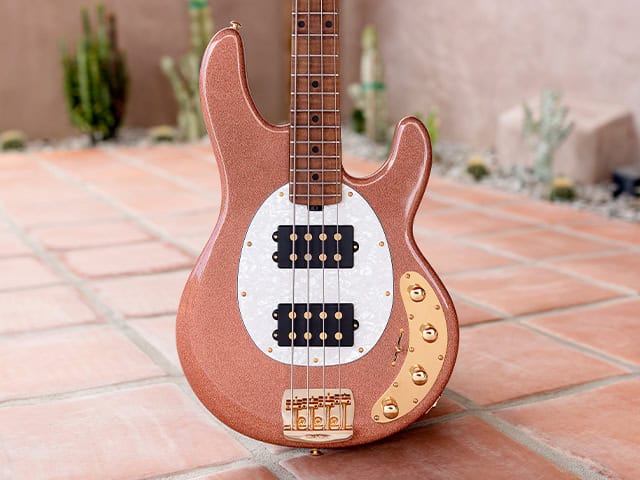 The second and final bass in this July 2020 Ball Family Reserve is another model utilizing the StingRay body. A white pickguard compliments the flashy Pink Champagne finish of this bass quite well. Similarly to the others, a roasted maple neck rests on this model. However, the inclusion of 22 definite frets stands out a unique feature. In addition, all metal components, from the tone knobs, to the bridge and tuning pegs, all rock a gold finish. Two dual humbucking pickups sit at the body, with a three-band active preamp with 18 volts of headroom. This bass has the widest availability in the set with a total of 85 units available to order from.
Albert Lee MM-90 in Natural Mahogany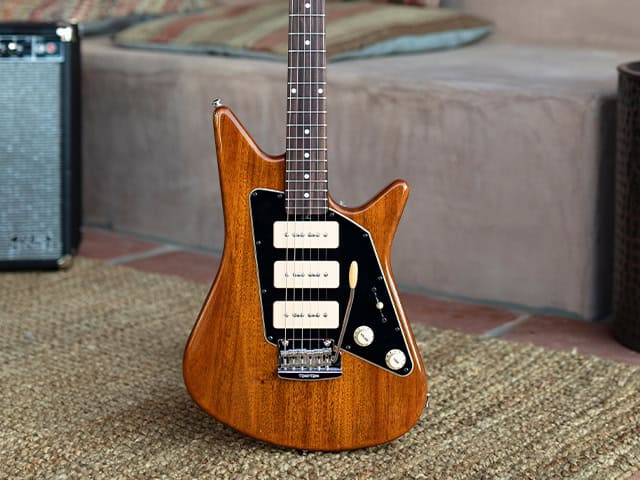 Wrapping up the series of five instruments is the Albert Lee MM-90 guitar. The majority of it's look-appeal comes with its very modern body cut, Lee's signature style. In comparison to other commonly found guitars, its curves seem quite eye-catchingly sharp. Unique to this model, however, is a neck and fingerboard both of Indian rosewood. Concurrently, it has a mahogany body, which provides a perfect home for its three MM-90 pickups. This guitar has the most limited availability of all, limited to just 50 units, each signed by Albert Lee himself.