If you ask an acoustic guitarist if they use pedals, you might get a confused reaction. For some reason the acoustic guitar has been the last bastion of purity in the guitar player world, with many vehemently opposing the introduction of effects.
But the reality is that the acoustic guitar leaves a lot of room for experimentation, and although you can go effect crazy with an electric guitar setup, subtle is more the name of the game when pairing acoustic guitars and effects pedals. Unless you're going for a very specific sound, the best ways to implement effects with an acoustic is tastefully.
Here are the top five effects for acoustic guitarists, how they can help expand your sound, and a few examples of great pedals for each one.
Compression Pedals for Acoustic Guitar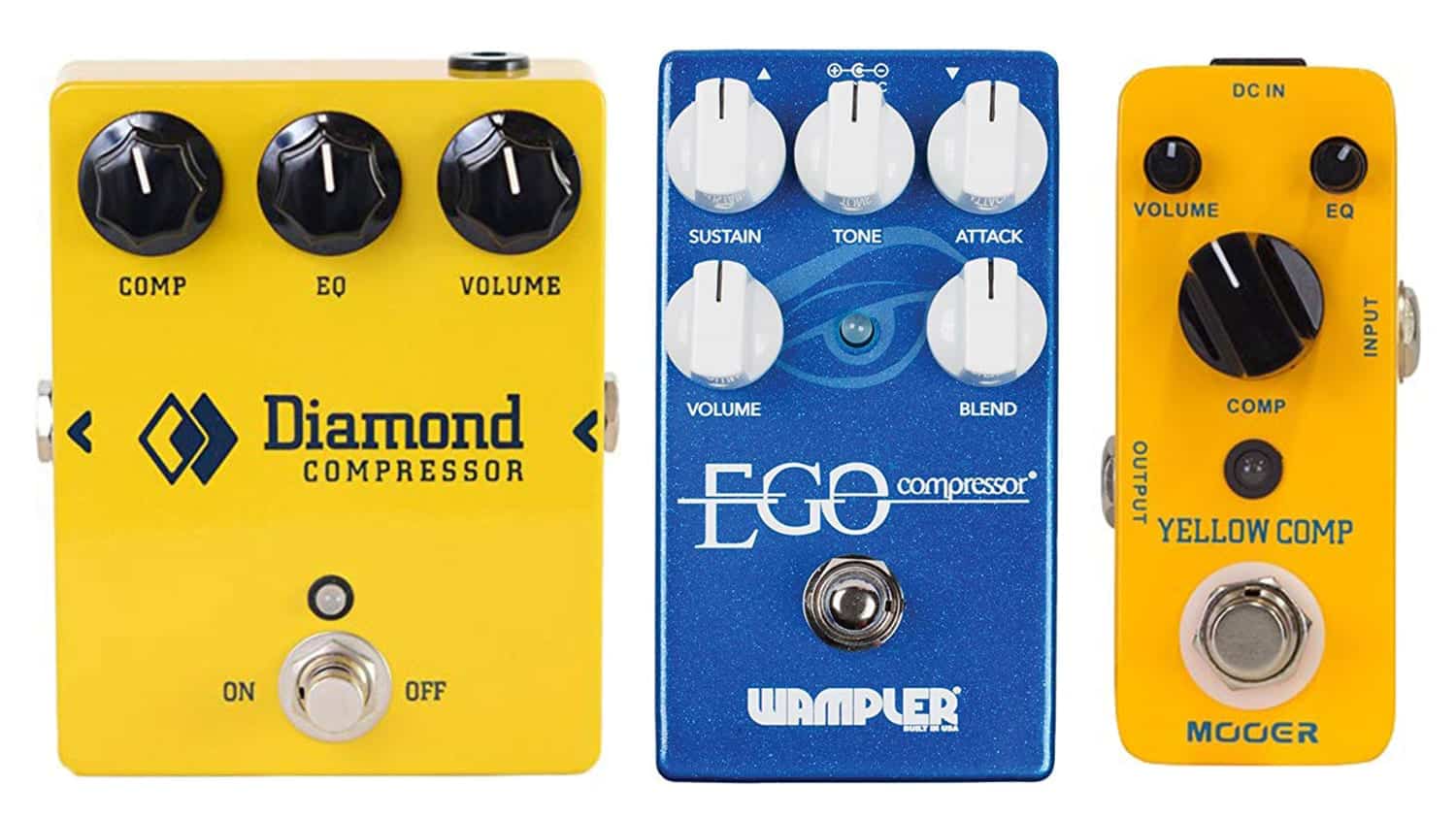 Perfect for strummers and fingerpickers alike, compression and acoustic guitar is a marriage made in heaven as acoustic guitars are very dynamic.
In the studio there are many different types of compressors that can be used, but as far as pedals go there are far fewer options. Optical compressors sound amazing on acoustics and luckily, they're one of the designs that made it to a stompbox format. They are gentle, subtle, and pretty much invisible – perfect to tame the dynamic range without becoming obnoxiously obvious.
Compression can also help with sustain, something often missing with acoustic guitars. They can also even out the EQ unpredictability of piezo pickups. And if you're a looper, it can help maintain balance when cycling through different parts.
Here are a few different compressor pedal options for acoustic guitar.
Wampler Ego
The Wampler Ego offers critical controls over the envelope with both Attack and Sustain – as most compressor pedals usually only have one or the other. There is also a Blend control so you can get the mix just right.
Diamond Compressor
The Diamond Compressor is a go-to optical compressor guitar pedal. It features a simple 3-knob control scheme, with the EQ section being post-compression so you can add in some of the high end that is lost during the compression process.
Mooer Yellow Comp
This optical compressor is on the higher end of low end (Mooer as a company doesn't get a lot of respect), but it's a consensus top choice on many lists of top 5 effects pedals for acoustic guitarists and offers a lot of utility in a small package.
Reverb Pedals for Acoustic Guitar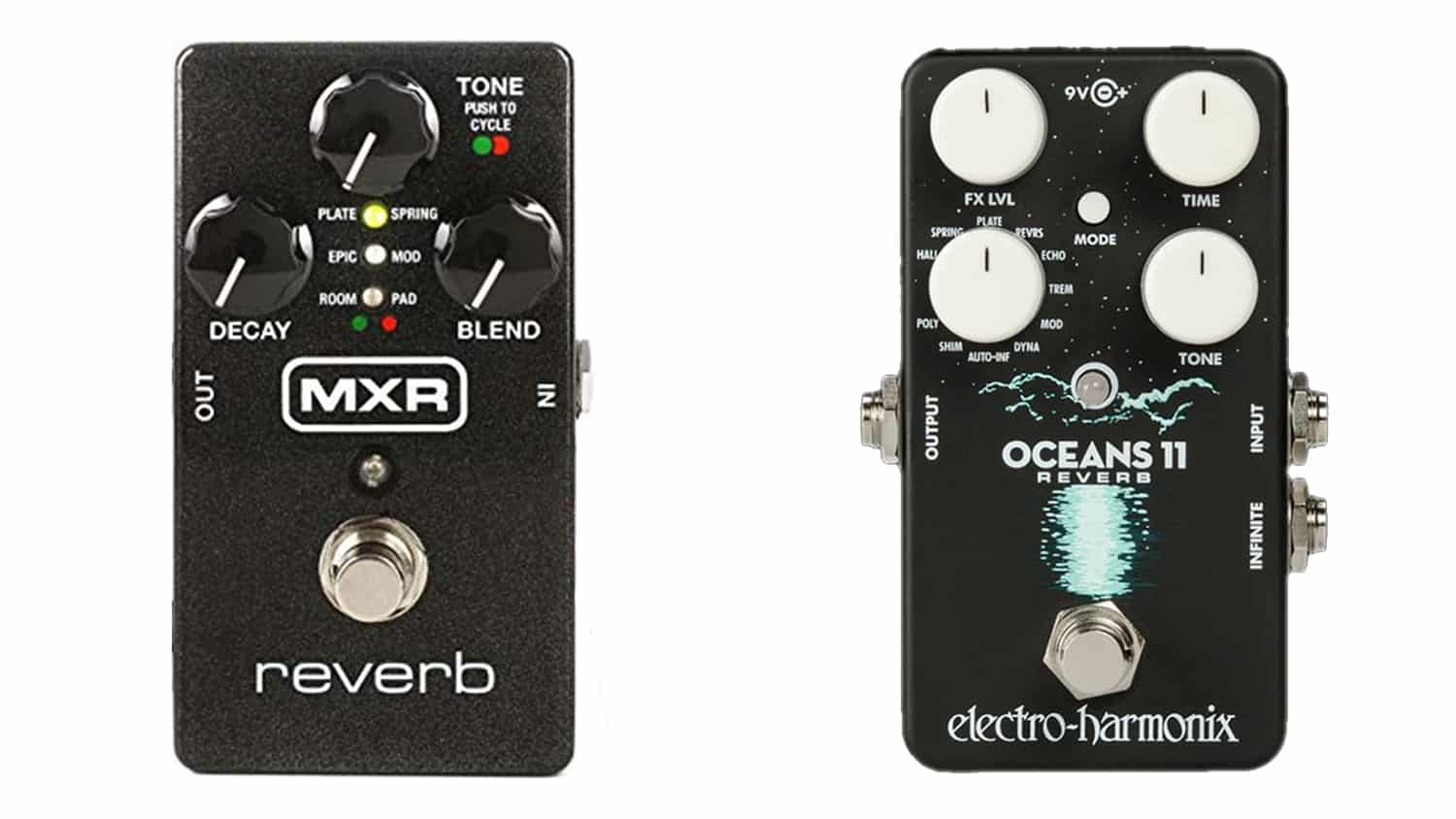 Let's face it – acoustic guitars can sound a little boring when they're bone dry. Of course there is always the ambience of the room you're playing in, but that can be unpredictable at best. Using a reverb pedal gives you total control over this element of your sound and can standardize your tone from room to room. Big venue? A setting with a shorter decay like plate or spring might be in order. Small coffee shop? Try a room or hall.
MXR M300
This simple pedal from MXR has all of the reverb types you could want for this purpose, with some unique options thrown in. The Pad setting adds a dreamy shimmer to arpeggios, the Epic setting adds a nice ethereal touch, and the Mod setting adds a touch of chorus. You can even implement an expression pedal.
With eleven reverb types on tap you'll be able to handle anything your signal needs to complement the room. It also comes with a number of more ethereal settings like modulation and shimmer.
Chorus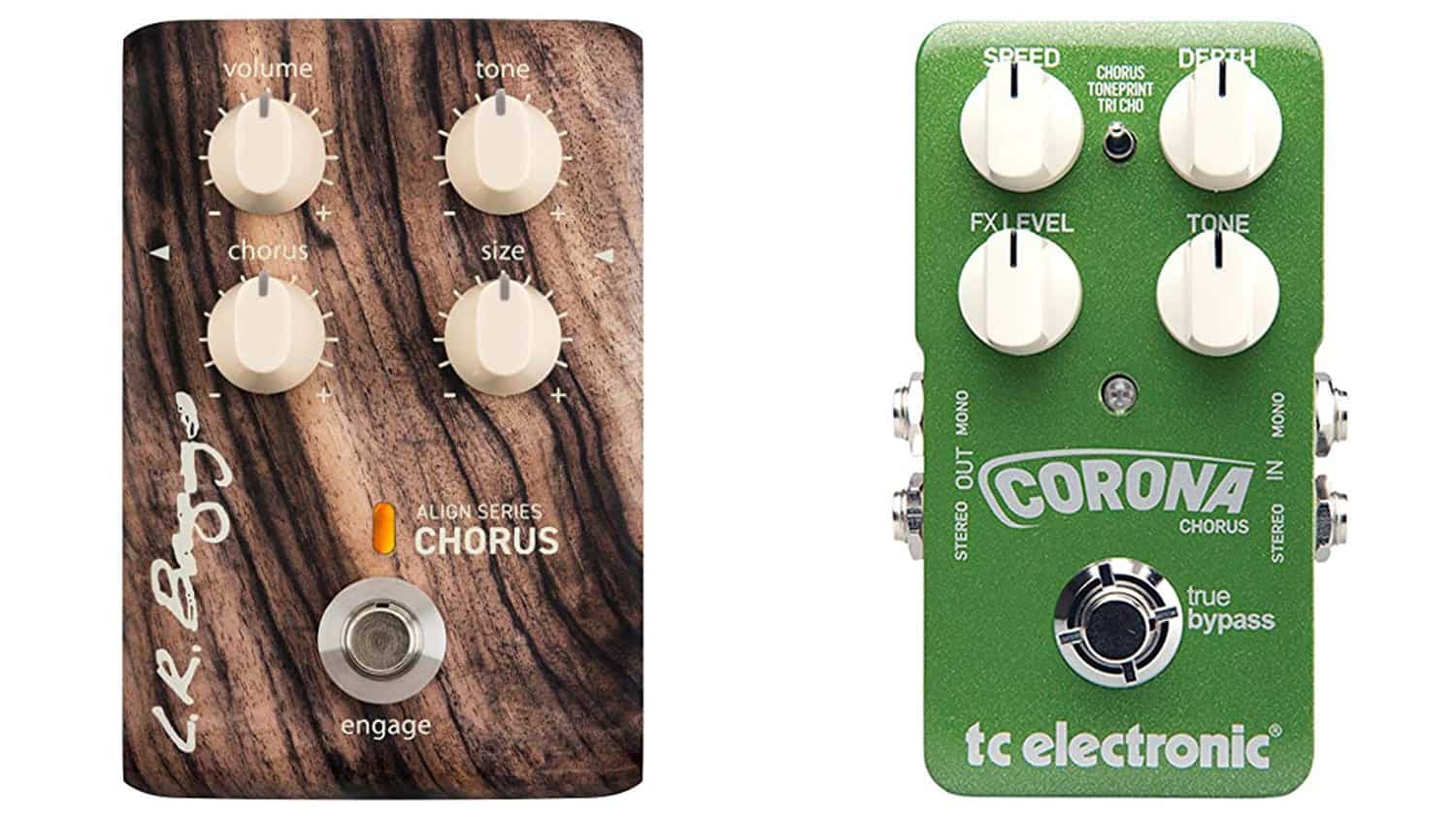 You can do a lot with a chorus effect on an acoustic guitar. It can add a little movement to the dry sound or simulate a 12-string guitar with some judicious knob turning. You could also consider running it in stereo for widening to simulate the sound of double tracking – a common studio technique.
Not all chorus pedals are ideal for acoustics though, as you generally want the effect to be subtle. A pedal with controls over mix, depth, and rate are almost a necessity.
L.R. Baggs Align Acoustic Chorus
Align is designed to be used with acoustic guitars and offers controls over the depth, tone, and wet/dry blend of the sound with output volume for gain staging. It's mono only, but is built with the company's "acoustic-first" mindset.
The Corona is a small-footprint, stereo chorus that comes packaged with a lot of options including the all-important mix control. And if the standard sounds aren't enough for you, surely the Toneprint technology will provide you with a sound you can make your own.
Preamp Pedals for Acoustic Guitar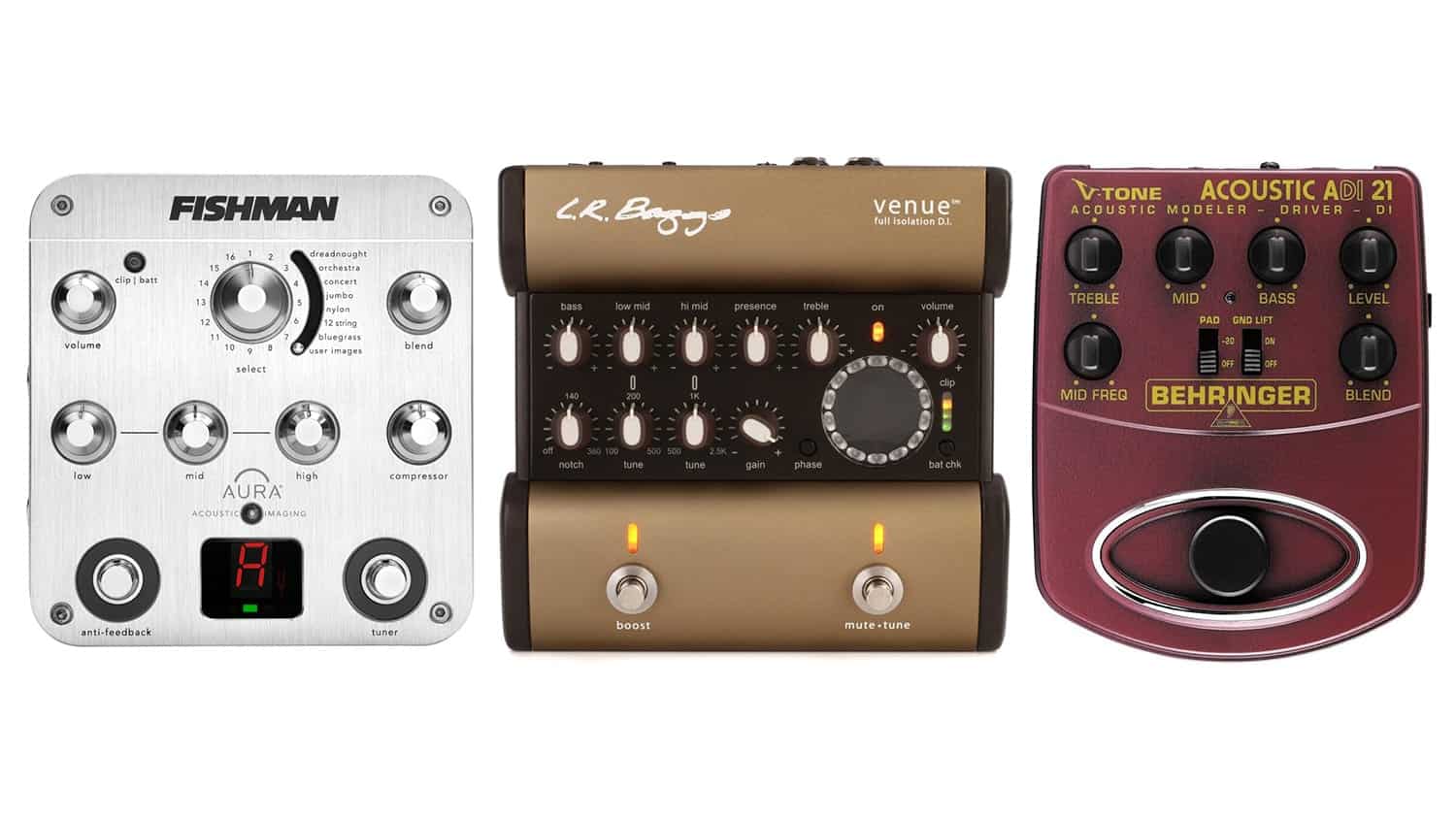 The topic might not be sexy, but nothing can do more for your sound than a solid preamp. They might be more integral if you're using a magnetic soundhole pickup versus a piezo, but either way you'll need a good preamp – and you don't want to rely on whatever beer-soaked mixing board the venue of the night has.
At a minimum, a good pedal preamp will give you access to a few EQ points – usually lows, highs, and a sweepable midrange. The better ones also offer compression, and possibly some other next-gen features like microphone modeling.
Fishman Aura Spectrum
Fishman pickups are the premier name in the acoustic world, and their stompboxes are no different. Part preamp, part modeler, all innovation, the Aura Spectrum offers some insanely unique features.
With proprietary Aura Acoustic Imaging technology, it comes with 128 "images" for a number of instruments and also provides USB functionality for uploading additional patches. This allows you to achieve a sound like micing your guitar up in a world class studio even when you're plugged in on stage. Its more standard features include a 3-band EQ, single knob compressor, chromatic tuner, and anti-feedback phase switch.
L.R. Baggs Venue DI Acoustic Preamp


No stranger to the stage floor in front of many acoustic musicians, the Venue DI is a full-fledged preamp and DI. It sports an insane 4-band EQ with additional controls to contour the midrange and a mute/tuner switch, pretty much making it all you would need on the floor for an acoustic set.
Also has a boost footswitch for cutting above the band or for working with multiple guitars with different output levels, and an effects loop for integrating other processing with a VU meter that makes gain staging a breeze.
It's the big brother to the Session DI, and the only thing missing from that model are compression and saturation controls.
Behringer might not get a lot of respect, but some of their gear is low end gold. The ADI-21 is an example. It doesn't offer much by way of innovation, but it does have a 3-band EQ with sweepable mid frequency for finding the sweet spot, which is especially useful with piezo pickups. Perhaps its most unique feature is a blend control, so you can mix in the original pickup sound with the DI.
Miscellaneous Pedals for Acoustic Guitar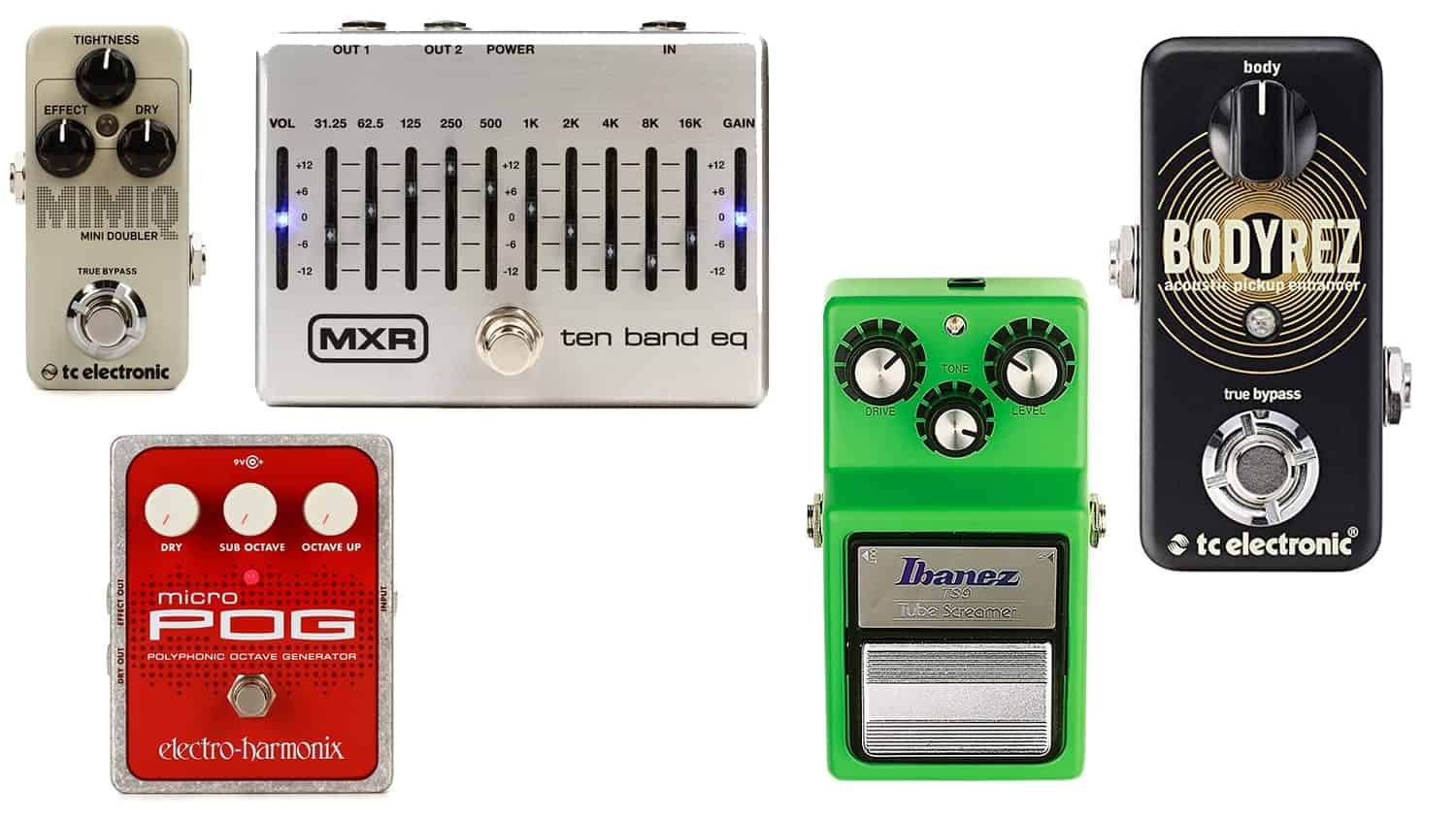 After covering the bases, I thought it would be fun to include a miscellaneous section with pedals that wouldn't necessarily be top of mind, but can do some really cool things with your acoustic sound.
Looking for a more expansive tone, but don't want the modulation of a chorus? Doubler can compound your sound, and with stereo I/O can produce some truly massive acoustic sounds.
Electro-Harmonix Micro Pog
Chorus pedals are suitable for squeezing a 12-string sound out of a 6-string, but a pedal like the Micro Pog is made for it. You can also get experimental if you're looking for some novel sounds in a band setting.
TC Electronic Body Rez
Piezo pickups make stepping on stage and plugging in easy, but they also have a sound all their own, which isn't necessarily a good thing. This is where the Body Rez comes in. Via a single knob, the processing inside the pedal allows you blend in the sound of an actual microphone recording your guitar so that you can get the attack of the piezo pickup with the warmth and roundness of the body of the guitar itself.
MXR 10-band EQ
If your preamp isn't providing you with enough EQ points, you don't have to rely on the engineer to get your sound right. An EQ pedal is an easy, versatile way for you to get your perfect sound.
Believe it or not, overdrive can sound awesome on an acoustic guitar – when used judiciously. The Tubescreamer's midrange bump is a nice addition to an acoustic's sound, especially in a band mix.