While they used to be a novelty at best, mini amps for guitar have come a long way in recent years. They now offer features like stereo cabinets, on-board digital effects, and some can even be externally routed for use with recording gear, additional cabinets, or mixing consoles. It's important to keep in mind that with the small speakers that mini amps have there won't be a lot of solid low end in the sound. Mini amps provide a lot of value. They're great for practicing at low volumes, warming up before a show or rehearsal, and in some cases can even be killer for recording or even used live!
Previously, we've gone over the best guitar amps under $1,000, but if you're looking for something even more economical mini amps are a great start. The term "mini amp" is a little ambiguous, so let's define the scope here. In this article we're defining mini amps as small, affordable amps perfect for fitting into your gig bag, backpack, or guitar case. Here are seven of the best mini amps for guitar.
Best mini guitar amp overall: Orange Crush Mini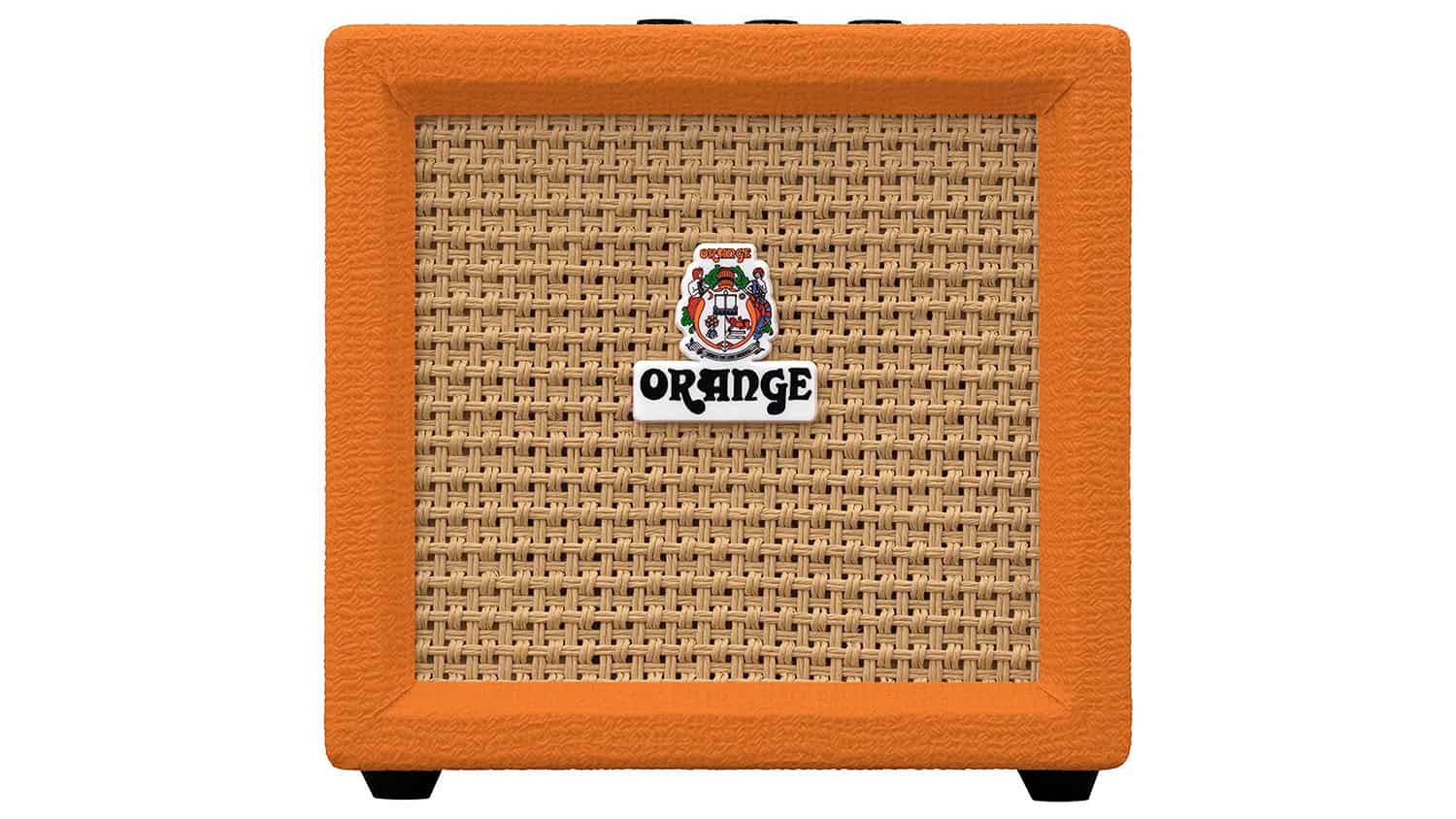 Choosing a selection for the "best overall" category can be a challenge. For starters, the definition is very unique to each individual player. The reason the Orange Crush Mini made the cut here is due to two factors – it's versatile and it sounds great. It might not have some next-generation features that some of the other options do, but in keeping with the Orange tradition of making rock-solid amplifiers that bestow their timeless British sound you can't go wrong.
It's got a lot of utility, so it's great for a pre-show warm up, bedroom woodshedding, or if you'd like to get saucy – playing live via the 8ohm output that can signal an external cab. Like most mini amps it has a three-knob control scheme of gain, shape (EQ), and output volume. The gain knob is what really helps to define the sound. Pulling it back while pushing volume gives you the familiar Orange crunch, and vice versa can give you high-gain liquid lead sounds. The shape control focuses on the mid-range going from fat and warm to scooped metal sounds.
Two more very cool features are the on-board tuner and aux input for jamming along to your favorite tracks. The headphone output lets you play silently, because this thing can get pretty loud for being 3W in a 1×4" speaker setup.
Buy now: $70
Amazon | Guitar Center | Sam Ash | Musician's Friend | Reverb
Best mini guitar amp for clean sounds: Fender Mini '57 Twin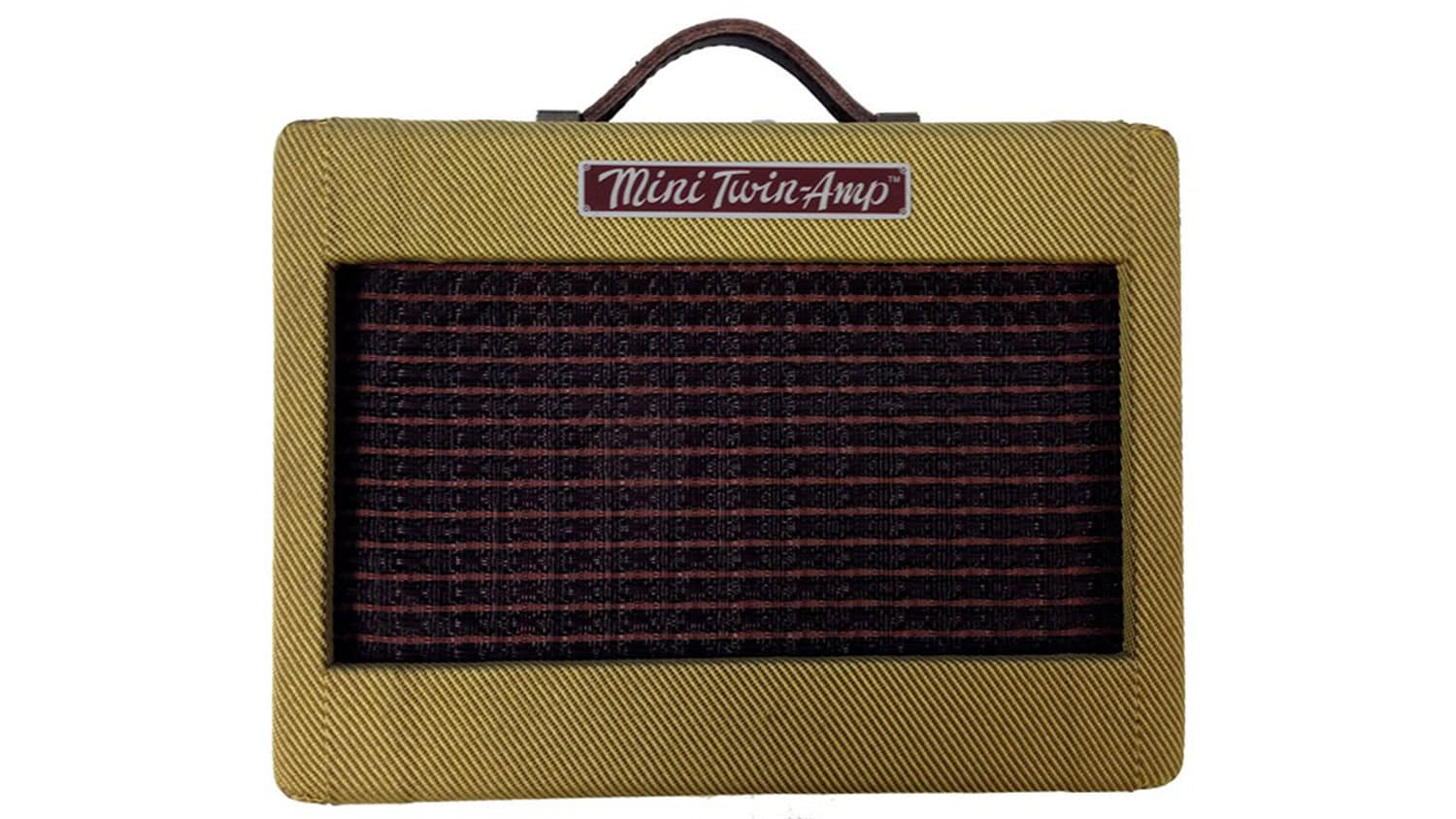 The Mini '57 gives you the classic Fender Tweed looks and glassy clean sounds in a 1W amp with 2×2" speaker configuration. It has built-in distortion, volume, tone, and power controls. It runs on 9V AC power. Even though the 1W plays out a reasonable volume, there is a ¼" headphone jack for silent use. What's more, the output can also be used to DI the signal to recording gear or sound console.
Buy now: $60
Guitar Center | Musician's Friend | Reverb
Best mini guitar amp for recording: BOSS Katana Compact 7
You might find yourself in a recording situation where a mini amp might be the perfect tool for the job. The reason that the Katana Compact 7 is a great mini amp for recording is because it is designed to function and respond much like a tube amp. It has a multi-staged analog gain structure along with a 3-band EQ. It's also highly portable, which is great if you're bouncing from session to session. It offers three types of sounds – clean, brown, and crunch.
BOSS chose to forego the standard spring reverb for an onboard tape-style delay to add ambience. And the aux input means you can pump your jam tracks through it for playing along. You might find the coolest feature to be the headphone/recording output with cabinet voicing. The Katana Compact 7 runs on six AA batteries or AC power.
Buy now: $103
Amazon | Guitar Center | Musician's Friend | Reverb
Best mini guitar amp for overdrive: Marshall MS2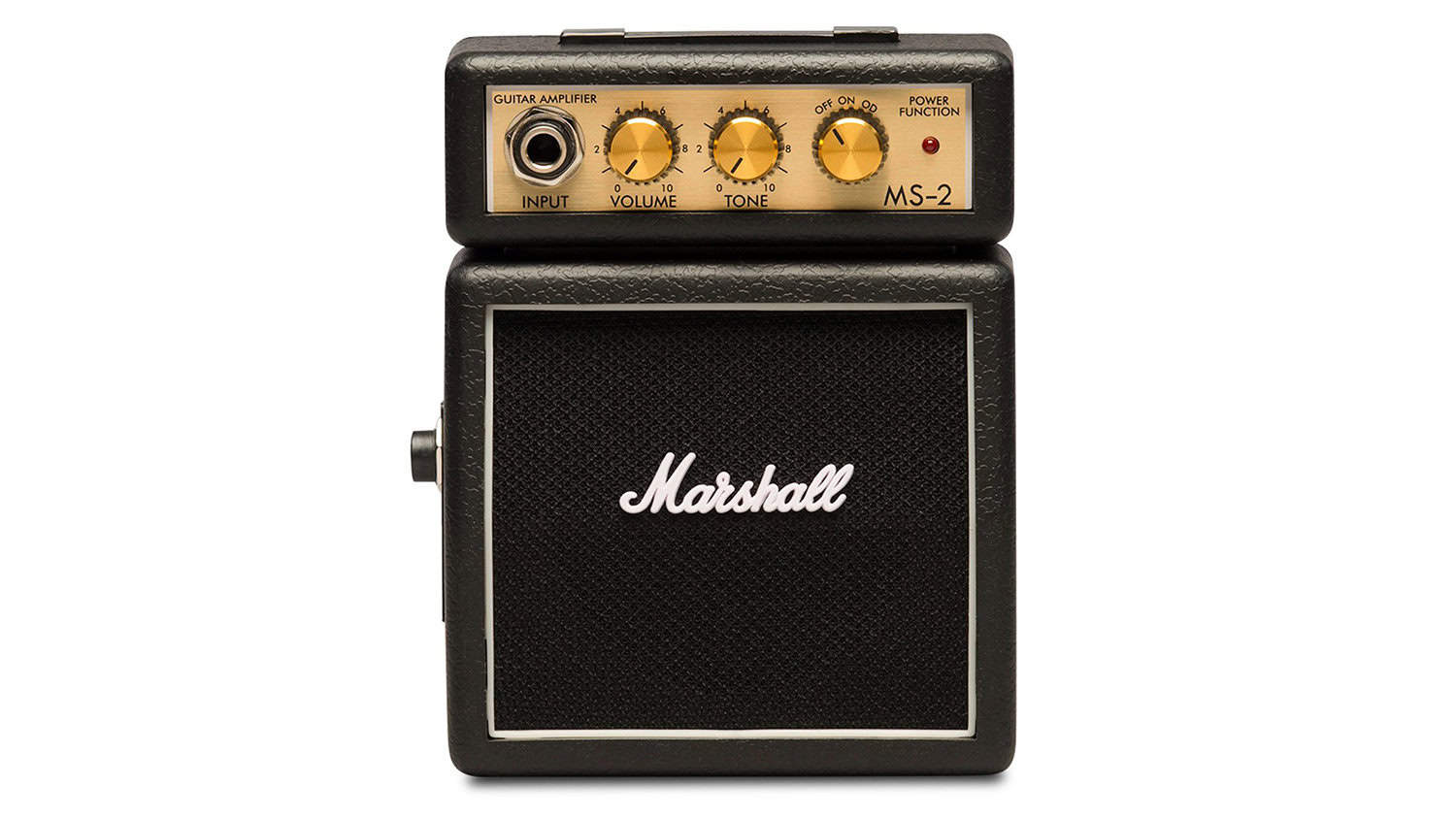 Aesthetically the MS2 looks just like a classic Marshall. Via the input switch you can choose between clean or overdrive sounds. The single-band EQ handles adding in high end, and there is a side headphone output that can also power an external power amp. There is no way to control the amount of gain other than the overall volume. It's battery powered with a belt clip for playing on-the-go, great for busking. And at just 1W it's perfect if volume is a concern but still cranks out plenty of sound to get the job done.
Buy now: $60
Amazon | Guitar Center | Sam Ash | Musician's Friend | Reverb
Best mini guitar amp for travel: Vox Mini Go 3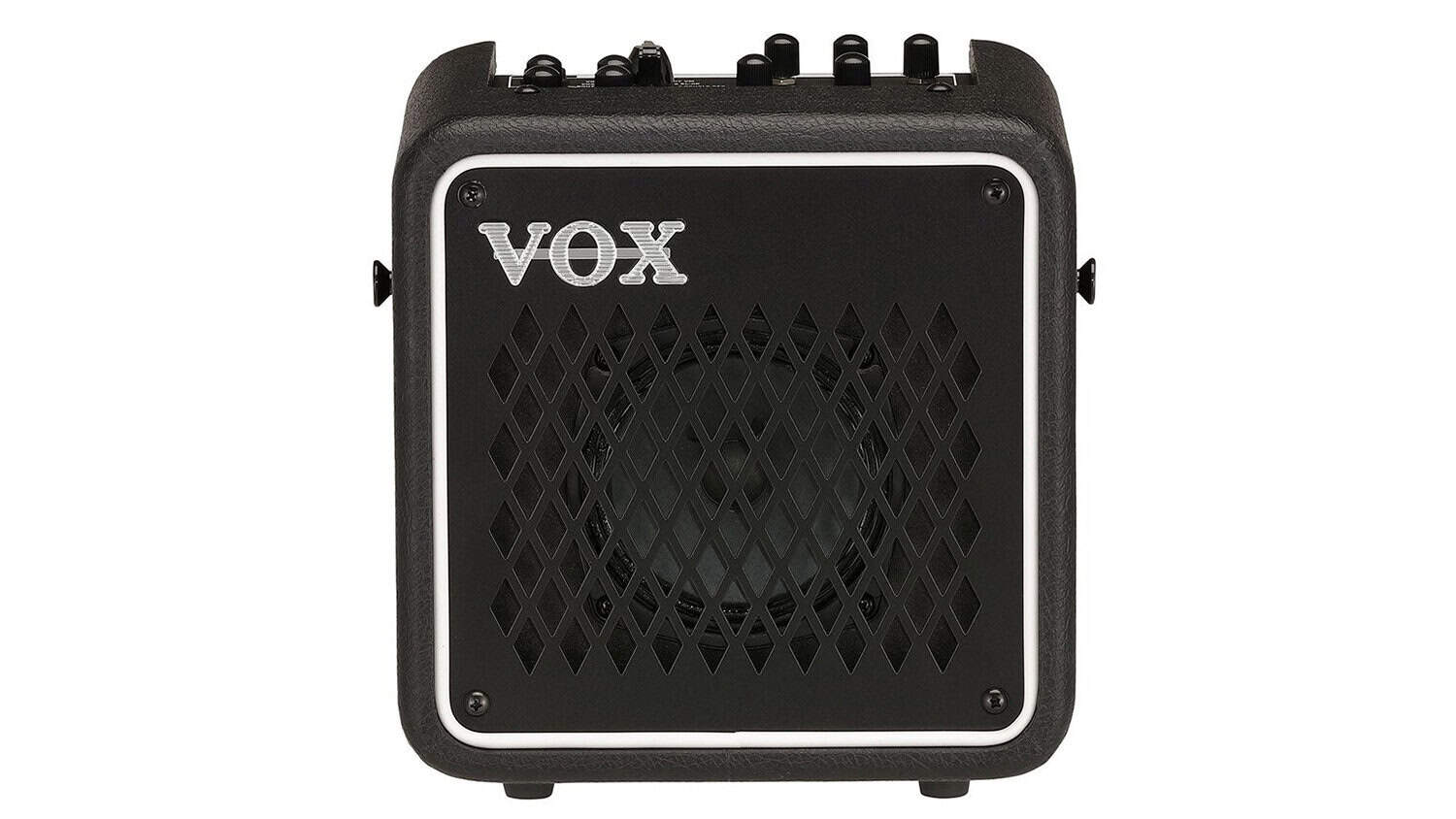 Each entrance in the Mini Go series offers emulation of Vox's classic AC30 as well as a number of other British and American sounds. The rhythm function gives you access to 33 patterns for practice. It operates on battery power and can even be run with a USB battery (with the proper output specs) so you can use it anywhere – even in the car! The Mini Go series comes in 3W, 10W, and 50W models.
Buy now: $200
Amazon | Guitar Center | Sam Ash | Musician's Friend | Reverb
Most versatile mini guitar amp: Blackstar ID:Core V3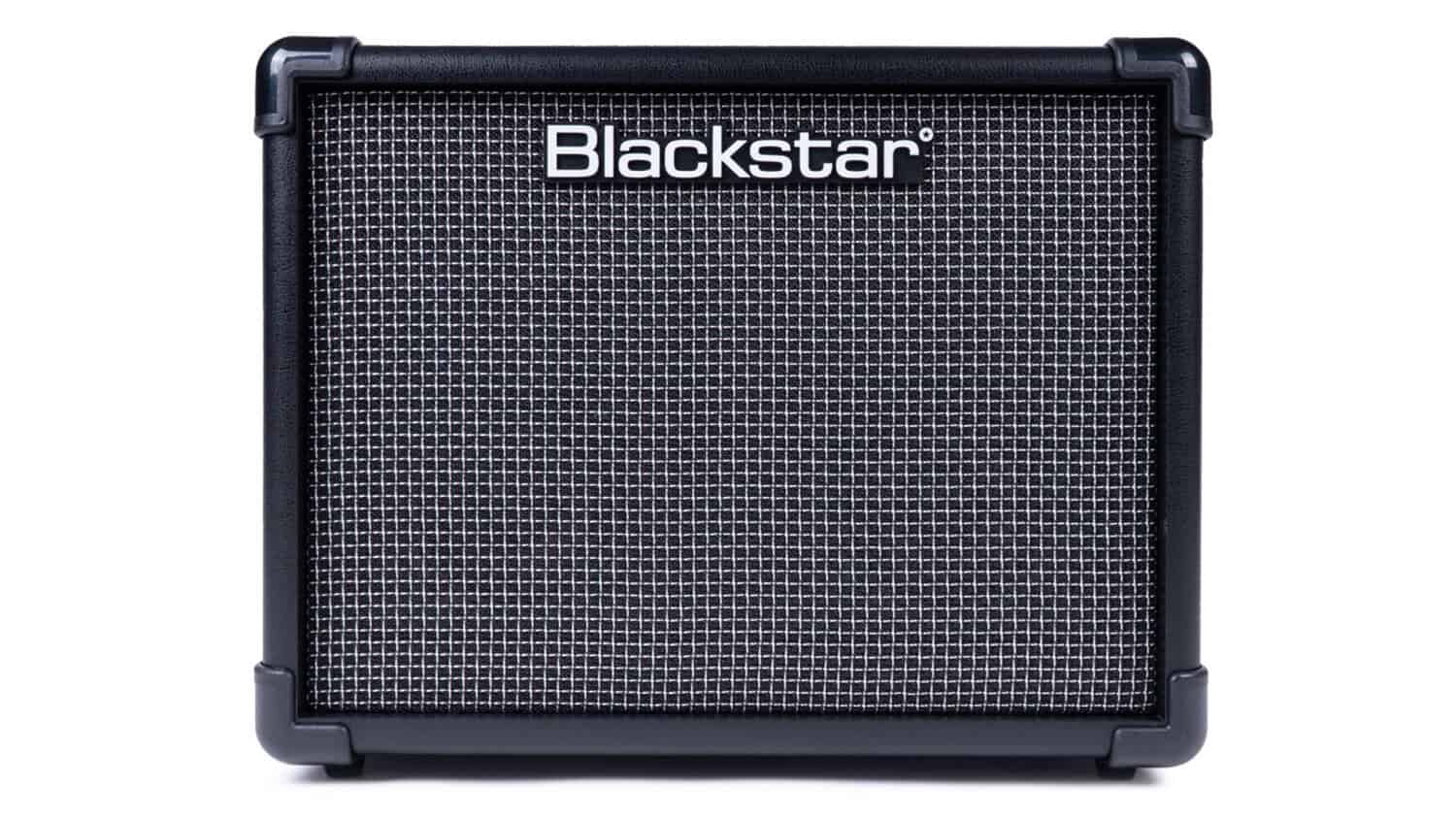 The smallest entry in the Core series fits 10W and a lot of features into a small cabinet with 2×3" speaker configuration. There are six unique voices and 12 stereo effects. Blackstar's Cab Rig software lets you control things like cabinet response and room sound. It comes with editing software for further control over sound parameters and even has smartphone integration via TRRS.
Buy now: $170
Amazon | Guitar Center | Sam Ash | Musician's Friend | Reverb
Best mini guitar amp under $25: Danelectro Honeytone N-10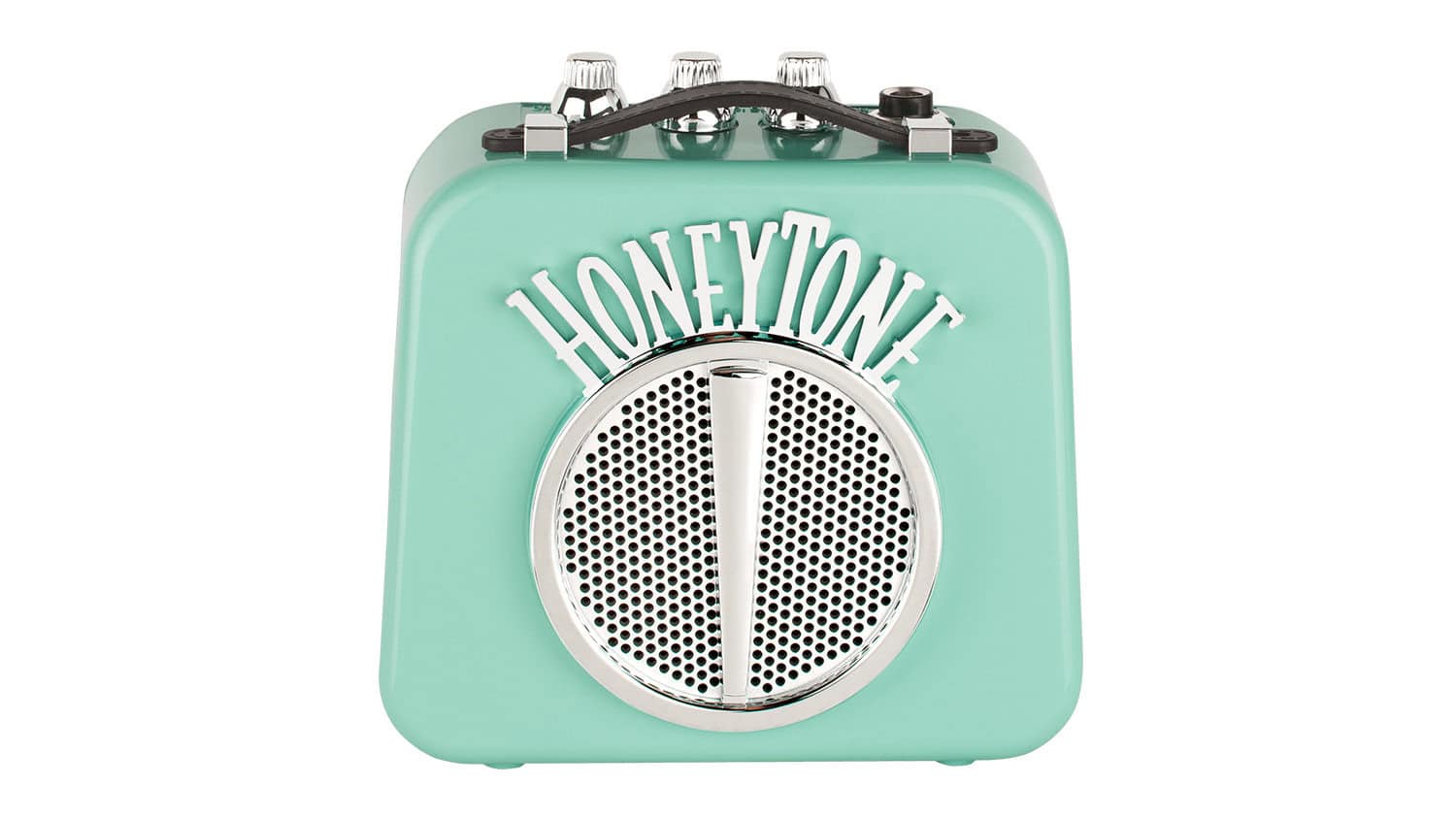 You're unlikely to find any mini amps at this price point. For how small it is the Honeytone has solid clean and overdrive sounds. It has three controls for overdrive, volume, and tone and can be powered by a 9V battery or wall adapter. On pace with Danelectro's throwback aesthetic it comes in three different colors straight out of the 60s.
Buy now: $22
Amazon | Guitar Center | Musician's Friend | Reverb