This week at the 2018 AES (Audio Engineering Society) showcase in New York City, Rupert Neve Designs made sure not to show up empty-handed. In fact, the company showed up in style by taking the wraps off of a brand new outboard rack preamp unit — the Rupert Neve Designs 5211.
The unit is a 2-channel preamp model which piggybacks off of Rupert Neve Designs' 2005 model called the '5012.' Complete with high-pass filters and Silk control for output saturation, this brand new unit from Rupert Neve Designs is sure to be a promising new release, and a welcomed addition to any recording studio that can house it.
Features
The Rupert Neve Designs 5211 kicks off its preamp with a 'Gain' knob, which can give the incoming signal up to a 66 dB boost, as well as phantom power and polarity flip switches. Also included is a 'Trim' knob allowing the user -/+ 6 dB attenuation towards the post-gain signal with the clean sound that only Rupert Neve Designs can provide.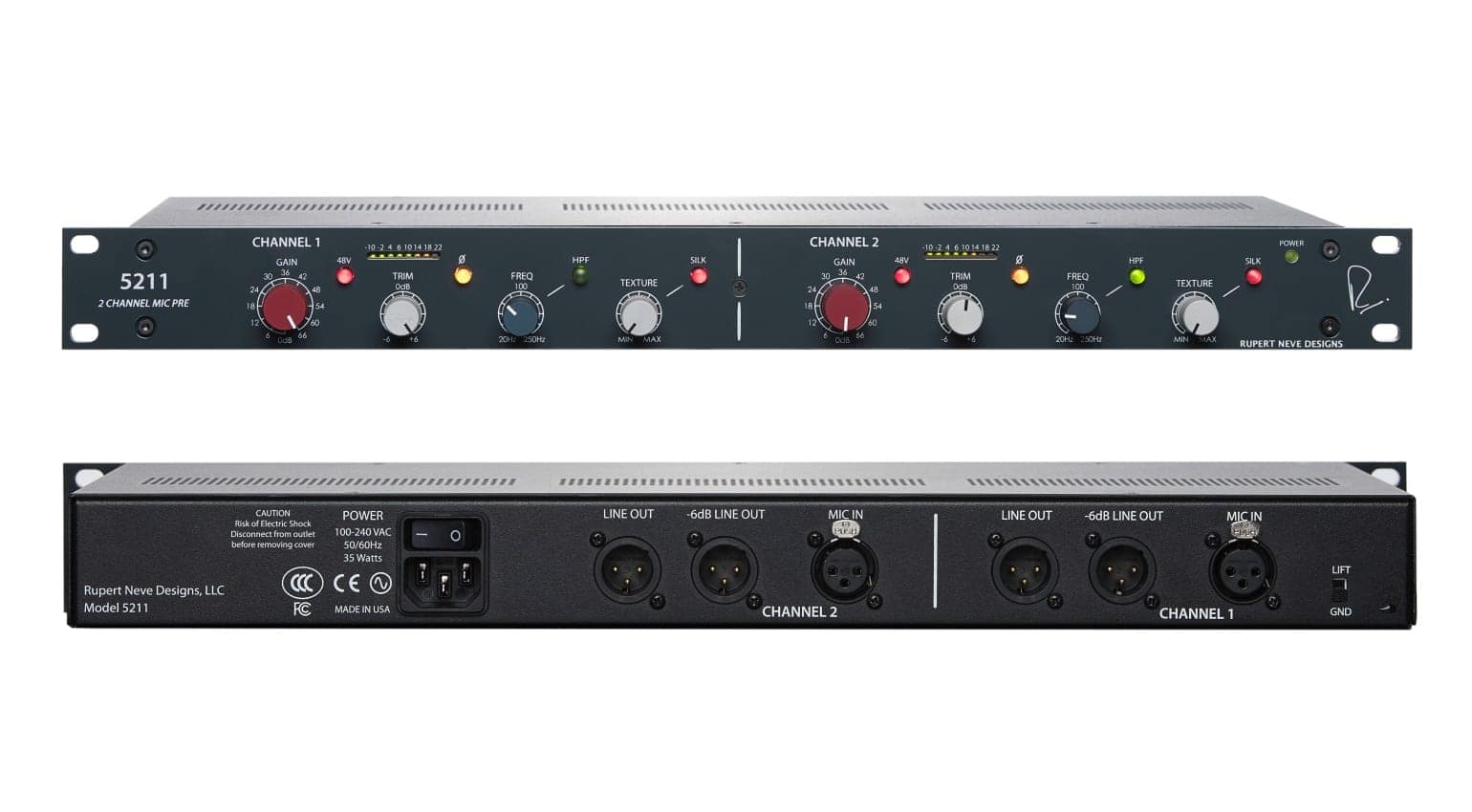 The 5211 rack-mount preamp also contains 2 features that are unique among most other preamp models found on the market — a high-pass filter which can be set to cut off at a frequency range of 20Hz to 250Hz. Finally, it is capped off with a knob labeled 'Texture' – providing the ability for the user to mix in the Rupert Neve Designs' classic 'Silk' control saturation into the output signal, which can be monitored through an 8-LED display along the top.
The back-end of the Rupert Neve Designs 5211 appears to provide the typical types of inputs and outputs found on any other preamp of its kind — with a couple of surprises. Along with a pair of XLR inputs and outputs per channel, you'll find an extra XLR out which provides a -6 dB pad, and a single ground lift switch as well. Finally, it includes a power switch and power cable plug-in.
Price
Because this is a new release from Rupert Neve Designs, naturally, the price is set quite high. However, it is a fair price to pay for a circuit containing the clarity and precision that only Rupert Neve and his team can design. While not available online through any retailer at the moment, the Rupert Neve Designs 5211 is now shipping worldwide and should show up across the page of your preferred marketplace very soon, and currently has a manufacturer's suggested retail price of $1,995.00. For now, you can learn more about the 5211 preamp on the Rupert Neve Designs website.