Early in the Saturday morning hours of NAMM 2020 weekend, Behringer announced plans for RD-6, a whole new kind of drum machine. Initially, its intent was to be a TR-606 clone, and the perfect companion to its older brother, the TD-3 bass synth. The world has changed quite a lot since this disclosure. On top of this, eager buyers were told to wait for seven months to purchase an RD-6. Now, the long awaited small-form sequencer is shipping worldwide, which means people will be able to buy it in the coming weeks.
Behringer RD-6 Features
As announced at this year's NAMM show, the RD-6 machine is a full format, 16-step sequencer. Users will be able to incorporate classic sounds like kicks, snares, and hi-hats, as well as more unique ones. Concurrently, the RD-6 will be able to switch instantly between 32 sequences, as well as chain up to 256 patterns together, into full songs. The machine incorporates individual outputs for each sound, for routing sounds to external sources.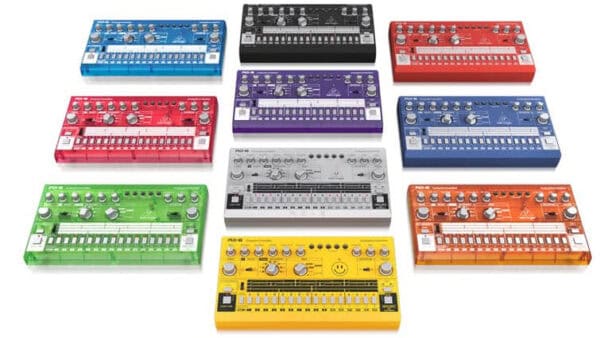 Along with this news of shipment, Behringer has also announced its full lineup of available colors. In total, an array of ten colors will be available for buyers to select from. As pictured above, The RD-6 will have a style to suit just about anybody's personal taste. Even a few options that sport see-through plastic chassis which emanate vintage iMac G3 vibes.
We hope this lets most of you rest assured that you'll have your hands on a brand new Behringer RD-3 drum machine within the coming weeks. With this said, you can expect a fairly small price tag hanging off this unit as well. Each RD-3 will cost around only $150 to buy, which is great news for anybody itching to pick it up. Which will certainly be very soon, as the company commences shipments to dealers, bracing for an imminent major order influx. You can learn more about the new Behringer RD-6 straight from the Behringer website.