As a studying music producer, I work a lot with Pro Tools. Both in my classes, and on personal projects. But one big thing about using any DAW (Digital Audio Workstation), through a laptop or desktop computer, is that you have to use the mouse. Which over time can become easy and pain-free, but sometimes it just gets on your nerves when your pan knob just won't do what you want it to. A few months ago, a company called Slate Pro Audio released a Multi-Touch Control (think giant iPad), that currently is only calibrated to work with Pro Tools, but will soon be compatible across multiple DAW's. Here's the breakdown:
The Raven MTi's original software includes a 6 touch multi-touch mix window, very similar to the one you would find in Pro Tools. It includes faders, pans, solo and mute buttons, and everything else you might expect to find. Some other features allow you to select automation for individual tracks, as well as the ability to swipe your finger to turn on/off multiple solo or mute buttons all at once. The touch-sensitive faders move up and down with ease, and move in very precise increments and even allow you to make your fader's move slower for even MORE precision. It is equipped with a fully customizable toolbar, and even allows you to write in any key commands you are used to using in Pro Tools…pretty freakin' cool. You can also put in multiple inserts, such as EQ's, Compressors or FX plug-ins, and edit them just as you would with Pro Tools inserts. This mix window lays right on top of your Pro Tools mix and edit windows which are both single-touch, and function just the same as they would on your home or studio computer.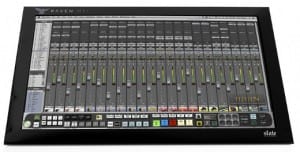 For somebody working in the music production industry, this is a revolutionary piece of new gear to be able to own, whether you are just starting out, or a professional who works mainly through your DAW. With the Raven MTi, every aspect of your DAW is laid out right in front of you on a vibrant, easy-to-use 27″ screen. And since this is a new release from Slate, you can expect many updates, and new features to come with it shortly. It plugs straight into your computer via USB and a standard DVI cable, and is currently available online for a price of $2,499. You can buy it here, with free shipping only if you buy online at Guitar Center!
The price tag can make the Raven MTi seem daunting at first, but is a very reasonable price given the amount of versatility this tablet has, and the fact that it was released earlier this year. Happy Hunting!