Design -

9/10

Sound -

9.5/10

Features -

8/10

Value -

9/10
Mackie has long been a music production powerhouse, and of late it's been making a serious push into developing hardware for home and small studios. For starters, it expanded the much-loved Big Knob lineup into three models instead of one, and refreshed the MR series of monitors. On top of that, Mackie launched a new series of ultra-affordable audio interfaces, including the Mackie Onyx Artist 1•2 and Onyx Producer 2•2. We've already reviewed the Onyx Producer 2•2, so now it's time to put the Mackie Onyx Artist 1•2 to the test.
The interface is a little smaller than the Onyx Producer 2•2, but the trade-off is that it's even more affordable. But is it affordable enough to be worth buying?
Mackie Onyx Artist 1•2: Design
The first thing you'll notice about the Mackie Onyx Artist 1•2 is its design, and it looks great. It's very obviously related to the Onyx Producer 2•2 — which is a good thing. Like its larger sibling, it offers a strong and well-built metal design, and it can clearly handle any abuse you can throw at it, within reason.
On the front, you'll find two inputs — one XLR and one line/instrument input. That's one of the main points of different between this interface and the Onyx Producer 2•2, which offers two XLR/TS combo ports. The XLR, as you would expect, has an accompanying gain knob and phantom power button, while the line input offers a gain knob and Hi-Z switch. There's something important to note here — the Onyx Artist 1•2 isn't a single-input interface — it's a single microphone input interface. That's good news for singer/songwriters who might want a microphone and instrument input.
Beside the inputs and accompanying controls, you'll find a master volume knob and a headphone jack with its volume knob. Like the Producer 2•2, the Mackie Onyx Artist 1•2 does indeed offer direct monitoring, but you can either have it or not — you can't control the wet/dry output from the interface itself without changing the gain of the inputs.
Another significant point of difference between this interface and the larger one is found on the back — there's no MIDI support. That makes sense for such an inexpensive interface, but it's still a bit of a bummer. Instead, on the back of the Mackie Onyx Artist 1•2, you'll find only stereo master outputs for your monitors or monitoring system. You'll also, of course, find the USB 2.0 port, which is used for both data exchange and to power the interface.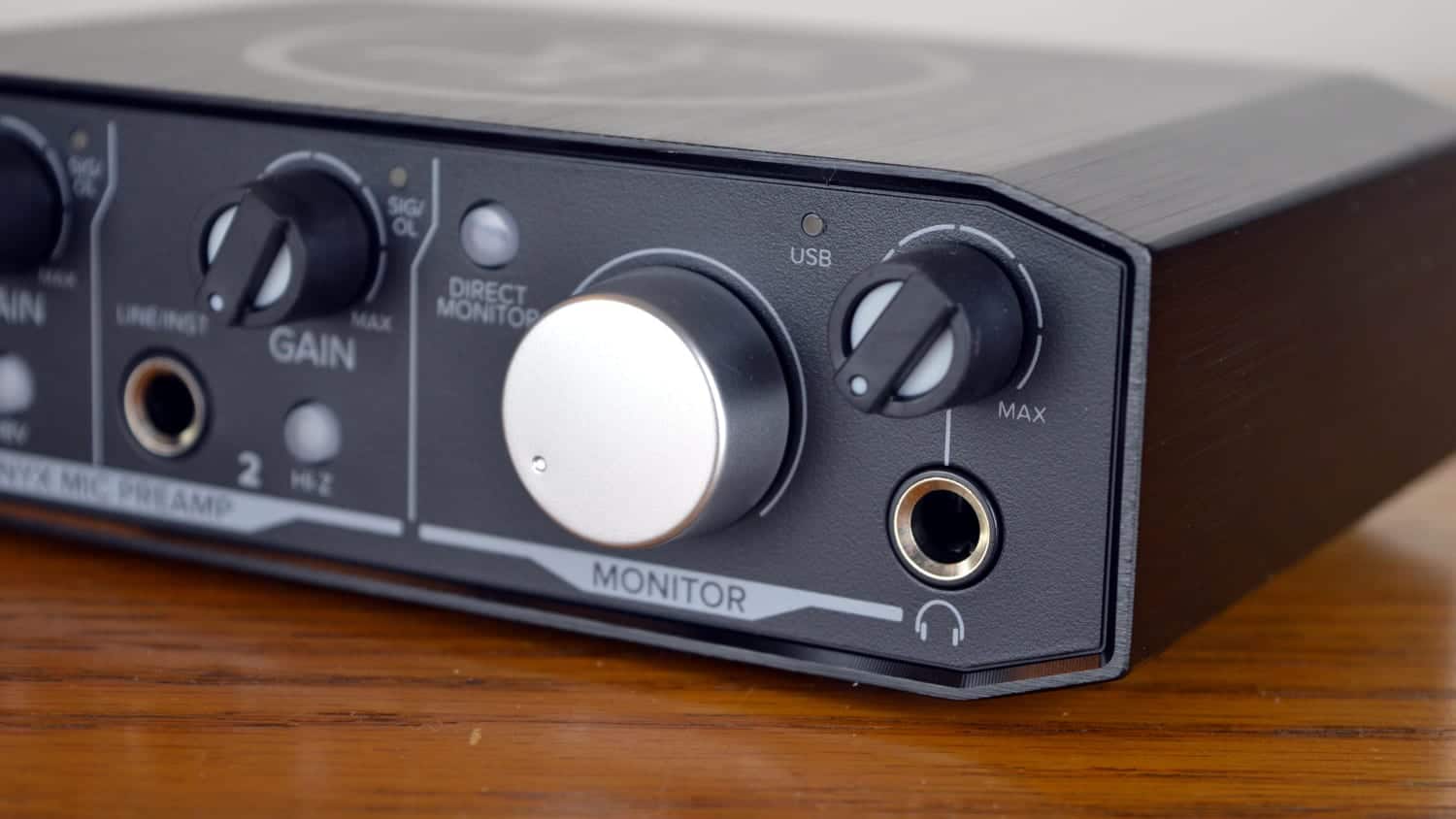 In general, the Mackie Onyx Artist 1•2 is a well-designed, strong interface. The differences between it and the Producer 2•2 are worth noting, but it also makes sense that they're not there considering the price difference.
Mackie Onyx Artist 1•2: In use
In the end, what matters most is how an interface sounds, and thankfully this one sounds pretty great. Mackie's Onyx preamps have long been used in its hardware, and they're known for offering a relatively clean and crisp sound. That's good news when you only have one or two preamps at your disposal, as you'll want them to be as versatile as possible for different recording situations. The interface is capable of recording at up to 24-bit 192kHz, which is much better than most in this price range.
We really had no issues with using the interface or how it sounds. The converters seemed good for most users, and latency wasn't an issue at all.
Mackie Onyx Artist 1•2: Conclusions
Mackie has hit a real home run with the Mackie Onyx Artist 1•2 — though that's to be expected of the company. The interface is well-designed, sounds great, and it's easy to use. But should you buy it? If you're looking for an excellent interface under $100, then this may well be the interface for you. Of course, it's not the only option out there. Notable competition includes the likes of the Focusrite Scarlett Solo, which comes at exactly the same price and pretty much offers the same general features — except for the fact that the Scarlett Solo can only record at 96kHz, while the Mackie goes up to 192kHz, making it the better option here.
Unlike the Mackie Onyx Producer 2•2, it's a little harder to say whether or not you should buy the Onyx Artist 1•2. Why? Because of the existence of the PreSonus AudioBox USB 96, which offers two preamps instead of one, and brings MIDI support. Those are both a big deal, but it's a trade-off. The Mackie Onyx Artist 1•2, after all, can record at up to 192kHz, while the PreSonus maxes out at 92kHz. That may not be a big deal for some, especially in the home studio space, but others will need the higher sample rate. If you prefer an extra mic preamp, then the PreSonus interface is a better option — but if you like the better recording quality and don't need MIDI or the extra mid preamp, then we think the Mackie interface is probably your best bet.
You can get the Mackie Onyx Artist 1•2 for yourself using the links below.