Design -

9/10

Ease of Use -

8.5/10

Sound -

8.5/10

Value -

8/10
Plenty of companies have tried to revolutionize DIY recording, but many of them seem to have failed to create an innovate, easy to use product that's truly useful for both beginners and professionals alike. iZotope, the company behind some of the better-known mastering plugins, like Ozone, is trying its hand at a decent DIY audio interface — the iZotope Spire Studio.
The Spire Studio is a little different from other recording interfaces out there in that instead of connecting to your computer through a USB cable, it connects to your phone through Wi-Fi. From the phone, you can create multi-track recordings, mix your session, and listen back — all without ever having to open a full-sized DAW. But at $350, it's a pricey investment. Is it worth buying? We put the iZotope Spire Studio to the test.
Design and setup
The first thing you'll notice about the iZotope Spire Studio is its design, and it's a modern-looking device. It's not overly large or heavy, which is a good thing. This is, after all, built to be a portable device you can take on the road with you. The top is where all the magic happens — there's a ring of lights around the upper edge of the Spire Studio, with a few big buttons underneath it. Under the play and record buttons, you'll find a few project control buttons — one to record a new song, one to "soundcheck," and one to adjust overall volume.
Under that is where you'll find a small microphone grill, along with a headphone jack. There are a few controls and ports on the back too — one power input, though you won't need to use that all the time considering the built-in battery, two XLR/TS combo ports, another headphone jack, and a phantom power switch. That switch controls both inputs, so you'll want to be careful if you want to use both a microphone that needs phantom, and one that can't take it.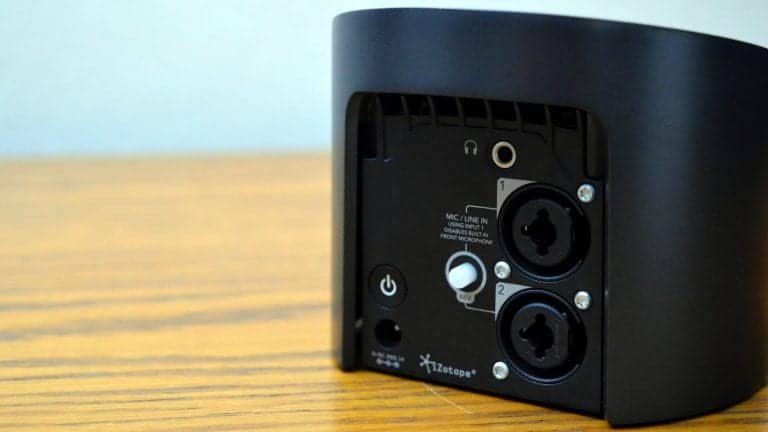 Setting up the Spire Studio is pretty easy, though it reveals a few issues with the overall system. To connect, the Spire Studio creates its own little Wi-Fi network — but that network obviously isn't connected to the internet. That's kind of a massive flaw in the system. It's pretty annoying to have to connect to a new wireless network just to use the Spire Studio, and we would have preferred if the device could connect to your phone through your existing wireless network, or connect through another standard, like Bluetooth.
Apart from that, setting up the Spire Studio was a breeze on the iOS app. You'll simply download the app and follow the on-screen instructions and the device should connect pretty easily. It's a bummer that there's no Android app yet — but hopefully that will change in the future at some point.
One thing we would have liked to see is a little case or bag for the device. After all, it's built to be taken on the go — not kept at home all the time.
In general, the iZotope Spire Studio is well-designed and pretty easy to set up. It's annoying that you can't connect to the internet and use the Spire Studio at the same time, and that there's no Android app — but apart from that it's all designed to be super easy.
In use
Learning how to use the iZotope Spire Studio is also pretty easy — both in app and from the device itself. From the Spire Studio itself, you have a little less control over mixing and panning your recordings, but recording is just as easy. Simple hit the "New Song" button to create a new project, and then the record button to start recording. You can then record over that track to create multi-track recordings, which is very cool for the multi-instrumentalists out there.
From the app, you'll get even more control. For starters, you'll be able to see things the different tracks; load, save, and share your projects; and so on. It's within the app that you'll be able to do some of the mixing, which is very nice for those looking to get a rough idea of what they're going for without heading into the studio. You'll only be able to layer up to eight tracks at a time, but that should be more than enough for those wanting to put down some basic tracks.
Perhaps the best thing about the iZotope Spire Studio is how smart it is. The "Soundcheck" feature, for example, intelligently sets the gain of your microphones depending on the volume of the music. Just hit the button, and then play as loud as you normally would — and the gain will be set.
In general, getting the hang of using the iZotope Spire Studio is extremely easy to do. Once you've done that, it's a breeze to start recording and getting your ideas down. The battery life on the device lasts four hours on a charge, which isn't bad. You'll charge it through a simple power adapter that comes with the Spire Studio.
Sound
The iZotope Spire Studio may be built to jot down ideas, but that doesn't mean it should sound good. Thankfully, it does. Perhaps the best thing about it is that you can use your own microphones with it, so you don't have to rely on the built-in one. The built-in microphone isn't one you would probably take into the studio by any means — but it's still more than capable of recording most of the things you can throw at it. We used it to record guitars, some percussion, and some vocals — and everything sounded great through the included microphone, if only a little midsy.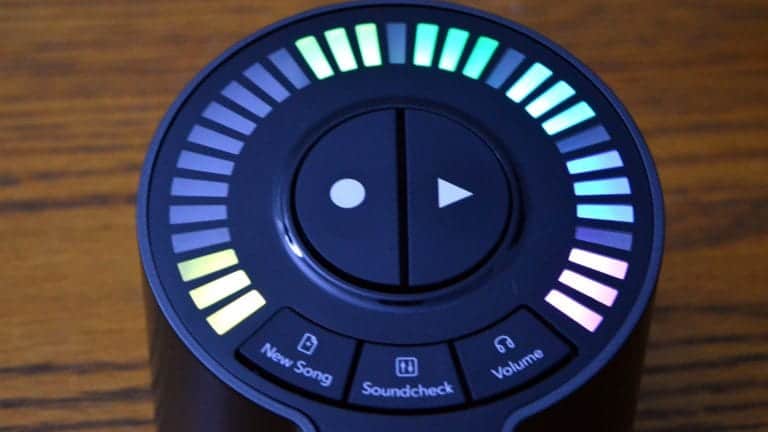 Now, the iZotope Spire Studio is built to be an on-the-go and easy to use device that you can use to record ideas and concepts. It's not going to record ultra high-resolution audio — but the 48kHz 24-bit audio it does record is more than enough for what this device is built for.
Conclusions
The iZotope Spire Studio is an excellent way to get great-sounding and intelligent recording on the go. It's not perfect — we really want to see an Android app, and it shouldn't have to result in a lack of internet connection during use — but as a smart recording interface, it does a great job.
But is it worth the $350? Well, yeah, we think it is. It's a lot of money, to be sure, but if you like the idea of smart recording without needing your computer all the time, then this is a great way to achieve that. Not only does the iZotope Spire Studio look good, but it's also easy to use, and it sounds pretty good too.
Check out the links below to buy the iZotope Spire Studio for yourself, and stay tuned for a video review on the All Things Gear YouTube channel.