Design -

9/10

Sound -

9/10

Value -

9.5/10
PreSonus has long offered decently-priced yet reasonably high-quality audio interfaces, and this year we've seen a number of them. Just recently, we reviewed the PreSonus Studio 68 interface, a 6-input interface that we argued was among the best in its price range. Now, the company is at it again with the PreSonus AudioBox USB 96 — which comes as one part of the PreSonus AudioBox 96 Studio, the other parts being a pair of headphones, a microphone, and an XLR cable.
Now, for this review we're going to mainly focus on the AudioBox USB interface, but we'll take a quick look at the headphones and microphone too. So how does the PreSonus AudioBox USB perform? We put it to the test to find out.
Before we start, we wanted to point out that the AudioBox USB 96 is available as a standalone interface, and if you're only looking for an interface you won't need to read our review on the HD7 headphones or M7 microphone — they only come in the AudioBox 96 Studio bundle.
Design
The first thing we noticed when we took the PreSonus AudioBox USB 96 out of the box was its size. It's a little smaller than we expected, but that's not necessarily a bad thing. It features the blue and silver aesthetic you would expect from a PreSonus interface, and in general it looks quite nice.
On the front of the interface, you'll find two XLR/TRS inputs, along with a 48v switch for phantom power, gain controls for each input, a headphone volume control, and a main volume control. You'll also find a mixer knob, which controls how much you'll hear from the interface's inputs compared to the playback from your computer.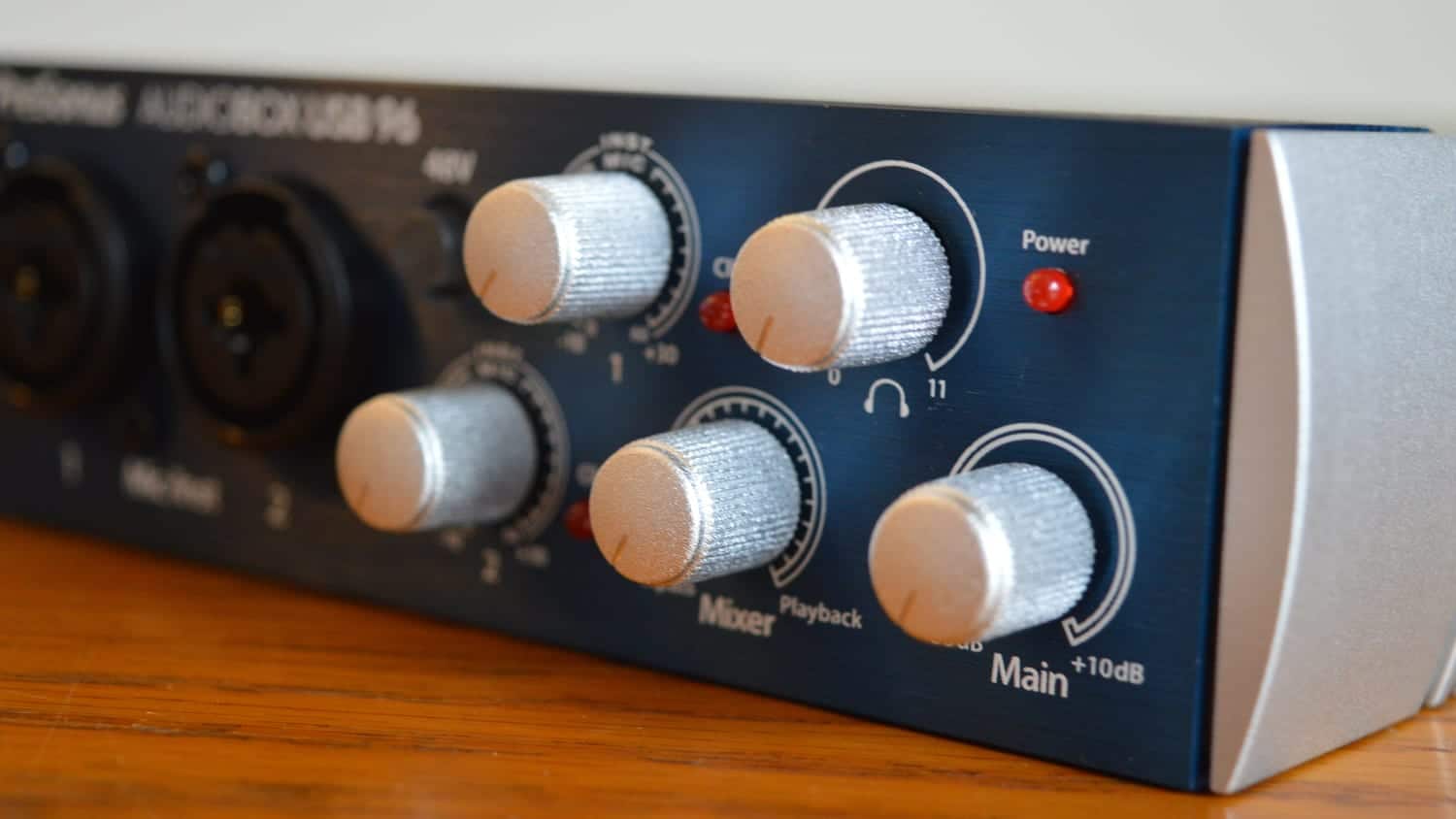 On the back you'll find a few more ports, including a headphones port, main outputs, and MIDI in and MIDI out ports. Last but not least, you'll find the USB port, which is used both for data transfer and to power the interface.
It's really a relatively classy look, and everything seems pretty solidly built too. That's not to say it's invincible — considering the portable nature of the interface, we would have liked to see a little pouch or carry case included. Obviously it's not a deal breaker to not have one — but it still would have been nice. That's despite the fact that it's very well-built — our friends over at PreSonus, in fact, made us aware of this video, showing the original AudioBox USB interface taking quite a beating — after which it was able to record as though it had just been taken out of the box.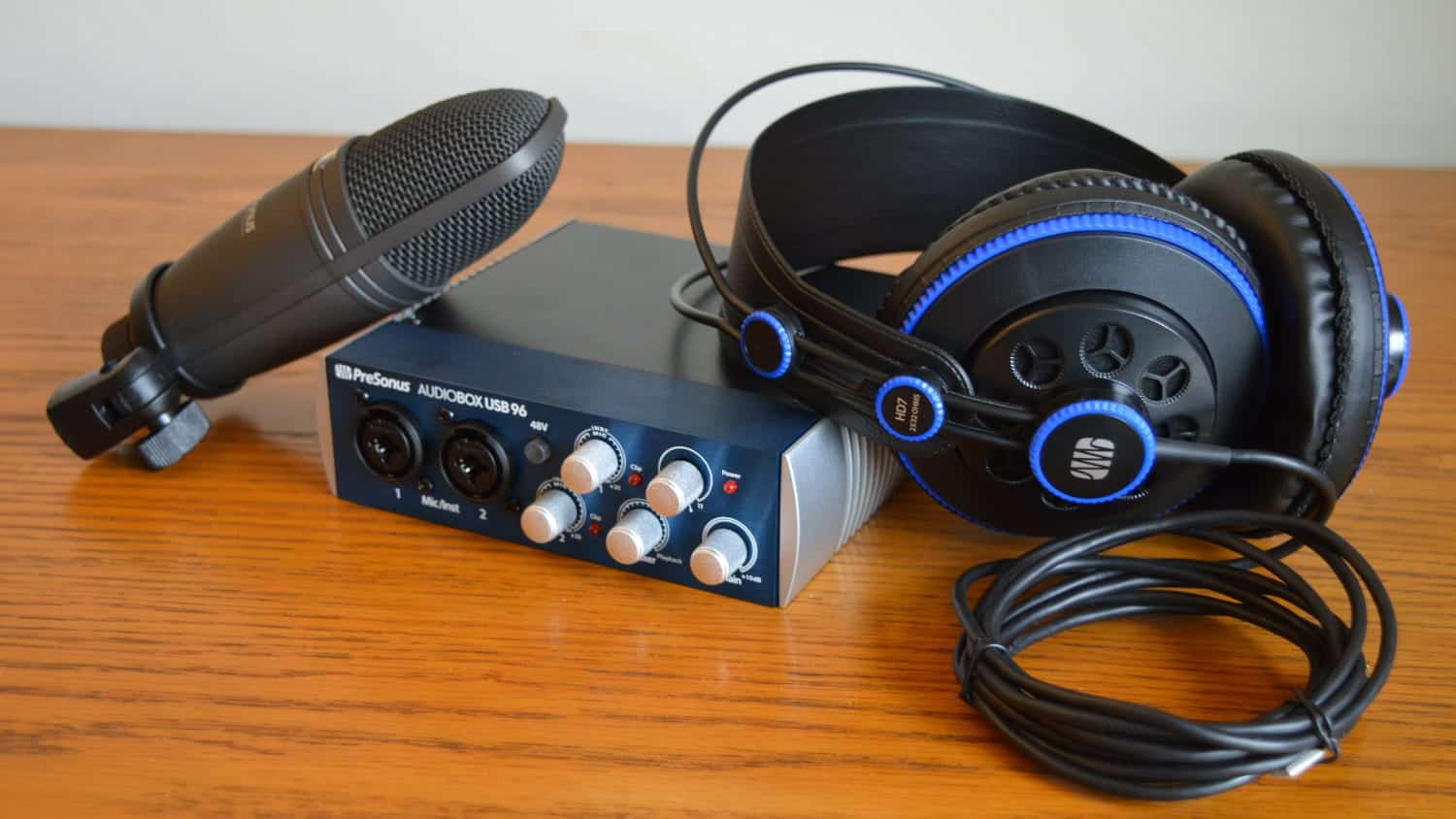 Instead, as mentioned, in the box you'll get the interface itself, a pair of PreSonus HD7 headphones, a PreSonus M7 Condenser microphone, and an XLR cable. You'll also get bits and pieces like feet for the interface and an instruction manual. And, of course, you'll get a copy of PreSonus' DAW, Studio One 3 Artist — which is the entry-level version of the software. It's a nice software to get you started in recording, though if you want to use other software — like Pro Tools or Logic, the interface will work with them too.
Sound
Under the hood, the PreSonus AudioBox USB 96 is relatively powerful, and while you won't get all that many inputs and outputs, that doesn't mean that the ones that are there don't sound good — in fact, they do.
While some purists may beg to differ, one of the things that we've always loved about PreSonus' preamps is that they're quite transparent — which makes them versatile. You could really use the preamps here to record anything — vocals, guitars, drums, you name it. The limiting factor here doesn't come from how the preamps sound, but rather how many of them there are.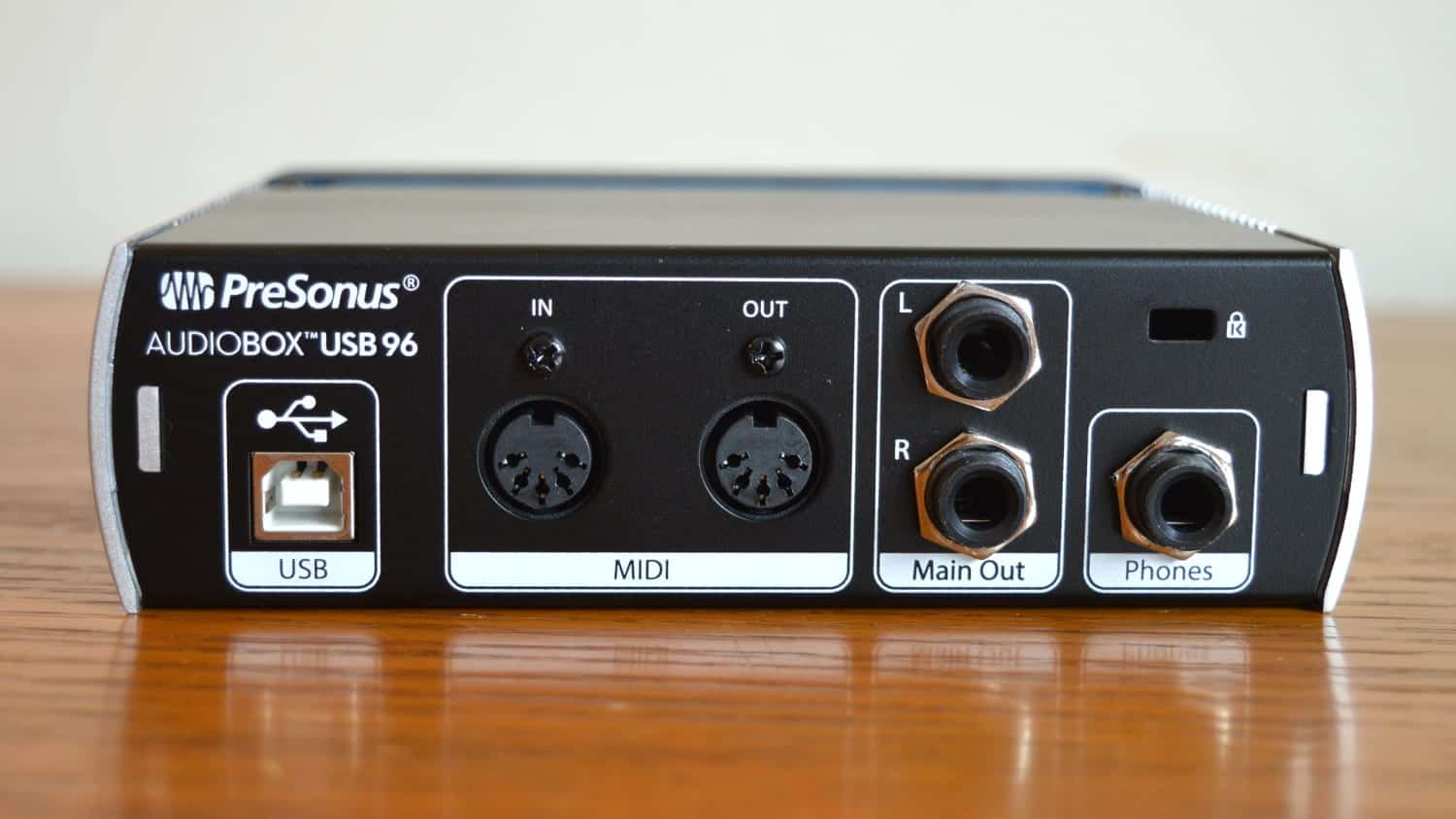 When it comes to sample rates, the interface is capable of handling everything you would expect — sample rates of up to 96kHz. That's really one of the only points of difference between this interface and the original PreSonus AudioBox USB — which capped out at 48kHz. The bit depth is limited to 24 bits, so those looking to go higher may want to look elsewhere — but 24 bits will be fine for most, especially those getting started in recording, which is what this interface is targeted towards.
HD7 headphones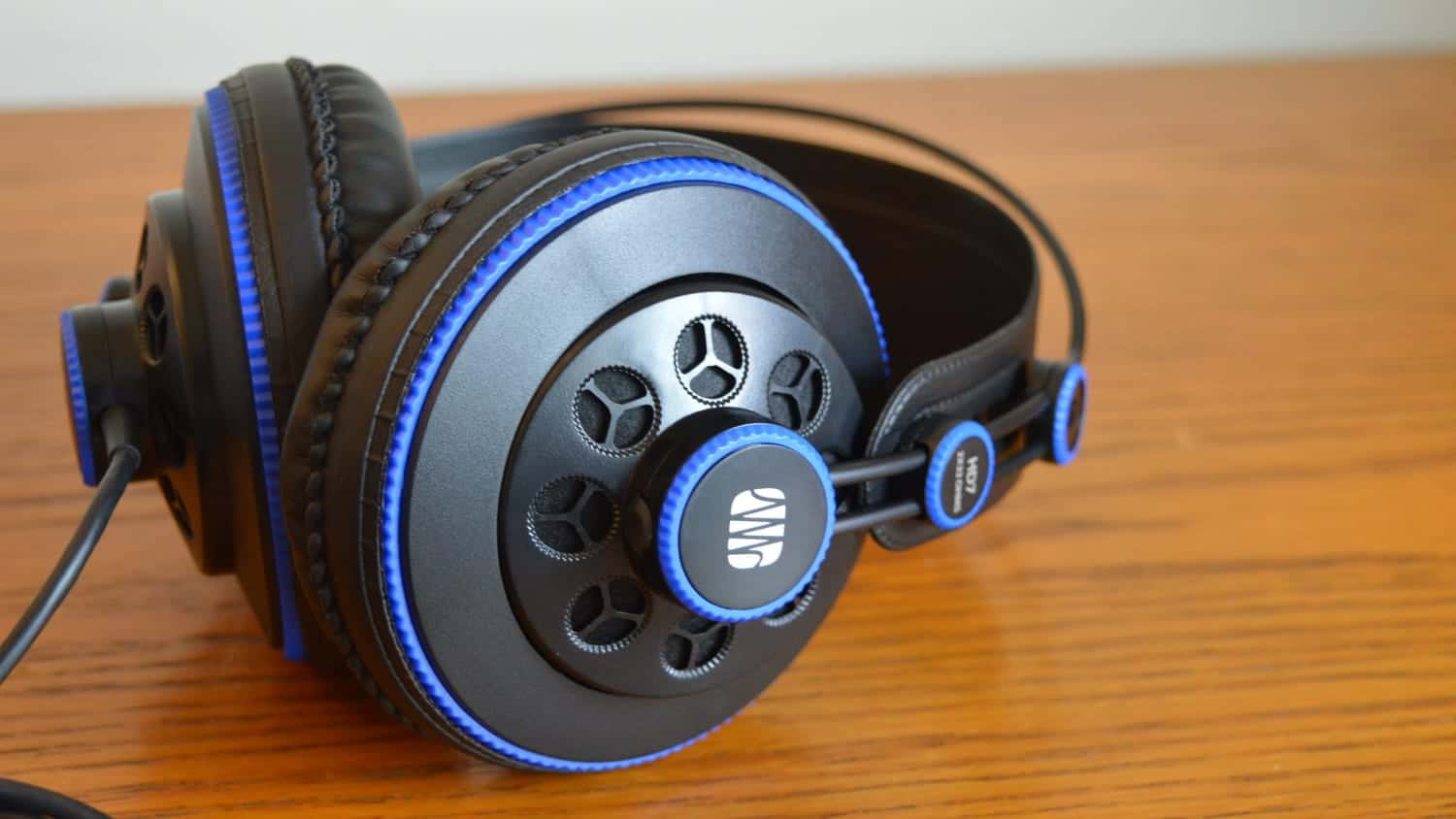 The headphones in the package aren't going to break any records, and you may want to upgrade them, but as in included accessory they're not bad. They feature an over-ear and open-back design, along with a 1/4-inch adapter. They're relatively comfortable too — though they do get pretty hot pretty quickly.
When it comes to sound, they do alright. The bass response is nice and tight, though it doesn't necessarily extend as low as we might have liked. The midrange is generally well-tuned, with a warm low-mids and a slightly cut high-mids, and the high-end is a little tamed back. The result is a decently good-sounding but somewhat unexciting listening experience. Again, we wouldn't necessarily recommend buying these headphones on their own — but as an included accessory in the PreSonus AudioBox 96 Studio they're not bad.
M7 microphone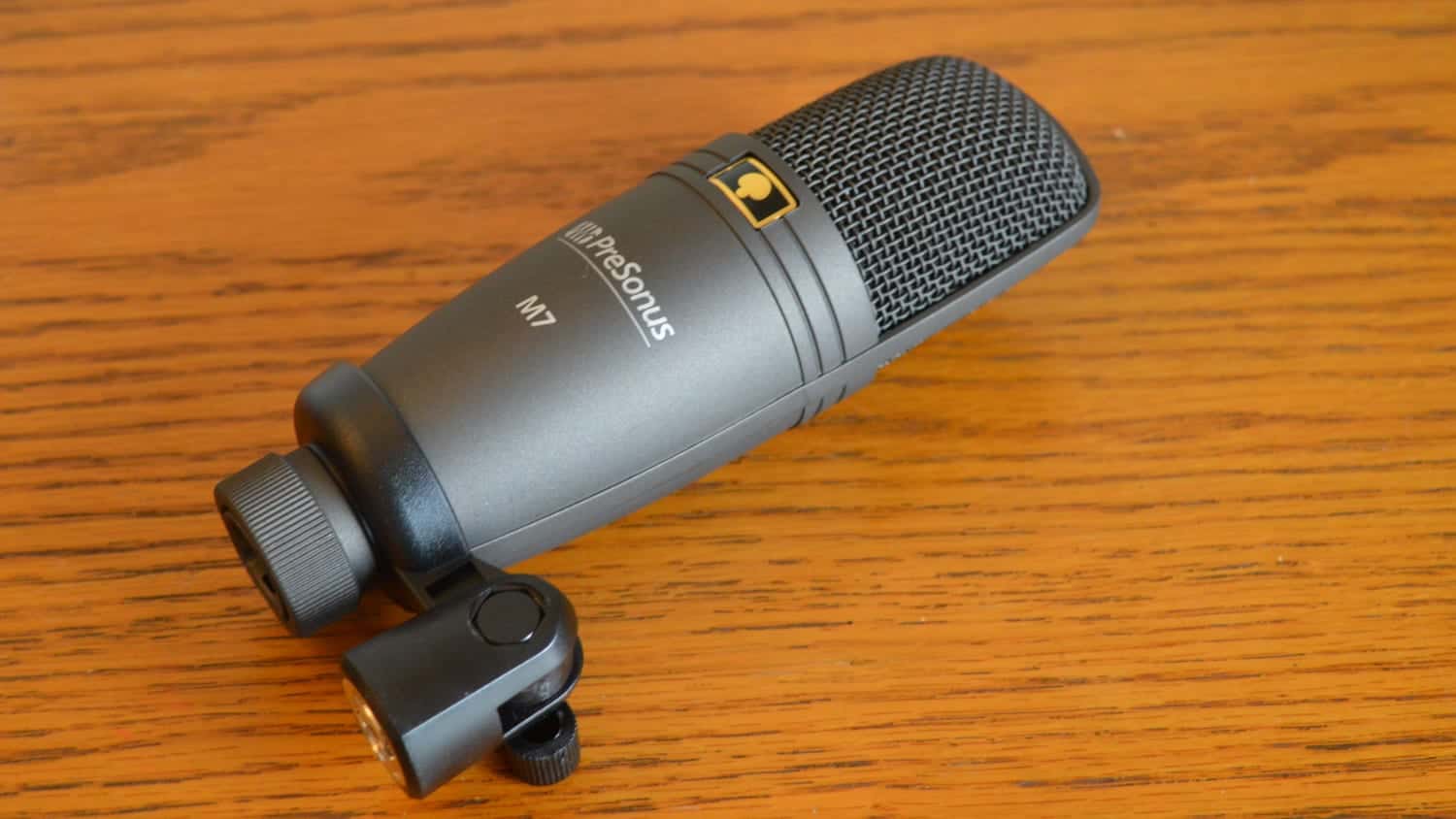 The PreSonus M7 microphone is much of the same — it'll do fine for some basic vocal and acoustic guitar recording, but it's nothing special. That's not necessarily a bad thing — you're getting a capable microphone, and it'll stand as a great addition for those getting into home recording.
The microphone is only one part of many when it comes to capturing a great recording, so if you're looking to capture a clean sound perhaps make sure that your room is suited to recording first. A pop filter is also a good addition to help get rid of the pops and hisses that you can run into during vocal recording.
The M7 microphone is only available as part of this bundle — you can't buy it separately.
Conclusions
If you're just starting to get into recording, or are a singer/songwriter looking for a portable interface to take on the road with you, then the PreSonus AudioBox USB 96 recording interface is an excellent option. The M7 microphone and HD7 headphones are nice additions in the PreSonus AudioBox 96 Studio, though if you can afford it we recommend buying the microphone and headphones separately. Audio Technica, for example, offers some excellent-sounding beginner microphones that may be better suited.
You can get the PreSonus AudioBox USB 96 from Amazon here, or hit the links below for the full PreSonus AudioBox USB Studio.
Update: Clarified that the AudioBox USB 96 is available as a standalone interface, not just part of a bundle, and included a link to video showing how strong interface is.