Design -

9.5/10

Sound -

9/10

Price -

9/10
IK Multimedia is known for a large range of audio equipment for enthusiasts and professionals, mostly focused on music creation. With the iLoud Micro Monitor, we get a taste of their vision for listening back on your creations, and they are making some big claims. By labeling these as reference monitors (and not just speakers), these will take a high standard to get the recommendation of pros for studio use.
Do these monitors meet the quality of well-known project studio and pro monitors? We got hands-on to find out.
Design
Right out of the box, these monitors have a unique look and feel, especially when compared with other small speakers in this price range. I have to give credit to the engineers and design team at IK Multimedia – these monitors have a small footprint on a desk, yet they use every available inch to pack a punch. The matte-black finish is sleek with a micro-dot texture to it, giving it a premium and rugged feel.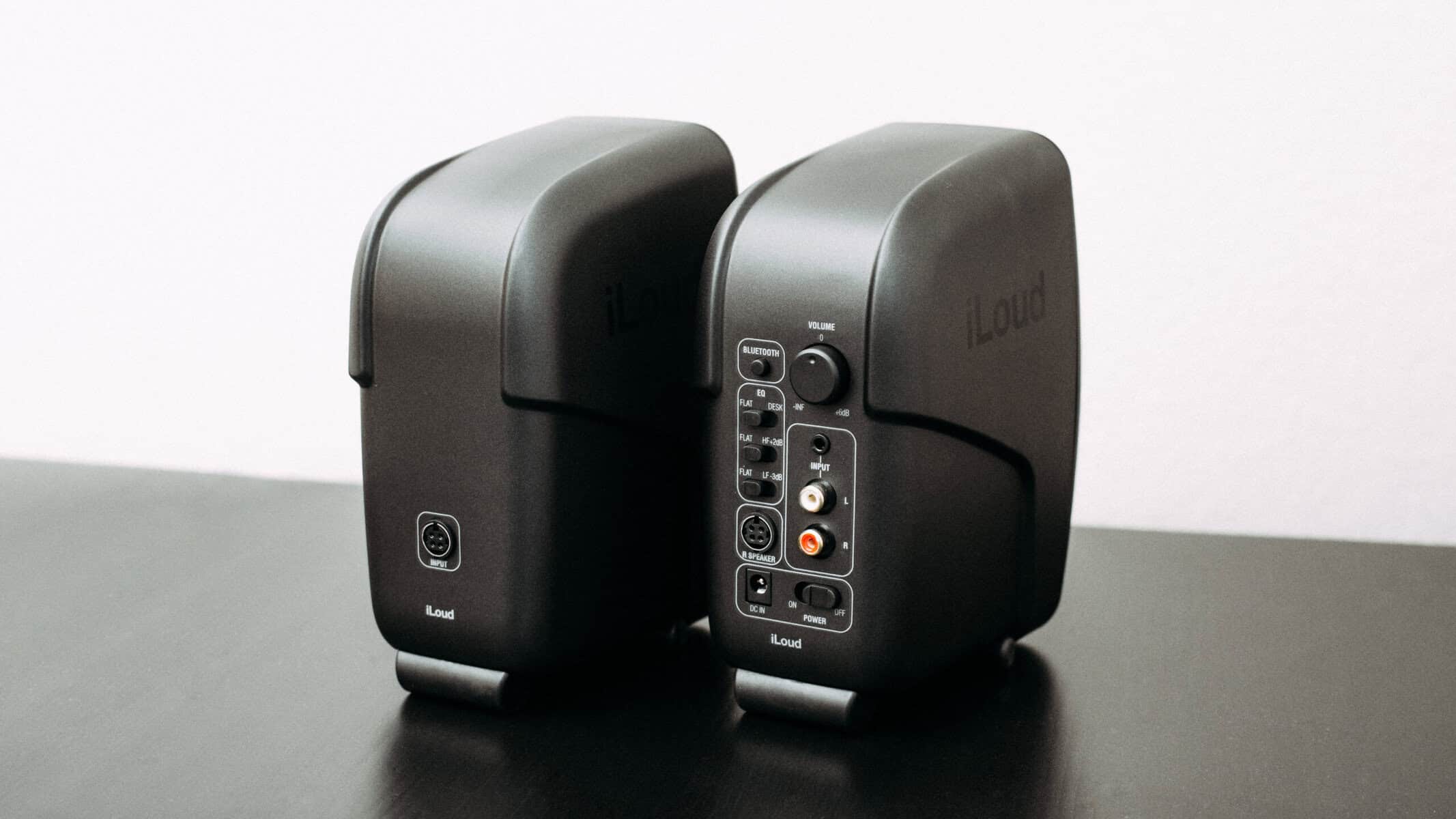 The backside of the iLoud monitors reveal the real magic in the product. You'll find multiple audio input options available – 1/8" stereo, RCA, and Bluetooth connections. A large volume dial makes it easy to bump up and down the volume in fine increments. Most impressive are the EQ positioning dials, providing granular control for different listening environments. Note that all these controls are placed on the left speaker – a cable is included that links to your right speaker, which takes whatever EQ and volume choices are made on the left.
The details of the design are what hit it out of the park for these monitors. A front-firing bass port helps to accurately hear low-end in rooms that may not be designed for rear-firing bass ports, which are common on other speakers and changes audio quality based on the room you're in. On the bottom of each speaker is a mic stand thread, allowing easy positioning regardless of your listening environment. If you use these on a tabletop, the isolation base allows the monitor to sit flat or til up about 30 degrees.
Sound
Finding speakers with excellent sound quality in a small package is no easy feat. I'm happy to report that IK Multimedia has somehow achieved this incredible balance. Everyday listening with these speakers is a joy. Using the shaping EQ on the back is handy depending on the room size and volume you listen at. I chose the "desk" setting for casual listening, and this helps bring vocals front and center while reducing boomy bass that can muddy up the low end. Even tighter control is available with the high and low frequency adjustments. These monitors can easily fit the bill for serious mixing applications as well. Using the "flat" EQ setting, bass was well-rounded and simple to understand its spot in a mix, and mid to high frequencies were smooth without any harshness.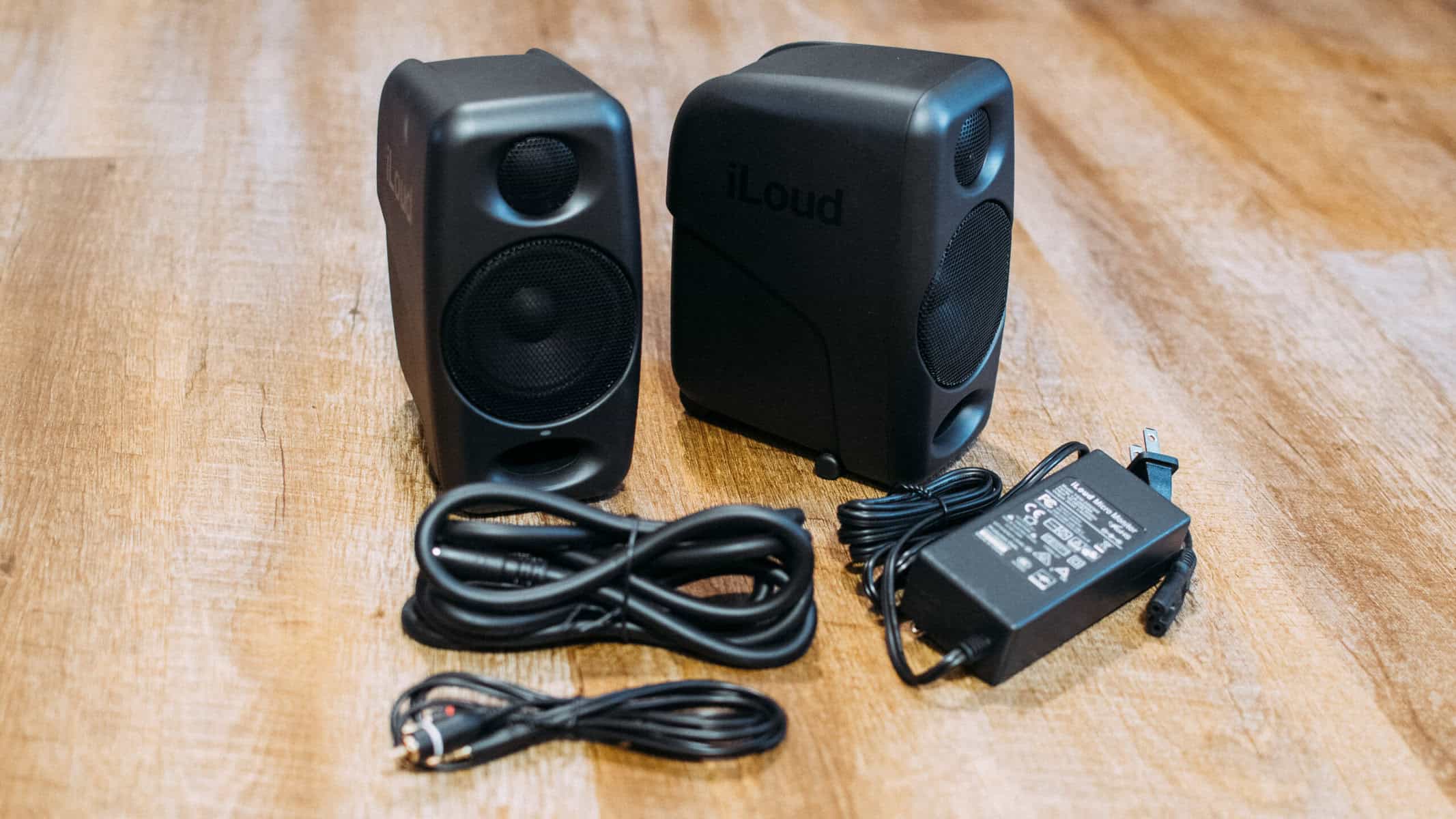 When connected to a computer with the 1/8" stereo jack, I did hear a slight fuzz, but I only noticed it in the quietest of moments at my mixing desk, without any sound playing or environmental noise. You won't notice any noise floor when music is playing. With the range of volume control available, these monitors would be perfect for small to medium size mixing rooms.
The convenience of Bluetooth is handy with speakers this small, especially if you plan to take them on location. Connecting with Bluetooth to an iPhone, I was impressed how close the audio quality almost mirrored a direct connection with my MacBook Pro. I couldn't perceive any audio quality loss when wirelessly connected within 20 feet. Also interesting is the ability to Bluetooth audio stream simultaneously with a direct cable connection. While I don't see myself doing this, I'm sure there are unique workflows that could benefit.
Conclusions
It's hard to believe that speakers half or even a quarter the size of traditional studio monitors could compete in critical audio applications, but the iLoud Micro Monitors do just that. From smaller room mixing engineers to on-the-go audiophiles, these speakers will hit the target for a multitude of use cases, whether used as a primary speaker pair or as an A-B comparison in a studio setting. At a retail price of $299.99, they're a bit expensive compared to speakers in a similar footprint, but the iLoud Micros punch in at a professional level and can compete with speaker pairs twice the price and much more.
You can pick up the IK Multimedia iLoud Micro monitors for yourself using the links below.