In the days and hours leading up to today's kick-off for NAMM 2021, many big companies opted to release its full roster of releases at once. One of those companies, as we've seen in years past, was Ernie Ball Music Man. Among its latest creations for the year ahead this time are a few added color finishes to existing guitars and basses. Such as the brand new Cutlass guitars, as well as Stingray 5-string basses. While it's not a massive list like last year's by any means, there's still quite a bit to be thrilled about from Ernie Ball Music Man. Here's the full list breakdown for 2021.
New Sabre Guitar Colors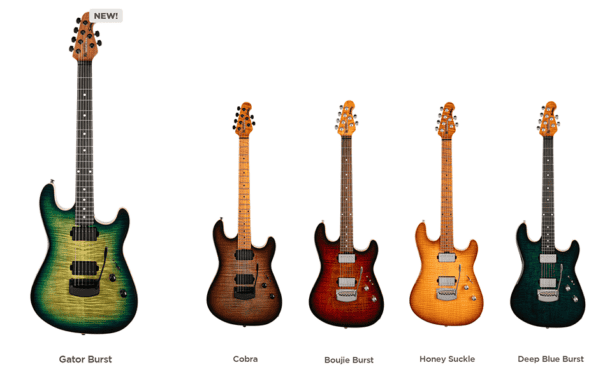 The first new product from Ernie Ball Music Man this year is a new color finish being added to its Sabre Guitar family. "Gator burst" is a green sunburst style pattern that definitely looks a little intimidating. However, we can see how a metal, rock, or maybe even jazz guitarist might find this new color appealing enough to pick up.
New Stingray Special Bass Colors


The second latest announced 2021 update from Ernie Ball Music Man is also in regards to color. Eight new colors & styles have been added to its now-famous Stingray Special Bass, collection. In both its 4-string and 5-string options. Among the new colors is Frost Green, Black, Snowy Night, Raspberry Burst, Smoked Chrome, Speed Blue, Burnt Ends, and Amethyst Sparkle.
New Cutlass RS Guitar Colors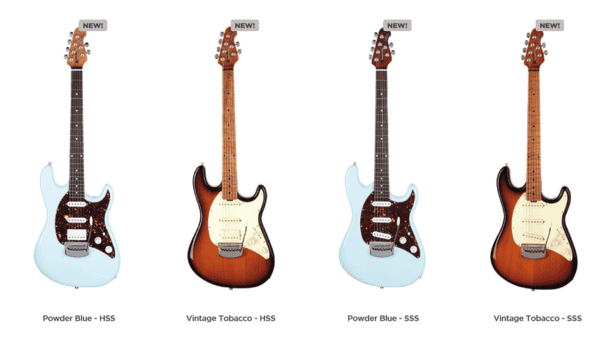 Ernie Ball Music Man's growing Cutlass RS Guitars are the next set due for a splash of new color. Players have come to love this guitar a lot since its release for its very unique tone. Now, newcomers will have two new color options to choose from to match the personality they're looking for in a Cutlass RS. These include Powder Blue, a very soft color with a heavily-contrasting brown pearl pick guard, and Vintage Tobacco with a classic burnt summer look.
New Stingray RS Guitar Colors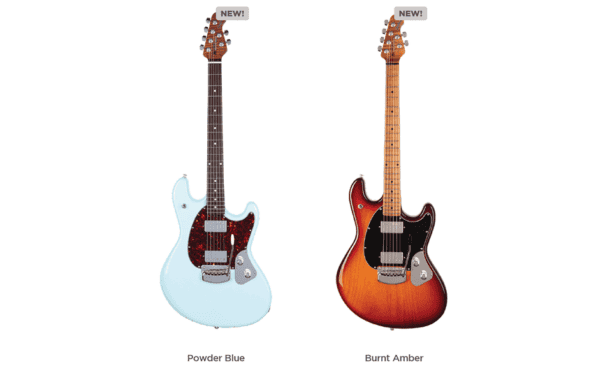 Wrapping up the new color options for Ernie Ball Music Man's guitars this year are two additions to the Stingray Rs. The first, Powder Blue is the same color scheme we saw in one of the new Cutlass finishes. The other, Burnt Amber, looks a bit like the counteractive Vintage Tobacco scheme, but playing off of a dark pick guard instead of cream.
New Bongo Bass Color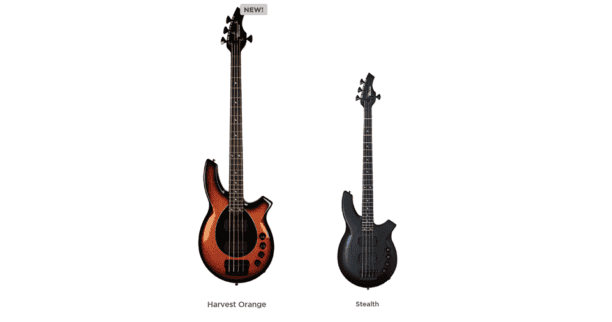 Finally, the singular last finish among Ernie Ball Music Man's announced 2021 plans comes to the Bongo Bass. The unique cut to this bass already had a dark "Stealth" color scheme that suited it nicely. But now, we have one more to pick from in the year ahead. "Harvest Orange" definitely borrows the shine and gloss look from the Stealth, but with a more autumnal characteristic.