KRK has held its place as one of the leading brands in affordable studio monitors for a long time — so much so that its Rokit series is among one of the leading models for producers on a budget. Outside of that series though, KRK offered Classic Series as an equally viable, and even more affordable option. Until now, the Classic Series offered a lone 5″ monitor to pick from. But as requests and demands poured in from fans for larger versions, Classic monitors have now expanded into three sizes. Included in the recent announcement from KRK is the Classic 7 and Classic 8 speakers. Here's the rundown of the new additions to KRK's Classic line.
KRK Classic 7 and Classic 8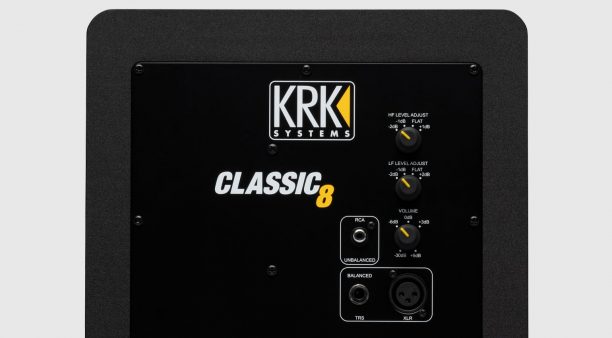 In essence, the new Classic 7 and 8 monitors only differ from the original 5-inch version in size and volume capability. The new units incorporate the same 1″ soft-dome tweeters used previously, with larger glass aramid woofers underneath them, in either 7″ or 8″ variants, respectively. According to KRK, the larger cones offer users an improved mid-range response and overall tighter bass. On the back panel, the new Classic Series monitors are active speakers, each requiring power flowing directly to them from an included cable. Users can adjust the high and low frequency responses using two pots at the back. Where the high-end can be adjusted from -2dB to +1dB, the low end supports an extra optional dB of added gain when needed. Just below these sits the main volume control, ranging from -30dB to +5dB. Input wise, the Classic Series supports both unbalanced RCA inputs, as well as balanced TRS or XLR cables. Finally, both the 7 and 8 are bi-amped Class A/B systems including built-in limiters.
As mentioned before, if the KRK Rokit family is a little too pricey for you, the Classic Series is your best bet. While KRK has not yet disclosed shipping dates or prices, we can likely expect them to fall just underneath the 7-inch and 8-inch Rokit G4 points. In other words, the new Classics will likely lie somewhere between $200-300. To learn more about KRK, the Classic Series, or to find a dealer near you, check out the KRK website.