In addition to control surfaces, MIDI controllers are a very useful part of any recording setup. They allow you to control virtual instruments more precisely, manipulate parameters in your DAW, and some even have onboard sounds much like a keyboard, synth, or MPC.
And no matter what type of space you're working in, you can find one that works for you. They range from full 88-keys all the way down to one or two octaves. Here are 5 of the best MIDI controllers for 2022.
Best MIDI controller overall: Studiologic SL88  Grand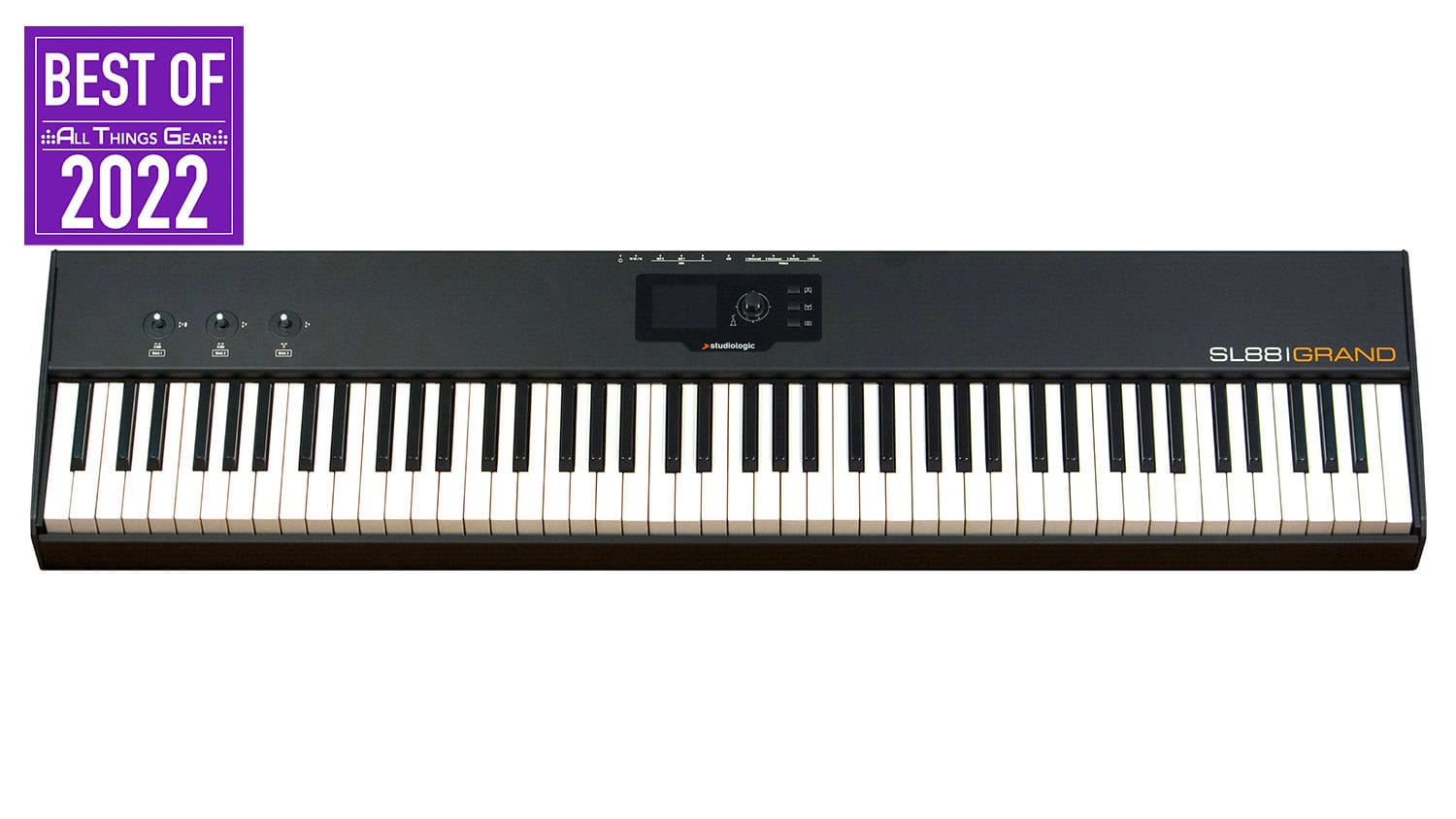 Pros: full range MIDI controller, incredibly constructed, versatile, velocity sensitivity, some features can be used like a control surface

Cons: expensive, takes up a lot of space
When programming MIDI with an external controller, nothing can be more frustrating than having to constantly transpose if you're using a controller that only has an octave or two. While they have a smaller footprint that can be really useful in small spaces, their ease of use is somewhat limited. Having a full octave range on your controller can help to focus creativity and speed up your workflow so that ideas don't escape you in the moment.

The SL88 has a full 88 key range and the real ivory feel via the wooden keys. They are velocity sensitive with four variations – soft, medium, and hard. The fourth is a fixed velocity so you can keep the MIDI information consistent if the project calls for it. Though oddly enough, the keys don't offer aftertouch.
The high-definition TFT color display lets you navigate the unit's menus rapidly and with ease. This means it's a breeze to work through the four assignable zones to adjust the parameters of your productions. Two assignable outputs and three programmable X/Y stick controllers let you have distinct control over every sound parameter. The first stick is spring loaded in both directions. The second is in only the X axis, and the third is totally free-moving. This makes stick three perfect for controlling sound elements like panning. There is also modulation and pitch bend wheels.
It connects to your system via USB and gets its power from the port. You can also control it externally with two pedal inputs. And with two separate, assignable outputs you can implement the unit into your rig however you'd like. It also has some functionality of a control surface, including transport.
It's certainly not cheap, but if you are budget conscious the SL Studio series offers many of the same useful features at half the price point. The SL88 is a beast of a MIDI controller. Whether you need it in the studio, on stage, or both Studiologic really knocked it out of the park with this one.
Buy now: $1,050
Amazon | Guitar Center | Musician's Friend | Sam Ash
Most versatile MIDI controller: Novation Impulse 61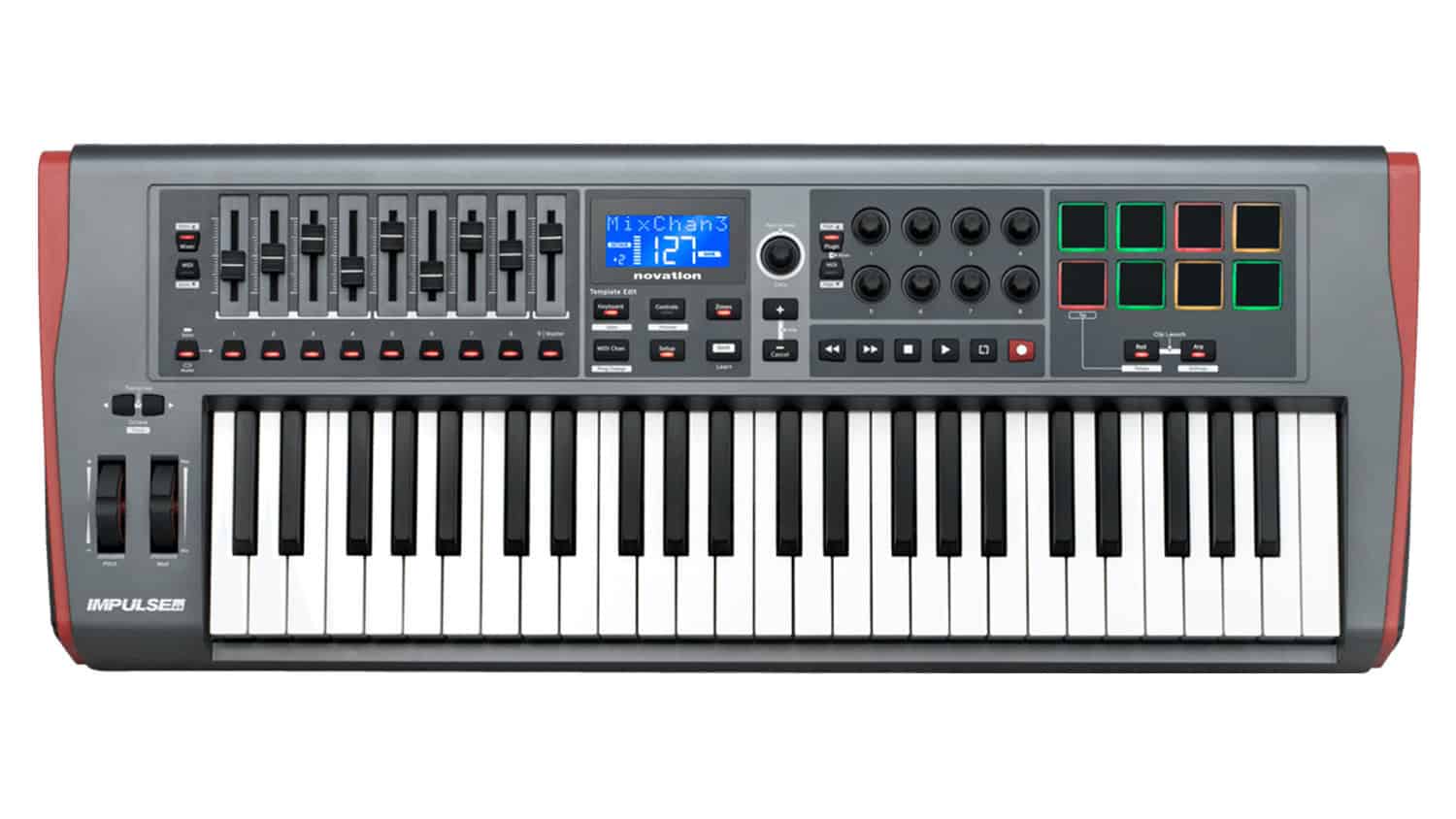 Pros: cool MIDI controller/control surface/keyboard hybrid, multiple physical and digital parameter controls, arpeggiator, robust suite of included software

Cons: fairly steep learning curve with so many ways to control your sound, not all features available in all DAWs
This MIDI controller features velocity sensitive, semi-weighted, full sized keys with aftertouch. There are a number of tactile controls including faders, knobs, buttons, and drum pads. It has pitch and modulation wheels as well as transport functions. Running on Novation's Automap software, it falls somewhere between a MIDI controller, control surface, and a keyboard.
Through the app you have virtually limitless ways to customize functions. The backlit LCD display lets you easily swap through the edit mode. And if you like the feature set but don't need as many ocatves it comes in 49 and 25 key versions.
It connects through USB or MIDI. If you like to use peripherals, it offers sustain and expression pedal inputs. The biggest downside is that depending on what DAW you use not all features are available.
Buy now: $400
Amazon | Guitar Center | Musician's Friend | Reverb | Sam Ash
Best full range MIDI controller: Roland A-88 MKii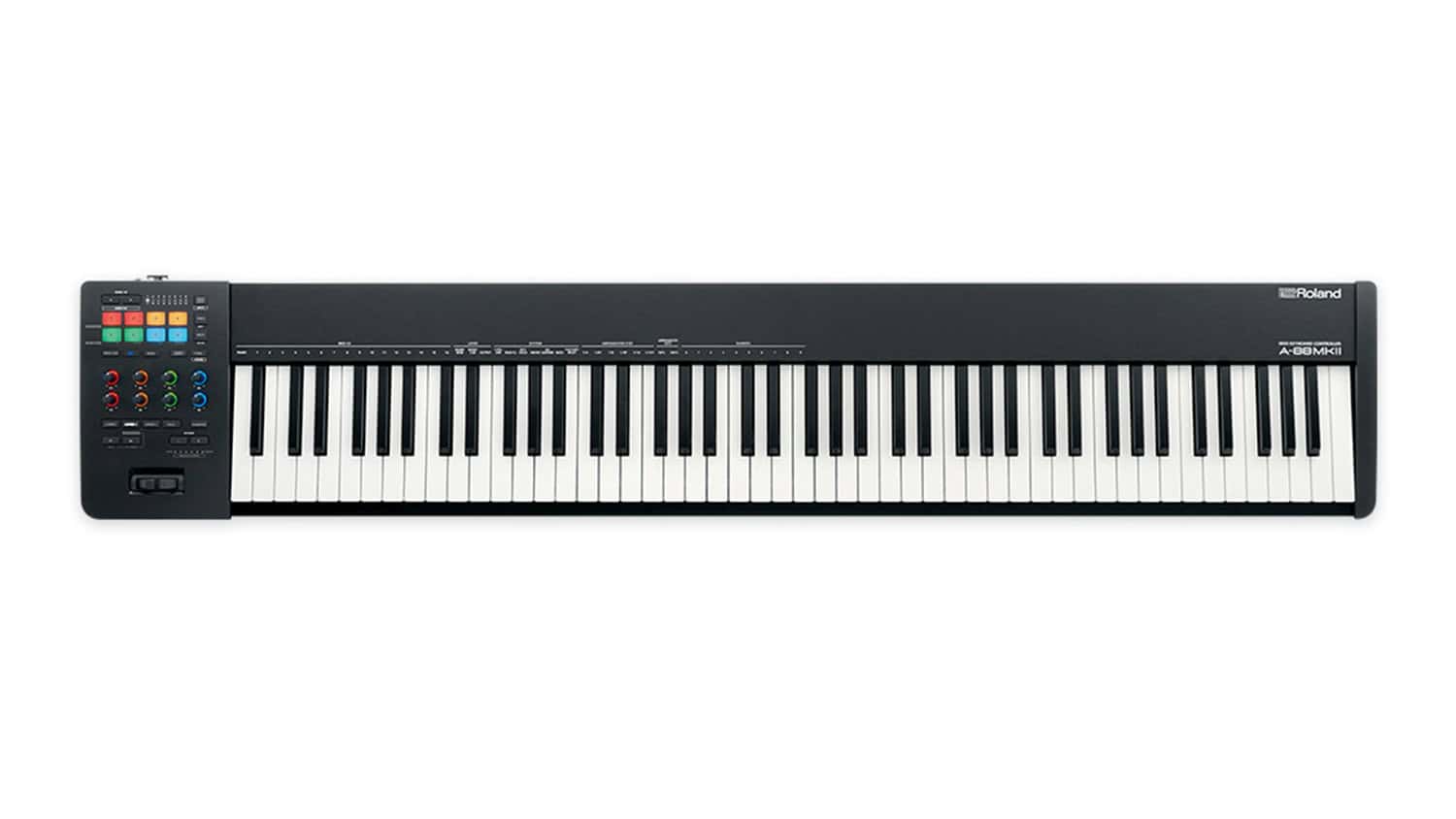 Pros: full 88 key range, illuminated controls, multiple ways to power it, assignable controls

Cons: MIDI controller only/no control surface functionality, USB-C connector isn't as
Roland provides another 88-key full range MIDI controller. Like the SL88 the keys have an authentic, ivory feel. A host of controllers let you tailor your sounds. These include eight assignable pads and knobs and two buttons. They are illuminated so you can easily see them in the darkest studios and on the darkest stages. Everything is laid out logically, with all controls located conveniently on the left side.
A damper pad further lends a real touch if you're using it to trigger piano virtual instruments. It has MIDI in and out and connects to your system via USB-C. And if you don't have that kind of port on your computer, a simple adapter will get you up and running. It runs on mains or USB bus power, and it features eight different memory slots for saving your settings.
It's not in everyone's price range, but Roland quality means you might not ever have to invest in another MIDI controller.
Buy now: $1,250
Amazon | Guitar Center | Musician's Friend | Reverb | Sam Ash
Best MIDI controller under $500: Akai MPK 261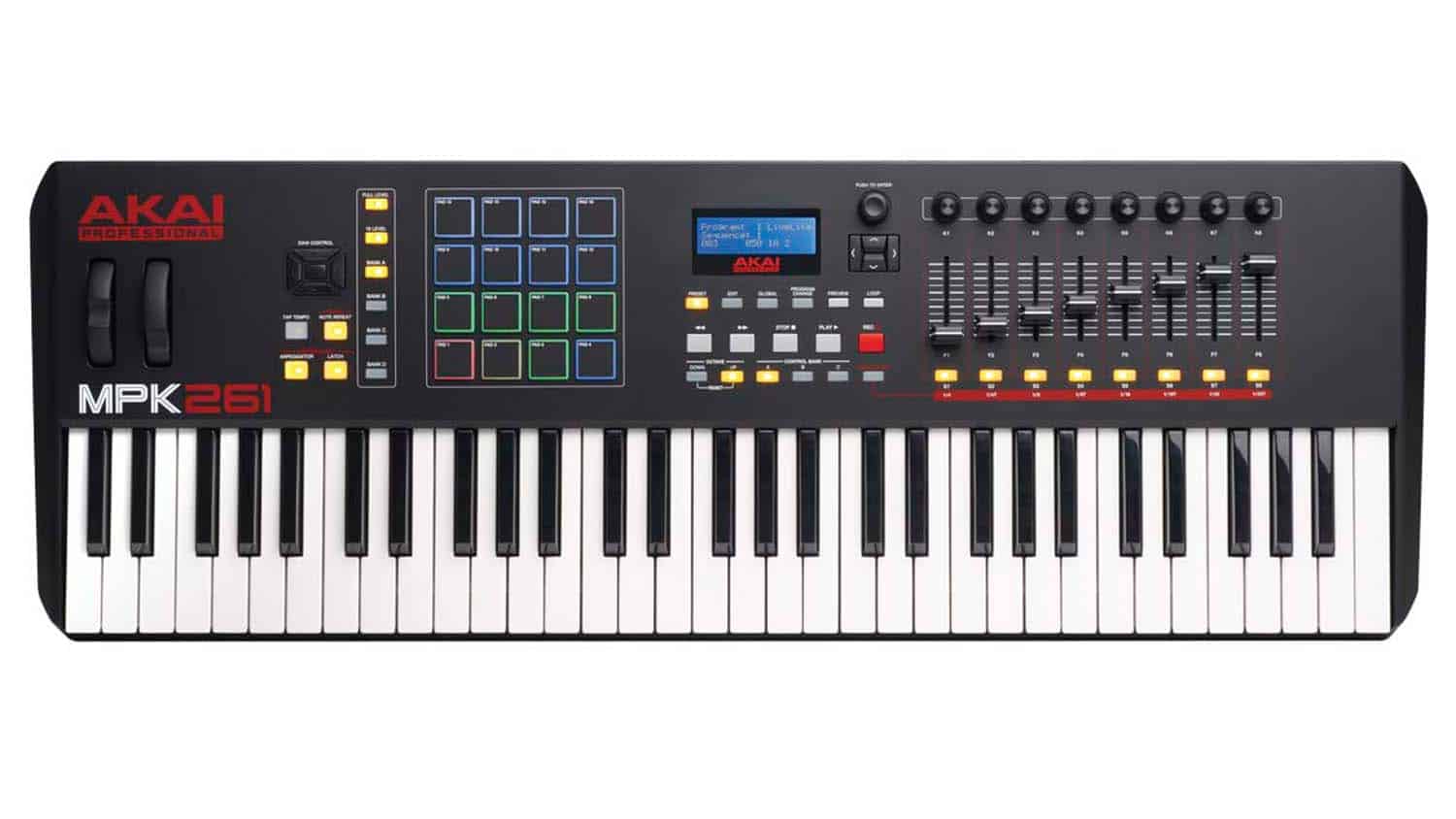 Pros: Much more than a simple MIDI controller, semi-weighted keys, good mix of quality and affordability

Cons: doesn't provide full range of octaves
If you're looking for a MIDI controller that can do much more than that, you found it. Unlike the other options on this list, it can be used as a MPC by manipulating 16 different velocity/pressure sensitive pads. Eight sliders give you control over up to 72 distinct parameters in your DAW. And if you're looking to trigger virtual instruments, the 61 semi-weighted keys do well to give you a more authentic feel.
Three different zones and eight memory banks provide instant recall while all the knobs and pads can be assigned to your preference. It's got terrific build quality and is ergonomically designed, so you can make the most of your space. You can use a number of peripherals with it too, like damper and expression pedals.
Included is a full software suite so you can experiment with new sounds. If you're looking for something that goes beyond what most MIDI controllers can do, the Akai MPK 261 provides you with almost limitless creative control.
Buy now: $500
Amazon | Musician's Friend | Reverb
Best MIDI controller under $100: Nektar Impact GX49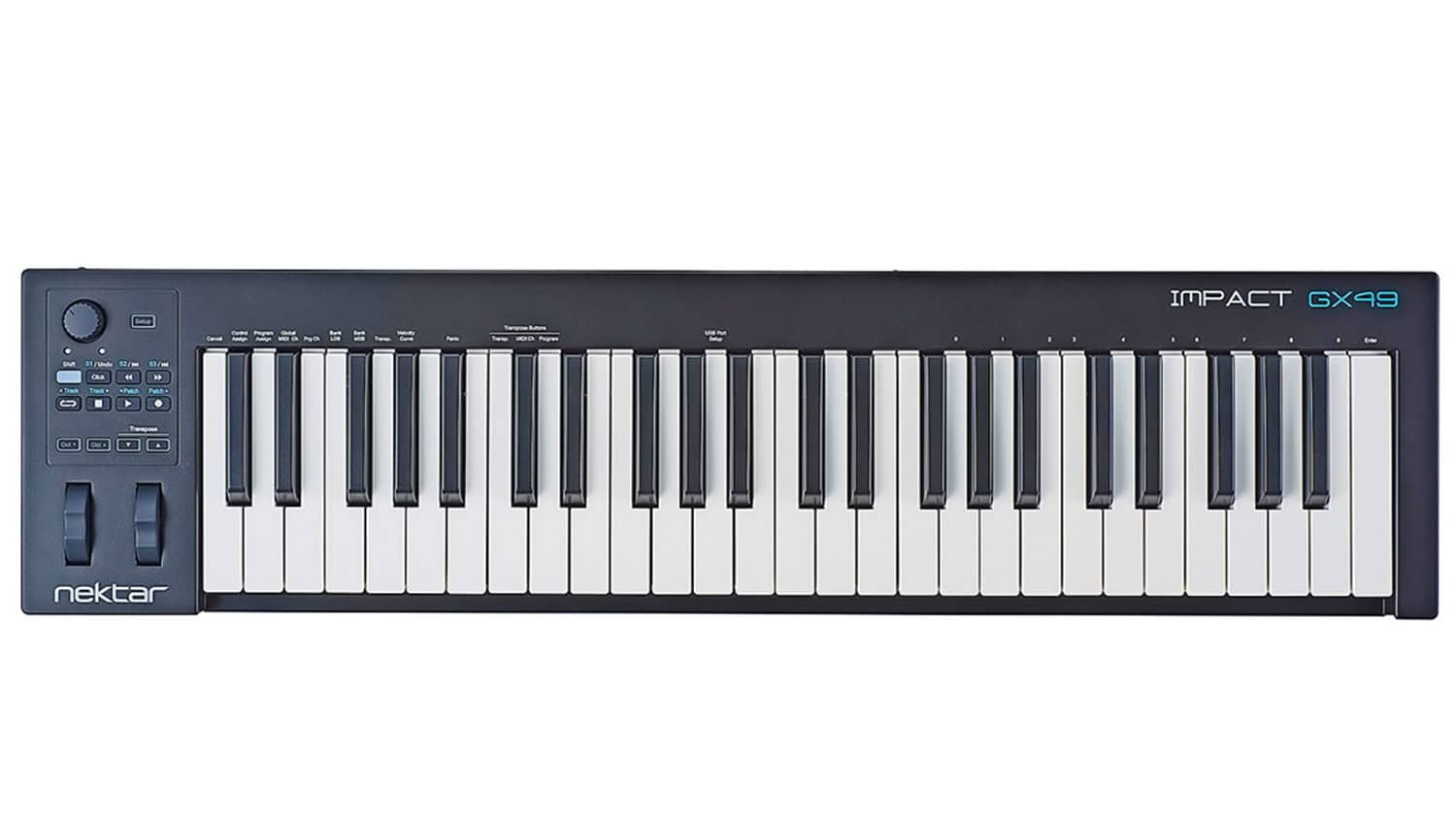 Pros: ergonomic design, DAW transport control

Cons: build quality not as strong as more expensive options
It's a little over $100, but for producers on a shoestring budget that don't want to skip on a solid combo of features and quality you can't go wrong with these 49 keys from Nektar. You can transpose octaves with LED buttons. It has physical transport buttons, so it can get into control surface territory. A real pot can be assigned to any parameter. A single footswitch input provides you with hands-free control. It even works with iPads with the separately sold Connection Kit. And if you need more in one, Nektar offers a 61 key version.

Buy now: $110
Amazon | Guitar Center | Musician's Friend | Reverb | Sam Ash
What does a MIDI controller do?
MIDI controllers are a really useful recording studio accessory. They provide much more precise control over virtual instruments and plugins and some can even integrate with your DAW much like a control surface.
Are MIDI controllers good for beginners?
There can be a bit of a learning curve when integrating it with your recording rig, but starting with a simple model is never a bad choice. They can help speed up and streamline your workflow.
What's the difference between a MIDI keyboard and MIDI controller?
All MIDI controllers are keyboards, but not all MIDI keyboards have controller functionality. MIDI controllers offer much more advanced features. MIDI keyboards connect to your interface and can input MIDI information. But MIDI controllers integrate with your DAW and can control things like track transport, panning, automation, and much more.