Acoustic guitars come in a wide variety of body shapes and sizes, and they all have differences between them. With so many options it can be tough to know where to start. Think about the physics of sound. Larger and deeper bodies will produce more resonance and volume, while smaller bodies with be more limited sonically but have a more focused output. There are now a wide variety of acoustic guitar body shapes to choose from, and this guide will outline some of the most popular ones on the market today.
Choosing the Right Acoustic Guitar Body Shape
Where do you begin when choosing an acoustic guitar body shape? There are a number of factors to take into consideration when making your decision. You want one that will offer the sound that you're looking for.
Certainly, aesthetics plays a role, but you also have to consider your stature. How do you prefer to perform? Do you stand or sit? Are you playing solo or do you need to cut through a band? Is your style delicate fingerpicking or rocked out with heavy strumming? What is the most comfortable style for you? Is there a specific brand to which you're incredibly loyal? Some manufacturers don't offer every type.
All of these things factor into what your next acoustic guitar will be.
Jumbo Acoustic Guitar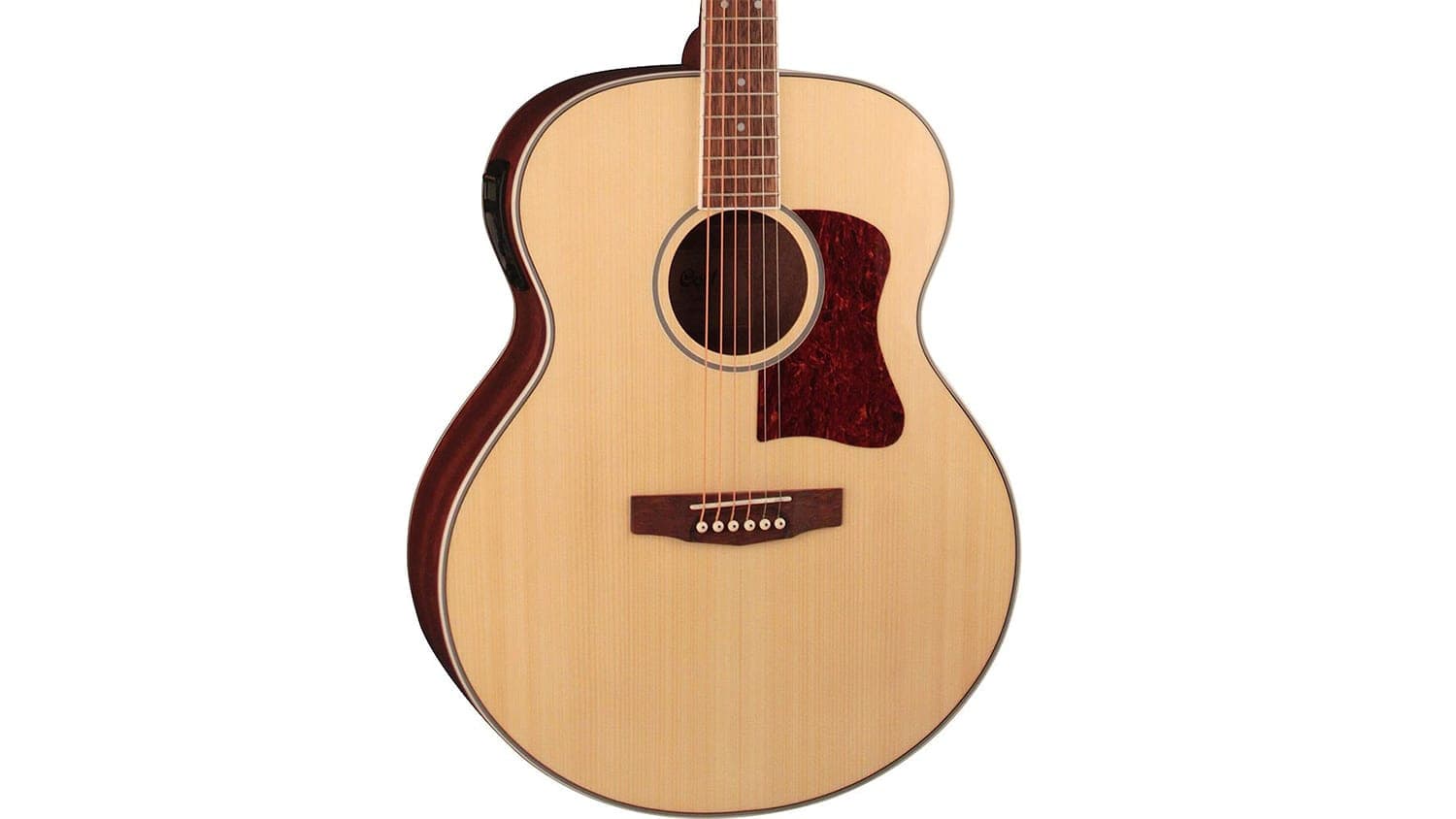 Jumbos are the largest of all acoustic guitar shapes, and often they have a very open sound with a bright top end and plenty of volume and sustain. They are renowned for their rich low end as there is more space in the body for sound to resonate.
Jumbos can also be surprisingly balanced throughout the frequency spectrum, and more expensive models can actually be the most tonally balanced of any shape. A lot of artists from the 50s and 60s played Jumbo models, like The Beatles, Pete Townshend of The Who, and the Everly Brothers just to name a few.
Popular Models:
Gibson J-200: Buy it on Amazon
Epiphone EJ200-SCE: Buy it on Amazon | Buy it on Sam Ash
Martin J-40: Buy it at Sam Ash
D'Angelico Premier Madison: Buy it on Amazon
Dreadnought Acoustic Guitar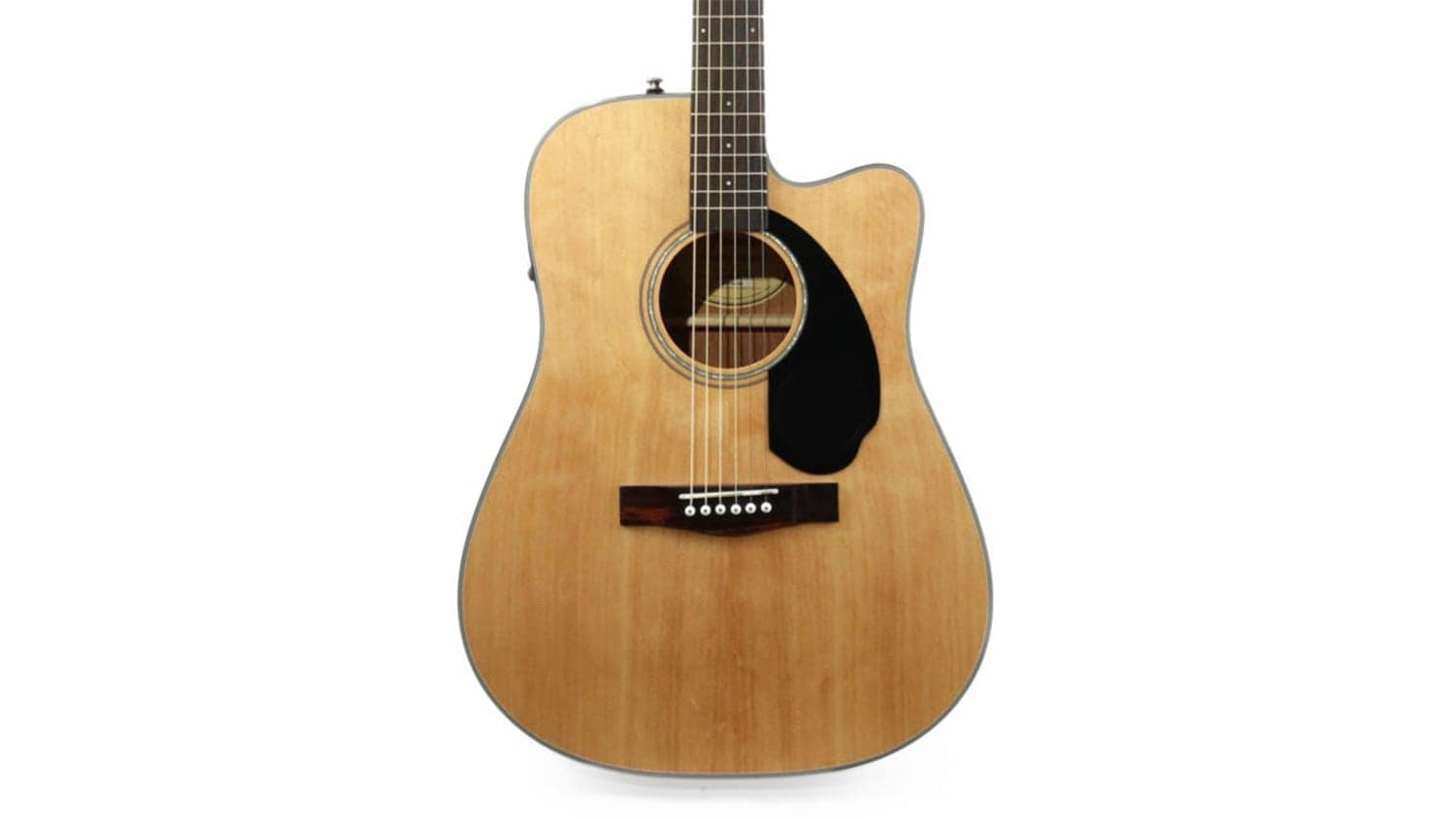 When you think of the stereotypical "acoustic guitar" you're probably thinking of a dreadnought. It was pioneered by C.F. Martin, who remains one of the premier manufacturers of acoustics today.
Dreadnoughts evolved into how we know them today in 1934. They are a great all-around acoustic guitar body shape. They have broader, less curved shoulders and a neck joint around the 14th fret. There's also of course the "round-shoulder dreadnought", which features a more curved design. Round shoulder designs have been pioneered by Gibson and Epiphone, but many manufacturers offer them now.
They can be considered a medium size, smaller than a jumbo but larger than a 000 or OM. It also provides the most balance in terms of tonality, with a focus on lows and highs just as much as the midrange. A very a common starter for new players, they are equally useful for strumming or picking, for soft fingerpicking or percussive playing.
Popular Models:
Martin D Series: Buy it at Sam Ash
Gibson Hummingbird: Buy it at Sam Ash
Yamaha FG-TA: Buy it on Amazon
Taylor 210e: Buy it on Amazon
Ibanez AW54CEOPN: Buy it on Amazon
000/Grand Auditorium Acoustic Guitar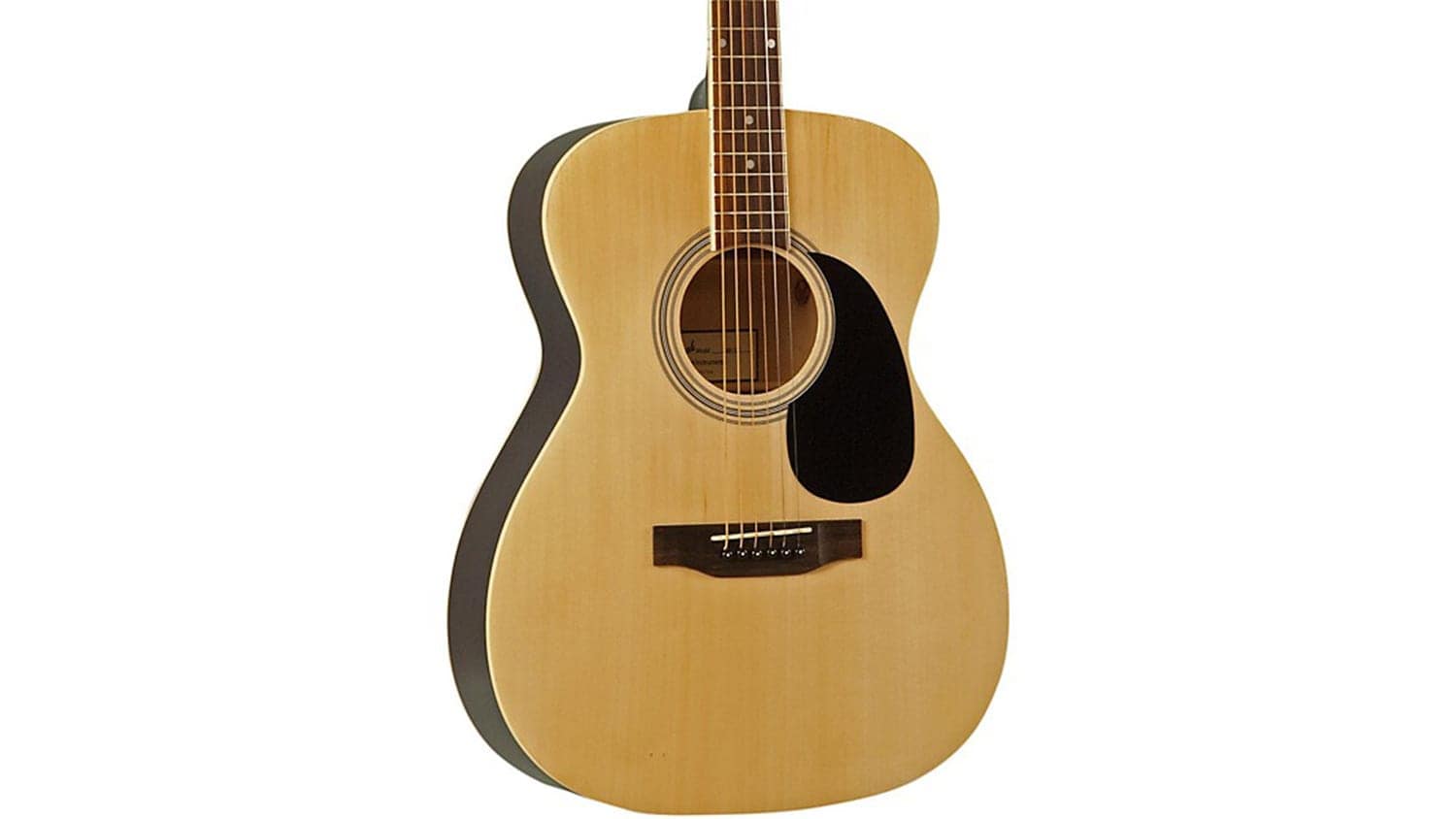 This shape is similar to the 0/Auditorium style, but usually has a wider and deeper body. It was innovated to specifically to encompass the best qualities of all of the other sizes. They tend to have more overall volume like a Jumbo, the comfort and playability of the 0/Auditorium, and the dyamic range of a Dreadnought. Many also have single-cut bodies as well, giving access to the higher frets for lead work.
Popular models:
D'Angelico Premier Gramercy: Buy it on Amazon
Yamaha FSX800C: Buy it on Amazon
Martin GPC11E: Buy it on Amazon
Taylor Grand Auditorium: Buy it on Amazon
Alvarez Artist Series Grand Auditorium: Buy it on Amazon
O/OM/ Auditorium Acoustic Guitar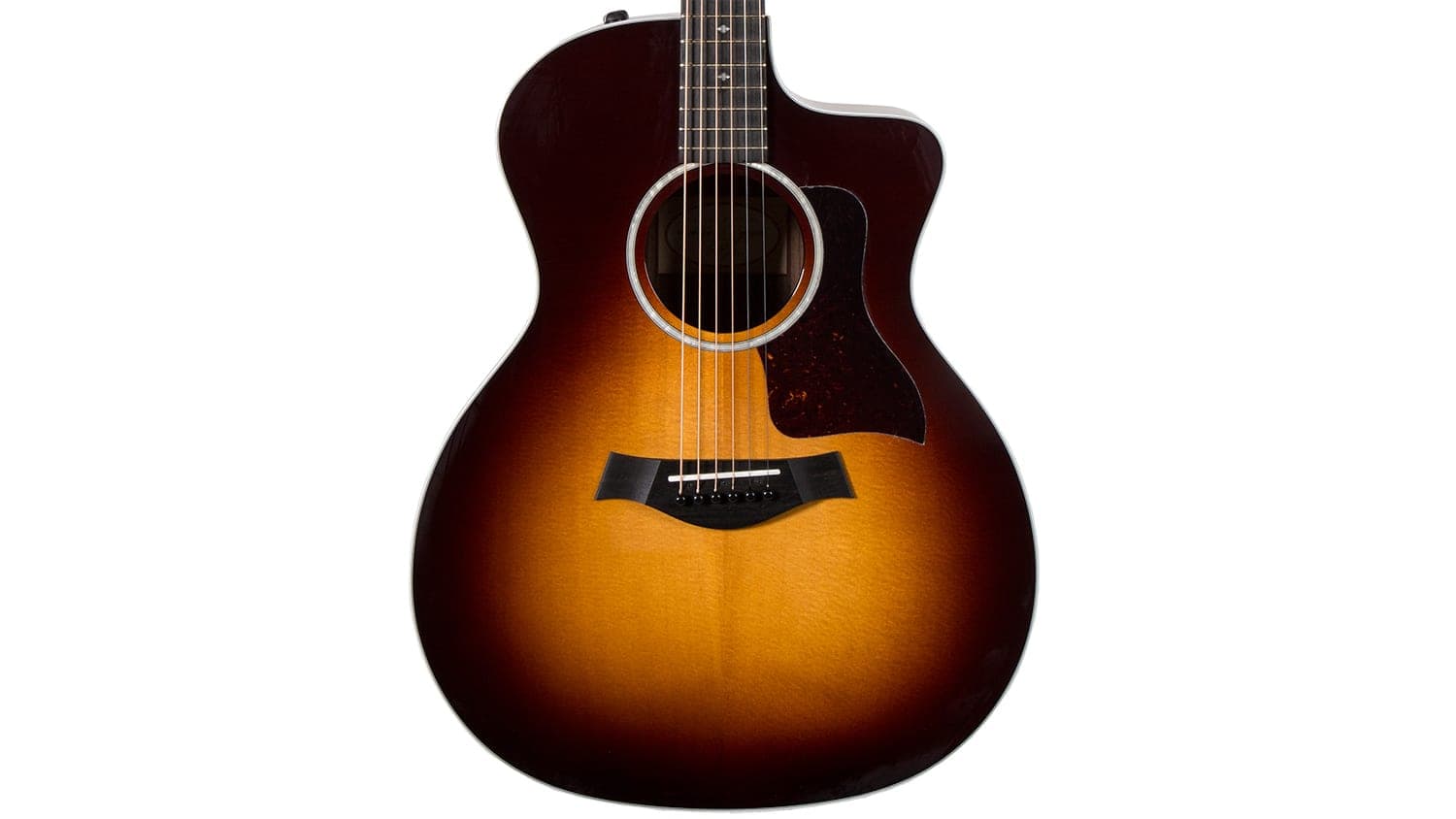 This shape can go by a few names, with companies like Martin calling them 000 and Taylor marketing them as the Auditorium. It's a happy medium between the large Jumbo and the small Parlour models. They are much easier to play standing up, at least for players with a smaller stature.
These models have smaller, shallower bodies with less width. 000, OM, and Auditorium models are very similar regarding dimensions, the differences being neck width and scale length. OM guitars have a longer scale length than the 000. Tonally they have less low end but a focused midrange.
Popular models:
Taylor 214/314/414ce: Buy it on Amazon
Martin 15 Series: Buy it on Amazon
Takamine G Series: Buy it on Amazon
Blueridge BR-43: Buy it on Amazon
Parlour Acoustic Guitar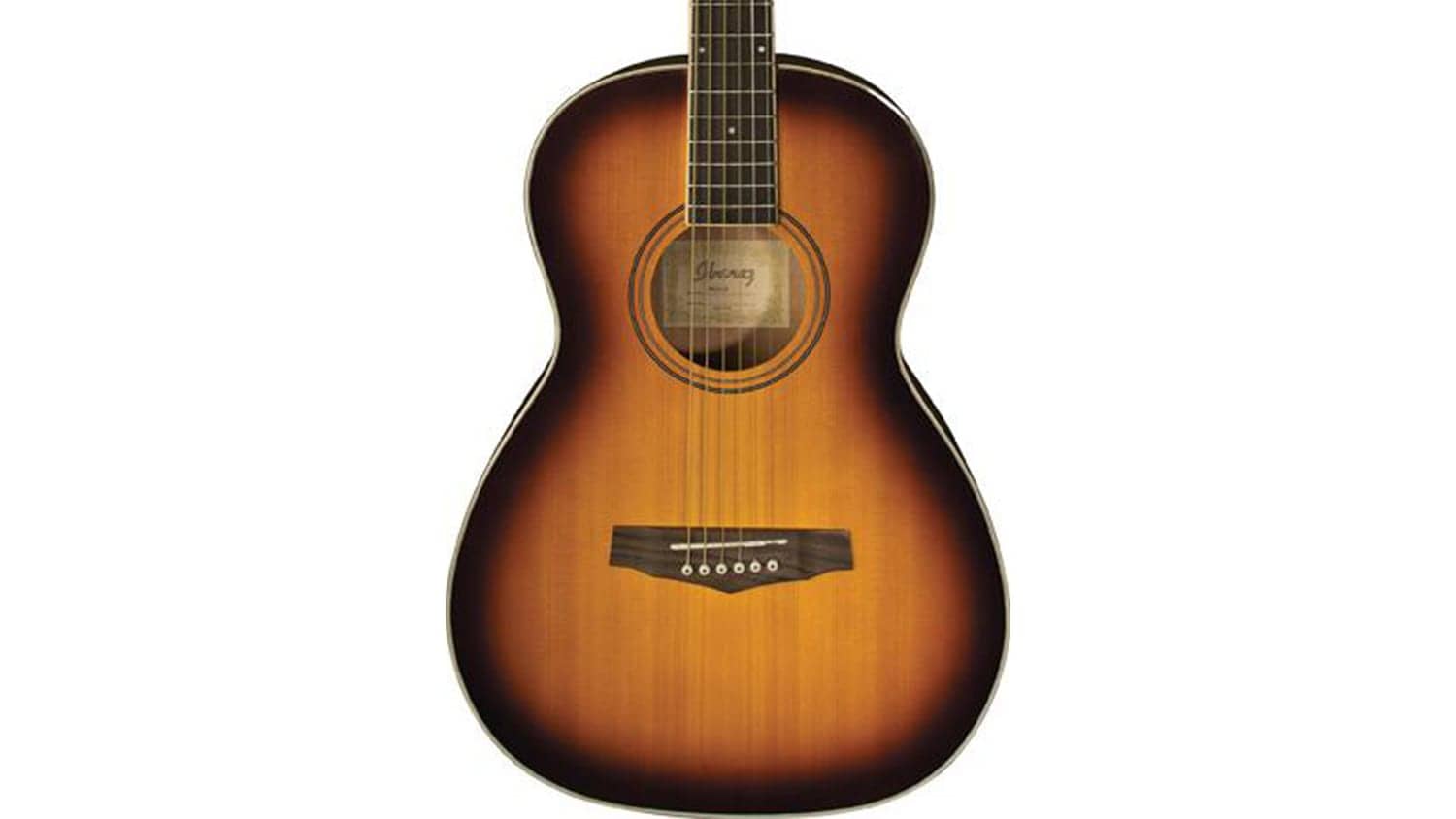 The smallest type of acoustic body, Parlours have a lighter, more midrange-focused sound with less extremes on the low and high ends – especially in the bass range. They were popularized in the early 20th century, and you'll see a lot of older blues players photographed with them – like Robert Johnson. The Parlour shape has seen a resurgence in popularity with the comeback of folk styles.
Great for fingerpicking and strumming alike, their small body size makes them easier to play than most other types. Truly meant more for playing chords at the lower end of the neck, Parlour guitars usually have the neck joint located at the 12th fret.
Popular models:
Washburn R314KK: Buy it on Amazon
Recording King Dirty 30s: Buy it on Amazon
Guild M-120: Buy it on Amazon
Martin Little Martin: Buy it on Amazon
Gretsch Jim Dandy: Buy it on Amazon