As we quickly approach the end of 2020, there's still quite a bit of uncertainty, especially among live events. Luckily, we've recently seen some promising new developments which may lead to an eventual slow-return of concerts once again. While it's likely this won't mean the 'normal' we once saw prior to March, we certainly have fingers crossed. As such, entering into 2021, front-of-house engineers and event producers will want to be properly equipped. It seems Sennheiser was quick to recognize this, and responded with two new dynamic microphones. The MD435, and MD445 are the latest members of Sennheiser's family, made for difficult live vocal situations. Both iterations will run at $500 market price, available soon by a dealer near you. For more information, or a list of dealers, check out Sennheiser's website.
MD435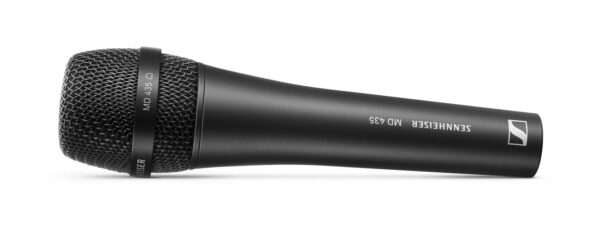 The first of these dynamic live microphones is the Sennheiser MD435. If it looks familiar to you, there's a good reason for it. The MD435 mic borrows the exact capsule and design schematic as the MD9235 wireless dynamic. However impressive, not every stage environment is best suited for wireless systems. Apparently engineers and singers loved the sound of the MD9235 so much that Sennheiser decided to create a wired clone. Sporting an impressive frequency range of 40Hz – 20kHz, the MD435 will be a hard one to pass up.
MD445

The second mic in this new pair of releases is the MD445. While the name and number may seem it the superior option, the MD445 in fact caters to more unique stage situations. This microphone is much more directional than the MD435, making it suitable to handle lots of feedback potential. For this reason, this microphone will likely be more popularly utilized in situations where singers are positioned in front of a PA system. It receives signal using a high-rejection super-cardioid pattern, and handles up to 163 dB SPL, we'd challenge anyone to sing remotely that loud. Finally, it picks up the same frequency range as the 435, making it an ideal back-up companion.