There are a number of famous electric guitar models out there, but few are better known than the Fender Stratocaster and Fender Telecaster. These guitars are known for almost every aspect of their existence, from their easily recognizable shape and design, to their unique and beloved sound profile.
If you're planning on buying a new guitar, you may well be deciding between a Stratocaster and a Telecaster — in which case, it can help to know what the major differences between the two guitars are. That's why we've put together this guide — here are the biggest differences and similarities between the Fender Telecaster and Fender Stratocaster.
Specs
| | | |
| --- | --- | --- |
|   | Fender Stratocaster | Fender Telecaster |
| Year Released |  1954 | 1950  |
| Scale length |  25.5 inches (648mm) |  25.5 inches (648mm) |
| Body wood |  Alder, Ash, Poplar, Basswood |  Alder, Ash, Poplar, Pine, Basswood |
| Neck wood |  Maple |  Maple |
| Pickups |  3 single coil |  2 single coil |
| Where to buy | Amazon, Reverb |  Amazon, Reverb |
Design and hardware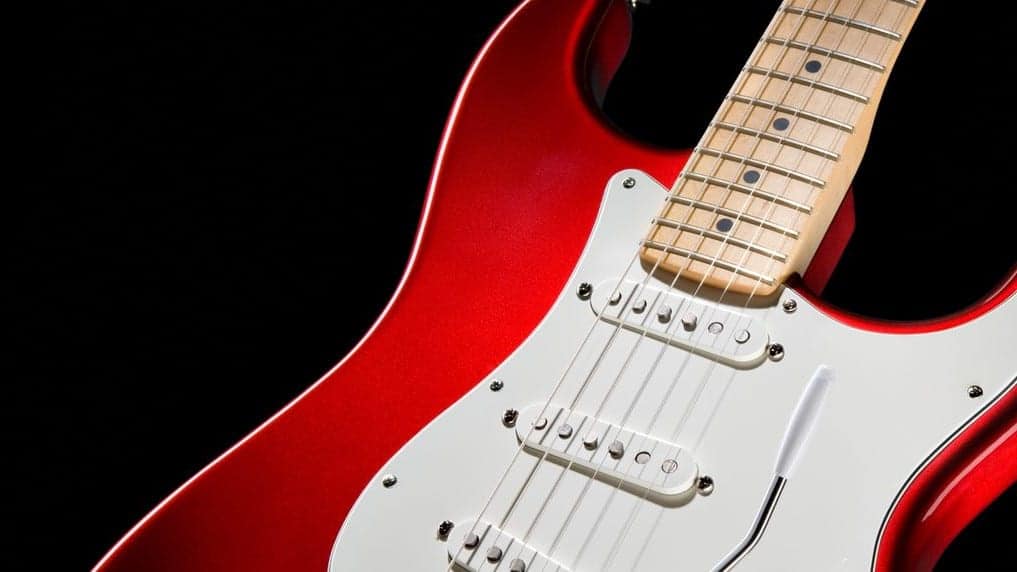 Both the Fender Stratocaster and Fender Telecaster have classic designs, and are instantly recognizable for their shape. Both of the guitars feature 22 frets with a 25.5-inch scale and 9.5-inch fretboard radius. When it comes to neck shape, however, the Fender Stratocaster has a noticeably larger headstock compared to the Telecaster's headstock.
While the necks are both built from Maple, the fingerboards can be found in either Maple or Rosewood on both of these guitars. That can have an effect on sound quality — Maple fingerboards tend to have a little more bite, wile Rosewood fingerboards seem to offer a slightly rounder tone.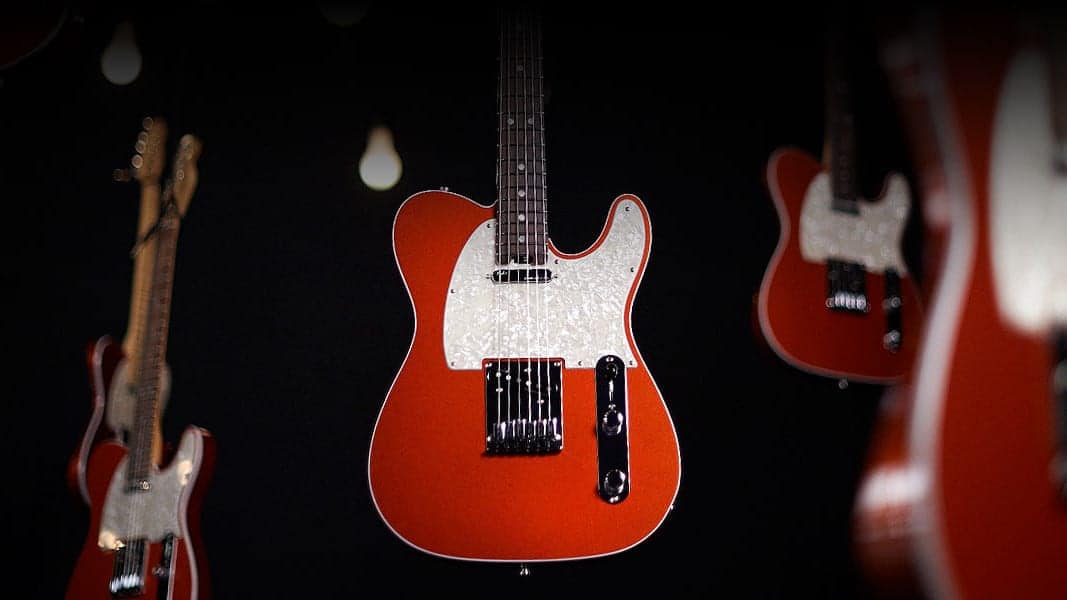 When it comes to body shape, the guitars' design is a little different too. For the most part, both Stratocaster and Telecaster guitars are built from Alder, which is lightweight and closed-pore that delivers a relatively balanced tone. Other words, however, have been used — like Mahogany, Ash, and Basswood. The Stratocaster has two cutouts, which is a little different from the Telecaster, which only has one cutout.
The bridge is another major difference between the two guitars. On the Strat, the bridge houses a two-point tremolo system, which is absent on the Telecaster. The Telecaster's bridge, on the other hand, is where you'll find the guitar's bridge pickup.
Features
Perhaps the biggest difference in how the two guitars sound comes from the electronics used. Design-wise, the Stratocaster features three single-coil pickups, while the Telecaster offers two, with the bridge pickup being mounted on the guitar's bridge plate, which can help give the Telecaster a slightly more powerful tone. To control those electronics, both guitars have a master volume control, while the Telecaster has one tone control. By contrast, the Stratocaster has dedicated tone knobs for the middle and bridge pickups, allowing users to tweak their tone a little.
Then there's the pickup switch, which again is a little different between the two guitars. The Telecaster has a three-way switch, which allows players to either use the neck pickup, bridge pickup, or both. The Stratocaster boasts a little more control than that, however, with a five-way switch, which allows users to switch between the following pickup combinations:
Bridge pickup only
Bridge and middle pickups
Middle pickup only
Middle and neck pickups
Neck pickup only
As you can see, there's no way to have all three pickups used at the same time, nor can you use the neck and bridge pickups together.
Sound
Before diving into how these guitars sound, let's make something clear — neither sounds "better." Some might prefer one over the other, but both of these guitars have stood the test of time and proven their value.
It's a little hard to describe the difference in tone between the Fender Stratocaster and Fender Telecaster. Generally speaking, Telecasters offer a slightly "twangier" tone, which is suited to country music, while Stratocasters have a slightly thicker tone that's great for rock and blues. Because of the three-pickup setup and five-way switch, many consider the Stratocaster's sound to be slightly more versatile than Telecaster guitars — but keep in mind that many top-tier guitarists still use the Strat for country and the Telecaster for rock.
The video below may help give you a slightly better idea of how the guitars sound.
Popular models
Both the Fender Stratocaster and Fender Telecaster are available in a range of different models, and apart from price, they can have slightly different build qualities and features. Here's a quick rundown of some of the more popular models for each guitar.
Fender Stratocaster models
Fender Player Stratocaster

The Fender Player Stratocaster is perhaps the most common Stratocaster, and despite not being built in the U.S., it's still a high-quality and great-value guitar. The guitar is priced relatively well, and features Fender's updated two-point vibrato design. Noticeably cheaper than the American Stratocaster, the Fender Player Stratocaster is the guitar to go for if you want a Strat without paying an arm and a leg.
Buy now from:
Amazon | Sam Ash | Reverb
Fender American Ultra Stratocaster

The Fender American Ultra Stratocaster replaces some of Fender's previous higher-end models, but it still offers the same level of quality and classic sound. If you have a bit of cash to spend and simply want a great-sounding Stratocaster, then this is the way to go. Built in the U.S., the Fender American Ultra Stratocaster boasts Fender's Ultra Noiseless Vintage bridge, middle, and neck pickups.
Buy now from:
Amazon | Sam Ash | Reverb
Squier Affinity Stratocaster

The Squier Affinity Stratocaster may not have Fender branding on it, but it's still a great guitar for beginners that want something close to a Strat tone without paying more than a few hundred dollars. The Squier Affinity Stratocaster offers an Alder body and Maple neck, like more expensive Strat models, along with a much lower price tag.
Buy now from:
Amazon | Sam Ash | Reverb
Fender Telecaster
Fender Player Telecaster

Mid-priced like the Fender Player Stratocaster, yet still fully-featured like American-made Telecasters, the Fender Player Telecaster is beautifully built, great-sounding, and perhaps the best way to go for those that want a Telecaster without spending too much cash. The guitar offers a great feel too — so more experienced players (or those that want to use this guitar to become more experienced) will have an easy time playing their way around this guitar.
Buy now from:
Amazon | Sam Ash | Reverb
Fender American Elite Telecaster

The Fender American Ultra Telecaster is simply the way to go if you want a high-quality guitar and don't spending a bit of cash to get it. This is the guitar you probably think of when you think of a Telecaster. It's got that classic Tele tone, with a few modern features like the fourth-gen Noiseless pickups and the new Fender S-1 switch.
Squier Affinity Telecaster

Getting your first guitar and want a Tele? There's never been a better time to buy an inexpensive Telecaster, thanks to the Squier Affinity Telecaster, which offers that classic Telecaster shape and tone in an affordable body. Sure, the guitar may not have all the bells and whistles of its more expensive sibling, but it's still an excellent guitar for beginners what want a Telecaster.