Of all the audio interface options out there, currently, our superhero-themed options still run dry. Luckily, Tascam is now back with what may be the closest we'll ever get. Its most recent line is the US-HR series, which gives off a very 'Spidey' aesthetic. All of that aside however, Tascam offers three interfaces here, each with varying I/O options. With 24bit/192kHz USB-C processing onboard, the quality seems up to snuff as well. Additionally, each US-HR model adopts Tascam's typical leg mounts for desktop setup, maximizing portability. Here, we'll break down what each of the three units offer, so you know which one is the best pick for you. All of these options are currently available for pre-order on Tascam's website.
Tascam US 1x2HR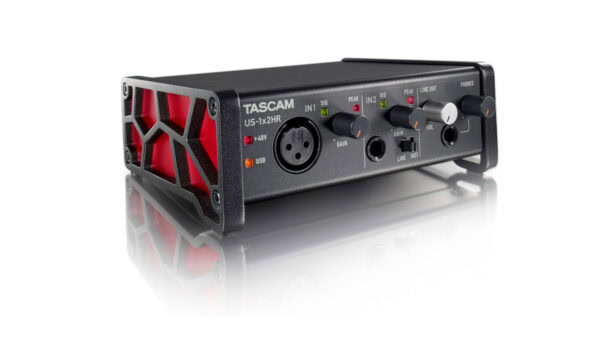 First off, the simplest offering in the US-HR line is the US 1x2HR. Similarly to the likes of a Focusrite Scarlett Solo, or the like, this is best for recording microphones one at a time. Otherwise, vocalists or voiceover artists may lean towards this as an ideal box. It offers one combo input with the option of an XLR, with phantom power on-board as well. A gain control knob sits to the right of this, underneath signal and peak indication lights. Its second input option is for instrument, or line-inputs, selected using a switch. A solitary gain knob is available here, as well as line out and an adjustable headphone out. On the back-end is a typical pair of 1/4″ line outputs to run into studio monitors. This model is available for preorder at a humble $99.
Tascam US 2x2HR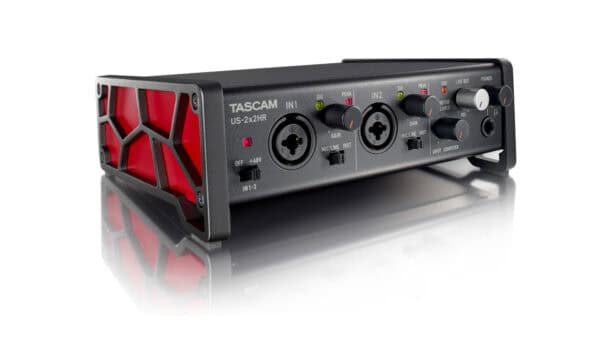 Stepping up a notch, the US 2x2HR from Tascam gives a slight input expansion. Users can now find two combo inputs at the front, both operating under a global phantom. Individual gain controls, and instrument/line switches can also be found here alongside the same indicators as in the 1×2. As an extra bonus, MIDI I/O can also be operated using the 2×2 option as well. Otherwise, everything else found on the smaller interface translates here too. Tascam's US 2x2HR runs for $149, a slight hike up for the extra input power.
Tascam US 4x4HR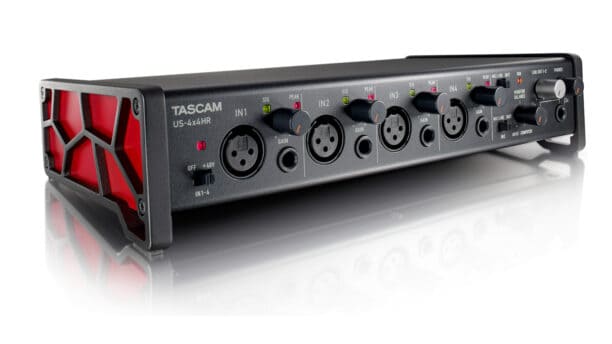 Finally, we have the most size-able of the three options. The US 4x4HR option offers four XLR inputs and 1/4″ jacks on the front, also using a global phantom. Likewise, users will also find headphone outs to the far right, alongside its monitor control. As for hard outputs, this option offers two additional line outs (3-4), and the same MIDI option found on the 4×2. This one is deal for those wishing to track up to four instruments or mics at once. Of course, this added capability comes at a price — the Tascam US 4x4HR is set at $199.