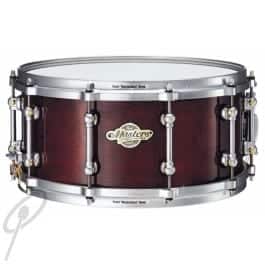 Today I am lucky enough to be able to bring you all a review on a snare drum I am particularly fond of, It has become a work horse of sorts and seems to suit my style of playing quite well.
For those of you who are not familiar with me, well lets just say I like to hit hard and am not afraid to push the boundaries of the beat!
The snare I have up for review is the Pearl Masters MMP 14″x6.5″ all maple snare. To start off lets talk about the quality of this instrument. Pearl are one, if not the leading brand of drum manufacturers in the world and let me tell you that is no small feat!
So to become the king of the mountain (so to speak) you would imagine they are doing something right and by the looks of this snare…..they are!
Under closer inspection of this snare drum I get the impression that even though these are completely made in the taiwan factory, the craftsmanship is second to none! I have always, ever since I was a child, thought that the best musical instruments where all made in the USA! and though this might be true for some instruments, it is not the case here.
The finish I have is the classic Piano Black with the ever popular "Black powder coated hardware", Black on Black, Jonny Cash would be proud! Currently Pearl offer a large range of finishes and colours for this particular line of drums, there is sure to be something out there for everyone. The finish is flawless, I can see my own reflection in this thing, Hey handsome………….sorry I got distracted, now where was I?
Oh yes the finish, The 32 step process to achieve there finishes really shows. Inside and out this thing is exactly what you would expect from a world leader, Clean lines, flawless paint and hard waring finish powder coating. One thing I really like about Pearl drums is the hardware and this snare is no exception.. The drum has been fitted with the die cast hoops which brings out the crack of the initial sound, then comes the warmth from the very thin 4 ply 5.4 mm maple shell, thinner equals more resonance which equals more tone! Most of the body comes from the depth being 6.5″, if any of you are after a tighter sound then the 5″ depth on offer would be more your cup of tea, me , I like the extra depth, the sense of sub- frequencies is very satisfying.
This thin shelled snare is fitted with reinforcement hoops which are made up of 4 plies of maple, this helps to control and focus the sound, which really works well in the studio environment as it helps reduce the upper harmonics which can become quite hard to control, especially without using any form of dampening like moon gel or gaffa tape, so for the freedom to achieve a more open sound, this snare has it in spades!
I have found if I spend the time to tune this drum, the range I can get out of it is quite broad, in fact much wider than I seem to be able to get out of a thicker shelled snare.
The Stainless steel tuning lugs offer up a "Fine Tune" that glides nicely into the desired position.
The sensitivity from the snare wires is as much or as little as I care to dial in, very articulate indeed!
One thing you all must realise is there is a compromise when choosing a thin walled drum and that is over all volume.
Although it is loud enough when struck hard, it does lack the type of volume you would get from a thicker shell and after playing a 45 minute set with this snare you can feel a little fatigued from over playing it to
compensate for the lack of volume. If you are aware of this and your fold back mix is strong then not a problem but if like a lot of us you don't have such a great fold back mix then it can get a little frustrating.
Over all I would say this snare is a real winner, for the rrp of $499 you could do a lot worse.
More suited to the guy who wants a useful tool for recording or who has more than just volume in mind when the live stage is calling them to play.
I give this snare an overall score of 92 out of 100.
Til next time may all your beats be on the money, with a spoon full of honey.