Design -

8.5/10

Features -

9.5/10

Value -

9.0/10
Over the past few years, Warm Audio has been building a seriously strong name for itself as a high-end audio company for those who want excellent quality at an affordable price. Starting out primarily with affordable yet high-end microphones, the company has now started testing out other new products. Most recently, at NAMM 2020, the company launched a pair of DI boxes aimed at offering total transparency — the Warm Audio Direct Box Active, and Warm Audio Direct Box Passive.
We've been testing out the two DI boxes for a while now. Here are our thoughts.
Design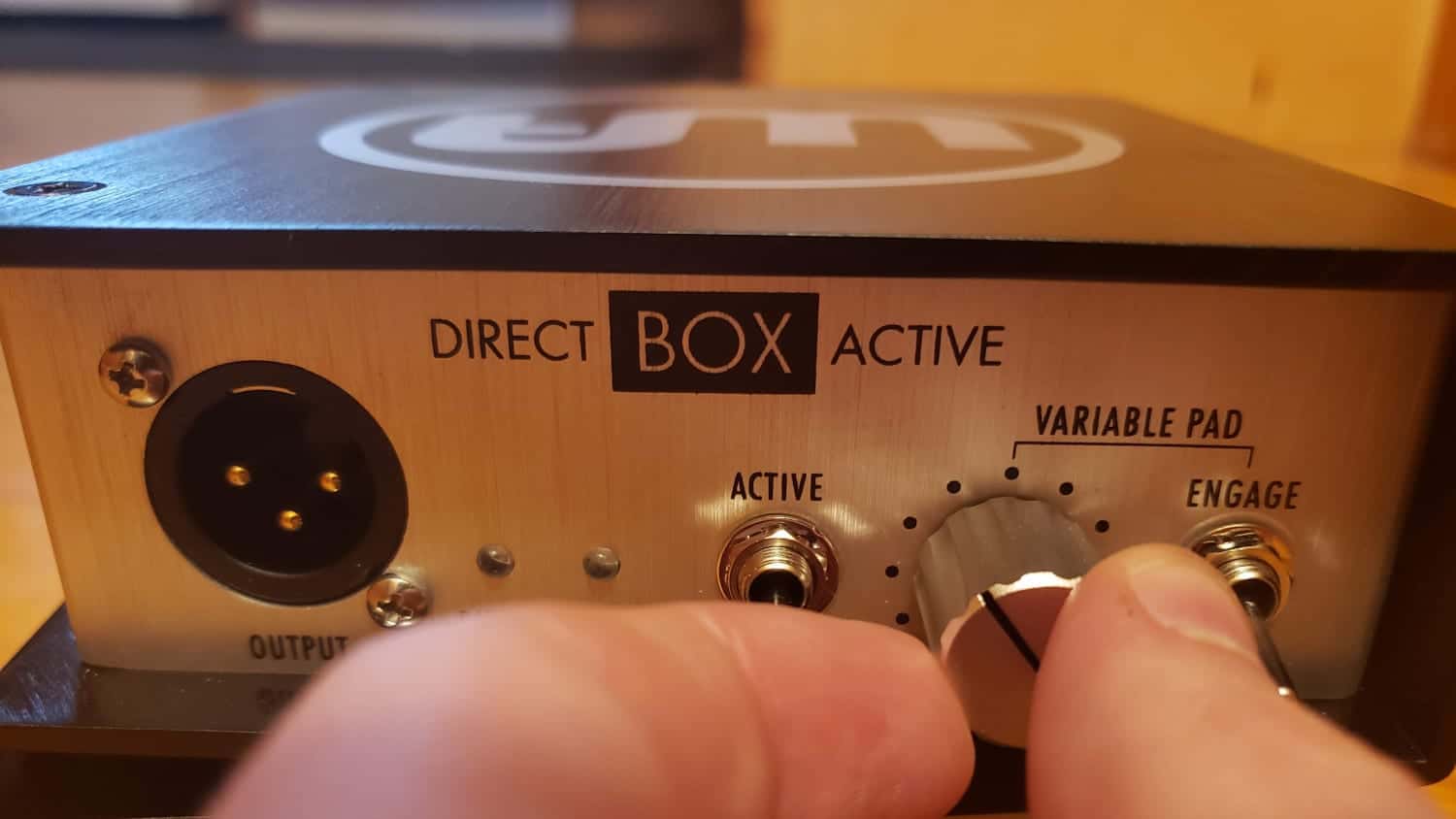 The typical direct box you may come across in your collection, or in the recording studio, may appear a little bland. In some cases, they've been used and kicked around so much that the paint is chipped off, which just becomes part of its character. In the case of the Warm Audio Passive and Active Direct Boxes, however, it seems as though the company is well aware of the "typical" DI experience, and effectively delivered something new. Both versions of the DI boxes follow a consistent black and silver-gray color pattern. While at first glance, the lack of color might throw you off, we think it gives this box quite a bit of class. The metal housing material of the DI boxes also have this slight grain to them throughout, which only added to the overall experience.
At the top of both, sits the unmistakeable Warm Audio logo — front, center, and bold. The bottom is covered with a rubbery-foam material acting as the foot, preventing it from sliding around during use. This material leaves room to access the screws, however, in case you need to access the housing — which if you have the Active DI, you will eventually have to do. In practice, across the face of both units, are your standard XLR and 1/4″ input jacks. These come pretty regular across the board, but one thing that stands out is that the parts used do not look, or feel cheap at all.
On both the Passive and Active versions of Warm Audio's DIs, you will find a variable pad knob. Their ridged builds provide a nice feel for traction, and they give just the right amount of weighted resistance when turned to really dial in that perfect position. Across the rest of the boxes, your features will come in the form of toggle-switches. The parts used here don't feel quite as expensive as the knobs, but still give plenty of resistance, and feel very nice to the touch. We also made sure to test this out with toggling them up and down several hundred times. And even afterwords, we found no noticeable give in its structure. Overall, if the design of your current in-house DI gets you to your destination in coach, Warm Audio's design upgrades you to first-class.
Features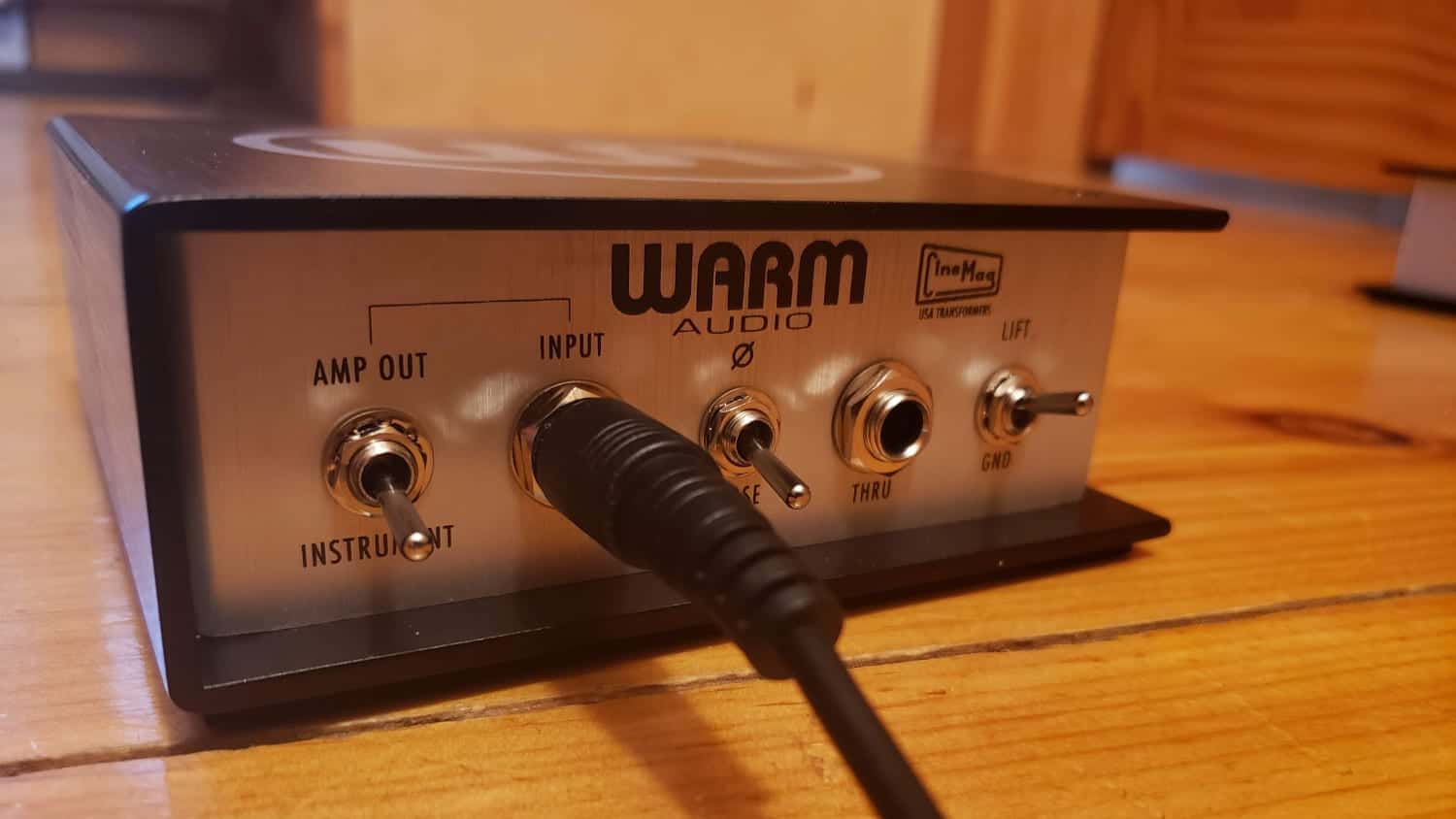 Like we mentioned before, Warm Audio produced two versions of its new Direct Boxes, including a passive version, and an active version. One thing we noticed right away is that when you buy an active DI box, you'll automatically have a passive one as well. That's thanks to the fact that there's a switch located only on the active box that allows you to engage or disengage active mode. When switched in active mode, the unit will utilize its internal battery supply to provide its own power to the signal.
The battery comes built-in out of the box, and sports a 1,600-hour life after a full charge. However, whether it happens after three straight months of non-stop studio use, or longer, eventually you will have to change its battery, and this can only be done by accessing its battery compartment, which is inside the housing entirely. Screws do have to be removed, and replaced on this unit, which, while a little disappointing, is made up for by its ultra-long battery life.
Both versions of the box come with an 'instrument' or 'amp out' input which give you an extremely transparent sound either way you go. You can absolutely tell this box has been put through the ringer in testing, because it seems to be able to handle just about any oddball thing we throw at it. Additionally, they both contain a phase flip button, as well as a ground lifter. The variable pad pot we mentioned before can be engaged by another toggle switch to the right. Meaning whether working with active, or passive modes, you can either fine-tune a pad, or use none at all.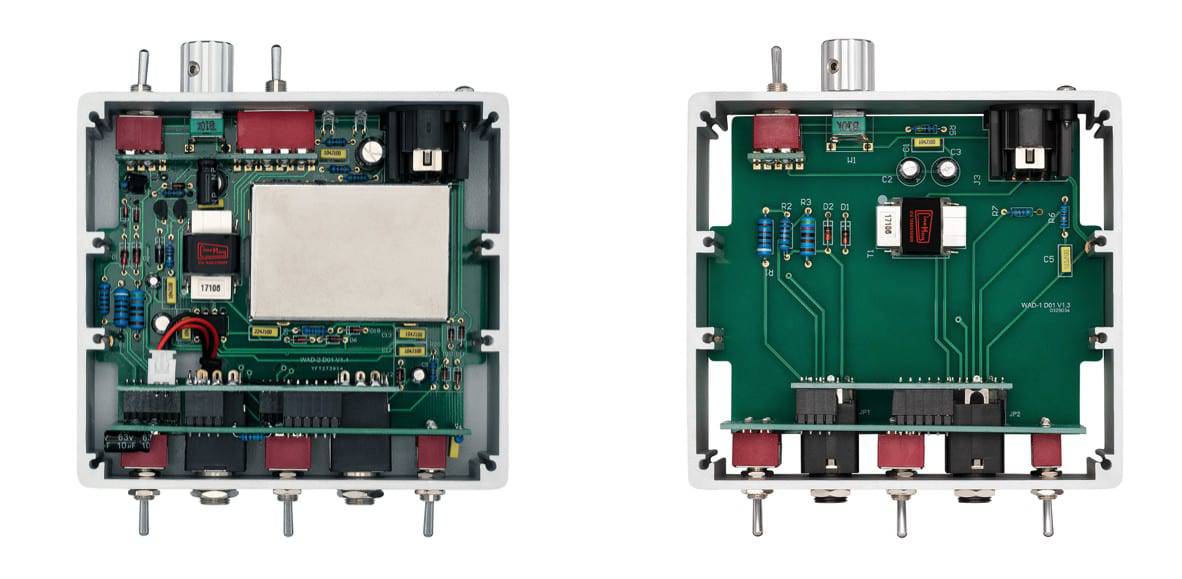 Again, circling back to tone, it seems like Warm Audio have truly outdone themselves. What you hear on the other end, is precisely what you plug into it. No coloration, no hum or buzz (depending on your situation), no other artificialities to mention at all. And seemingly, this is all thanks to the power of the CineMag transformers on board both versions. Crystal-clear transparency across the board — full stop.
Conclusions
If the rest of our rundown hasn't convinced you yet, Warm Audio has also set a price point that's pretty affordable for what you get. If you want to get your hands on one of Warm Audio's Passive DI Boxes, you can do so for only $149. However, keep in mind that when you spend just a little bit extra for the Active box, at $199 to be exact, you will essentially get a DI box for every situation and instrument imaginable. Both boxes, however hold a great amount of value, with strong internals, and parts that obviously had a great deal of thought put into them. Warm Audio has invested a lot of heart into this project, and we thoroughly enjoyed the opportunity to experience it for ourselves. To learn more about specifics, or to read the manuals before you buy, head over to the Warm Audio website.