For many years in the world of outboard gear that produces a classic, warm vintage tone, Rupert Neve and his team at
Rupert Neve Designs
come out as surefire frontrunners. For over 50 years they have designed, created and distributed professional, clear sounding signal processors across the world. Today, Rupert Neve Designs announced the release of two brand new units: The Shelford Series 5051 and 5052. As always, here is the breakdown:
5051
The Shelford 5051 is, generally speaking, the best thing ever an inductor EQ and compressor all-in-one.

The EQ of the 5051 was designed to produce an output that sonically mirrors some of Neve's classic EQ models with a rich, warm tone that can not be mistaken for any other. It features 3 bands: the High, which is selectable at 8 and 16 kHz. The Mid, selectable at 200, 350, 700, 1.5 k, 3 k and 6 k. And the Lows, which are selectable at 35, 60, 100 and 220 Hz. The three bands offer (plus or minus)15 dB of continuous gain each. My favorite switch on the EQ parameter though, has to be the Pre/Post switch, allowing you to reverse the order of the signal flow to make the EQ feed into the Compressor (which we will get to in a moment), or from it.
The Compressor of the 5051, at first sight might seem too basic to be true. Yes, Neve is known for simplicity, but initially it doesn't offer much legroom in terms of control, aside from one you might find in a plugin. Attack time, release time, a threshold adjuster, a ratio adjuster and a knob to select make-up gain. Great, what's the catch? The 5051 compressor also includes a side-chain high pass filter and feed-forward, feed-back selection. And when you decide you want to feed through a different compressor, no problemo! Just un-activate it and your 5051 may be used as a high-performance line amplifier.  Oh! And did I mention, two 5051s can be linked together to use in stereo? Just sayin'.
5052
The Shelford 5052 acts as a Mic Pre and EQ, quite similar to it's brother, the 51. But there are a few different parameters I'd like to get through:

The Mic Pre section of the 5052 features a state-of-the art pre that will absolutely give off that classic, warm Neve tone we all love so much! It offers a mic/line switch, with phantom power capability for your favorite overpriced condenser, phase reversal and a gain knob of 66dB. The special parameters of this pre, gives you the ability to activate a high-pass filter on your pre, from 20-250 Hz as well as a switch that allows you to send your Mic Pre directly to the EQ just below it.
The neighboring EQ works just the same as that on the 5051 essentially, but come with some bonus perks. A silk button at the bottom left, lets you toggle silk modes from red to blue. In a nutshell, silk reduces negative feedback on the output transformer, adding harmonic content as it is increased. Red silk brings out saturation in the mid and high frequencies, while blue brings out the low. To the right of the silk button, lies the texture knob which can texturize your silk to any preferred amount.
Overall, if I had the chance to make these babies fit right at home in my outboard rack, I would take it and run away with a villainous laugh. Rupert Neve worked hard to create these Shelford designs with the sonic spirit of classic Neve models, while including parameters you can find in today's models. And he sure did succeed.
Oh yeah, I almost forgot. Plus, if you buy these models in bulks of 2, 4 or 9, you can get a nice, finished wooden rack to place them all in. And you're darn right it looks beautiful. Here's a picture: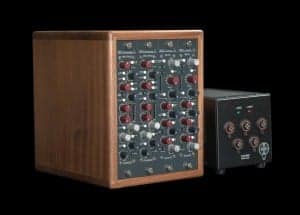 I am going to cry.