Mackie M-Caster Live
Design -

5/10

Features -

7.1/10

Value -

7/10
Early this year, Mackie announced its latest product for 2022 at the virtual Believe in Music event. The Mackie M-Caster Live is a compact mixer and interface which streamers and podcasters can utilize for more professional audio. Right out the gate, many received M-Caster Live as an exciting new product which could deliver some much needed portability to its target market. However, like all products, it's difficult to conduct a truly solid review without getting a true hands-on experience. Luckily, Mackie granted us the opportunity to try out the M-Caster Live for ourselves. So, after a little while of sitting down with it, here is our experience and takeaways from the Mackie M-Caster Live.
Design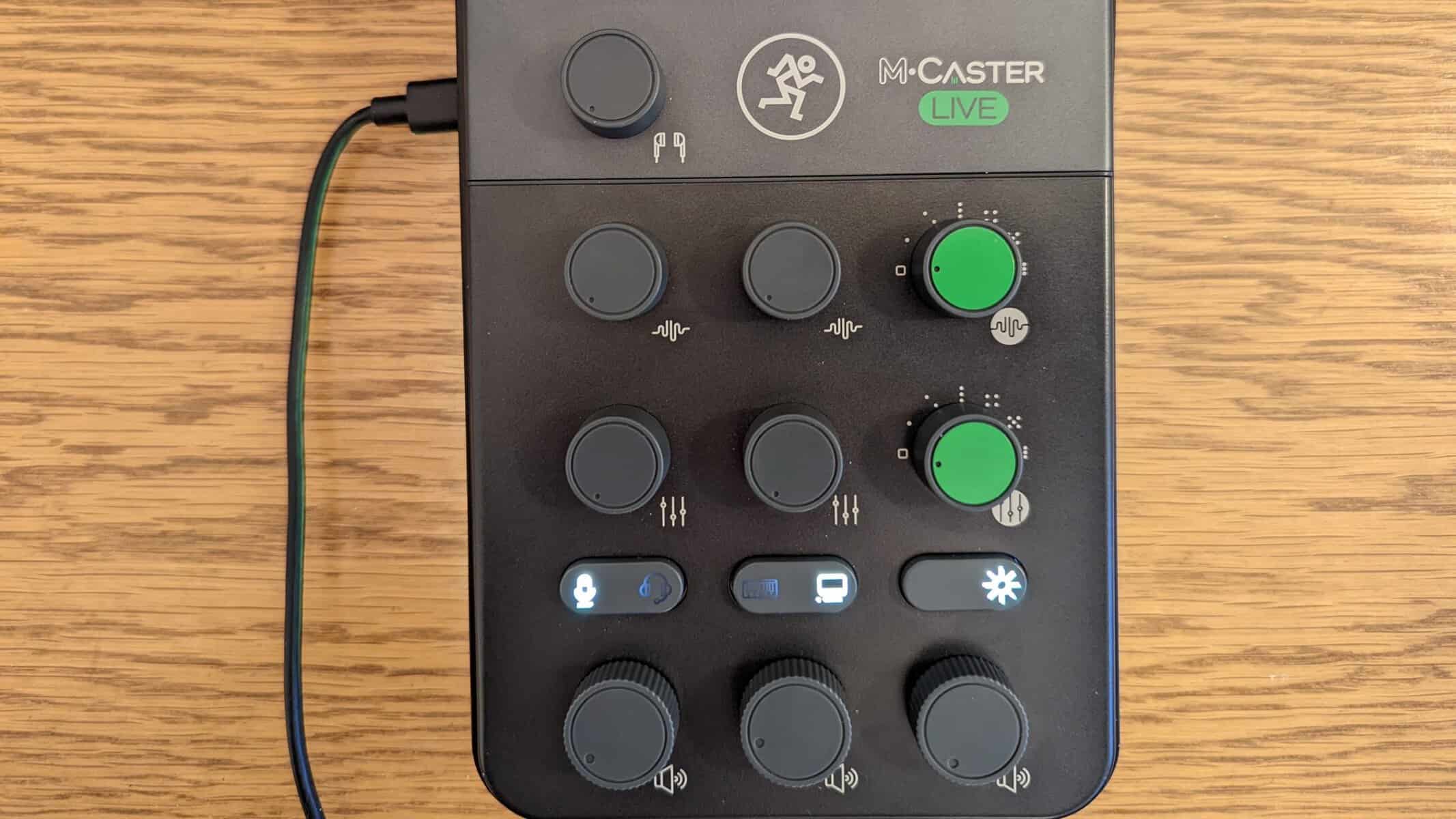 When we opened up the box housing Mackie's debut product for 2022, we hit a sudden wave of confusion. On the device's top, sits a grid of 10 knobs, three buttons, all with semi-vague icons printed underneath. Some of these are more easily discern-able, such as the icons for headphones, and a desktop computer. However, the majority of the knobs users will be using to mix their audio sources down are broad and generalized such as waveforms, fader sets, and loudspeakers. Furthermore, the only descriptor word other than the company logo marked on the whole product, was the word "Outs" marking the output jack options. After which, the situation turned even more confusing with the under-delivering set of literature that accompanied it.
Right off the bat, when a product (and especially a product targeted towards beginners) lacks words to describe its sections, creating a potentially confusing experience, it's already not a great sign. But when that happens, one would reasonably turn next to the manual for an extremely clear directory of each knob and button with their individual functionalities. And in this case, Mackie provides a "Quick Start Guide," containing eleven pages — of which, only one provides a brief rundown and explanation of the product's functionality in a succinct fashion. In the end, we actually had to turn to YouTube to watch another reviewer's hands-on demonstration to paint a clear picture of how to operate M-Caster Live.
In many ways, the M-Caster Live's feel gives off more impressions of a toy than a piece of pro audio equipment. The device feels clunky at best, with its most notable positive attribute being the slight tension that its knobs provide. With that said however, not all the buttons provide this on the same level across the board, with some providing more "give" than others, even with two knobs in the same category. When we plugged M-Caster in for the first time, we were also taken back by the fact that it can not be powered using the phone or computer it is connected to via USB-C, and that in fact it has to be plugged into an external power source, with no option for battery power either. While this may seem like a smaller issue, it does count against the device's portability.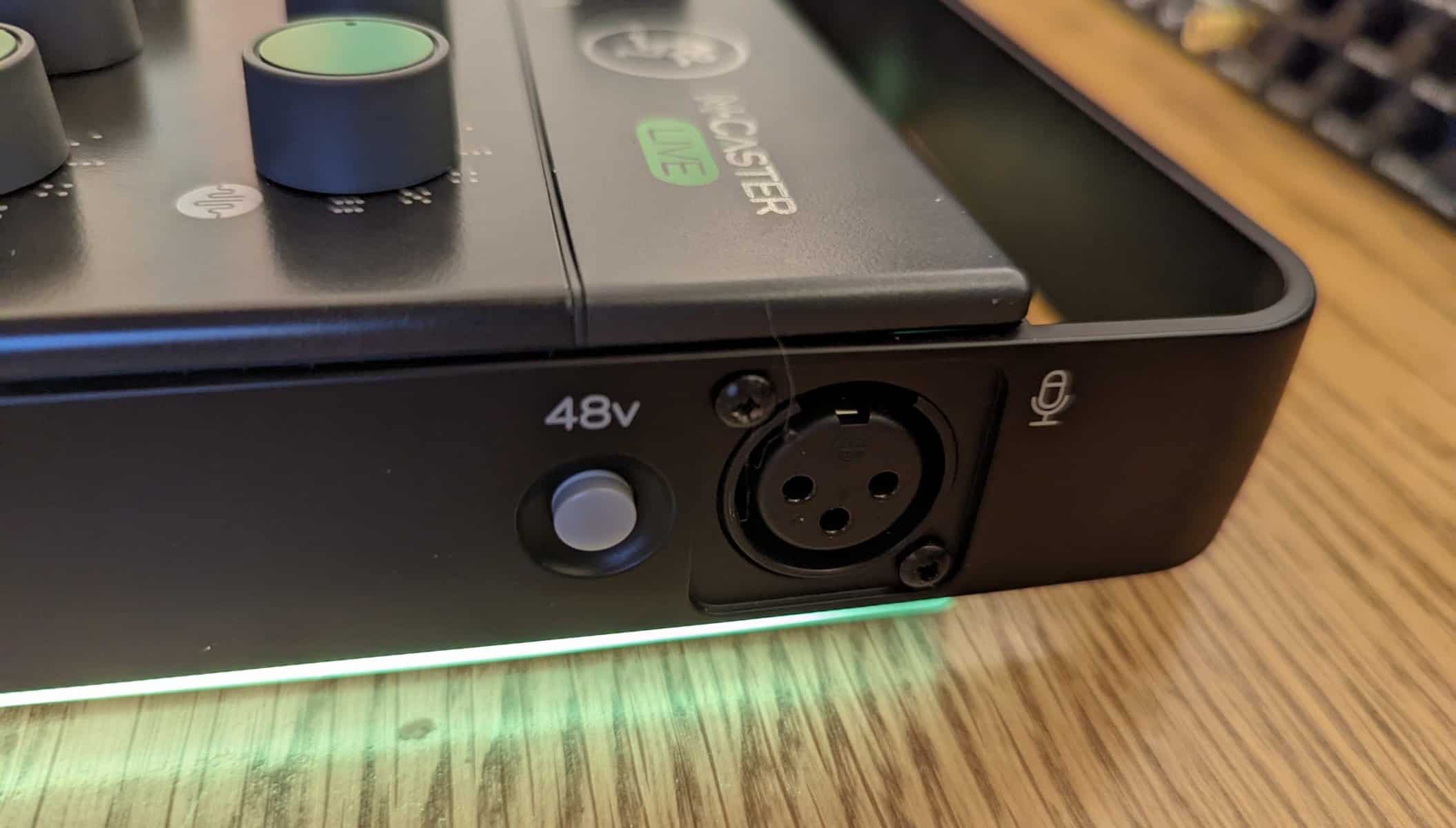 Finally, one last concern we have is the location and size of the 48v phantom power application. The Mackie M-Caster Live places this to the side of the device in the form of a push button that does not use much force at all to push in and engage. We know that most likely, its users will primarily be plugging a dynamic microphone, which will likely be internally unaffected by phantom power, or a condenser which needs it. However, this causes some slight concern in the rare event that somebody may unknowingly plug in a microphone that will be affected by that extra 48v, and while podcasting on-the-go accidentally bumps the M-Caster against something which engages that button, resulting in a fried mic. In this case, we think even a smaller, less clickable button, or a slider switch would be a much better alternative to avoid a mishap like this.
Features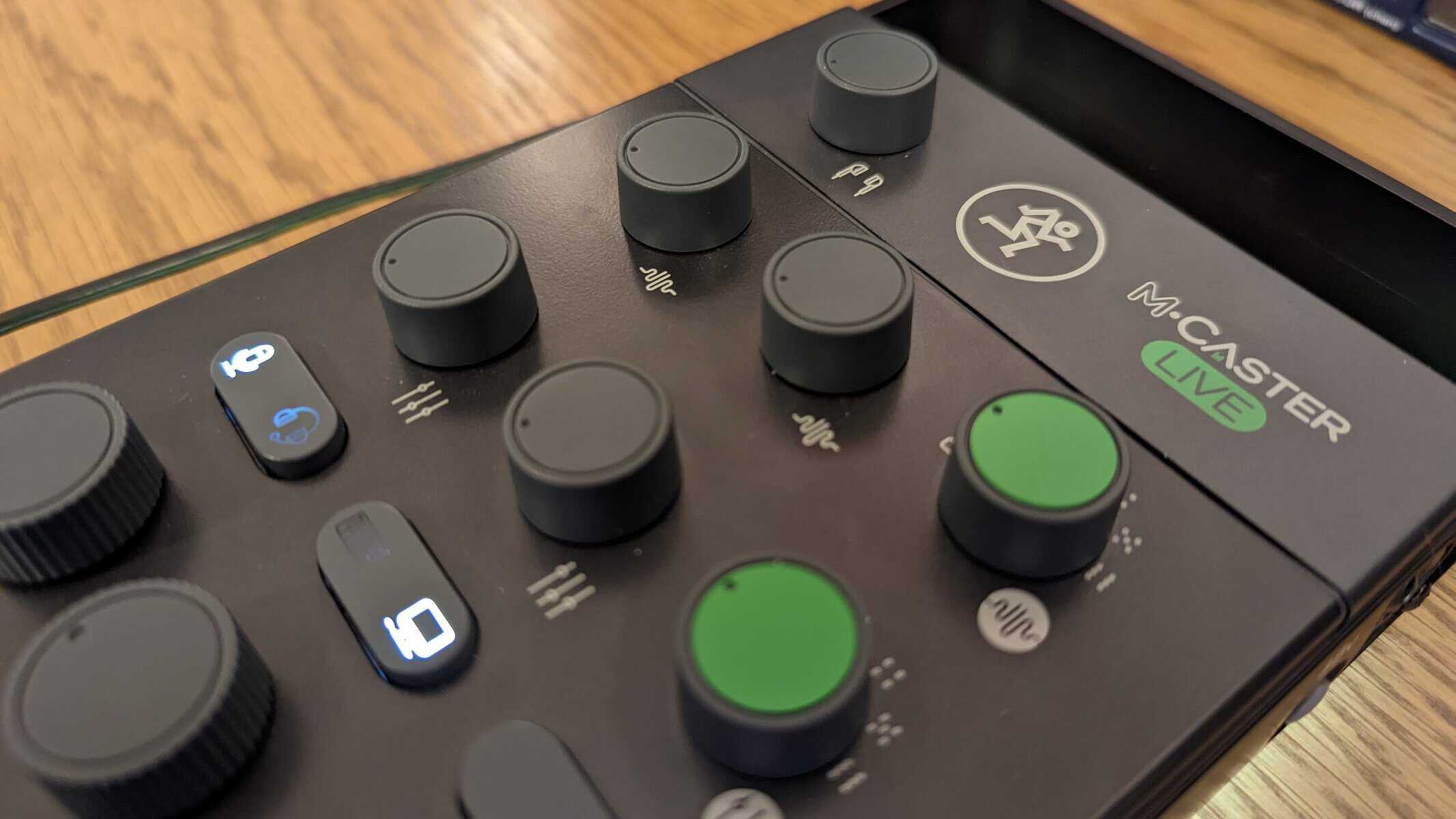 When it comes to features, this is where M-Caster Live shines brightest. In essence, it does perform well on everything as advertised. The most notable feature of all, being its set of FX Presets, and Contour Presets which each provide seven different pre-installed effects that streamers can use and easily switch to in real time. The FX Presets all effect the main vocal input channel, whether that be through the plugged in microphone, or a headset mic. The presets include a reverb environment, pitched up effects, pitched down effects, as well as a funky psychedelic delay preset.
On the other hand, Contour Presets utilize dynamics settings to alter the recording environment sound, and eliminate unwanted noise, for example. Streamers and podcasters use their personalities and humor at the forefront of their content, so having these series of effects immediately on hand is handy. However, we would have loved to have seen an option for a more advanced tinkering of these settings to customize and adjust them to each user's preferences.
At the input stage, M-Caster does a great job at providing a true multitude of available inputs. From anything from a microphone, to an external keyboard or other line-level signals, a live streamer at an earlier stage of audio knowledge can definitely learn to use the M-Caster Live well, and easily create a nice blend of all their devices on stream.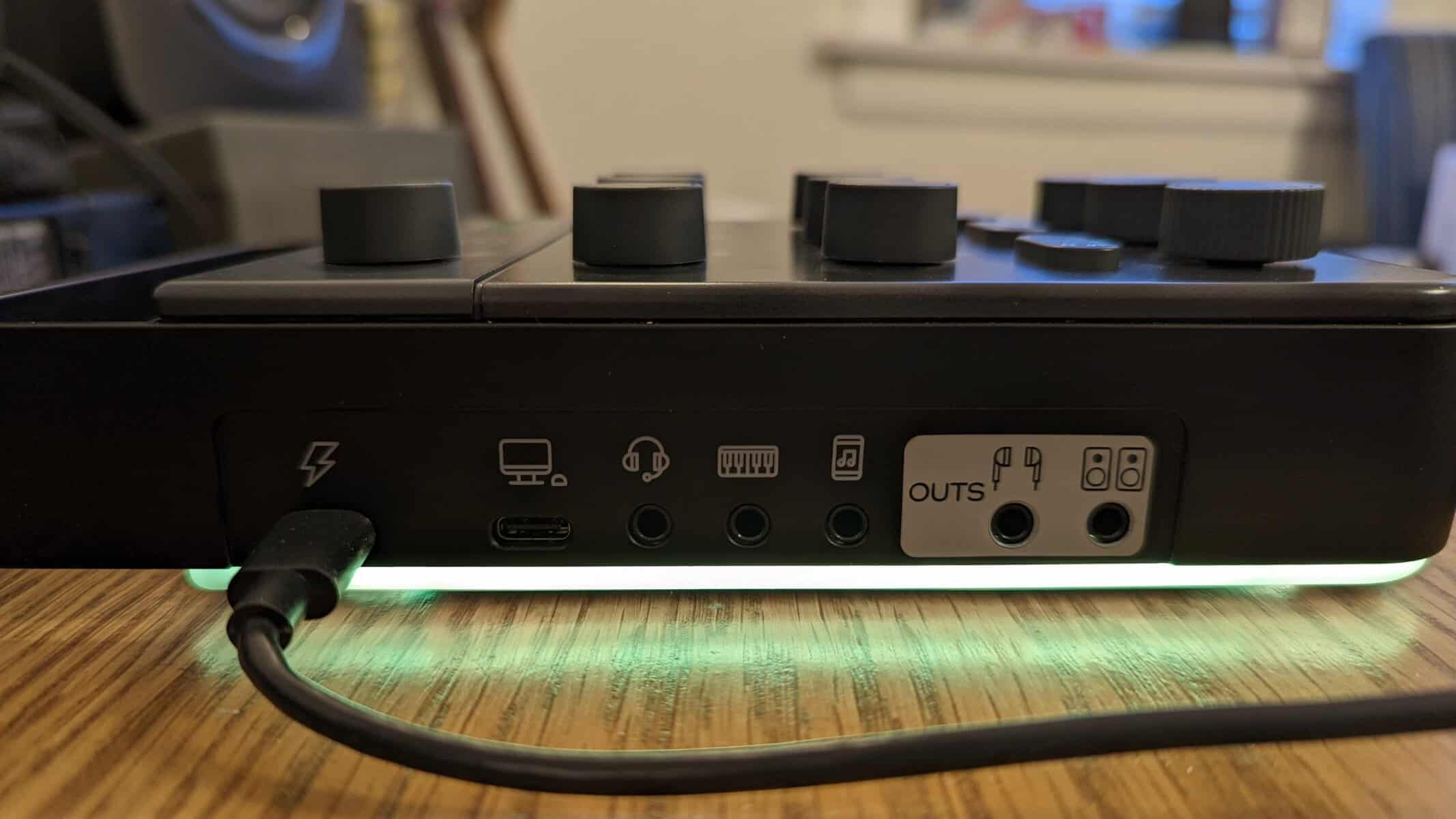 Conclusion
This category is a little trickier to fairly judge M-Caster Live on. The portable interface and mixer costs $229 at retail price, ranking it so far as the most expensive product of its type. To most people, $229 is still a fairly inexpensive purchase, especially for a product which seemingly offers so much in the way of versatility to live streamers who might not have as much money to fund a truly professional grade audio rig. However, when considering that pretty much every other portable audio mixer for live streams available is either slightly or significantly cheaper, that negates its price to functionality ratio entirely. And when you roll in all of the flaws we didn't have to dive in very deep to find, the value gets knocked off center even more so.
All in all, Mackie's M-Caster Live is a decent starter product being adding to the company's recent arsenal of audio catered towards the ever growing streaming world. We truly do see all of the value it provides in its features, and we hope Mackie continues to make improvements in this area to create even better and better versions of this, or products like it moving forward. However when it comes to looking for a portable live streaming mixer, we would probably advise most to at least explore the other options available, such as the Go:Mixer Pro from Roland, or similar products from Zoom.