Waves OVox
Design -

8.3/10

Features -

9.8/10

Value -

8.8/10
Early this year, back when large gatherings were still normal, we took a trip to Anaheim for our first year of in-person coverage of the NAMM show. On day one, we secured our place at the front of the line ten minutes early to access the pro audio floor, to see what companies had to offer this year. As soon as we got down the escalators, we stood in front of a few of the larger companies' booths. One of those first to greet us was none other than Waves Audio, with a representative standing by, eager to show off its newest plugin release, OVox. Self-described as a 'vocal re-synthesis plugin,' its main function is taking a vocal input and transforming it in a multitude of ways by turning it into its very own synthesizer.
Since January, its reputation has grown immensely among electronic producers and musicians. So naturally, we decided to put it to the test for a review of our own.
Design
Waves Audio has put a lot of effort into the design of OVox, which becomes clear the very first time it's launched. The main screen is super visually appealing, and looks like something straight out of a futuristic music video from the 80s. Big, and bold at either side of the screen are 'OVox 1' and 'OVox 2.' These are the two engines that use your voice as the oscillators for synthesis. Better yet, they're both color coded red and purple, which is also reflected in the visualizer at the center, which shows dancing red and purple lines representing how each OVox engine responds to the input. Whether or not you notice it, right away this serves as a great benefit towards the plugin. Even if the user is unfamiliar with how synthesizers work, the careful placement of its knobs make it stunningly easy to know where to start.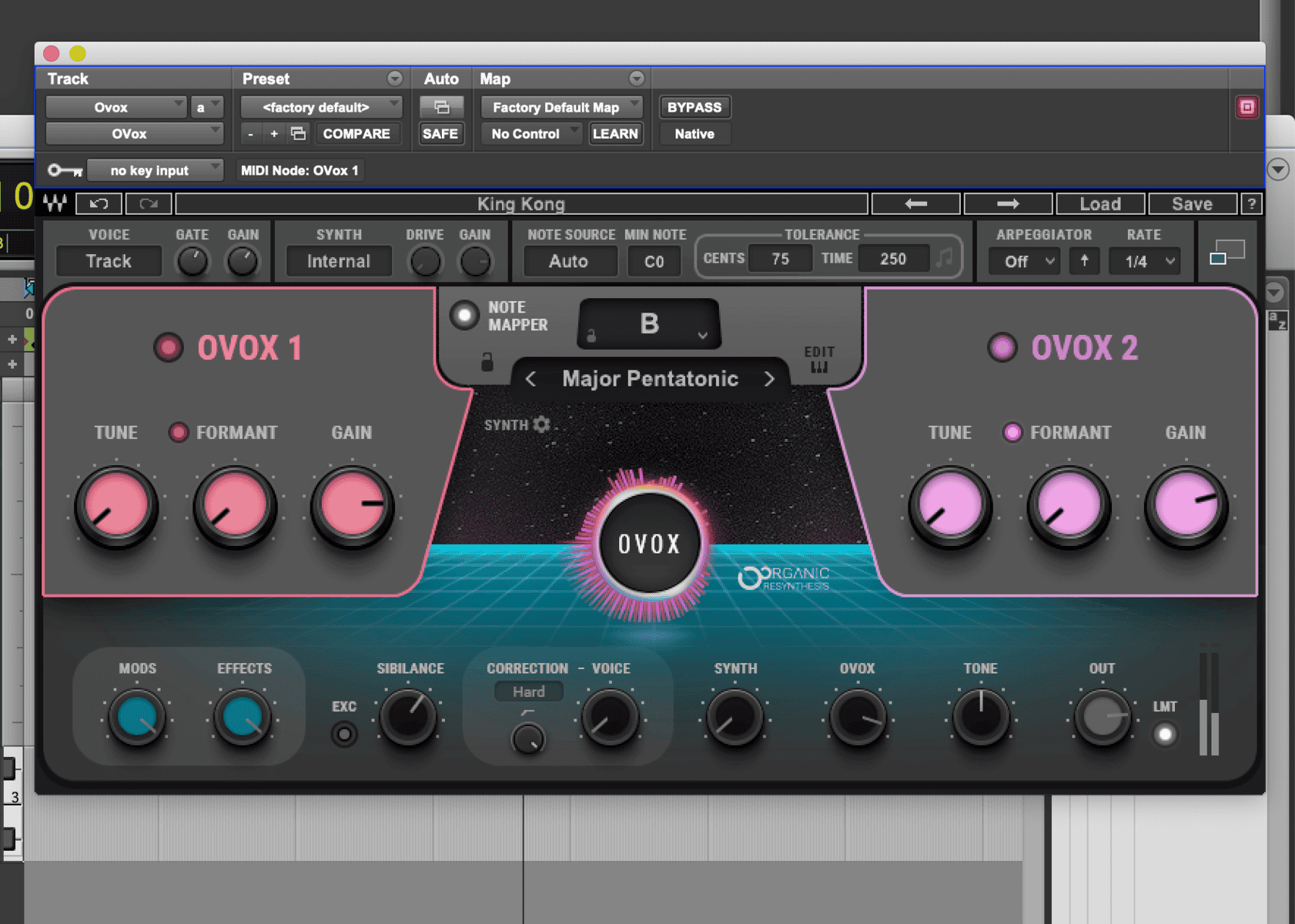 After first impressions are out of the way, the eyes are then directed towards the top-center of the plugin with the note mapper. Using the same button design next to either OVox was also a smart move. So that anyone can easily tell it can be disengaged, or engaged by toggling it. Aside from the blue color coded 'mods,' and 'effects' buttons at the bottom, the rest of the features within OVox are either black, or grey. Which certainly doesn't mean they are unimportant, but rather they affect the output as a whole. If it's not already apparent, the bold color coded-system of Waves OVox is easily our favorite part of this design. It leads the eye naturally towards the next piece of the signal flow, without any confusion whatsoever.
One noticeable flaw in design, however, seems to be with the awkward, block-y gray bar running across the top. It contains some of the most important features to get OVox set up and responding properly, yet it's very small and doesn't at all match the colorful, bold energy of the rest of the plugin. Overall though, this is one small thing that is definitely outweighed by the rest of the layout's success.
Features
While very easy to navigate, Waves OVox is packed to the brim with advanced features to play around with, to achieve your desired sound. As soon as we plugged in our microphone and started talking and singing into it without touching anything, we had an immediate spark in curiosity and creativity. This on its own can be another reason to fire up this plugin, but we'll touch on that more later.
Starting at the OVox engines, they can be turned on or off individually with a single button towards the left of the label. When engaged, each engine can be tweaked using three knobs to adjust 'tune' (pitch), 'formant' (tone presence), or the gain of each engine's output. When we were adjusting the tune knob in realtime, it changed the pitch super smoothly, and without any glitches – which was super impressive. Up at the note mapper section, two drop down menus can be used to select the key and scale that will be used. Once selected, they can be locked in place using the lock icon right next to them, so nothing gets changed on accident.
Running across the top in the gray bar, the voice input source can be adjusted, as well as knobs to adjust the gate threshold and overall gain. This gate feature is super convenient, especially in rooms with more background noise presence. When you turn up the gate, this ensures that the synthesis will only be engaged when you are speaking or singing into the microphone. Other features at the top can adjust the synthesizer input settings, the note sources, tolerance for note mapping, and an arpeggiator.
At the bottom, you'll find another set of knobs to adjust other parameters of the sound. Such as sibilance, pitch correction, an overall tone knob, blend knobs between the synth and OVox engines, and an output knob with an optional limiter. All of these also responded instantly, and in very fine, fluid increments, even when pushing the CPU higher with more settings it held its strong integrity.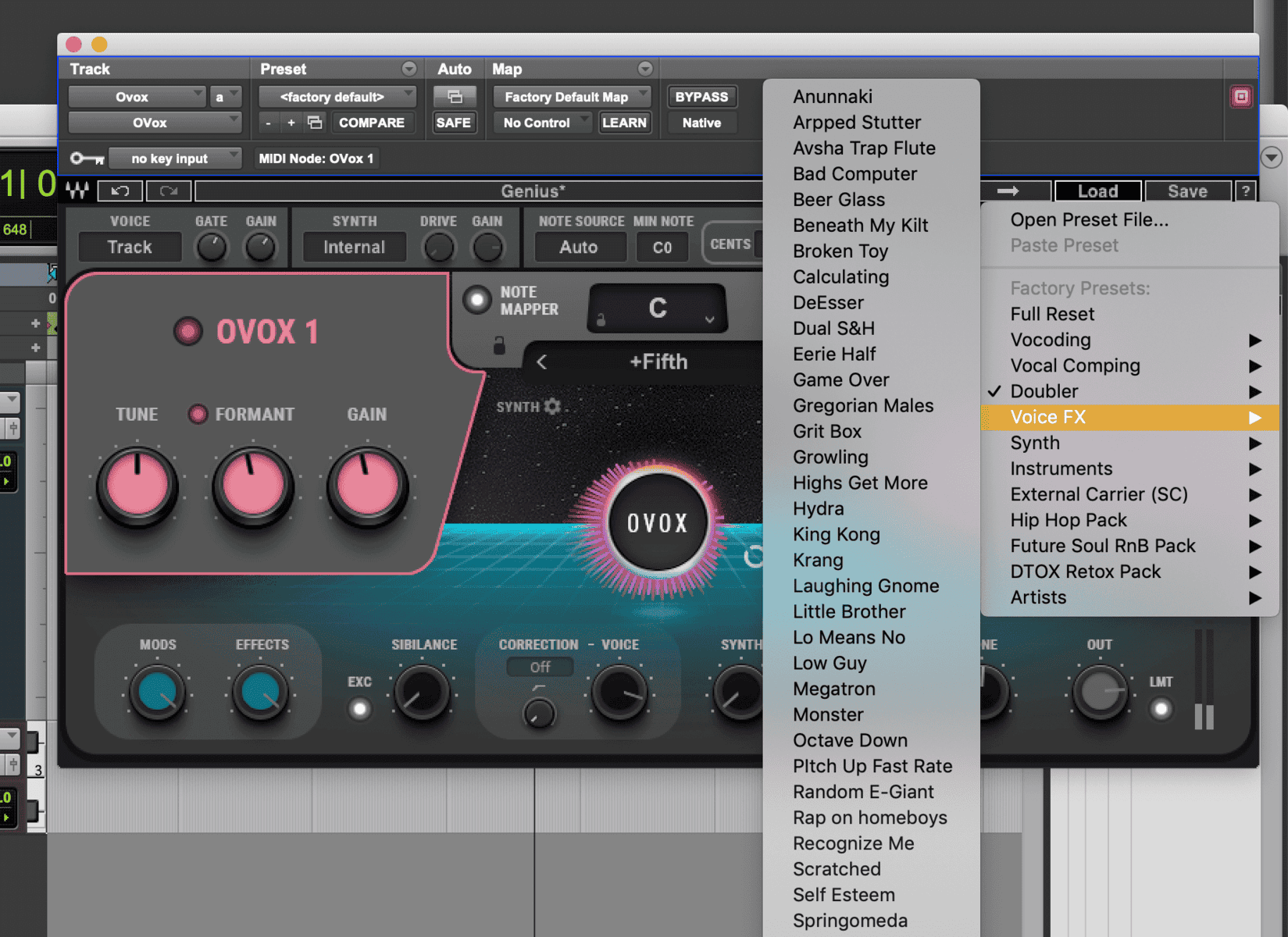 Outside of its manual mode, one of the best ways to use the OVox plugin, is to cycle through its hard-to-miss, thorough library of available presets. Some of the most exciting ones can be found named with familiar song titles from artists like Daft Punk. Simply load up the preset, and all of a sudden you'll find yourself repeating "Harder, Better, Faster, Stronger" for the next two hours. This effectively works as a nice starting point of finding a preset that closely matches the sound you're looking for, then tweaking its features manually to drive it in closer.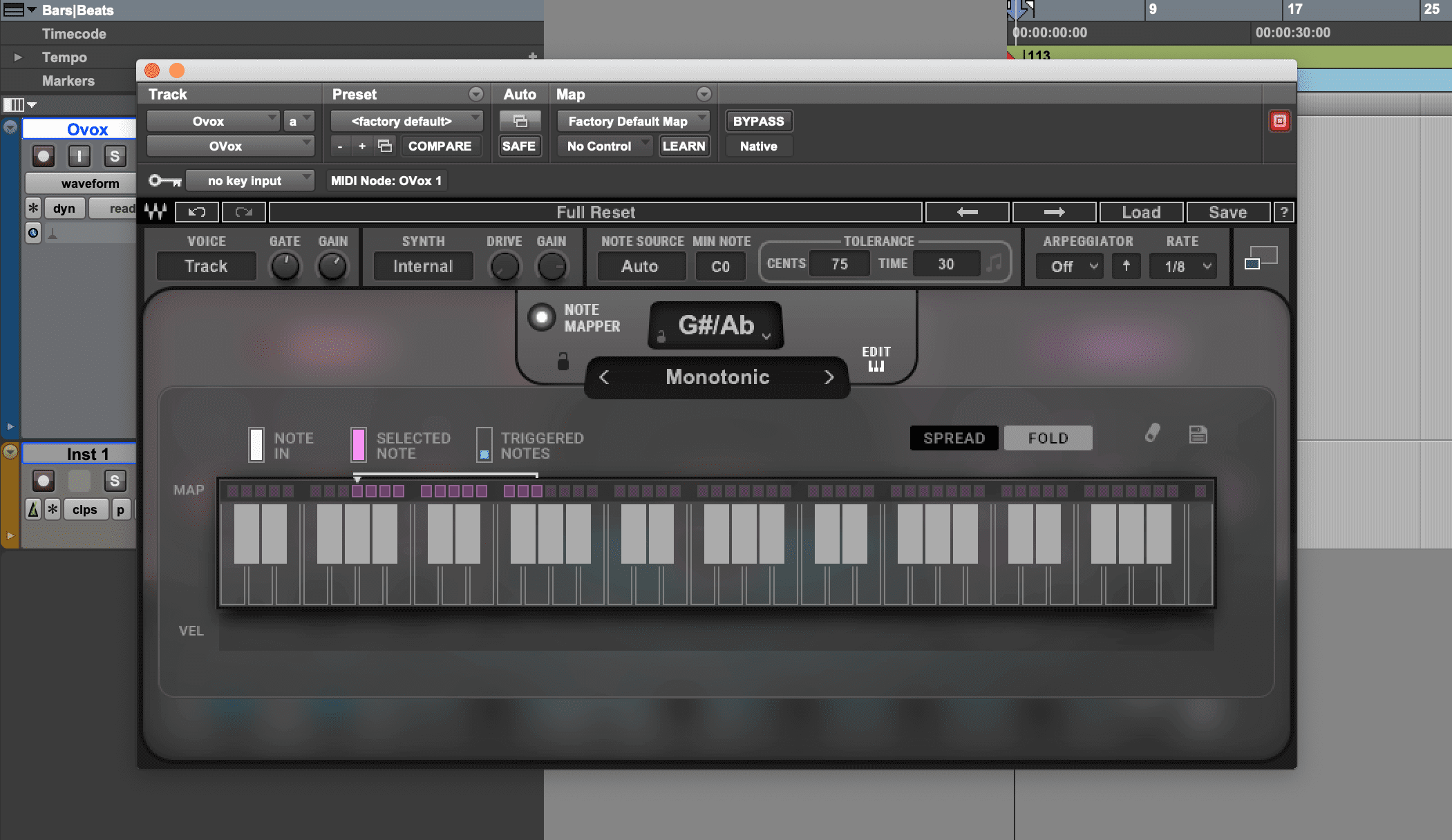 Finally, we will touch on OVox's hidden tool that will truly let you dive into its more advanced features. At the right-hand side of the note mapper, there is a small icon of a keyboard. When pressed, OVox opens its keyboard editor. This replaces the main interface with a digital keyboard. When a note is sung or played into the track that OVox is engaged on, the incoming note will be displayed on the keyboard with a blue block, that goes away when the note has stopped. When activated on the keyboard, we found that users can actually go towards the top of the keys and individually select the corresponding pink blocks to choose which notes from the synthesizer should play when the trigger note is hit. This feature definitely impressed us the most overall, and truly sets Waves OVox apart from any other vocoder, pitch correcting, or synth plugin on the market today. Even with all of these features, we did not notice any issues with their ease of use, or functionality.
Conclusions
As we mentioned before, outside of its intended use as a vocal re-synthesizer, the uses for which OVox can be loaded up for do not stop there. Remember back up in the features section, when we mentioned how loading up a Daft Punk labeled preset will have you sitting in front of your microphone singing their lyrics over and over again for an extended period of time? Well that actually happened with us, and turned an entire business-oriented energy on its head and all of a sudden the creative juices were flowing before we knew it. With that said, OVox is also the perfect tool for someone experiencing writer's block, or in need of a spark. For them, it could be as simple as launching OVox with a randomly selected preset and shouting vowels into their microphone, and before long they're halfway done with a new song.
Waves OVox has a retail price of $149, and even at that level, when you factor in all of the advanced features it includes and its extended value beyond what it was created for, the plugin is well worth it. The good news is, since its launch at NAMM earlier this year, OVox has been available from the Waves website and other dealers, at just $69.99. That gives you an already value-able plugin at just half the price, which to us is an incredible steal for everything you can get out of it. Overall, we enjoyed our time with OVox to the maximum level, and even learned many things about this new plugin that we never expected to find. If this sounds like the plugin for you, head over to the Waves website to learn more about it and load it up into your tool belt. We guarantee you won't be disappointed.