Design -

8.5/10

Features -

9/10

Value -

9.5/10
The original IK Multimedia iRig Keys Mini controller was an awesome option for those that wanted a portable MIDI controller with a solid feature set, at an affordable price. Now, the company is finally back with a follow-up. The iRig Keys 2 Mini offers a major design refresh, a bunch of new knobs and controls, and more.
At $100, the iRig Keys 2 Mini is poised to be another hit — but is it really all that much better than the original? We got our hands on the new iRig Keys 2 Mini for ourselves to check out just how solid it actually is.
Design
As mentioned, the iRig Keys 2 Mini, like the rest of the iRig Keys 2 line, brings a design refresh that helps make it look more modern, sleeker, and more stylish. Gone is the white look, in favor of a black look with red highlights, and we quite like it. True to its "mini" form, there are two octaves worth of keys here, but you'll also get an easily accessible octave switch to help quickly change while you're creating.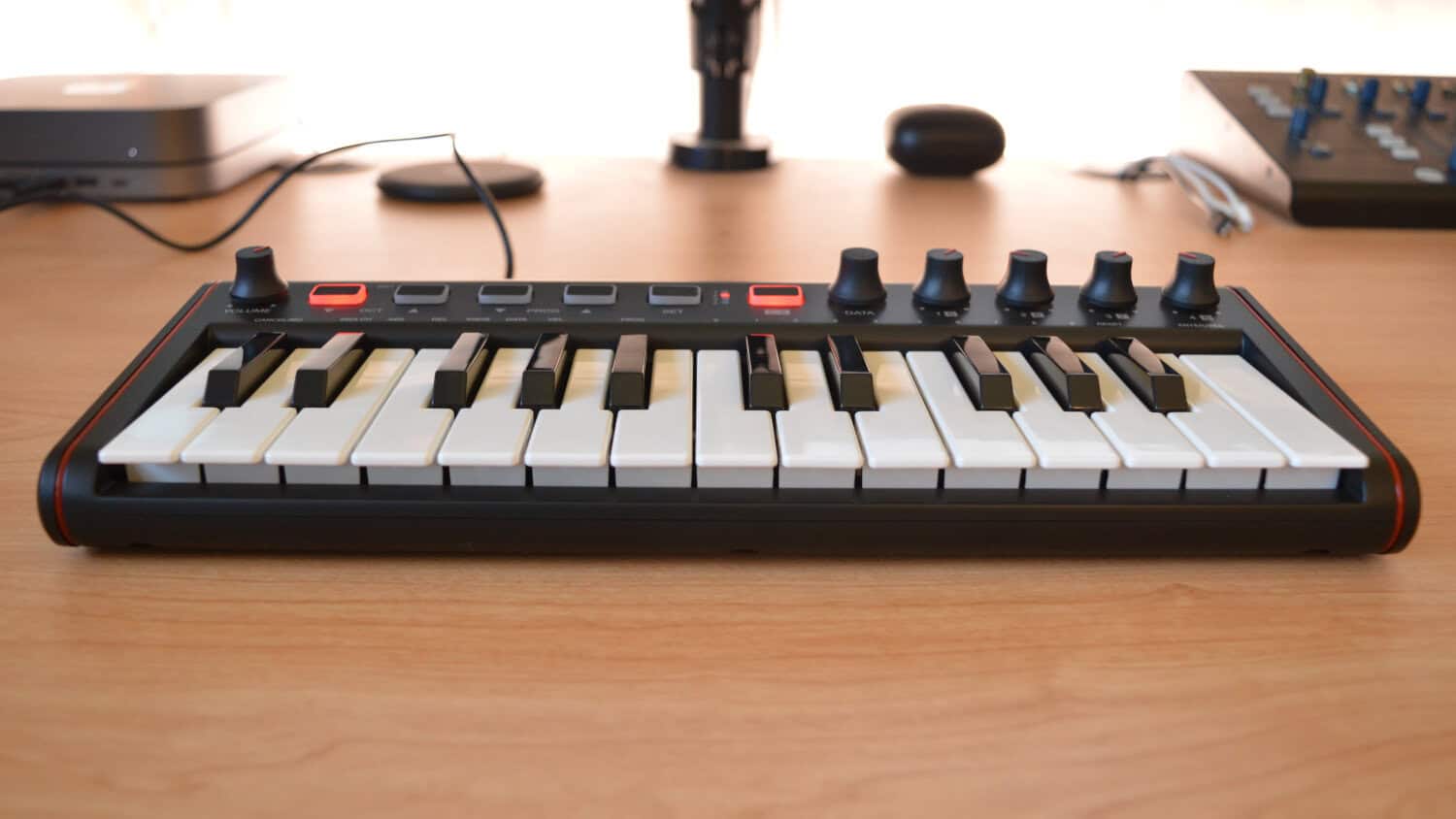 Also new is the slew of controls on offer here. You'll get a main volume knob, along with the aforementioned octave controls, program buttons, buttons to cycle through user-configurable setups, and four assignable knobs, which can be switched to four other knobs with the "5-8" switch. IIK Multimedia has done a great job at ensuring it fits tons of features in the small form-factor, which is a huge step up over the previous-generation iRig Keys Mini.
On the back of the device, you'll get a MIDI input and output, along with a headphone jack and a MicroUSB port. It's a little frustrating to see MicroUSB here — the consumer electronics world has moved into using USB-C, and the music world needs to catch up to that. Users don't want to have to use different cables all the time.
The iRig Keys 2 Mini is meant to be used both on desktop computers and on mobile, and thankfully IK Multimedia includes all the cables you'll need to make that happen. In the box, there's a MicroUSB to USB cable, a MicroUSB to USB-C cable, and a MicroUSB to Lightning cable. There's also a MIDI adapter to be able to use the controller with a full-size MIDI cable. It might have been nice to see two MIDI adapters here, for those who want to take advantage of both the input and output — though that's an admittedly niche scenario.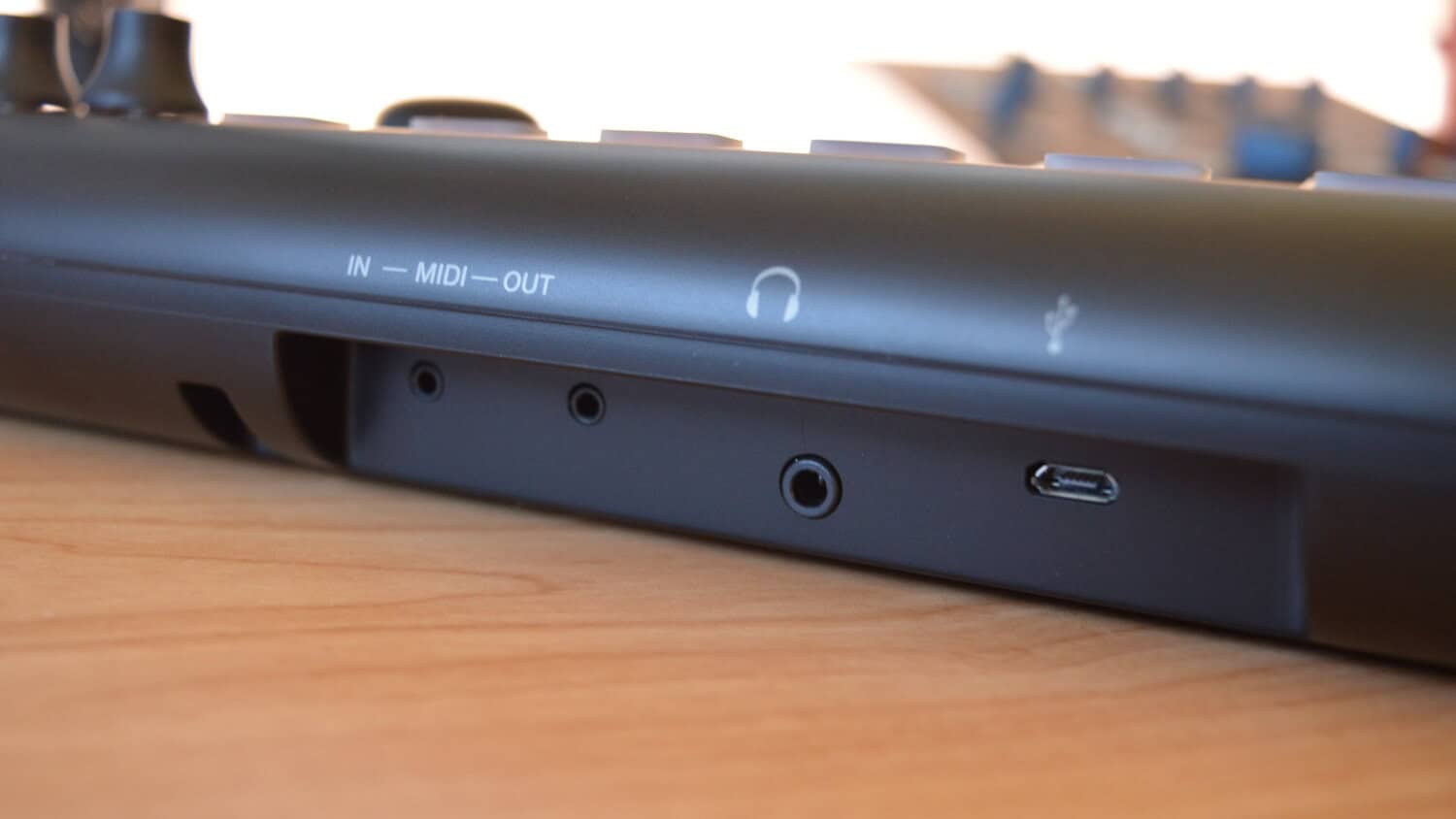 The overall build quality is pretty good, but you do have to keep in mind that this is a $100 device. It should survive most of the day-to-day abuse that the average person will put it through, but it's also worth doing your best to take care of the device, and remember that it does have a plastic body.
Generally speaking, the iRig Keys 2 Mini offers a great design. Sure, the MicroUSB port is a little disappointing to see, but it's not a huge deal considering the selection of cables that come included in the box.
Features
As mentioned, IK Multimedia has made a serious effort to pack features into the iRig Keys 2 Mini — both hardware-wise, and when it comes to the software that's included in the box. The controller effectively has eight knobs worth of controls built into it, and while it would have been nice if iRig included a few pads on there too, it's hard to imagine how they could be fit into the overall design, and most will be perfectly happy with using the keys for drums anyway.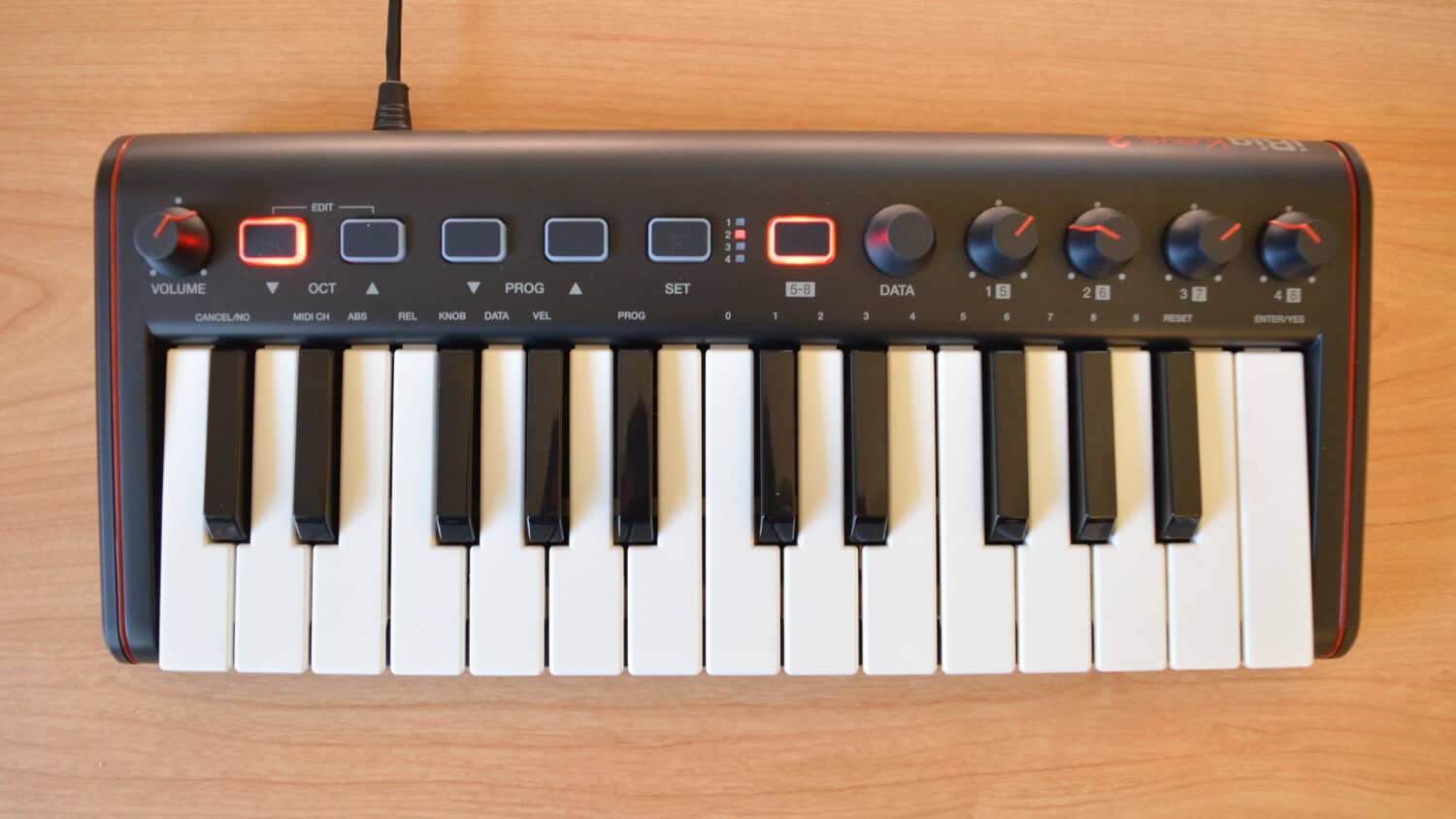 The iRig Keys 2 Mini also comes with a solid selection of software, which is always nice to see. The device comes with SampleTank 4 SE, which is a slightly stripped-back version of SampleTank 4 that still offers 2,000 sounds. You'll also get an unlock code for SampleTank for iPhone and iPad, a code for iGrand Piano for iPhone, iPad, and Android, and a code for iLectric Piano for Android. IK Multimedia is really leaning into mobile creation tools here, and it's really nice to see considering we may be on the edge of tools like Apple's Logic Pro being available for mobile devices.
It's also nice to see that there's a headphone jack in the controller, which isn't necessarily a given for many other controllers. It's a necessary feature for mobile creation, considering that many mobile devices have done away with headphone jacks.
The Keys 2 Mini is also very efficient. You might notice that there's no power input to be seen — and that's because the controlled can be powered by your iPhone or Android device.
In Use
Actually using the iRig Keys 2 Mini is a good experience. Again, this is a budget creation tool, and for a device in this price range, keys felt fine. Of course, you're not going to get a digital piano experience here, and we wouldn't expect to — but for a controller like this, keys re spacious enough, springy enough, and so on.
The placement of the octave switch makes it super easy to switch up or down in a matter of a few seconds, meaning that you can keep creating without even necessarily having to pause your music.
Conclusions
The IK Multimedia iRig Keys 2 Mini is an awesome option for those getting started in music creation, or those who want a compact, mobile setup with as many features as possible. You would be hard-pressed to find a controller this small, with this many features, in this price range. That's not to say there aren't other options, like the Novation Launchkey Mini or the Arturia MiniLab, but the other options generally sacrifice either portability, mobile compatibility, or both.
You can get the IK Multimedia iRig Keys 2 Mini for yourself below. If you're looking for a portable, mobile, feature-rich MIDI controller, you won't regret it.