Design -

9.6/10

Features -

8.7/10

Value -

8.6/10
With all of the options available in today's e-piano market, finding a sweet spot between features and affordability can be tricky. Luckily Donner, a relatively smaller and newer company, unveiled a new option for those of us looking for a full-scale piano, but with limited space. The Donner DDP-80 sports 88 fully weighted keys across an all wooden facade. Donner gave us the opportunity to try its new DDP-80 piano for ourselves, and as you'll continue to read below, it certainly exceeded all of our expectations.
Design
As we first hauled the 54 lb. massive delivery package inside, immediate thoughts of where the DDP-80 would be placed came to mind. For those especially living and working out of studio or 1 bedroom apartments, space for gear is an absolute priority. Additionally, we became curious about how much time would be needed for the keyboard's setup. Luckily, both of these worries were put to rest almost instantly. Don't get us wrong, a fully sized key bed certainly does require some length, but Donner did a great job keeping its new keyboard's design compact enough for a tighter space.
The DDP-80 is 50″ long by 14″ wide, and its keyboard is elevated about 25″ off the ground by its included legs. This offers players plenty of legroom, and possibly some extra space underneath the keyboard if one needs to store other items underneath. Inside the box are four included legs, the keyboard, a MIDI pedal set, and an attachable stand for sheet music. Luckily, setup was limited to screwing all four legs into the bottom of the keyboard, each one requiring five screws, all of which were included. We were pleased with the amount of screws dedicated to each leg, ensuring that the DDP-80 will stand very durably on its legs.
Of course, one other element that does require some extra attention during the setup process is the care required. Because the DDP-80 keyboard is made out of wood (at least the outermost layer), its new owner will have to really make sure to handle and rest the keyboard gently, so as not to immediately scratch up its design. The package did include a single piece of cardboard large enough to stretch across the keyboard, which we used to rest it on while attaching the legs — and that worked like a charm!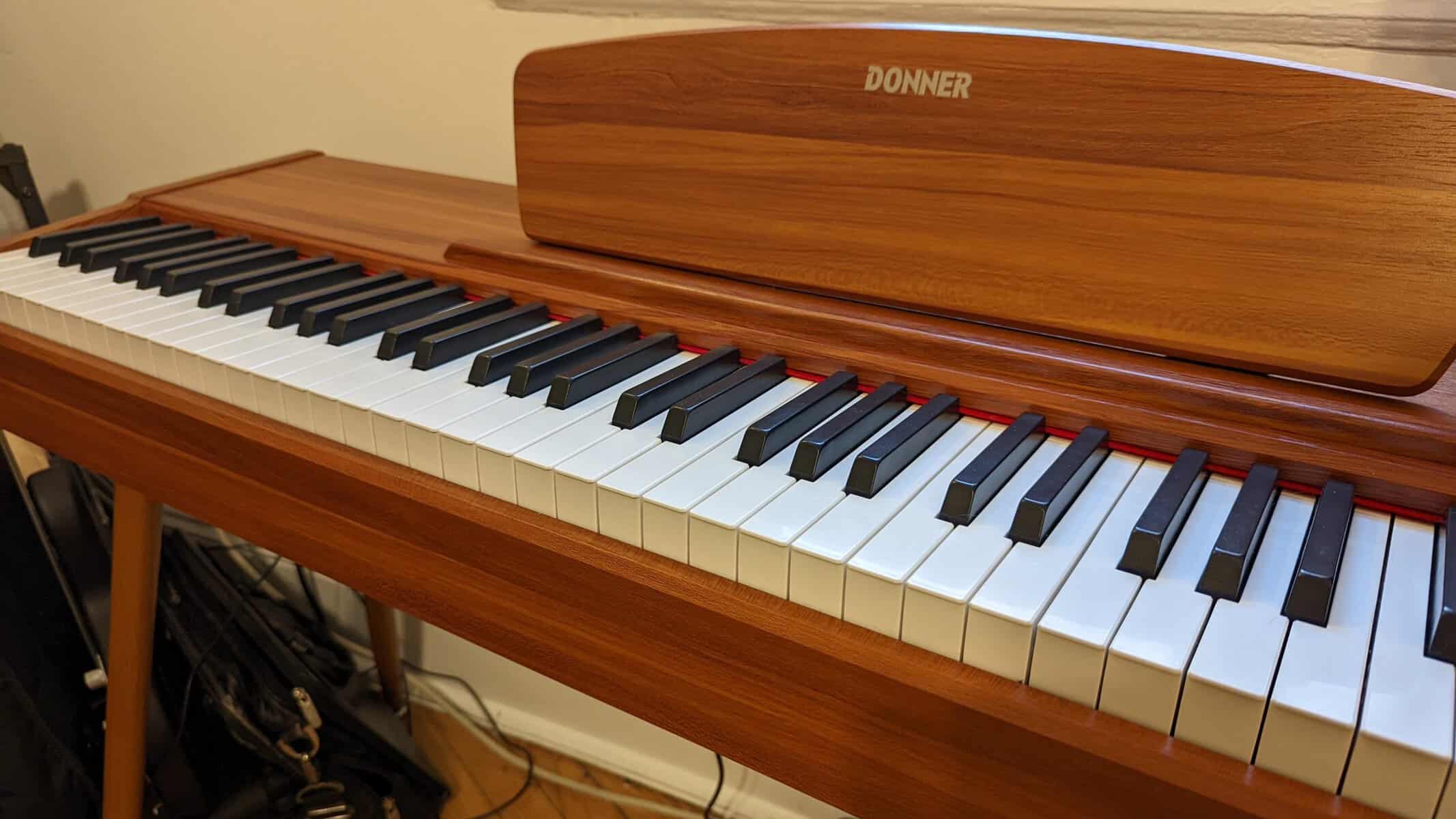 Let's talk strictly about looks for a moment. The wood cabinet design that Donner chose for this keyboard has already become a controversial talking point among consumers. Directly on its website, Donner describes its look as using a consistent "wood texture," which can understandably be misconstrued as every piece being made of wood. As for the actual keyboard and attachable stand, we can confirm that the surface levels of each do in fact seem to be made of wood. While we could not confirm the type of wood used, nor any materials underneath the surface, it certainly adds an extra elegant quality to the piano.
Moving down from the keyboard itself, each of the four legs, and the pedal housing are all made of metal. With that said, they are all coated in a layer of paint which matches the wood stain of the keyboard itself, and the legs have some extra wood grain style textures in them to keep up the look. In the end, unless its user is some form of wood purist, the DDP-80's all-wooden facade looks beautiful and will easily become a talking point of any space it is displayed within.
Next, we'll move on to the key bed and the piano's controls. As mentioned above, the DDP-80 includes a full 88 key set, all of which are fully weighted. Upon our first play, we did notice that the keys had a firmer tension to them, compared to what we have seen across other keyboards. More specifically, the weights on each key require a little more effort to be fully pressed down out of the box. In all fairness, however, this could be a quality specific to an out-of-the-box feel, where the key tension will wear down over time. In the long run though, this does not present as a major issue. After a few hours of playing and getting used to the DDP-80, the key tension essentially became a non issue. The piano's ports and controls are well-placed in our opinion, across the back of the keyboard, so as not to obstruct the front, or top-down views of Donner's wooden theme.
The only real stand-out issue we found with the keyboard overall was with its power button. The button sits to the left-most side of DDP-80's control set in player's perspective, and initially, we ran into some trouble figuring out the right way to properly make sure the keyboard was actually turned on or off. The button itself does not include any "click" or touch feedback to ensure its position. One nice feature though is the small red light just next to it, which glows when the keyboard is on, and turns off when the keyboard powers down. After some toying with it, we found one easy work-around to be placing our full hand over the power button, and using one finger to press. This way, we could use the reflection of the light bounced off of the palm to visually see whether the light was illuminated. One final thing to note, is that when powering on or off, the piano does require a few extra seconds before a key press can audibly come through or go away. So in the end, we'd advise trusting the LED light primarily, using our hand-reflection trick, for the keyboard's power status.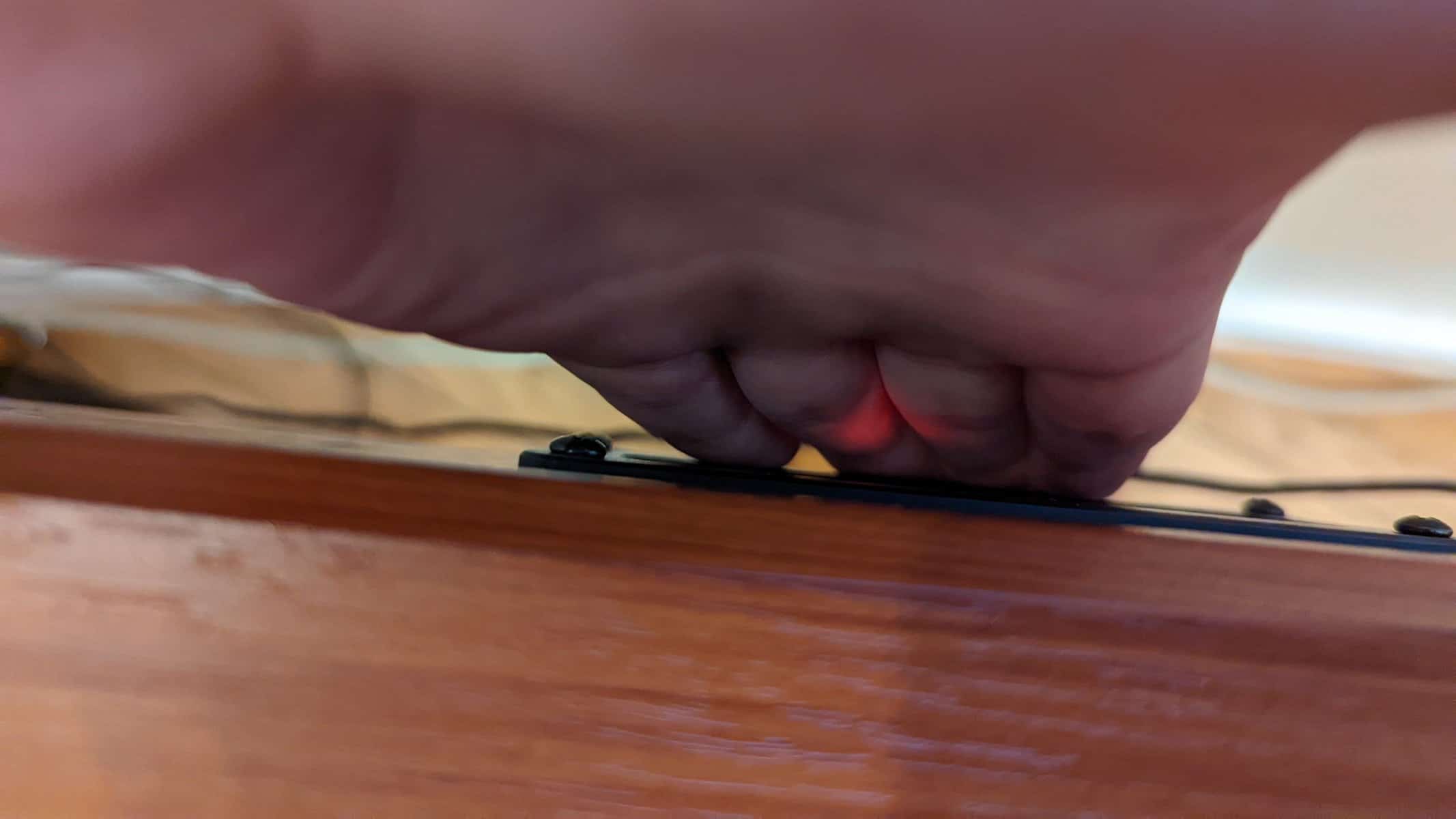 Features
Donner's DDP-80 electric piano comes with a very limited feature set, but what it does include, all perform excellently. The keyboard includes only one internal acoustic piano voice. While it does not quite live up to the most authentic sounding patches out there today, its tone comes across as both rich and warm. For any extra sounds, the DDP-80 can be connected via USB to any computer as a basic MIDI controller, opening it up to any extra sounds its player might have at their disposal. The keys' dynamic range also comes across as a bit lacking, as we found that there were not many velocity points between the DDP's softest and loudest qualities — at least in terms of its standard voice.
The pedal set includes all three pedals found with most acoustic pianos — soft, sostenuto, and sustain. These included pedals connect directly to a 5-pin MIDI port on the underbelly of the DDP-80. This specifically, we saw as an underestimated benefit, so as to not take up extra space with a cable at the back end where all other controls are located, as well as avoiding a 90° turn for its cable, which could have caused unnecessary wear and tear. All three of its pedals operate as they would on an acoustic piano, however they are not perfect. At times we did hear some slight hiccups as the piano struggled to register a pedal press, especially when pushed down lightly. Overall though, they serve their purpose very well, and you don't see too many e-pianos nowadays offering all three pedals, so extra kudos to Donner for that!
Along the piano's back panel are a series of knobs and ports for external connections. These include the piano's volume knob and power button, a USB-A port for computer connectivity, an extra 1/4″ jack supporting an additional or alternate sustain pedal, the keyboard's power port, a mono 1/4″ output jack, and a 1/4″ headphone jack. The DDP-80 can be played in full acoustic mode utilizing its pair of 20W speakers, or in headphone mode. Of the two, we certainly preferred headphone mode the most for a fuller range of tone. The built-in speakers certainly have more accentuated low-mid frequencies, but for basic purposes, this plug and play piano does not require ultra hi-fi speakers to do its job.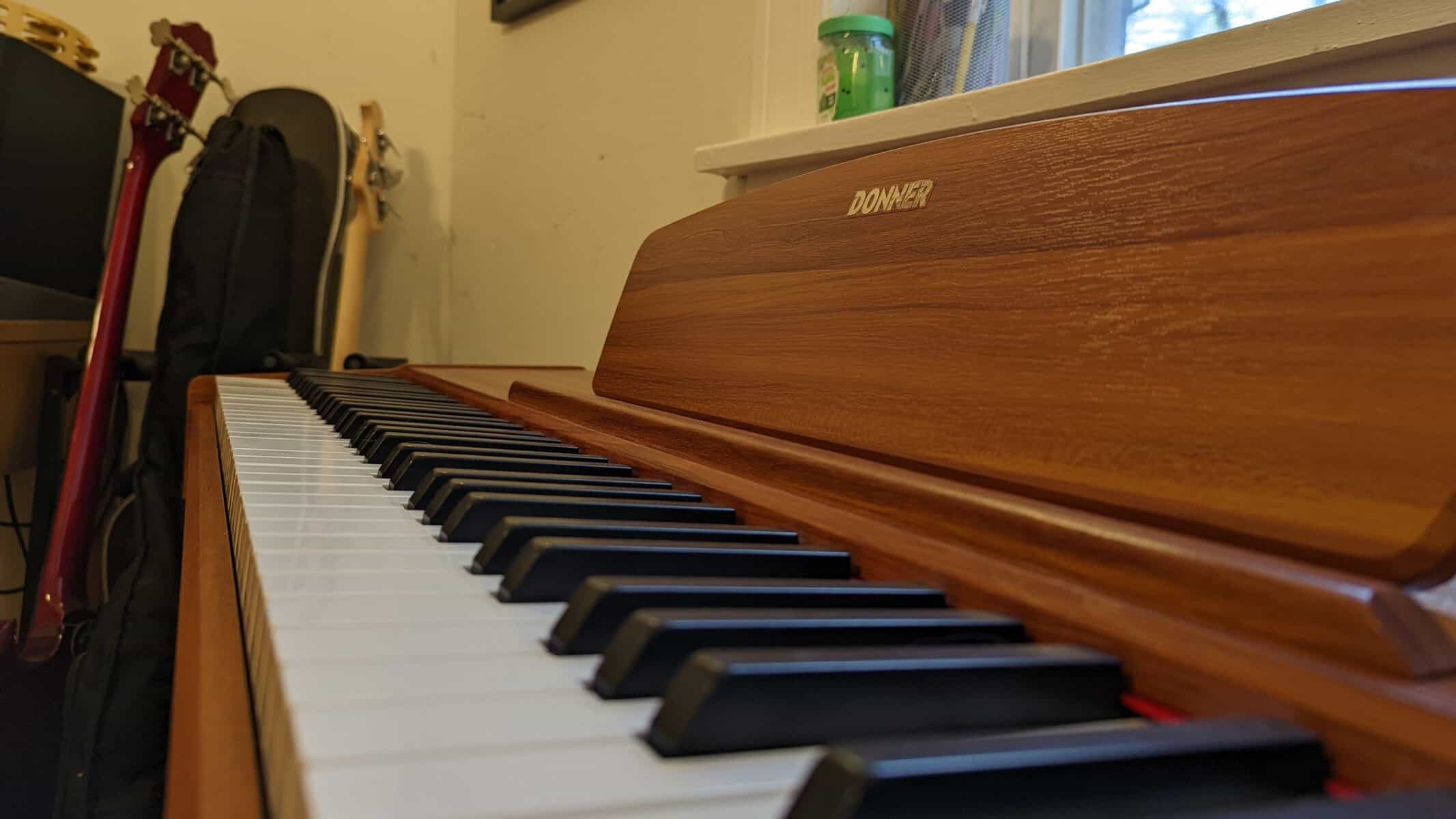 Conclusions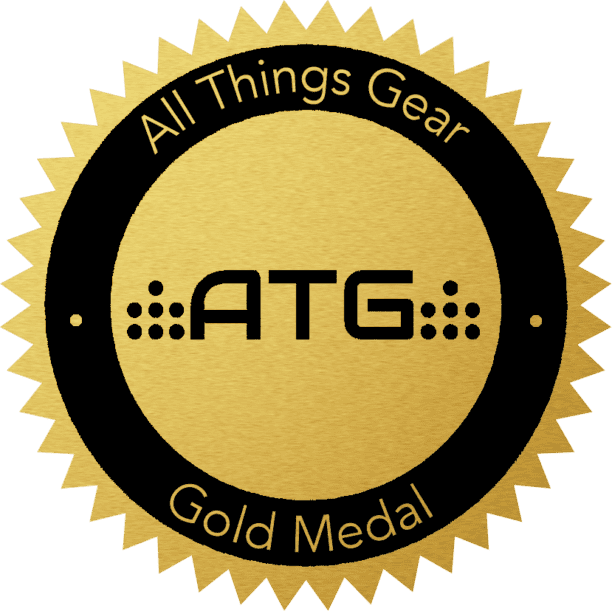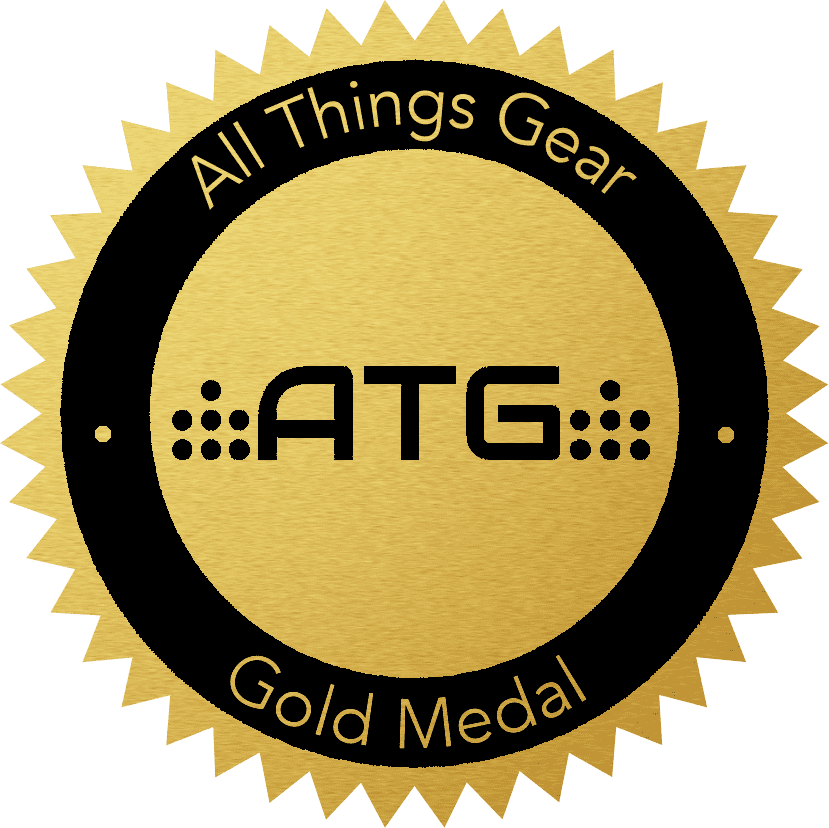 At full retail price, the Donner DDP-80 rings up at $619.99, an extremely fair price considering its beautiful design, and all the additional features it comes with, such as its MIDI and line out connectivity. While its $600 price point is certainly still something many will have to save up for, the Donner DDP-80 will be well worth your dollars, and could easily serve as a staple instrument within your family home for many years. As an added benefit, Donner is providing an additional $50 introductory discount off the piano's first wave of Amazon purchases through May 6th, 2022 using code DDP80NOW at checkout — so act fast if you are ready to swipe that deal.
In conclusion, as a relatively new company, Donner definitely blew us away with the DDP-80 piano. Between its sound, included extras, and versatility, we'd consider this a must-buy for anyone looking for a budget e-piano. Because of all of this, the DDP-80 easily earns our Gold Medal approval. To get the Donner DDP-80 piano for yourself, use the links below, and to learn more about DDP-80, click here for all the information you can find.