Design -

7.5/10

Features -

9.5/10

Sound -

9/10

Value -

8.5/10
Way back in 1982, Eventide broke the pro audio market with its amazing new rack-mount reverb unit, the SP2016. That piece of hardware became the unit to first coin the term 'plugin' with its programmable settings and presets. Ever since the initial release of the SP2016 Reverb, engineers around the world fell instantly in love with it — including the likes of Dave Pensado, who even went so far to claim that it is his "go-to reverb." Now, Eventide is bringing the classic reverb into the modern era with the new Eventide SP2016 Reverb plugin.
But is the new plugin worth the cash, and does it live up to the Eventide SP2016 Reverb name? Well, let's point it this way: We can see why Mr. Pensado loves it so much.
Design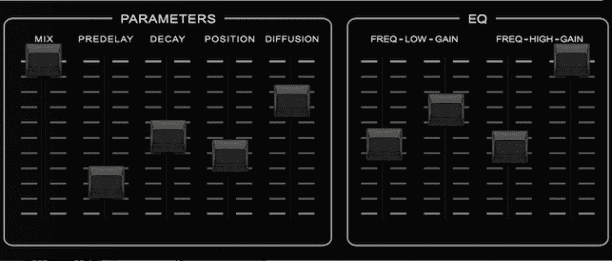 The first time you open up the Eventide SP2016 plugin, you'll notice its design — and it's important to note that the plugin was designed to digitally emulate the original piece of powerful hardware released in 1982. At the time, design sensibilities were much different than today, and most of the things we value in design in 2019 — like flashy colors, big knobs, and bold letters with classy fonts — were much less important, as long as the product sounded great. Because of this, the design of the Eventide SP2016 — let's face it — is fairly dull. But due to the emulation nature of this plugin, we'll give it a little bit of a pass.
The entire face follows a black, grey, white, and red color palette, which was very typical for Eventide's products. A strip that runs across the top center, copies the original SP2016's 16 character (16 segments each), LED display. When it comes to adjustable parameters, each one is written out in plain all-caps text above a series of 11 fader strips. Across the very top is a section found in more modern plugins, containing a preset selector and buttons to load, save and compare, as well as I/O and Mix Lock buttons. We'll touch more specifically on those later. All in all, although the design of the SP2016 is rather lackluster, at the same time it's also a nice revisit to simpler times, as this quality also serves as a solid reminder to its user engineer to "use your ears, not your eyes."
Features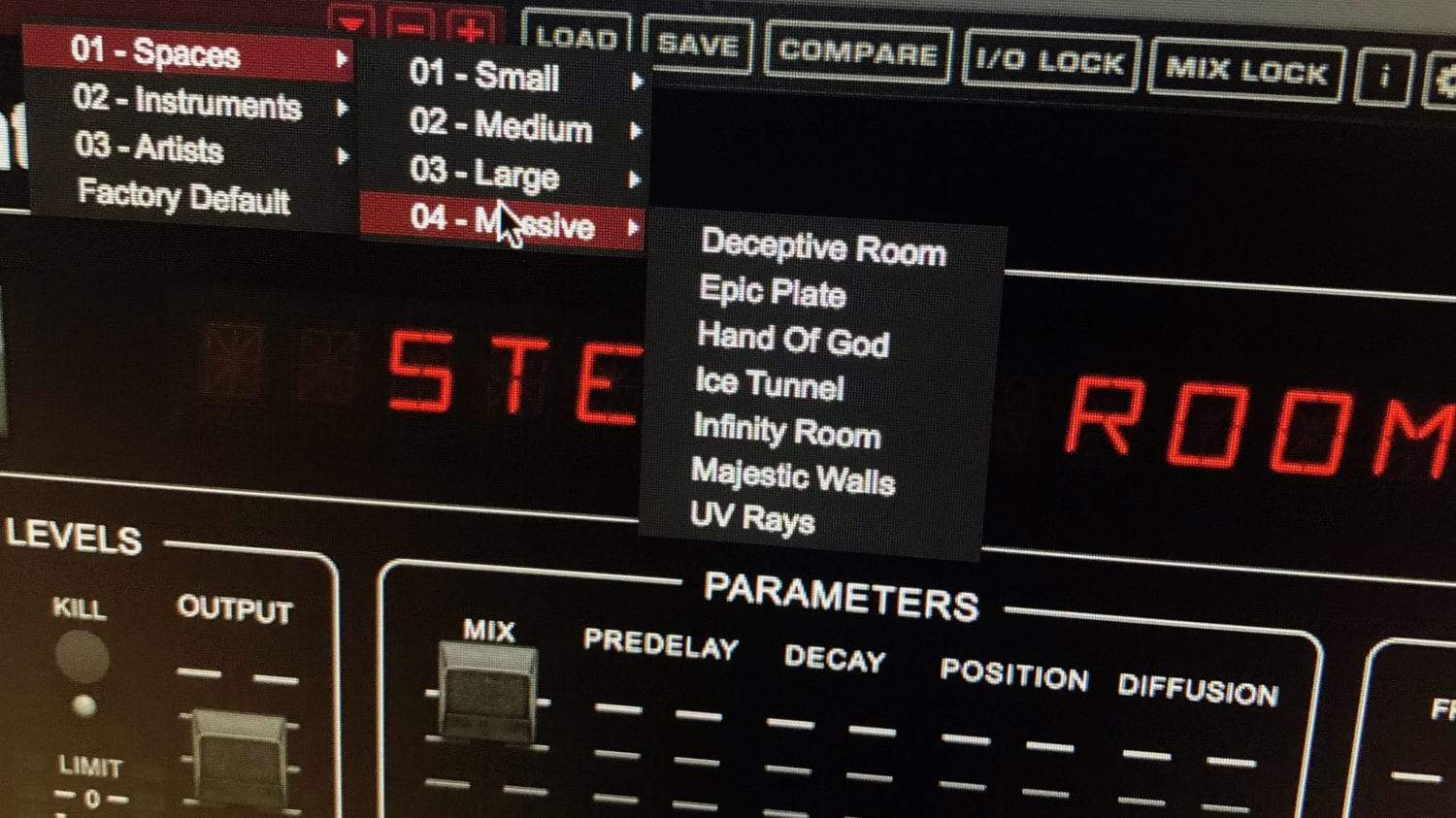 Of course, the features on offer by the Eventide SP2016 is where the plugin really shines. That's largely because of the fact that, like the original hardware, the SP2016 Reverb plugin features loadable and programmable presets. Eventide has included a library of presets that is just as impressive as it is massive. The list breaks down into three main categories — "Spaces," "Instruments," and "Artists." This allows you to choose your preset based on what kind of room characteristics you would like your reverb to have, what instruments you are working with, or some signature favorites from the likes of Dave Pensado, Joe Chiccarrelli, Sasha, and many more. Aside from this, each sub-category comes with its own list of presets which offers plenty of areas to choose from as a solid starting point towards your perfect mix.
The middle section of faders divides into three groups — "Levels," "Parameters," and "EQ." The levels and EQ sections are fairly self-explanatory aside from the "Kill" function within the levels group. This button, when engaged, allows you to hear only the reverb's reflections.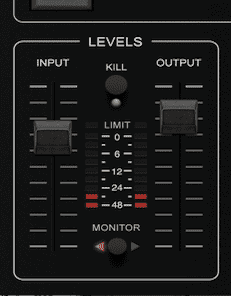 The Parameters section is what truly, in our opinion, sets the Eventide SP2016 apart from any other reverb unit or plugin on the market today. It provides a very tall ceiling over its pre-delay, allowing you to stretch creative limits, and achieve a simple delay + reverb paired effect, audible anywhere past 120ms. The decay time is just as flexible, allowing space for a long reverb tail, but without getting grainy or otherwise losing character towards the end. The position fader, allows you to select whether you would like your reverb audibly placed in the front of the room, "F," or more pushed back in the rear of your mix, "R," or any mix between the two. This, we noticed is a very subtle feature — but once you hear it you may never want to mix without it again.
Finally, as mentioned before, back up at the top of the plug-in there are two buttons labeled "Mix Lock" and "I/O Lock." These buttons, when engaged, allows you to lock the fader settings for either your input/output levels or your mix fader, so that if you load a new preset, those settings will stay in place.
With all of unique features to this plugin alone, paired with an unbeatable reverb tone that seems to never lose integrity when compared to other, cheaper reverbs on the market — it's easy to say the functions of the Eventide SP2016 are going to remain difficult for others to beat.
Sound
The SP2016 produces a rich and colorful reverb tone that seems to never lose its legs. That's no surprise when it comes to Eventide, who has a strong history of putting out reverbs of this stature. Even when we threw the decay knob as far as it would go, and turned the master volume of our monitors up gradually as the tail died down, we noticed no signs of degeneration or a 'grainy' characteristic in the tail. This was especially impressive given the fact that a lot of modern reverb plugins, especially cheaper ones, do start to lose their strong tail to a noticeable grain the farther the tail gets.
One other quality to note in the sound is when switching between programmed reverb types, in the basic "Stereo Room," the SP2016 provides the option between a 'Modern' or 'Vintage' feel to the room. Between the two, we noticed that the vintage room seemed to contain a bit of a rolloff at the high and low ends, boosting the middle frequencies of your reverb — whereas the modern room sounded much more full. This is not a flaw in any sense, just something to note since it may be a point of preference for your mix.
Conclusion
When it comes to the age old question of "is it worth my money?" — our response when it comes to the Eventide SP2016 reverb plugin is an unequivocal yes. With its numerous features, presets, and unforgettable tone, it's easy to place a high value on this plugin without even looking at the price tag. When you learn that the Eventide SP2016 reverb plugin can be yours for just $250, especially considering the fact that as a piece of hardware, the original model has sold online for just shy of $3,000, that makes this piece all-the-more worth it. Additionally, if you happen to own a different plugin or bundle from Eventide and would like to cross-grade to the SP2016, you could pay as little as $99, depending on your case.
All things considered, we loved the Eventide SP2016 reverb plugin. We especially appreciated having all of its classic parameters and features, which have been adored for decades by some of our favorite engineers, at the click of a button. We highly recommend adding this plugin to your collection, as it could just as easily become your "go-to reverb" as well. Check out the links below to buy the Eventide SP2016 Reverb plugin for yourself.